Thirty years from now, we may just come to see the 2012 Le Mans 24 Hours race as a tipping point in the sport's evolution; a definitive shift in the tidal flow of endurance racing that in future years becomes the standard.
Just as Audi's first victory for a turbodiesel car in 2006 sparked a rivalry between two of Europe's largest manufacturers that went on to produce at least two of the finest Le Mans races we have seen (in 2008 and 2011), therefore, a maiden victory this year for a hybrid car - and in Audi's case, also a four-wheel drive one - could initiate a wave of further triumphs for energy recovery systems and change the very approach manufacturers take to Le Mans.
Hybrid technology and, as Audi's head of engine development Ulrich Baretzky puts it, "using available energy more efficiently" are themes very much at the centre of future plans for nearly every major global motorsport discipline.
The 2012 World Endurance Championship regulations allow for the deployment of 500 kilojoules of stored energy between braking events at a specified number of points on the circuit (at Le Mans there are seven). However, the systems used, and how the power is transmitted, have been largely left free to interpretation.
Two manufacturers that have taken up this challenge and have a realistic hope of using hybrid power victoriously are Audi and Toyota.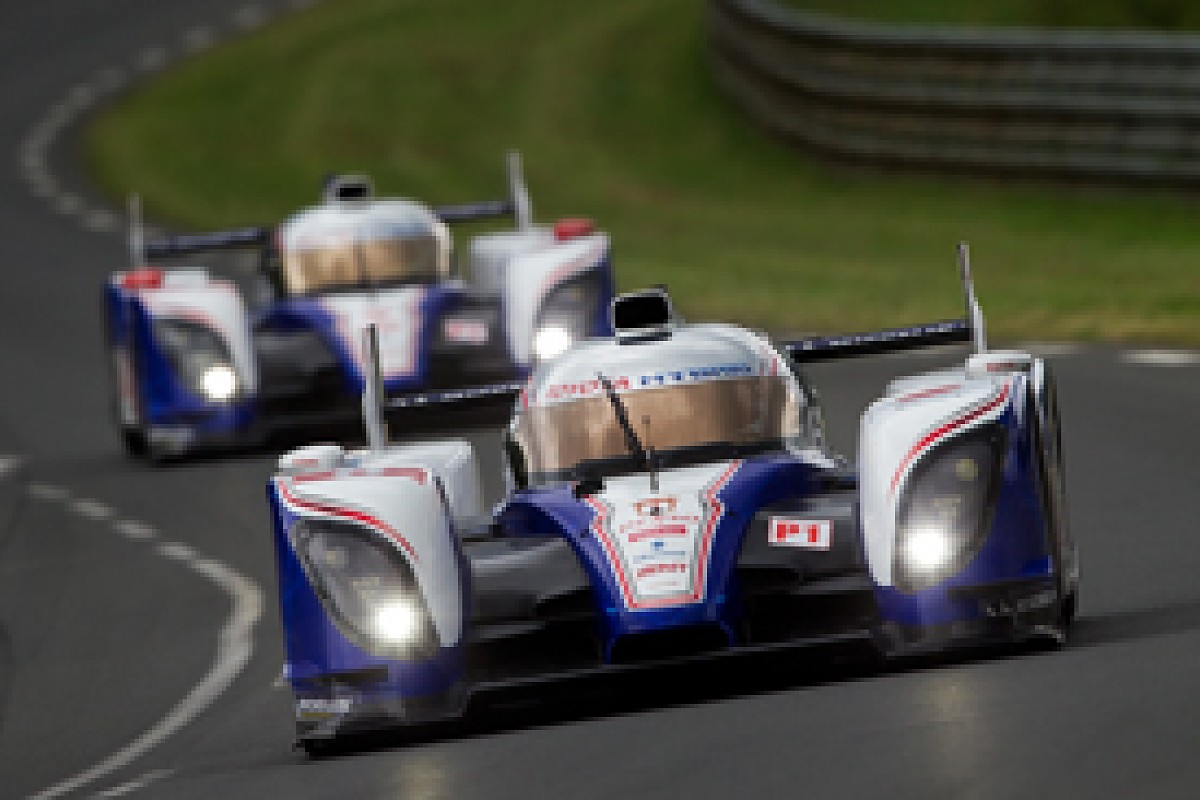 Toyota uses super-capacitors on its new TS030 HYBRIDs © LAT
The Japanese make returns to the race for the first time since 1999, still in search of its first overall win. And, given its pioneering Prius road car, it brings with it the genetic code of a marque steeped in the philosophy of re-useable energy. Toyota has chosen to use super-capacitors on its petrol-engined TS030 HYBRID that are capable of storing large bursts of energy (recovered from its rear brakes), and harvesting them quickly for redeployment through the car's rear wheels.
In spite of the Toyota's encouraging pace in the pre-race test at Le Mans, however, we are unlikely to see the kind of last-hour tension of 2011's thriller between Audi and Peugeot - if for no other reason than the sheer newness of the TS030 jointly run by Cologne-based Toyota Motorsport GmbH and ORECA. Toyota will be making headlines if the car just runs untroubled through to the finish on its race debut - and that is very much the team's stated ambition. Ruling it out of contention completely would probably be unwise, though - particularly given that the TS030 has a fuel tank 15 litres larger than the R18 diesels.
Audi represents the most realistic chance of an historic landmark this weekend. The question is whether it will be the R18 ultra - perhaps the most refined conventional turbodiesel prototype ever made - or its vaunted hybrid R18 e-tron quattro that takes the honours.
Audi has gone down a different route with its hybrid. It uses a version of the electric flywheel accumulator originally designed by Williams Hybrid Power and mounted in the cockpit of the turbodiesel e-tron R18. This system powers two 75-kilowatt electric motor generators that push the energy through the front wheels when the car reaches a velocity above 74.6mph (by regulation for hybrids powering front wheels).
"We took this route because we think it is the best compromise," said head of Audi Sport Wolfgang Ullrich when explaining the decision to use a flywheel as opposed to super-capacitors or batteries on the car's race debut at Spa last month.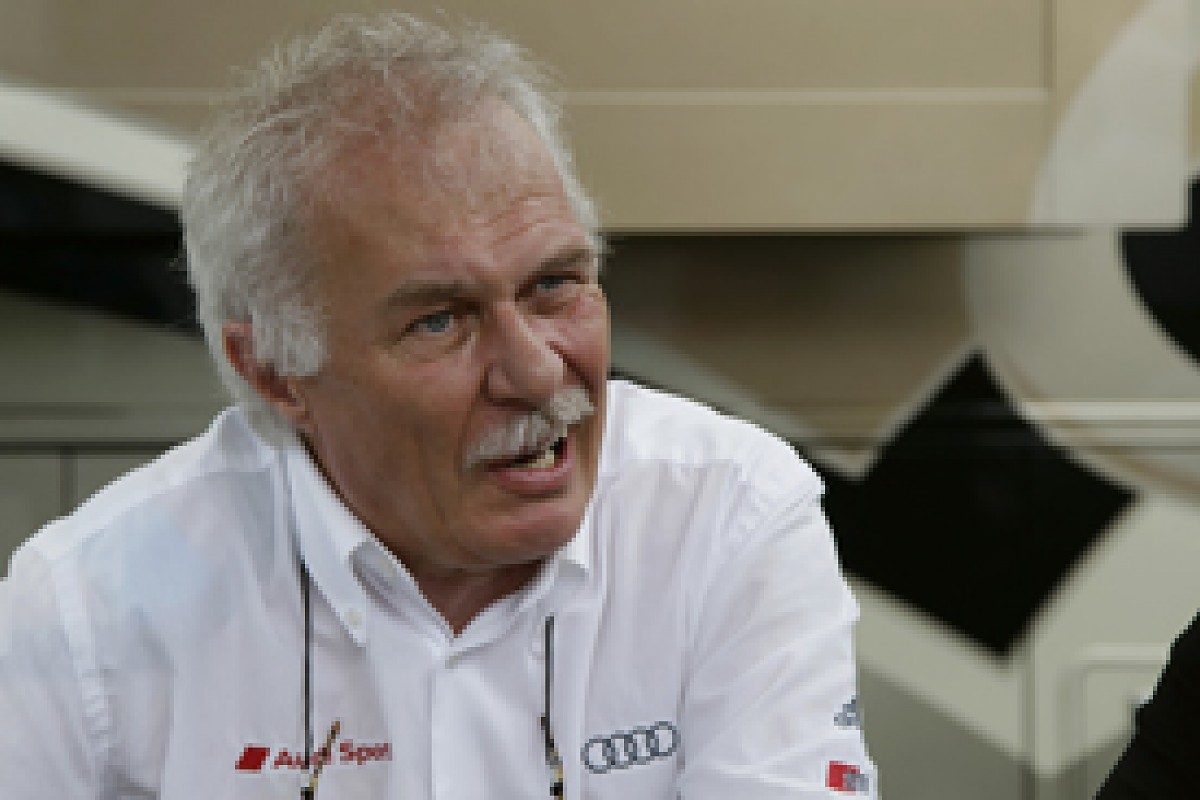 Ulrich Baretsky has masterminded the hybrid concept for Audi's Le Mans programme
Audi will run four R18s at Le Mans - two of which are the predominantly white hybrid cars. The other two are 'conventional' ultras. We say 'conventional' because as a result of the need for its cars to be essentially the same, Audi has made a 10 per cent weight saving over last year's Le Mans-winning R18 TDI to accommodate the hybrid. This means there is more weight distribution for the ultra crews to play with. The e-tron quattro also has a smaller fuel tank, by two-litres, according to the rules, although this is hardly a game changer.
So while the chassis of the cars are completely interchangeable - the team uses the same spare monocoque for both programmes - carrying hybrid systems on board brings obvious penalties in terms of weight distribution. The programme's technical project leader Christopher Reinke stresses though that those differences aren't as big as you'd think.
Taking into account the then front-mounted driveshafts for the quattro and the flywheel, packaging was a priority when deciding which hybrid system to use. As was physics...
"The most efficient place to recover energy is the front axle," says Baretzky. "When you are braking, the car is going down," [he motions forward]. "And you have more grip at the front. The brake load is at the front, so you take that energy from the front.
"The flywheel decision itself was just which system is able to recover, in a very short time, the maximum amount of energy, and to store it. Toyota has chosen the super-capacitor because it thinks it is the better solution. We have chosen the e-tron because we think the mechanical flywheel is a better solution, and we will see who gets it right."
Had Peugeot entered the WEC with its own hybrid programme, it's believed that it would have settled on using a Formula 1 KERS-style battery system. The jury is out on the ultimate solution.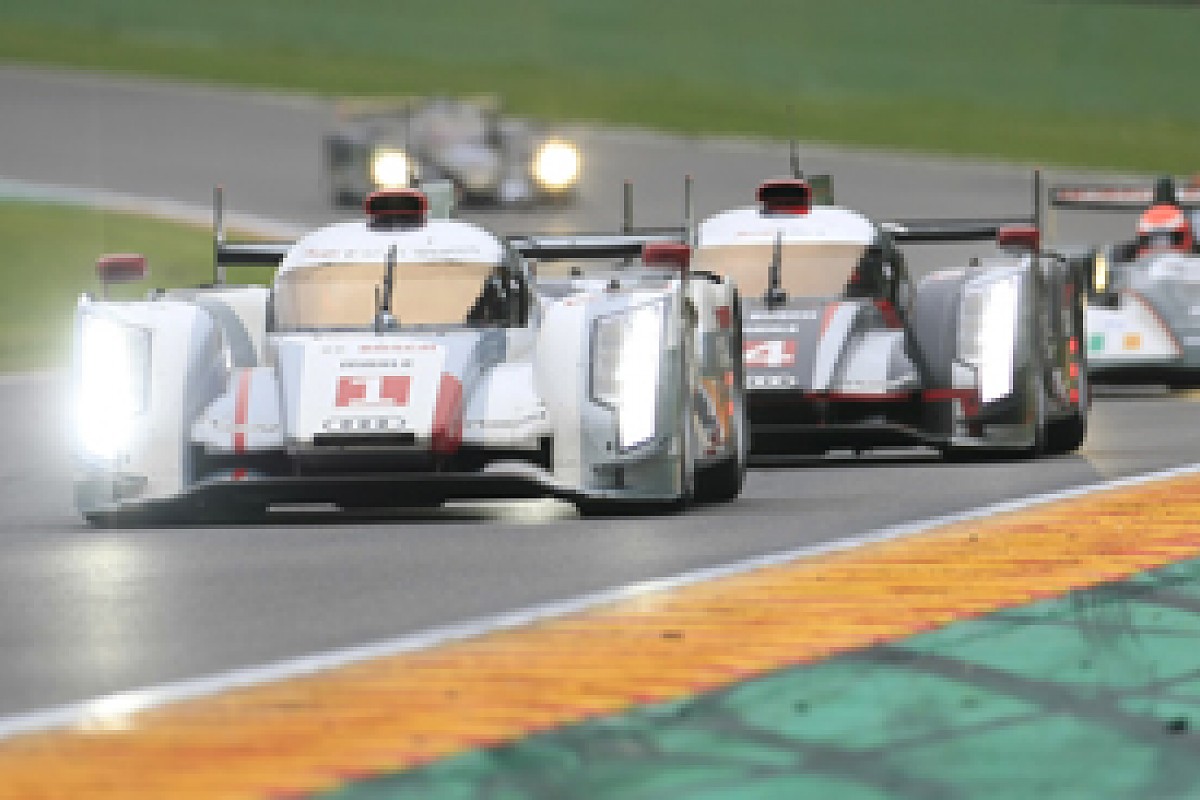 The hybrid (1) and turbodiesel (4) R18s were evenly-matched at Spa in May... © LAT
Whether the e-tron is faster, or as reliable as its in-house rival is still an open question - and perhaps the only one left to anticipate ahead of Le Mans.
Certainly in the wet conditions during the opening laps of the Spa six hours, where the e-tron made its debut, it appeared to have an advantage over the standard diesel R18. That the ultra then ultimately outpaced the hybrid to win the race came as a surprise to some of its drivers. Assuming that will remain the case at Le Mans may be misguided, however.
"A lot of that was down to where we were with the set-up," says #2 e-tron driver Allan McNish. "We didn't get the agility into the car that we probably needed, and we didn't get the tyres working in the way that we needed. If I'm honest, we just needed more time with the car."
"In every test the e-tron is always faster, but over a full stint things can be different," added Marco Bonanomi, who shares the #4 ultra with Oliver Jarvis and Mike Rockenfeller, after Spa.
Marc Gene, who won the Spa race alongside Loic Duval and Romain Dumas in the #3 ultra, said, "Le Mans will favour the hybrid.
"We expected them to have a bigger advantage in the wet than in the dry, but we did not expect for us to be as competitive as them [at Spa]," said the Spaniard after winning that race.
In the Le Mans test, the e-tron proved the faster machine, at least on the timesheets. But with a concept so new, unexpected problems and reliability issues can occur. That was also a factor in the Spa result as the #1 car lost a 50-second lead when it encountered significant understeer as the track dried out.
"There is less risk of breakdowns with the ultra," agrees Reinke. "So if you judge the programmes by how many accidents you have a year, how many breakdowns, etc - you will have a higher percentage of breakdowns with the e-tron because you have more technology involved."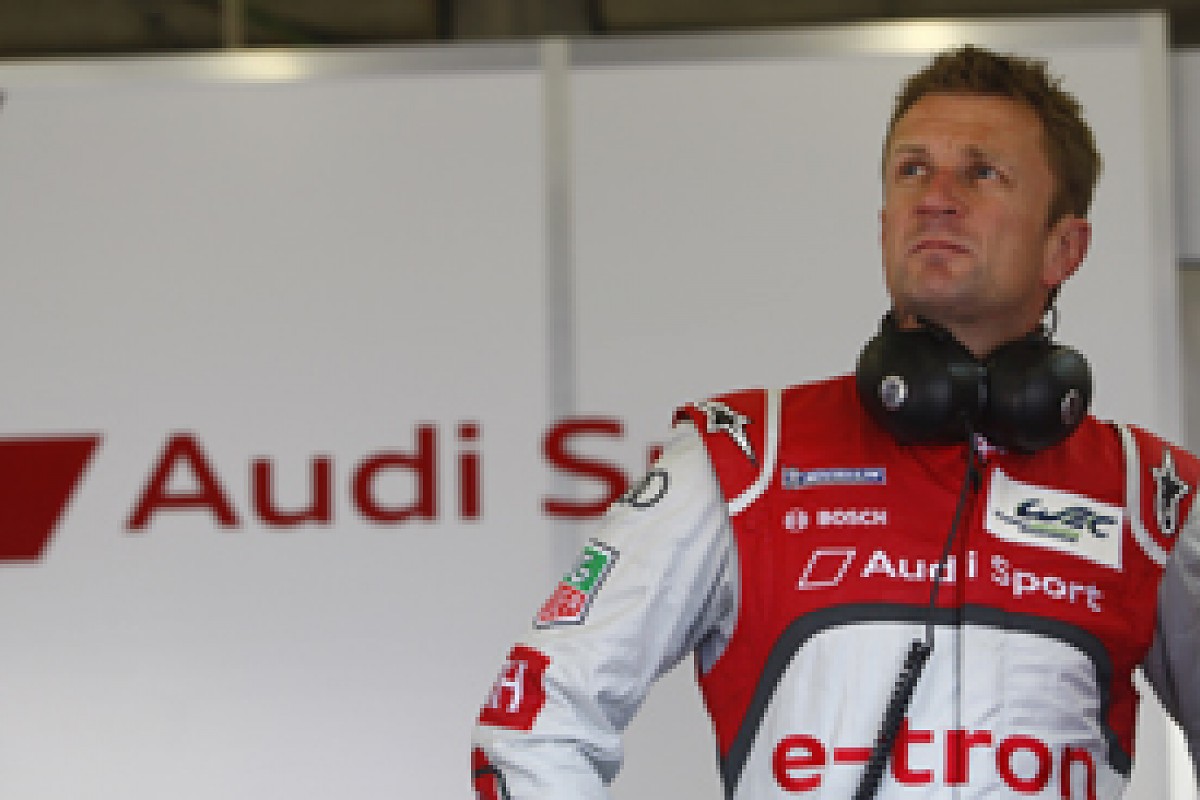 ...and McNish isn't convinced there's much between the German machines either © LAT
McNish is convinced there is not much in it between the two machines in terms of performance, but admits that reliability could be a factor. "With the e-tron quattro, yes we have got the potential for more performance," he says, "but we've got to be able to deliver. On the other side, we have also got a lot of extra tech in there. It's not that we have got a concern, or that there is a problem [with that], but it is another factor. So there is a risk as well as a potential benefit.
"The lap times in testing for Le Mans suggested there wasn't very much between the two cars, either. I'm not talking about ultimate times, but the averages through the course of the day. If you looked at every hour, they were not that far apart."
Tyres could also play a role. Last year, Andre Lotterer attempted five stints on one set of Michelins towards the end of the race as he strove to stay ahead of the #9 Peugeot. Audi is not as likely to sanction such a risky strategy if its cars are the only ones fighting for victory, but the ultra has an advantage in terms of acquired tyre data and consistency - particularly since both cars are using the same Michelins.
Nevertheless Audi has been impressed with how the Michelin fronts have coped with the hybrid concept.
"Michelin was ready to develop a special front tyre for the new car because that was something we found tricky to simulate, given how long the boost phases are and how extreme the recuperation would be," says Reinke. "There are so many different software settings to judge tyre wear in advance. Compared to the normal wear of the tyre, the hybrid does have a bit extra, but it is a surprise that there is not [more]. We thought they could be a problem and in the end they weren't.
"There might be different camber settings on the hybrid compared to the ultra, but we use the same tyres, so where there is a difference is in car dynamics. The set-ups of the cars are not very different, but then again there are some forced by the front axle. There are probably bigger changes necessary according to different driver's needs.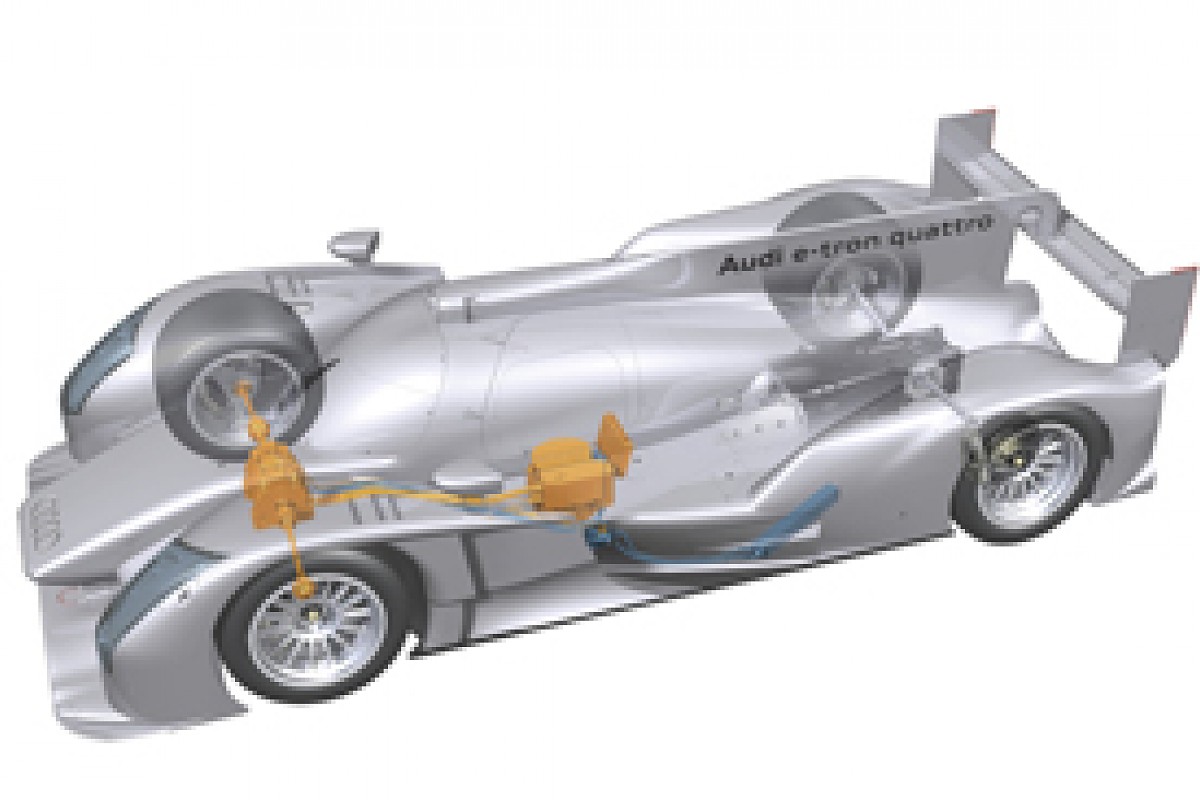 Audi's hybrid system sends bursts of power to the front wheels, creating a 'quattro'
"I wouldn't deny, though, that they are slightly altered on strategy for technology."
Just as the engineers are still learning the secrets of the hybrid, so are the drivers.
McNish admits that he is retuning himself to get the best out of the system, and to discover ultimately where its advantage lies. "At the moment, I still want more from it," he says. "Not in terms of power, but in terms of how to make the most of its potential as a tool."
Assuming that the flywheel can harvest 500kj of energy in the braking zone, that boost can then be used, however it's required, after the target 74mph is breached in those specified zones. In other words, it could be used as a short one-second burst to aid traction out of a corner, or be delivered over a longer period to aid fuel economy, or even as a grip device in the rain. These choices are available through engine mapping pre-sets on the steering wheel.
"There are six pre-sets that the driver can choose himself," says Reinke. "Or if through telemetry we can see the slip conditions are different, or it becomes wet or whatever, we can tell him over the radio to go to such and such a setting."
McNish explains: "I don't have to press a button like in F1. I don't say when to activate and when not to. It does it automatically when it has got the energy.
"It is like traction control for me. You tune it and work with it to get the maximum out of it. It is a tool that you work with, and we are still adapting to it.
But what does it feel like for a driver? "You can feel it in the braking area. You feel a kind of friction as you turn in, not like a judder, but a slight friction and sensitivity at the front. It doesn't mean you can turn in any later. It is just a feeling. The first time you think maybe you can brake later, but you can't.
"The braking areas are quite big at Le Mans, so there isn't really an issue in terms of harvesting the energy. Where you feel it is when you come out of the corner. But you don't feel it as much as you would expect with the KJs of energy converted to horsepower. It works out at 200bhp, but you don't have it for long."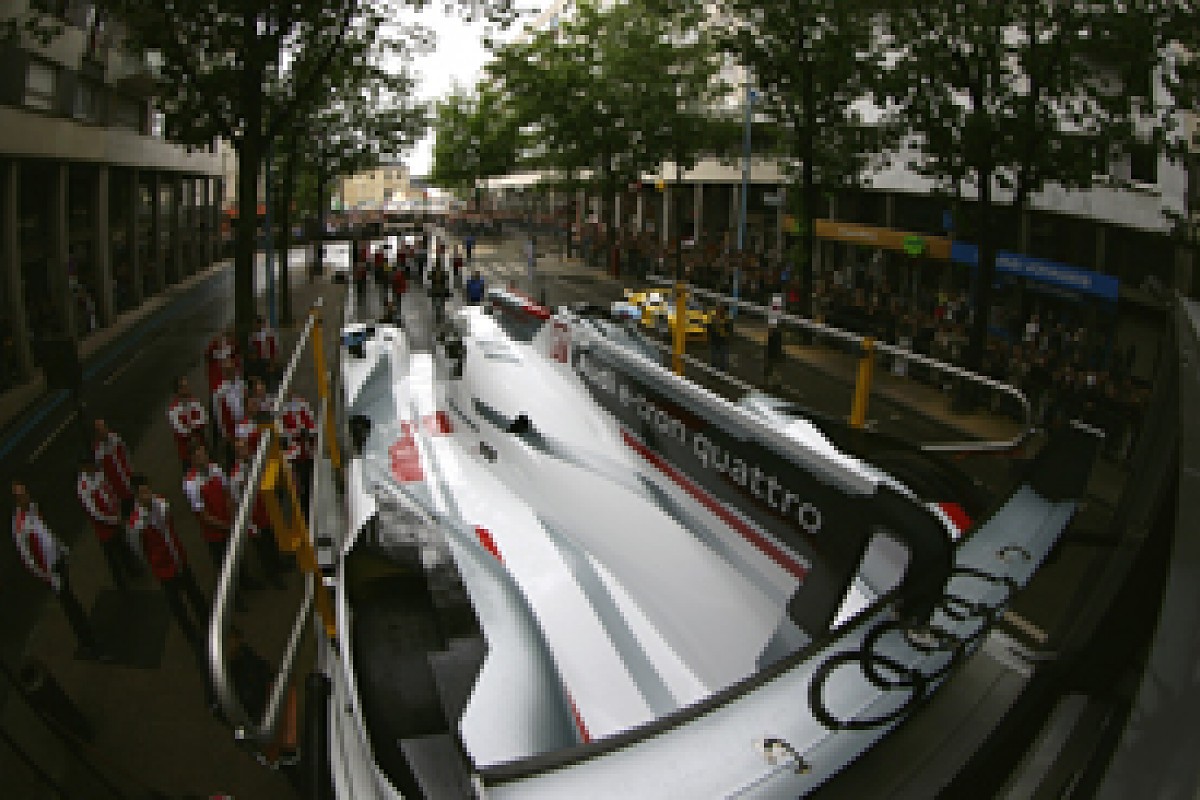 The Audis were scruitineered for Le Mans earlier this week
"It's not as if you feel a huge amount of kick when it's delivering its power. There is some, but it's not warp factor three. It's a help, but you have to get it on to the ground and make sure that it works."
In future, of course, McNish and his team-mates may have more of that boost for longer. Both manufacturers have expressed a wish for the rules to be opened up in 2014 to make more substantial use of the technology. Toyota's team president, Yoshiaki Kinoshita, has already indicated that his team's system can produce twice as much power as it is allowed to use now.
"We have to use the energy better than we have up until now," says Baretzky. "This is a typical engineering task for the future, and it is really better these days that we talk about energy.
"Crude oil is expiring and one day it will be gone, so we have to work more consciously with the energy that we have available, and we have to find ways to use it more efficiently than we do now."
What happens next in the cycle of endurance hybrid evolution could well be revealed in the ACO's traditional annual press conference during the 24 Hours weekend. What is certain, though, is that, win or lose on Sunday, energy saving technology is here to stay.