Allan McNish and his team-mates provisionally qualified the #3 Audi R18 fourth in an eventful two-hour session last night.
Here he tells AUTOSPORT how traffic plays a part in every qualifying lap, and how Audi have made progress with the R18 since its race debut at Spa.
Q. Can you talk us through your programme for practice and qualifying?
Allan McNish: What happened yesterday, basically, we all had to complete at least the minimum number of laps during the night session, and at the same time we put a new set of tyres on because it was 10 o'clock, the cleanest time. The aim was to get qualified and then concentrate on everything else from there.
Both [of my] laps were good, and especially the second one was right for the balance of the car but I was held up by a BMW at Tertre Rouge and a Corvette at the Porsche Curves. That's just standard Le Mans - you get a car and you've got to deal with it. We were pleased with the lap, though, because it was round about Peugeot's lap time. I think if you look at the averages of the three of our cars and the three of theirs we're all pretty close, and the ORECA car too bumps into that a little bit. Don't discount them.
Q. So you had a specific plan of work to get through after the qualifying laps?
AM: Yes, it was very clear. I went out to do a couple of laps and it was either do it or don't - but if you don't, it's not there anyway so forget about it, we're not going out again to try another one. It was one set of new tyres and we ran on them to the end. It's a funny one really from a driving point of view because you get a bit of traffic and you think "Damn!" You've got the deltas so you know exactly where you are, especially in the first part where you know you've got another two sectors where you have to gain something back. I was quite pleased with what I got back, and in those circumstances you'd like to put on another set of new tyres and go back out, but that would compromise the bigger picture.
For Peugeot, qualifying is very important. You've seen it last year and the year before - they'll throw tyres at Sarrazin until he gets one in. He got three sets, I think, last year. It's obviously a big thing for them to be on pole at home. For us it's slightly less important - but it's still good if you can get it!
Q. Have you done any more work on the tyre wear issue?
AM: You mean Spa? That was probably more specific to Spa than here but we struggled a bit in the race in some areas. Part of it was getting used to the car. We've had two tests since and improved it a wee bit, and we made more progress last night. Being on the right downforce level for this track helps. At Spa we weren't as good at keeping the tyres as the Wurz/Davidson/Gene car. I think we were similar to the others but against that one we weren't quite as good.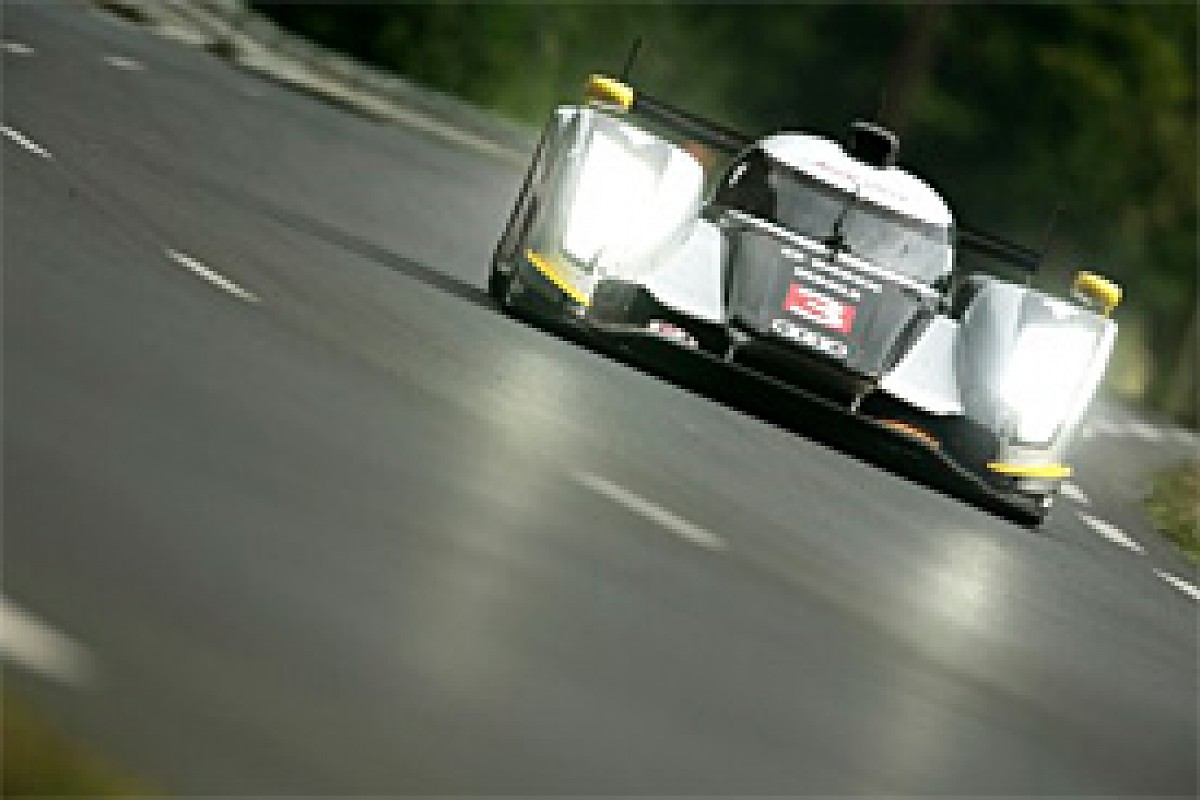 Allan McNish during qualifying © LAT
Q. Is the track surface comparable, since Le Mans is mostly closed-off public roads and Spa hasn't been like that for many years?
AM: Not so much the surface itself. It's more to do with the length of the straights relative to the speed of the corners. At Spa there's a lot of long, hard corners. Here the speeds are higher but apart from Porsche, the corners are quite short.
Q. You seemed to be evaluating a number of different downforce configurations last night with various lengths of dive planes, and so on. Is that to check correlation with the wind tunnel?
AM: It's more correlation with what we need rather than with the wind tunnel - we've done that. We've been running through the different noses to make sure it's all how we need it to be, as well as checking the lights are set.
Q. The headlights on your car are quite interesting - they certainly seem to bring a lot of light to bear.
AM: Our cornering speeds are higher and you need really good lights when you're cornering that fast. At top speed you obviously need strength in terms of length, but for cornering you need the spread and it's hard to get the compromise right. That's where the LEDs come into it. The road car department are very strong on that - they came in and helped us get the balance of it. You don't want heat or weight, you need strength and spread but without the penalties of it. It's been a real improvement.