The 1991 Le Mans 24 Hours was supposed to be about Mercedes, Jaguar, Peugeot and Porsche, but instead victory went to a manufacturer that for years had been just a bit player at La Sarthe. Others have spent a lot of money trying, but 20 years on, Mazda remains the only Japanese marque to have won the race.
A tweak to the rules that year certainly helped, but the rest was down to a well-organised team, a faultless performance and a great effort from three Formula 1 drivers who all had a point to prove.
The Mazda name had first appeared at Le Mans in 1970, when a Belgian team mounted a rotary engine in a Chevron B16. The first signs of interest from Japan came in 1973, when Mazda supplied an engine to pioneering privateer Shin Kato's Sigma team.
It wasn't until 1979 that the company launched a works-assisted effort, albeit a low-key one, but the RX-7 failed to qualify. Nevertheless, a seed had been sewn, and over the next three years Mazda's Le Mans programme became ever more serious with input from Tom Walkinshaw giving the project some momentum. The whole ethos was to demonstrate the performance of the twin-rotor engine.
For 1983 the company abandoned the RX-7 base to field a proper closed sportscar in the new Group C Junior class, and up against a small field of privateers, Mazda scored its first Le Mans class win.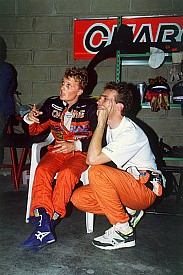 Herbert and Gachot were reunited for 1991 - with Weidler © LAT
After two more years in what became known as the C2 class, Mazda switched to the IMSA GTP category with a new 3-rotor engine. The cars failed to finish in 1986, but the following year one finished seventh overall - winning the class in the process. Since there was usually nobody else running to IMSA GTP rules, a class win was a formality in 1988 and 1989 with the latest four-rotor engine.
In 1990 there was a change of direction. While still running in IMSA GTP, the new 787 model featured designer Nigel Stroud's new composite chassis and an even more powerful four-rotor engine. This was a much more competitive package. Aware that GTP class wins meant little, Mazda wanted to finish as high up the overall order as possible and that meant hiring some single-seater drivers to add a little pace.
Long-time Mazda driver David Kennedy helped to gather the squad together, finding a group of guys with who were up on current F1 experience, but down on their luck. Stefan Johansson, who had recently left the Onyx F1 team, joined Kennedy and Mazda veteran Pierre Dieudonne in one car.
The other featured Johnny Herbert (then in Japanese Formula 3000 after a frustrating first F1 season), Bertrand Gachot (struggling to qualify with Coloni) and Volker Weidler (rebuilding his career after a terrible 1989 season with Rial). All three were happy to accept the invitation and get in some racing mileage.
"They are different characters," says Herbert now. "Volker was fairly quiet and laid back and just got on with the job, and Bertrand is, well, Bertrand. We all seemed to gel quite well together."
Meanwhile Jacky Ickx came on board and a consultant and ambassador. Unfortunately, Le Mans 1990 was to be a disappointing weekend for all concerned. The engines ran like clockwork as usual, but electrical and gearbox problems hampered the new cars, and both retired. An older model entered for the squad's veteran Japanese drivers did at least finish and take the customary GTP win.
"I think we stopped around midnight, so it was short and sweet," recalls Herbert. "We weren't the quickest thing out there. But the reliability of the engine was the main weapon.
"It was quite a small, compact car. The wing was low so we had speed on the straight. We had the new chicanes, but with the cars the mentality was still for the long, long straights. So through the Porsche Curves they were quite alive, they weren't stuck to the ground like nowadays.
"But it was quite a different car to drive, as you had no engine braking, which was the main thing. You could utilise that in a way where you could actually come off the throttle and not having the engine braking slow you down, just the aerodynamics."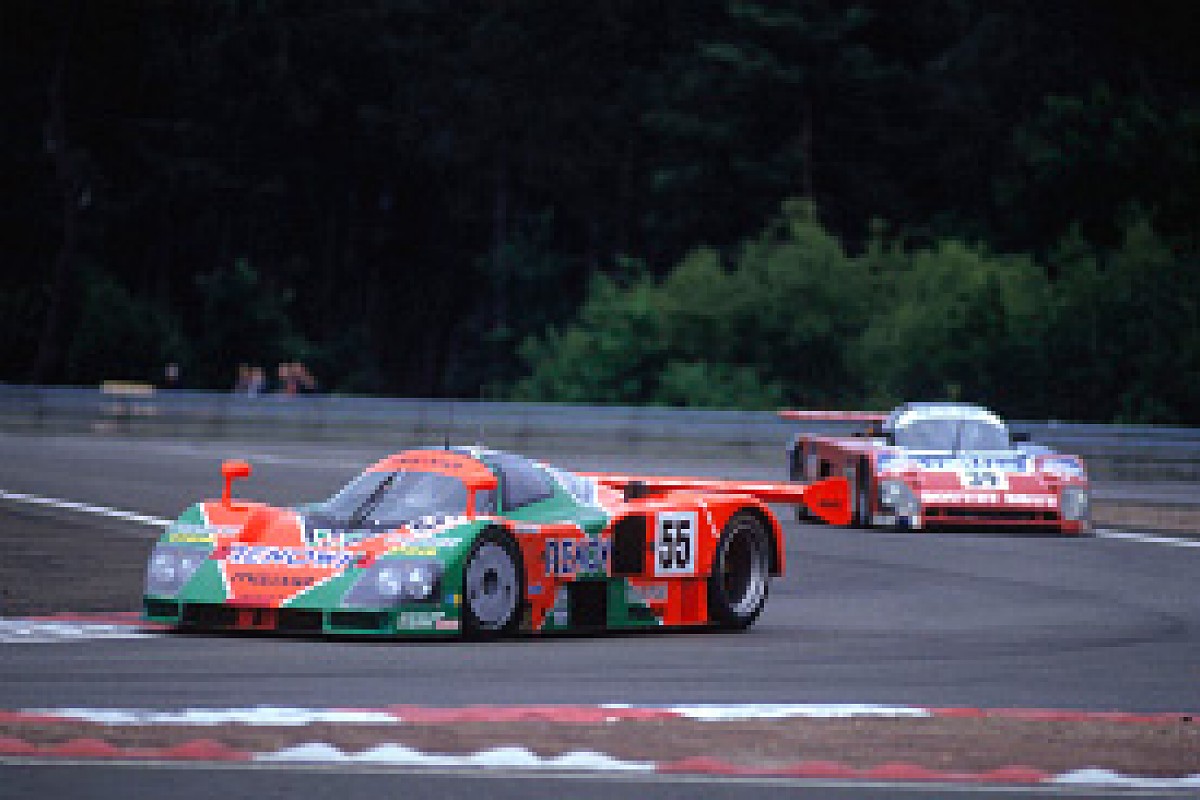 The 787B never skipped a beat © LAT
In other words the drivers could extend fuel mileage by backing-off early and coasting into corners.
In 1991 the FIA World Sportscar Championship entered a new era of 3.5-litre atmospheric engines, and we had a superb contest between Jaguar, Peugeot and Mercedes 'Category 1' cars. The field was filled out with handicapped turbo cars from the older Group C era - plus Mazda's GTP machines - in what was known as 'Category 2'. To compete at Le Mans, you had to do the whole World Championship.
And Le Mans was an anomaly. While Peugeot ran its usual 905 contender in a 24-hour race for the first time, Jaguar and Mercedes both preferred to fall back on more proven machinery. The Jaguar XJR-12 (the winner in 1990) and Mercedes C11 (successor to the Sauber C9 that triumphed in 1989) both had to run ballasted to 1000kg, compared to the 750kg of the 'atmo' cars. Since Peugeots weren't expected to last, nobody at Merc or Jag saw this as a major problem, since the older cars would be fighting each other on equal terms.
There was some small print, however. A bit of politicking from Mazda caused the limit for rotary-engined cars - and who else could that be? - to be pegged at just 830kg. Nobody paid too much attention, but Mazda knew that having to carry 170kg less than the ostensibly faster cars for 24 hours was going to be something of an advantage.
Meanwhile the Herbert/Gachot/Weidler crew was reunited - and it had a somewhat higher profile than before. Although still competing in Japanese F3000, Herbert had just returned to F1 with Lotus, while Gachot's career was on the up with Jordan and he'd recently finished fifth in Canada. Weidler meanwhile was beginning to establish himself in Japan.
"We were all probably similar in driving style," says Herbert. "The guy who probably was quicker in a sportscar was Volker. I can remember him driving Kremer Porsches, so he had quite a lot of experience. Then it was me, then it was Bertrand. We were fairly close together."
The first signs of promise were seen in qualifying, when the cars were higher up the order than usual. Matters were complicated by the fact that the 'atmos' were guaranteed to line up at the front, however slow they were.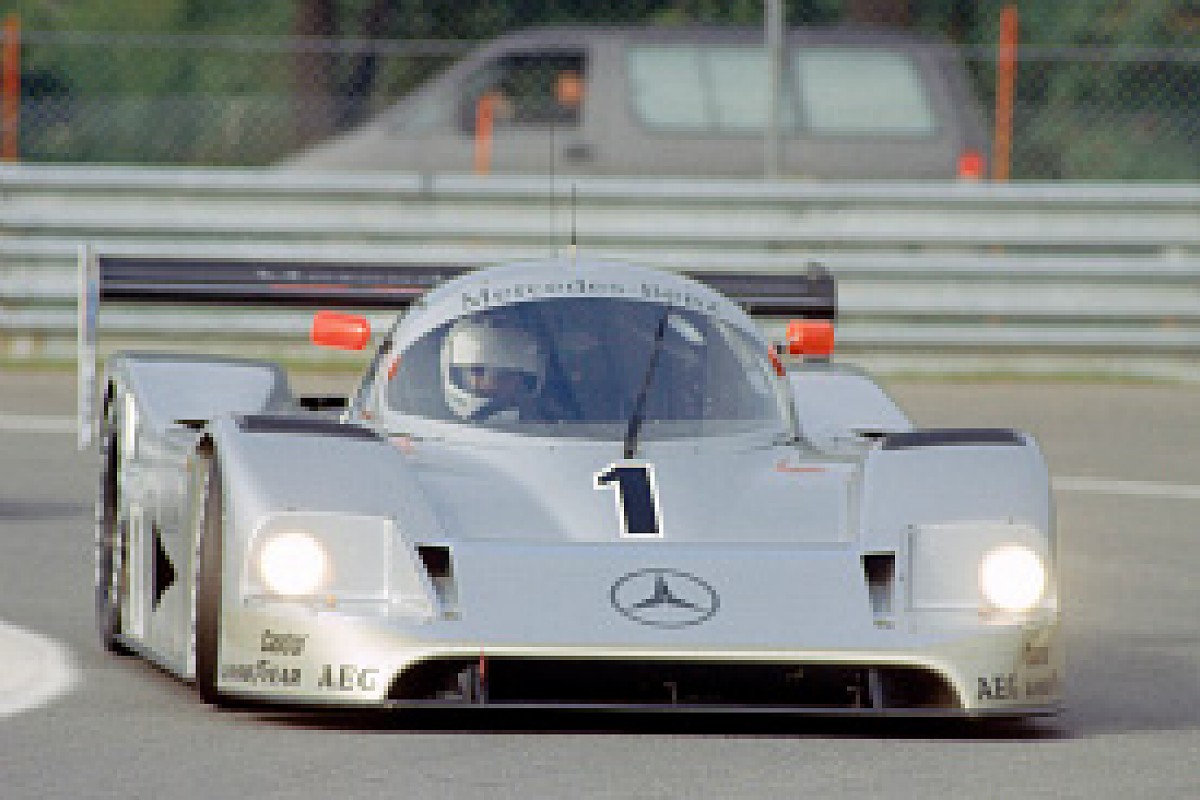 Mercedes led until Ferte/Schlesser/Mass fell by the wayside with an overheating car © LAT
Weidler's best qualifying time was some 12s slower than that of Jean-Louis Schlesser's Mercedes. But the three silver cars - and the Porsche 962s - had the benefit of turbo qualifying boost, which the Mazdas did not. Significantly the 787B was just 0.007s off the best (unboosted) Jaguar time, set by Raul Boesel. And the orange and green car was faster than the three other XJR12s.
"The weight reduction only made us as good as the Jags," says Herbert. "The one that was way ahead of everybody else was the Mercedes. But what we knew was that we could push 100 per cent from the first lap to the last lap. The others were possibly more fragile. It was all about racing to the fuel numbers that you were given, and because we didn't have the engine braking, we could do quick lap times while using less fuel."
The #55 car got off to a modest start, running in the bottom of the top 10 for the first four hours. But it stayed on the lead lap, despite the pace of the leading Merc, driven by Michael Schumacher, Karl Wendlinger and Fritz Kreutzpointner. As expected, the Jean Todt-run Peugeots were quick at the start, but were soon out of contention with mechanical woes.
And then as the race went on, the usual Le Mans attrition set in. The junior team Merc hit trouble - an off followed by mechanical gremlins - as did the third-string car, anchored by Jonathan Palmer. One by one, the four Jaguars suffered delays of various kinds.
Only two cars seemed to escape any problems. By 10pm the Merc of Schlesser, Jochen Mass and Alain Ferte was firmly established in the lead, and it stayed there through the night. Against all odds, its main pursuer was the Mazda. In the top five before midnight, the 787B was in second place just after half-distance, running like a train and giving Peter Sauber's team something to think about.
"We knew we had to keep pushing," says Herbert. "At the end of the day we were able to drive the car hard consistently. Especially in '91 we were able to understand what we needed to get from the car."
The biggest problem for Herbert was that after an early start on Saturday morning, he hadn't got enough sleep: "I hadn't rested at all in the proper manner. I remember I didn't try to sleep until 1am, and then when I got into the caravan I couldn't switch off because our car was so damn noisy. Every few minutes it came past, and there were two others as well! I could never, ever switch off, and I found it very hard to eat and drink."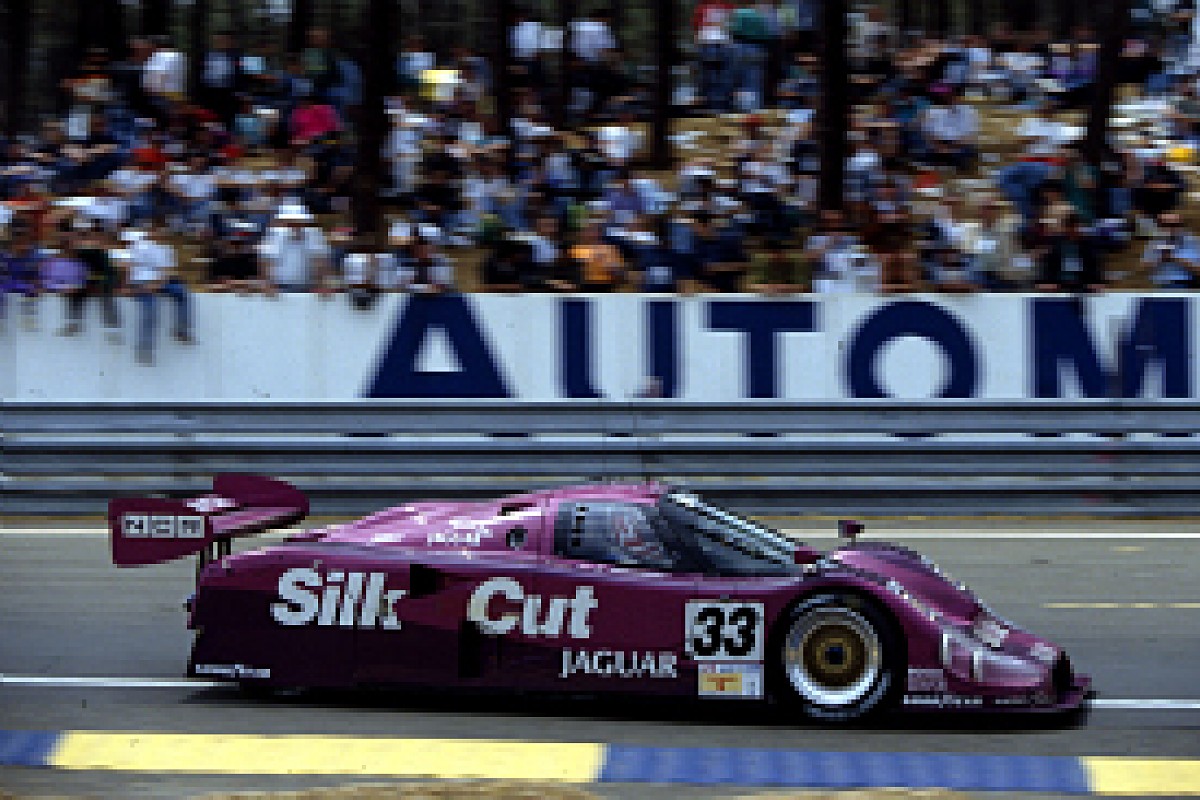 Jaguar took the three places behind Mazda © LAT
Aside from the consistent lap times, helped by excellent carbon brakes, the key was routine pitstops. In the early evening there was a nose change and new pads, and in the morning; front discs - as per the usual Le Mans schedule. But the car was in and out without any untoward delays. Down at Joest, the quickest 962 needed a drink of water at every stop. All the Jaguars were using up oil an alarming rate and TWR had to deal with several off track excursions.
Second behind the Mercedes would have been an honourable result - after all, the best showing up until then was seventh in 1987 - but with just a few hours to go, everything changed. Ferte brought the leading Merc in with a thrown water pump belt, and his three-lap advantage soon disappeared. After an exploratory lap the car was retired, its engine terminally overheated.
Suddenly the Mazda was in the lead, and nobody - not least veteran team boss Takayoshi Ohashi - could believe it. There were still three hours and go, and three Jaguars were still going and making up time, so there was very little margin for error.
Herbert got on board at around 2pm, with two hours left. Although Gachot was scheduled to take over, Johnny would stay on board until the flag, through two more pitstops. He was suffering more than the car and after successfully getting to the finish, he collapsed.
"I hadn't taken much fluid beforehand, and I didn't have any drink in the car, because I thought I was only doing one stint. I remember it was piping hot, bloody boiling in the car! All those things put together, it got the better of me, because I hadn't really prepared properly. As soon as I stepped out of the car my whole body was still in the seat. I was just a shell! They shipped me off, so I missed the podium."
Tom Walkinshaw - a Mazda partner in the past and again the following year - graciously encouraged fans to cheer the car home. His Jags finished second, third and fourth, the best of them two laps down on the winner. The Schumacher Mercedes survived a fraught race to take fifth place, while the other Mazdas were sixth and eighth, sandwiching the Joest 962 of past winners Hans-Joachim Stuck and Derek Bell. It was a truly remarkable result.
For Gachot, it was the start of a topsy-turvy summer. A few weeks later he would be jailed for a road rage incident in London that led to Schumacher getting his Jordan drive for Spa.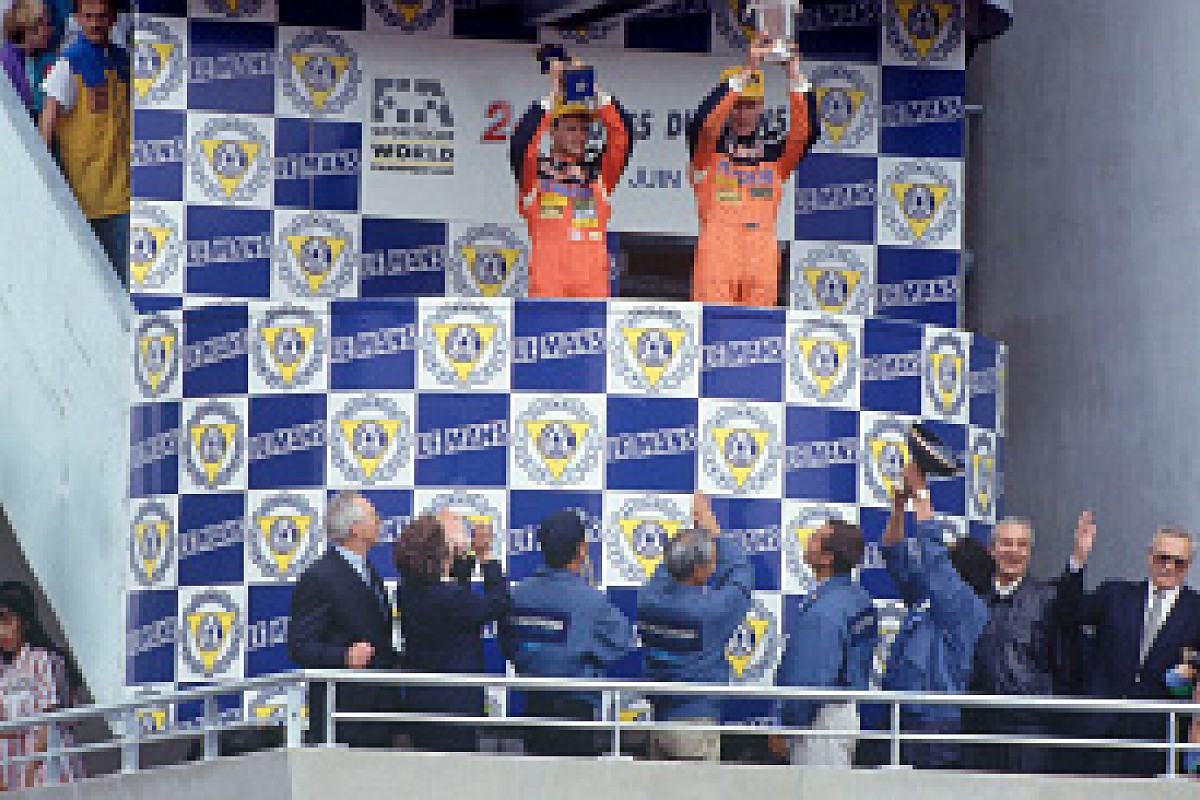 The podium minus Herbert - he was in the medical centre instead © LAT
The underrated Weidler meanwhile would continue to rebuild his career in Japan, and a year after Le Mans he won an F3000 race at Sugo. I carried his trophy back to Tokyo on the bullet train, and we went out for dinner that night and the next before he headed back to Germany for a quick break.
While there he was diagnosed with tinnitus, a condition not helped by his preference for avoiding ear plugs, not to mention the noisy Mazda engine. He didn't come back to Japan, never raced again, and I've not seen him since. Heinz-Harald Frentzen - then without a job - got his F3000 seat.
Herbert would race in F1 for another decade, winning three grands prix. The Mazda episode remains a major part of his career, and he's looking forward to being reunited with the 787B for a demo run this weekend.
"I wanted to do F1, I wanted to do Le Mans, I wanted to do the Indy 500, so I did two of them I suppose. Winning Le Mans in a Mazda, still the only Japanese car to win it, still makes it special, that's the nice thing about it. It's surprising considering the might of Nissan and Toyota have tried and failed! It was always a popular car and a popular team, and it's one of the wins that stands out for some reason."
Look out for more exclusive features, interviews and news with AUTOSPORT at the Le Mans 24 Hours this week.