One of the great rivalries in sportscar racing history is about to get even better. The Audi versus Peugeot confrontation has already produced some amazing racing that will be remembered in years to come, but this season the battle has an extra frisson. The two heavyweight manufacturers start on level terms, each with a brand new car designed to new rules, and what's more they will compete together no fewer than seven times in what is a world championship in all but name.
The 2011 Intercontinental Le Mans Cup kicks off this weekend in the US. A field of 50-plus cars with a brace of Audis and Peugeots at its head battling it out around the historic Sebring International Raceway is a fitting way to kick off the first full season of the ILMC.
The pity is that classic 12 Hours at Sebring will offer few insights into what is to come through the year and, most importantly, at the Le Mans 24 Hours in June.
The reason is that Audi has decided not to blood its R18 TDI coupe in this classic race and instead will rely on a restricted version of last year's R15 Plus. On the other hand, Peugeot will have two 2011-specification LMP1 coupes on the grid. The new car may retain the name and family look of its predecessor, but the second-generation 908 HDi turbodiesel is an all-new car that, at least according to Peugeot Sport boss Olivier Quesnel, carries over only the windscreen wiper from the original.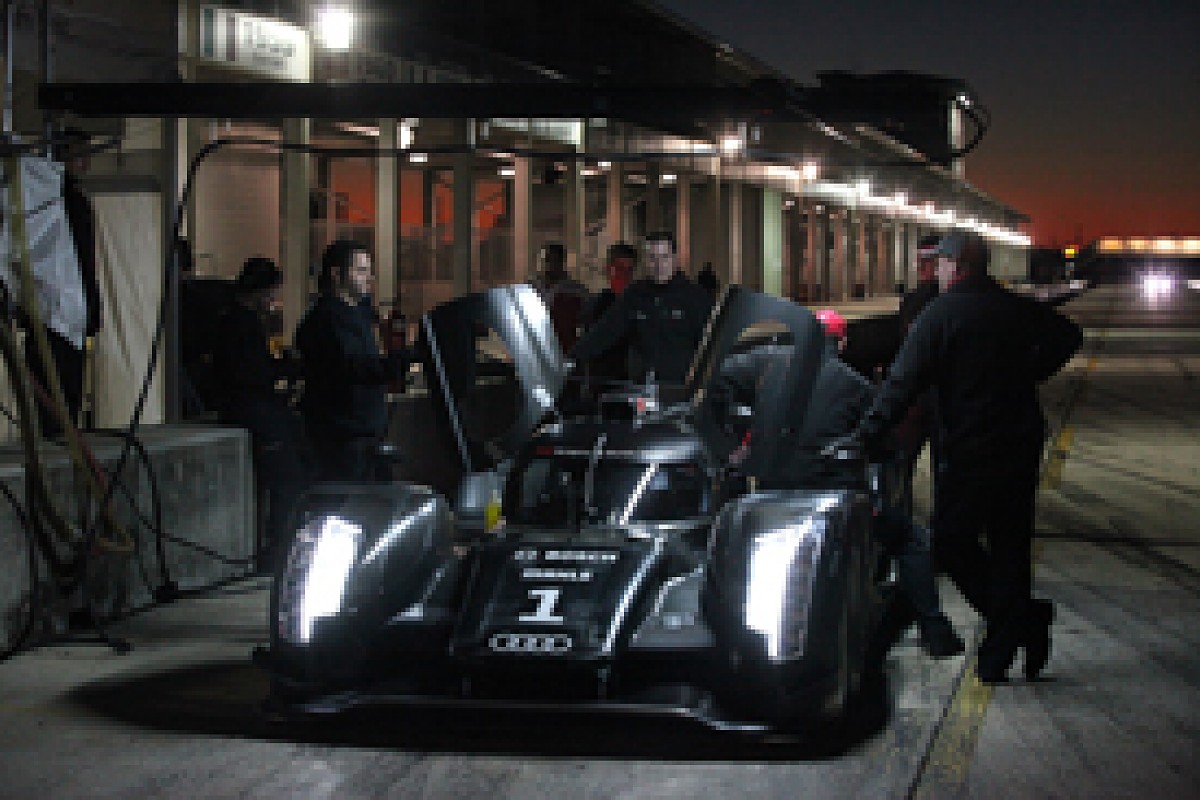 The new Audi has tested at Sebring, but won't race there
Bizarrely, the new Peugeot only ran at Sebring for the first time in private testing on Saturday, whereas the R18 tested at the bumpy airfield venue earlier in the year. Yet Audi's decision not to race its new car in the 12 Hours was made long ago, and was communicated to the world on the official launch of the car in early December.
"We can't do the endurance before the race," said Audi Sport boss Dr Wolfgang Ullrich back then, "and we will not go into the race without the endurance." Interestingly, part of that endurance programme with the R18 will take place the week after the race. Where? At Sebring, of course.

The good news is that the advent of the ILMC gave Audi no choice but to take part at Sebring. For a start, full season entrants are meant to be just that (and there are fines for skipping races), but there's also the little matter of points to be won. Missing one round out of seven wasn't really an option for a manufacturer that clearly thinks the ILMC is worth winning.
What the R15 can do at Sebring isn't entirely clear. Rules that have pegged back the old breed of LMP1 prototypes have been devised to leave them half a yard behind the 2011-spec cars.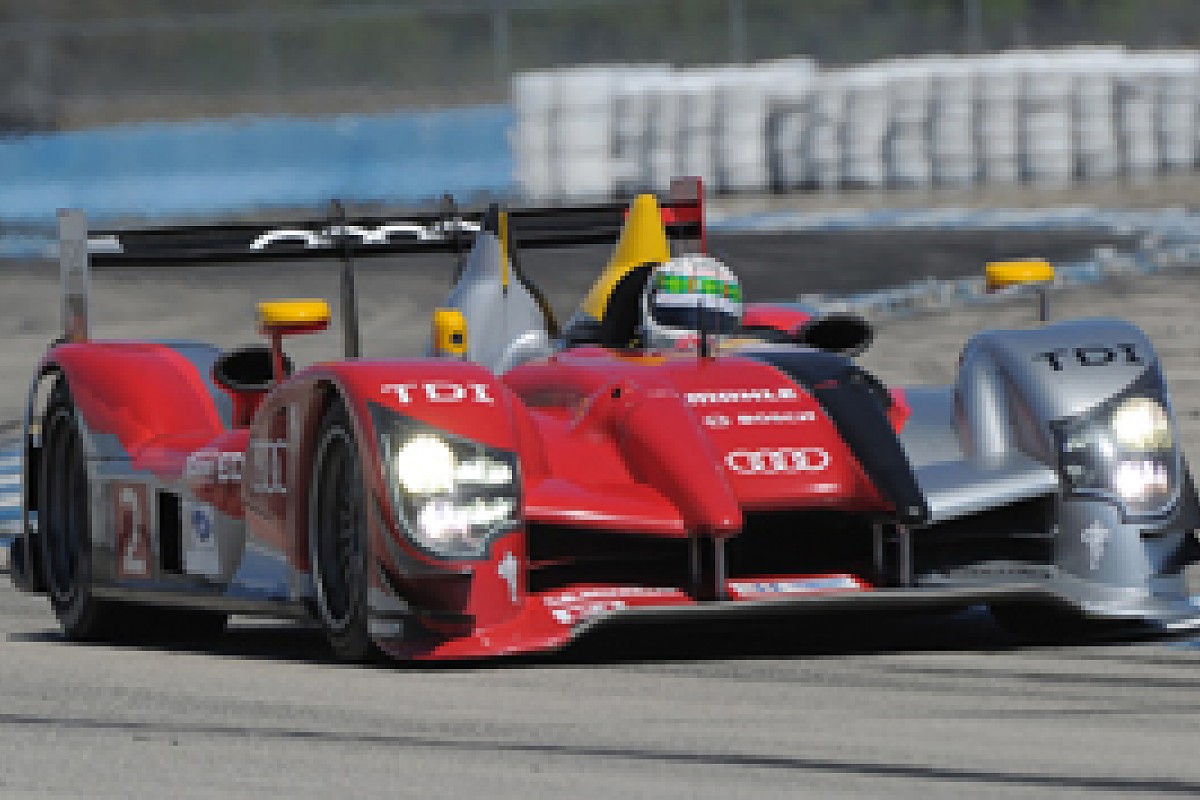 Sebring is the Audi R15's farewell race © LAT
Audi driver Allan McNish reckons it's more like a yard. "The new cars have to be quicker," he says, "so we are a racing a little bit with one hand behind our backs."

On the other hand, Audi is going to Sebring with a proven package. And, as McNish points out, "experience counts for a lot around there".
Even if Audi were to come out on top in the 12 Hours on Saturday, it would offer few clues to the rest of the season in general and Le Mans in particular. At least to the outside world. Audi will have a better insight than anyone else.
It tested both the R18 and the R15 at Sebring earlier in the year. McNish, who shares with Tom Kristensen and Rinaldo Capello this weekend, insists there was no back-to-back test programme undertaken, but he concedes that "we will get more of a view where everyone is than Peugeot".
McNish reckons a true picture won't begin to emerge until round two of the ILMC at Spa in May, which interestingly comes after the Le Mans Test Day on April 24.
"It's going to be difficult to get a read on the situation at the Le Mans pre-test, because everyone will be running different programmes and won't want to show their hand," he says. "We won't get a true feel until our new car and their new car go up against each other in a competitive situation, and that will be qualifying at Spa."
Anthony Davidson over at Peugeot has no doubts that it is going to be close this season.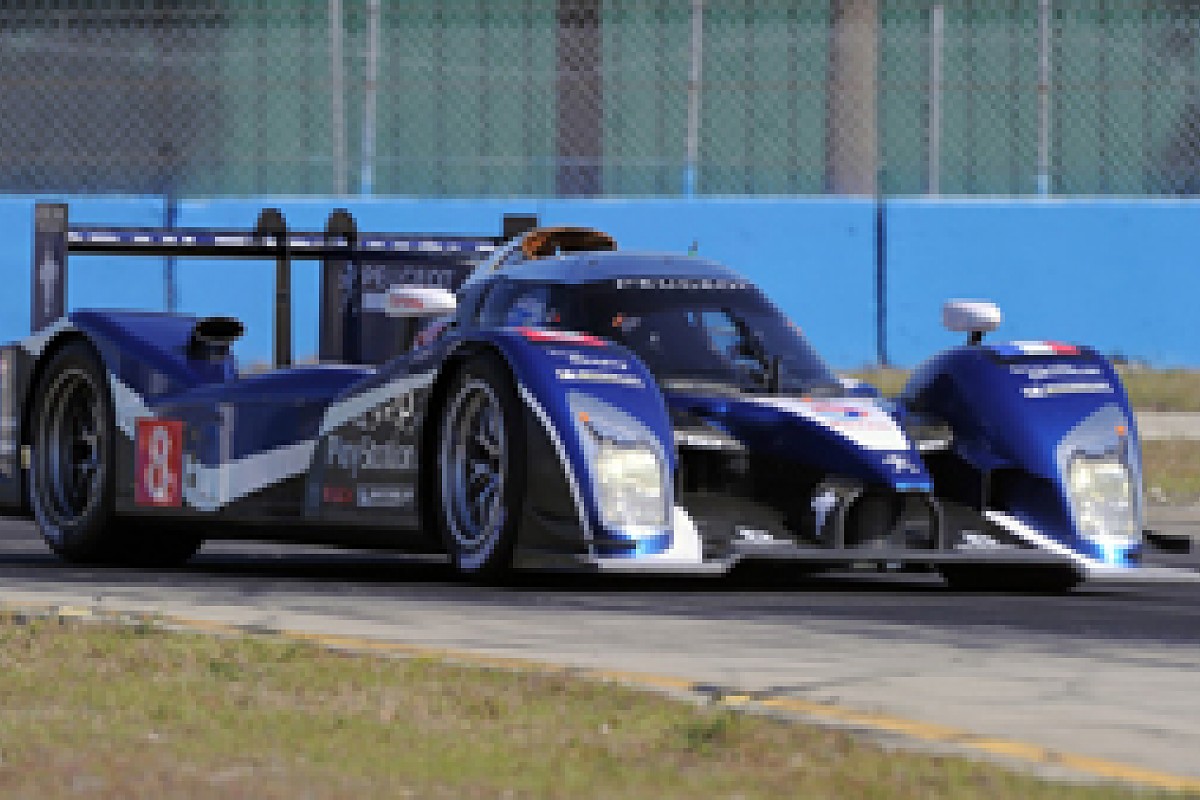 Peugeot says its new 908 is almost entirely different to its predecessor © LAT
"The more experienced everyone gets in terms of wind-tunnel work and CFD [computational fluid dynamics], the closer it brings the competition together," says the Briton, who shares with Alex Wurz and Marc Gene this weekend as he will at Le Mans. "We are completely in the dark as to where the opposition is, but I'm expecting a hard-fought battle with Audi and maybe Aston Martin too."
Davidson claims that Peugeot has been head down, working on its own programme, and has paid little attention to what its chief rival has been up to.
"You have to look at your own numbers. There is no point looking at what the opposition is doing," he says. "You have to work in a professional and methodical way, and have confidence that that is good enough because of your previous results. All I know is that we are right where we want to be.
"I'm sure people are going to try to draw conclusions and make comparisons, but it is too hard to do that. Le Mans is the focus of the year for everyone and we will only really be able to say where we are when the cars ran out in anger on what is a unique track."
Peugeot may have been up and running with the 908 '2', as Quesnel concedes his new baby will become known, since the end of July, but Davidson isn't so sure it makes them favourites for the ILMC opener.
"With so many cars out there, it is going to be a chaotic race," he says. "Sebring is not only about outright speed and this year, more than ever, it is going to be about strategy, about which of the frontrunners trip over slower cars and which don't."
McNish agrees.
"We are going there to get as many points as possible, but we also want to win the race," he says. "With so many cars in the race, you are going to have to be pretty cute in traffic. That means it's not going to be only about outright performance. Once you get into the race, instinct takes over and the gloves come off."