Would the favourite for victory in this year's Le Mans 24 Hours please take a step forward? Pose that question to any of the leading players from Audi and Peugeot, and there'll be blank looks all around and a slight backwards shuffling. Of course, no one wants the pressure that comes with the tag of pre-race favourite, yet no one is predicting that this year's race will be anything other than a closely-fought thriller.
"We are not the favourite, that is for sure," says Peugeot Sport boss Olivier Quesnel. Meanwhile, Audi driver Allan McNish, last year's winner with Tom Kristensen and Rinaldo Capello, is predicting that Peugeot "will have the faster car" once again.
The rhetoric of these grandee marques of sportscar racing is in contrast to previous years. Audi went some way to admitting that the odds were stacked in its favour in Peugeot's first year back at Le Mans in 2007, while the French manufacturer couldn't shake off the mantle of favourite in '08 courtesy of the clear performance advantage enjoyed by its 908 HDi.
That advantage has disappeared courtesy of the arrival of the Audi R15 TDI. Yet fears that the all-new German turbodiesel would leapfrog the three-year-old 908 in the same way that the French car put the R10 in its place appear, for the moment at least, unfounded. McNish may have won a thrilling Sebring 12 Hours with his Le Mans team-mates, but he uses the US enduro as evidence to back up his claim that Peugeot will have the quicker car.
"I would say that the straight-line speed the Peugeot showed there and the fact that its fastest lap was seven tenths faster than ours means they will have the quicker car at Le Mans," he says. "I believe the gap will be smaller than last year, but I am sure they will be faster, at least over one lap."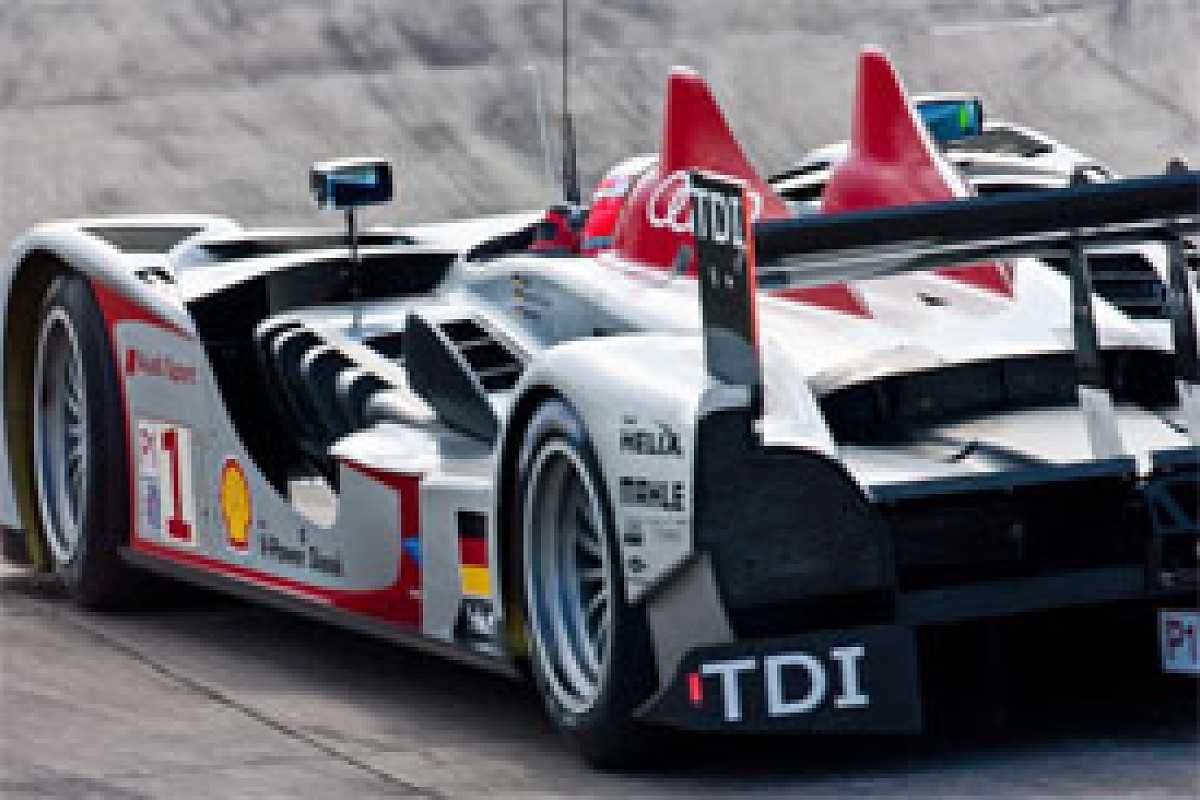 Audi R15 © LAT
Comparing the R15 on its race debut in the American Le Mans Series with the 908 may not give a true indication of what is to come at Le Mans. By definition Audi will have had more to gain in the three months between Sebring and the 24 Hours. McNish alludes to this when he says, "I didn't expect a new car to be quite so good straight out of the box."
Peugeot Sport team manager Serge Saulnier suspects that the Audi will be quicker at Le Mans. "We are preparing ourselves for that," he says. "We expect them to have the pace on us, but we feel we will be very close in terms of outright performance." Winning the Le Mans 24 Hours involves much more than pure speed, as Audi proved last year. But now Saulnier believes that the in-house Peugeot Sport team once again has what it takes to repeat its victories of 1992-93.
"We feel more ready to win than last year," he says. "In retrospect, we had some weaknesses in every area."
There were various reasons why Peugeot failed to win at Le Mans last year, despite the clear superiority of the 908. Its tactical failures were significant, but have been overplayed. The real reasons it lost the race were an overheating problem and issues with the 908's traction control that stymied its performance in the wet, combined with a superlative performance from McNish, Kristensen, Capello and the Joest team.
The overheating problems, caused by tyre debris mixed with rainwater to create what Saulnier described as "a kind of paté" that blocked the radiators, have been addressed.
"It is something on which the team has worked on a lot," he says. "Sebring suggested we have solved it, but we won't know for sure until the race."
Peugeot also made significant strides with its traction control over the second half of last year. But it's not just the rear end of the 908 that will be calmer in 2009. The atmosphere within Peugeot Sport appears more settled, a contention with which Saulnier agrees.
"We feel stronger," he explains, "partly because you can say that we are better prepared."
Saulnier even goes as far as admitting that the team's decision to take part in the full Le Mans Series last year, which included three races before the 24 Hours, "could have been a mistake". The heavy workload was compounded by Marc Gene's car-destroying accident at the Le Mans Test Day two weeks before the race.
"We were very tired when we arrived at Le Mans," he says. "And when you are tired, you feel the pressure. This year we are more relaxed, certainly calmer." Peugeot has also tightened up on its pitwork, an area in which it consistently fell short of Joest in the past.
"We were at least as fast as them at Sebring, and sometimes we were quicker," says Saulnier, who points out that both teams were not running to the new one-wheelgun pitstop rules devised to try to put a premium on tyre longevity. "To be fast in one pitstop is one thing, to be fast now over 24 hours is something else."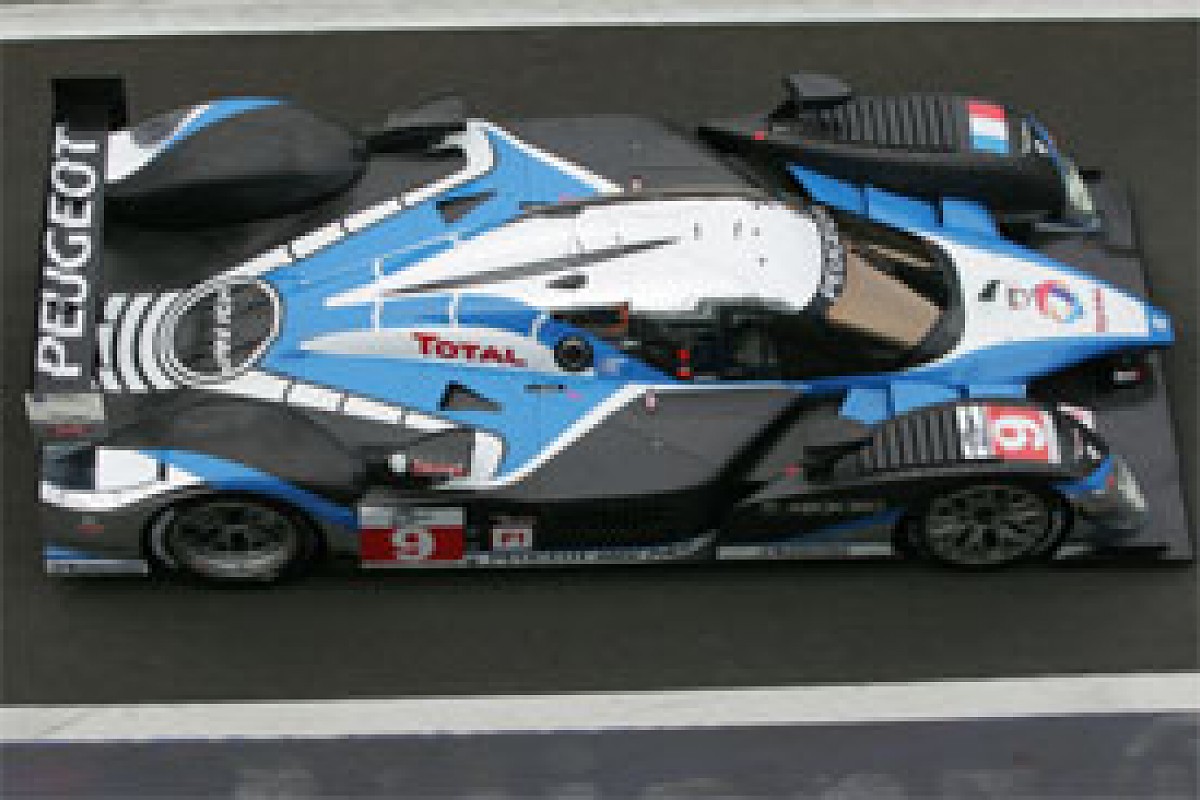 Peugeot 908 © LAT
Two seasons' worth of sportscar experience should make Peugeot a more formidable opponent for Audi. It has also bolstered the experience of the driver line-up in its three 908s.
Old Le Mans hands Sebastien Bourdais and David Brabham have replaced Jacques Villeneuve and Ricardo Zonta. Bourdais was a shoo-in for a drive once his Formula 1 situation became clear, while Brabham was recruited after Quesnel joined Peugeot Sport in January. It appears that he vetoed the signing of Anthony Davidson on grounds of experience.
Audi also arrives at Le Mans with a stronger driver line-up than in 2008. This writer incurred the wrath of one, now-departed member of Audi's sportscar squad for suggesting that McNish and co were the only crew that could take the fight to Peugeot. That prediction came true, which was one reason why there has been a changing of the guard at the German manufacturer for this season.
All three R15s - not just the McNish/Kristensen/Capello car - are capable of winning this time. Lucas Luhr reasserted his credentials as a top-line sportscar driver in the ALMS last season, while Mike Rockenfeller looks more at home in an R15 than he ever did in an R10. The arrival on loan from Porsche of Romain Dumas and Timo Bernhard, two of the world's best sportscar drivers, further boosts Audi's line-up.
They should have a reliable car, on the evidence of Audi's past record and the R15's debut at Sebring. The German marque hasn't had an easy run-up to Le Mans, however. It appears to have been affected more than Peugeot by the late addition of 30kg of ballast to the turbodiesels, an attempt by the race organisers to bring the petrol-powered opposition into range. So tightly packaged is the R15 that finding room for the necessary ballast wasn't easy.
"These cars are complex," says head of Audi Sport Dr Wolfgang Ullrich, "so you don't just take 30kg and stick it somewhere. You have to work out a proper solution and redesign components."
Development of the R15 has also been interrupted by two major accidents, both during endurance runs. Capello crashed at Sebring, two days after the 12 Hours, following a problem. Last month Alex Premat shunted heavily during a 30-hour Le Mans simulation at Paul Ricard. This accident was the result of driver error, but crucially it meant Audi Sport and Joest had to schedule another endurance run. "We are a little late with our endurance stuff, and there is still some work to do," said Ullrich in mid-May. "It will be tight, but we expect we will be in good shape at Le Mans."
Peugeot's build-up toward the 24 Hours hasn't been without its problems. A gearbox problem put one of its 908s out of the race at Sebring, and the same issue reappeared during testing. This was the reason Peugeot opted to enter two rather than the planned three cars in its warm-up race at the Spa LMS event early in May.
Peugeot and Audi won't get chance to test their 2009 LMP1 challengers on the Circuit de la Sarthe before Le Mans week, because the traditional Test Day was cancelled when the credit crunch hit. That means a picture of where the Big Two stand against each other may take some time to become clear.
"Everyone will be feeling their way on Wednesday [first qualifying]," reckons McNish. "We may have to wait until Thursday or even until after the first eight hours of the race to see where we all are."
Last year's hero of the day is in no doubt that the 2009 edition will provide another great race. "Look at the number of strong cars and look at the driver line-ups at Audi and Peugeot," he says. "It has the makings of another classic."