Peugeot's 908 HDi FAP turbodiesel was last season's fastest Le Mans racer. Peugeot Spider Cup champion Simon Moulton got behind the wheel to discover its secrets
The request sounds simple: brake at the 100-metre board. In theory it is. In reality, when you're sat in the ultra-claustrophobic cockpit of the Peugeot 908, approaching the sharp end of 300km/h in sixth gear - yes, that's 185mph - ordering your right foot to stay on the throttle and not switch to the middle pedal, as Turn 1 at Circuit de Catalunya rushes up and fills the windscreen, is a true test of mind over matter.
To complicate things further, I've discovered a bump between the 150- and 100-metre boards. Slamming on the huge carbon anchors, as the car momentarily loses its poise provided by all that downforce, gave me a moment I wouldn't like to repeat. "Next time, next time," says your brain. Now if only my foot would listen...
First, an explanation of why I'm in the moulded seat that's normally the preserve of Formula 1 drivers, like Sebastien Bourdais, Franck Montagny and Marc Gene, or sportscar supremos like Nicolas Minassian, Pedro Lamy and Stephane Sarrazin. I was invited to drive this car as part of the prize for winning the 2008 Peugeot THP Spider Cup, the predominantly French one-make series that supports the Le Mans Series.
From a 220bhp buzzbox to a 700bhp-plus twin-turbo V12-powered LMP1 prototype. It just didn't seem real - until I slid, feet first, into the carbonfibre tub.
I'd been revising hard, learning how to fire up this rocketship, and all that was about to be put to the test.
My experience began with a fitness test at the French national football team's facilities at Clairefontaine, near Paris. That was great. Everyone was so welcoming and I didn't feel at all out of place. Here I was, sitting on the fringe of conversations between ex-grand prix drivers and F1 testers - I couldn't really contribute to what they were talking about, like the effects of KERS and the latest gossip about who was doing what, but it was great to listen in.
The physical assessment was fun. I was able to judge myself against these super-fit guys. I compared quite well and impressed myself!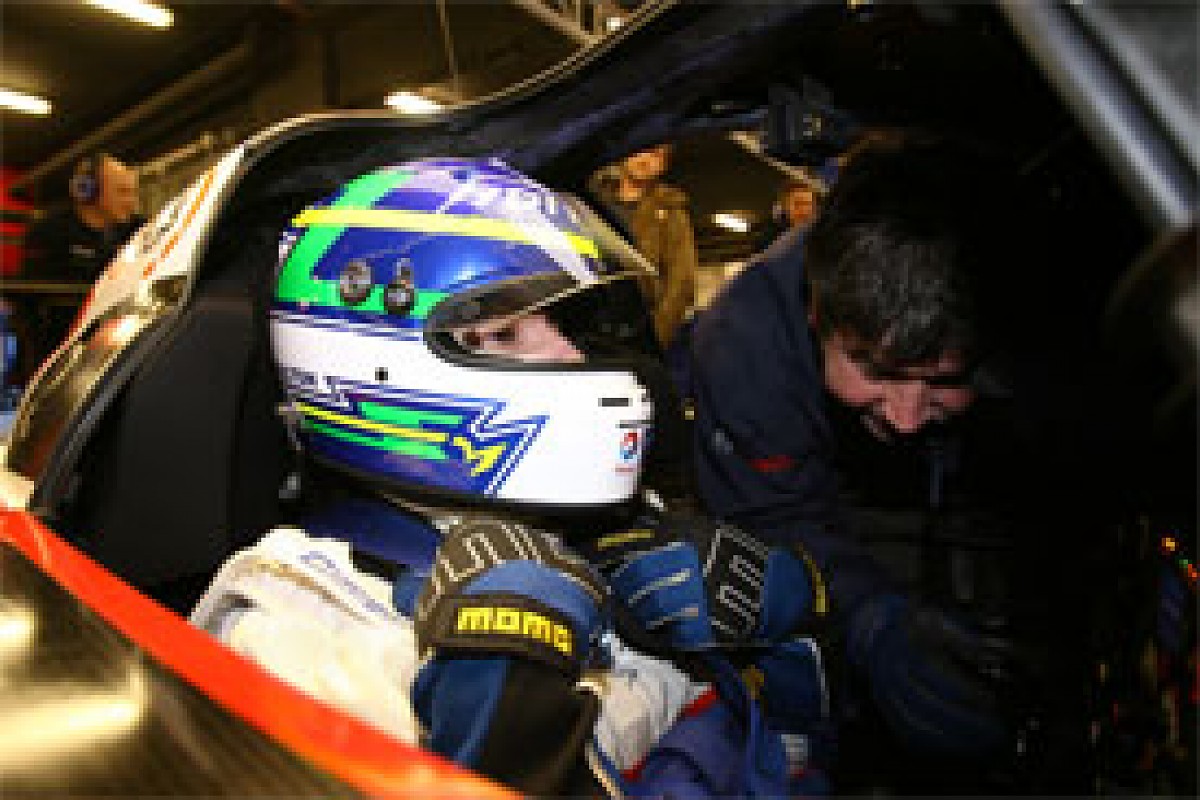 Simon Moulton in the cockpit of the 908
I'd never driven a racing car with a roof before, not even a tin-top saloon. It has always been single-seaters or open-topped sportscars for me. Once they belt you in, it's very claustrophobic. My helmet was literally scraping the top of the door when it was slammed shut above me.
Conversely, the windscreen is a long way away and stretches out in front of you. There are some pretty bad blind spots from the driving seat, I can tell you. You feel this most in the constant radius corners, of which there are many at Barcelona. You just have to feel your way around and be careful not to clip any kerbs you shouldn't.
One big surprise is that, for a French car, it's right-hand drive. I assume that's for the weight balance, with most circuits being clockwise and having a majority of right-hand corners. It's also better for the pitstops, so you can roll out of the car towards the garages and not into the pitlane - great for anywhere except Interlagos.
The controls were very straightforward - you switch the engine on with a button that could be straight from a computer. Despite some nervousness on my part, pulling away for the first time wasn't a problem - let's face it, stalling is always a big no-no. You start it up with your foot flat on the throttle, because the rev limiter is controlling the rpm, and you pull away like that with your left foot on the clutch as normal - no need to blend the throttle. That's the only time you touch the clutch pedal at all.
The first shock comes when you release the pitlane limiter.
I don't know whether it's the massive torque from this turbodiesel or the fact it's simply got more than 700bhp on tap. You can't comprehend just how it squats down and goes. I was up to fourth gear by the first corner on my out lap...truly impressive. But despite all that power, it is very stable.
I completed my first five laps in the twilight of Friday evening, with storm clouds gathering overhead. I have to admit, I felt like a bit of a passenger. The car was really driving me, but that's all part of the acclimatisation process. The first lap was all about using maximum throttle, getting that 'oh my god' feeling out of the way, so it became normal. There was no point in building up to it. I was wide-open straight away. The next day the plan was three runs of five laps and two of 10 - proper running.
I'm used to paddle shifts from sportscars, even my diminutive Peugeot Spider Cup car has them, but this was something else again. You read about how good gearbox electronics are these days, but the slickness of upshifts and downshifts was amazing. Even with a lot of lock on, you can change up easily and, coming down the box into a corner, even from the turning point to the apex, you can still be shifting without causing yourself a problem.
The back end was nailed, even on the second-to-first change, with no kickback at all.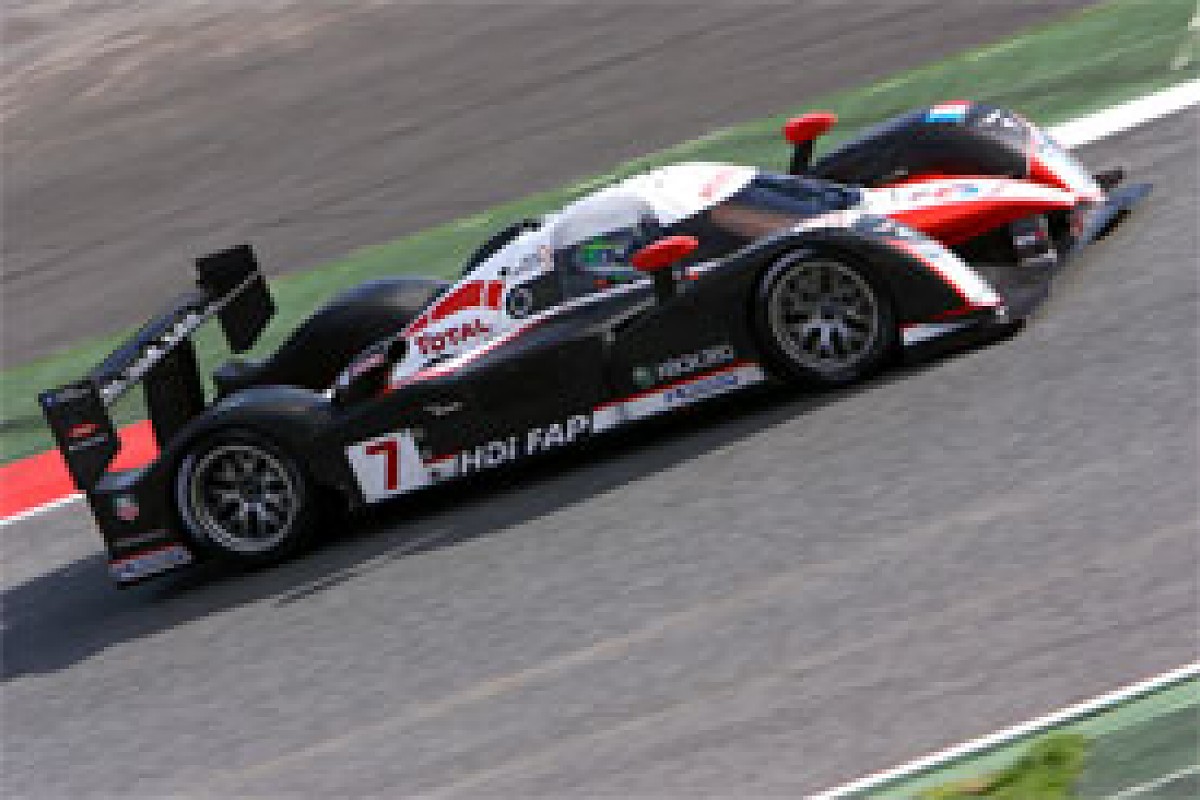 Simon Moulton at speed in the Peugeot 908 in Barcelona
There's a steering wheel-mounted row of shift lights, which meet in the middle. When they go green, you change up - it's as simple as that. I haven't a clue how many revs were involved, because to be honest I didn't really need to know, but with it being a diesel it can't have been all that many. We were running a decent amount of traction control, but had leaned back a couple of clicks on the engine map. I found I still needed to modulate the throttle exiting first and second gear corners, because I wasn't exactly using brand-new tyres.
When you look at the size of the Michelin tyres fitted to an LMP1 racer, your first thought is: "I'm never going to be able to turn the steering wheel with those on." They are huge. The power steering gave me that strength without diluting any of the feel, so I could detect any understeer or oversteer before it caused me any problem. Through the second-gear stuff in particular, I thought it was surprisingly nimble for such a big car.
With the set-up I'd been given, after taking over from Sarrazin, the car had a perfect balance and I didn't have any real moments... except for one. The back-end slid a little at Turn 4, on an upshift to fourth on the harder compound tyres, but it was nothing I couldn't hold and learn not to do again.
The real test of mettle, as I said from the start, was the brakes. Getting heat into them wasn't a problem. After stepping on them hard as I came out of the pits, and then again at Turns 3 and 4, I was getting the full effect pretty much straight away. Team manager Serge Saulnier was taking an active interest in my test, which was very nice, although he spoke very little on the radio. He did say, though, that he wanted me to use more brake pressure, to get the full benefit. That meant I could brake later, of course, but finding that bump just before the 100-metre board wasn't nice at all.
In my final session, though, I really cracked it, which was satisfying - it showed I was paying attention to him.
I was pleased with the times I managed. I notched up a 1m37.9s, which I am reliably informed by one of the drivers is about 1.5s off what they would be able to do on old tyres with the 'conservative' engine map. It was intriguing to look at overlaid traces, to see where I was losing out - mainly at Turn 9, the daunting Campsa. It's a fourth-gear corner with a blind crest, and I knew there was more time to find there, but it's a hard place to go looking for it. But I was good in Turn 3, feathering in third gear, then up to fourth and flat for the rest of the sweeper before taking fifth on the exit. I was actually quicker than one of regular drivers in the very slow stuff, which is always nice to know!
After 50 laps I emerged fairly battered and sore. I used a padded-out version of Montagny's seat and I received a fair amount of bruises on my back, because I was submarining slightly under braking. The belts and the HANS device had cut in at other points, too. I later noticed that all the other guys had nice cushions on their HANS - then again, they have to drive for even longer. I know Le Mans is a less physical circuit than Barcelona, but their stints more than make up for that.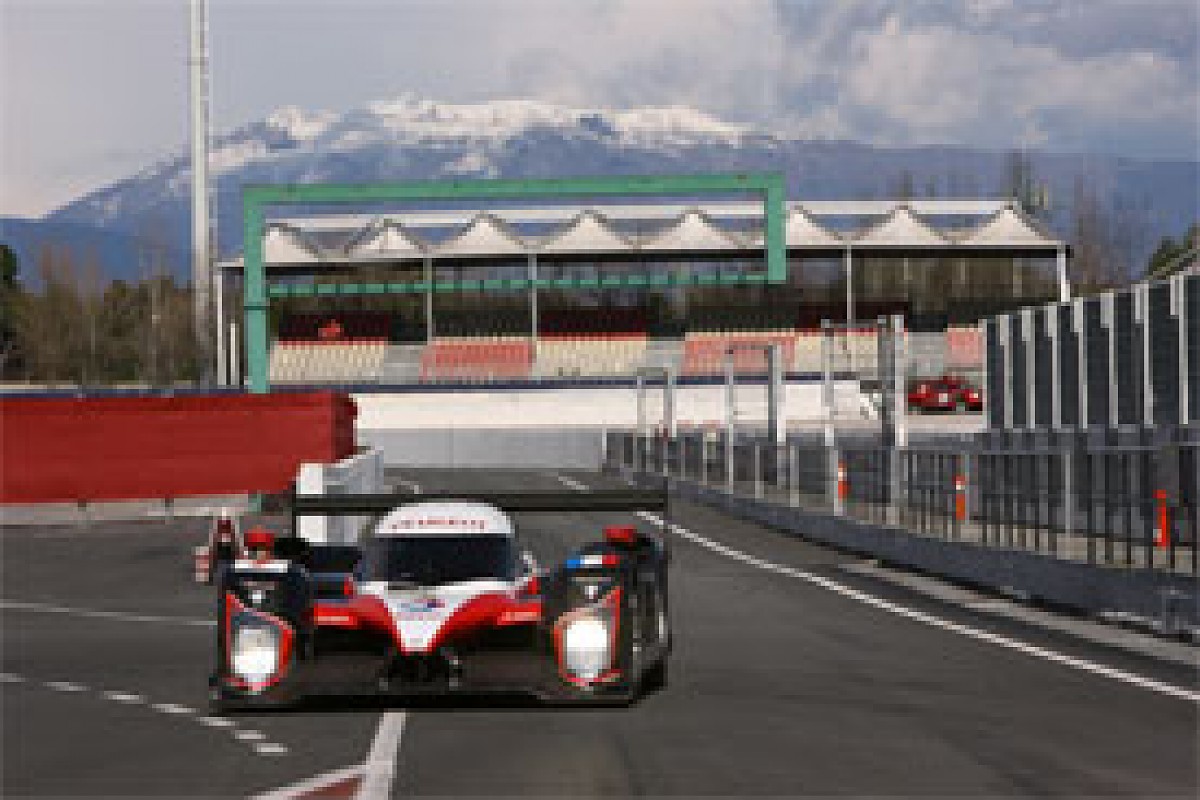 Simon Moulton returns to the pits after a day's testing
My neck lasted for 20 laps before giving out, but I'd already spoken to Minassian about that. He said I could put some padding in and just rest my helmet against the wrap-around headrest. It took a bit of getting used to, driving around a few corners with my head at 45-degrees, but it was okay! Originally I'd been scheduled to test at Paul Ricard, but it was switched to here. When I mentioned it to Nicolas and Franck they all had a good laugh at my expense, telling me: "That's a bad one for the neck." Cheers guys...
The only scares I had during the test were a consequence of all the rubber that had gone down after five days of endurance testing. There were some really big chunks, and when you hit them at 185mph, it makes on hell of a thump, and you feel the vibration as it sticks to the tyre. At Le Mans, that must be a real problem with all those marbles around.
There were a few words I'd hoped to hear from Serge at the end of my runs, but I never dreamed he'd actually say them. "Congratulations, Simon. You've had your prize for winning the championship, but now you are the official Peugeot Sport test driver... for the next 10 laps anyway."
Okay, the caveat at the end ruined the illusion a little - technical director Bruno Famin quipped, "We have run out of drivers, they've all gone home!" - but to get an extra run was an added bonus on top of the 40 laps I'd already completed. They wanted to evaluate the air-conditioning and a harder set of tyres. It was a good experience to learn about those and adapt my lines to the increase in understeer.
A wonderful experience had just got even better. And, if you were wondering Serge, yes I am free in mid-June, just in case any of your regular guys skis into a ravine or something...