The Audi versus Peugeot battle, modern sportscar racing's epic rivalry, enters a new era this weekend with the American Le Mans Series season-opening Sebring 12 Hours.
Last year Peugeot's 908 HDI FAP had a commanding speed advantage over Audi's R10 TDI, yet even with a faster car, Peugeot couldn't stop its arch-rival winning Le Mans, the Le Mans Series or the Petit Le Mans - and it also missed out on LMP1 honours at Sebring, where both marques were humbled by the more reliable LMP2 cars.
Despite all its success, Audi hasn't relaxed.
Knowing that sooner or later Peugeot would stop throwing away its golden opportunities, the German squad went back to the drawing board and came up with the fierce-looking R15, which it expects to be a major step forward over the R10.
That's not good news for Audi's rivals, especially as the team tends to hit the ground running. No learning seasons for Audi - the R10 won Sebring and Le Mans at the first attempt, and if the R15 is as good as its drivers promise, it could well do the same.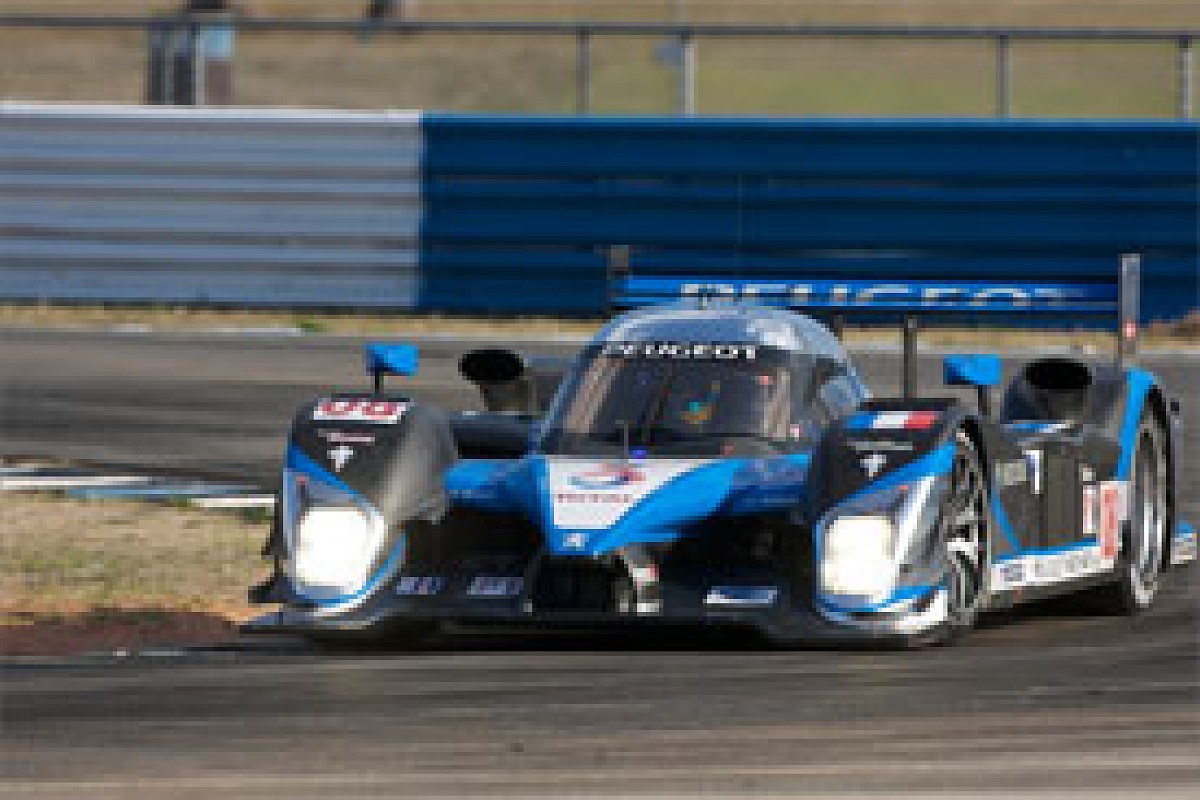 Peugeot 908 HDi FAP testing at Sebring © LAT
Officially at least, Audi is taking Sebring much more seriously than Peugeot, which is billing its trip to Florida as a glorified test for Le Mans. Whether its drivers, who must shoulder much of the blame for last year's defeats, can keep to that strategy remains to be seen, as Nicolas Minassian admitted during the test days.
"I'll have to follow what they ask me to do, but if I just come here and think I'm just going to play around, I should not do what I'm doing," he said. "I want to win the race - and then slow down if they ask me to."
Just as they will when Aston Martin joins the fray for Le Mans, Audi and Peugeot's diesel-fuelled cars face an intriguing petrol-powered
LMP1 rival at Sebring. Acura has graduated from the LMP2 ranks with the radical ARX-02a, and as this machine has been designed for the ALMS rather than Le Mans, it ought to prove more suited to the rough-and-ready Florida airfield track than the European entries.
However Acura is also playing down its expectations for Sebring, insisting that it is still at the start of a long development process with its new challenger.
Sebring is a tough place to come with a brand new car. Twelve hours of battering from the track's famous bumps can take its toll, and last year even the proven Audi R10s wilted, allowing Penske Porsche to lead an LMP2 top three sweep. As far as Audi's Allan McNish is concerned, the remaining LMP2 Acura and the Dyson Lola-Mazdas complete a list of nine potential victors.
"I don't think we can discount those guys at all because the nature of this race, with yellows and fuel strategy and things, plays back toward them a little bit," he said. "Dyson finished second overall and Acura was actually on the podium as well. Those guys will be there come the end of the 12 hours."
The pace is also set to be hotter than ever, as the LMP1 manufacturers push the boundaries of possibility further and further.
"These cars now have developed so much that going through Turn 1 in a prototype is nearly flat-out in sixth gear," said Acura driver David Brabham. "The level of driver that has to be able to cope with that has gone up. We're effectively driving Formula 1 cars in a sense."
Acura is the only one of Sebring's big three contenders that will stay on for the rest of the ALMS season, as after an outstanding 2008, America's premier sportscar championship moves into uncertain times.
Last year was a halcyon season for the ALMS, with two Audis, four Acuras, and four Porsches in contention for outright victory week in, week out, and delivering unsurprisingly excellent racing. Now Audi is heading for the exit and Porsche's LMP2 project is over, while Acura's LMP1 move sees a net reduction in its car count as Andretti Green drops out.
With two LMP1 Acuras and the Fernandez car remaining in LMP2, and Dyson Racing picking up Mazda's sportscar engine programme to power its new Lola LMP2 coupe, there will still be five factory-blessed prototypes at the head of the field. But as the ALMS falls into line with Le Mans and restricts the LMP2 cars' pace, the new Highcroft and De Ferran Acuras could well end up fighting amongst themselves for outright victories.
Plucky privateers like Intersport and Autocon add numbers to the LMP1 pack, and Intersport's archetypal underdog team leader Jon Field gave the Audis some real frights last year, but cannot be expected to challenge the remaining manufacturer teams for race-long performance.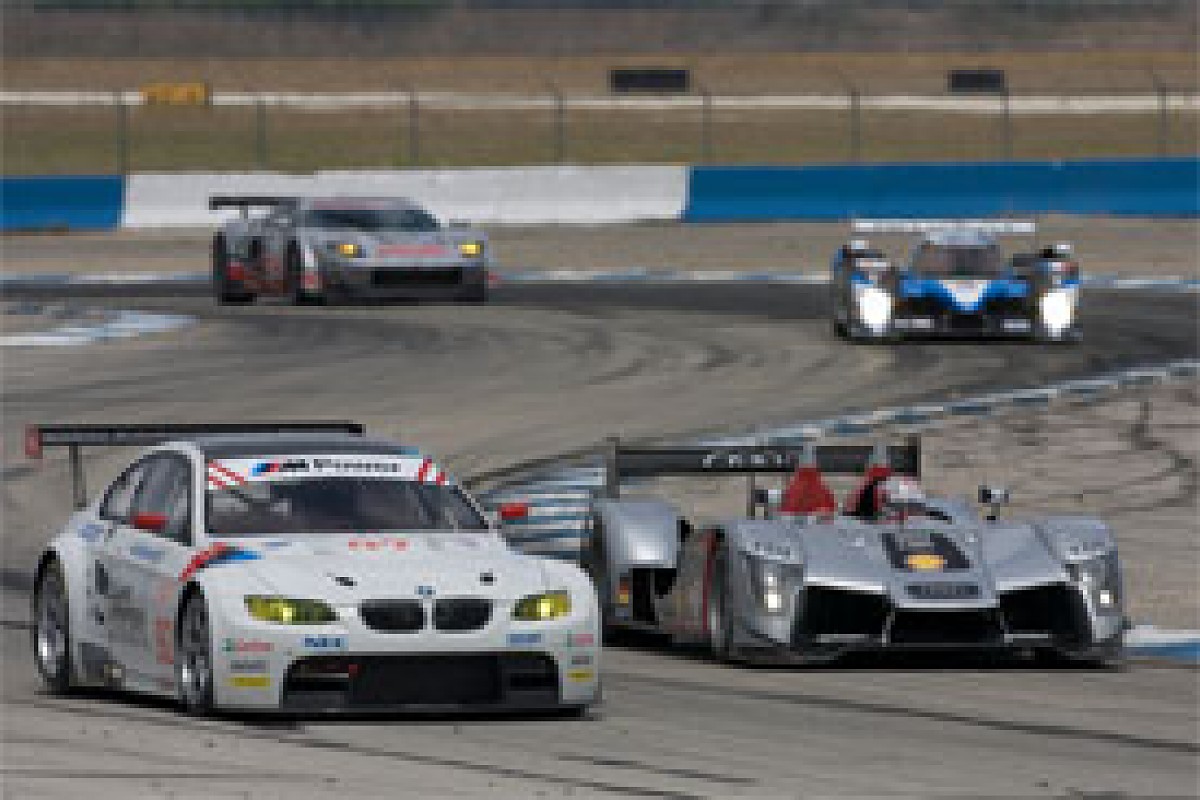 BMW M3 GTR, Audi R15 TDI, Peugeot 908 HDi FAP, and Ford GT-R testing at Sebring © LAT
While priding itself on its top cars' high-tech nature, the ALMS has never been afraid to brand itself as entertainment. Hence the relatively short races, the street tracks, and the decision not to hold the LMP2 cars back when it was in the interests of good competition for the LMP1 Audis to have some rivals. IMSA hasn't been shy about making such rules tweaks in the past, so if 2009 turns out to be a pale shadow of last year, expect action to be taken to close things up again. What the organisers can't do, though, is tempt manufacturers to keep investing vast sums during a recession.
Perhaps the problem was that 2008 was just too good. For many years Audi utterly dominated the ALMS, with the likes of Dyson only occasionally managing to intrude, and grids lingered around the 20 mark, a level similar to that anticipated post-Sebring this year. Yet back then the ALMS was still regarded as a stable and successful series.
And in the GT2 class, the ALMS has arguably never looked stronger than now. The stage is set for another chapter in Porsche and Ferrari's battle for supremacy, but they will have to keep an eye on the new breed of challengers. BMW is returning to the fray with Rahal Letterman Racing, and Corvette is moving down from the moribund GT1 division to make it a four-way fight between a quartet of legendary sportscar names.
The four big manufacturers provide GT2's 'icing', but unlike the prototype field, there is an abundance of 'cake' underneath as well.
Former BMW team PTG is making strides with the Panoz, while bold private programmes such as the Primetime Dodge Viper, the LG Riley Corvette and the Robertson Doran Ford add colour and variety to the pack.
They may be spread across four classes, but the ALMS can still boast a regular entry of seven manufacturers plus the privateers and the illustrious Sebring guests. Amid global economic mayhem, that's a cause for quiet satisfaction.
In any case, questions about the championship's health will take a back seat until round two in St Petersburg next month. For now, the focus is on Audi, Peugeot and Acura going head to head in the most punishing event outside Le Mans.
"Right now, I think we're so embroiled in it that we maybe don't necessarily want to look back," says McNish. "However, this era is one of the best and I think we'll look back on some of last year's races in 10 years' time, and people will remember those events as legends.
"The fans will remember the day when this happened or that happened in 2008, and I'm quite sure that they'll do that with Sebring 2009 as well."