Time flies when you're having fun, or at least it definitely does if you're racing in W Series.
Over the course of just three months, W Series has contested five rounds alongside the DTM calendar and is set to draw to its dramatic conclusion this weekend at Brands Hatch.
Two drivers remain in title contention and will battle it out for the inaugural W Series crown in just one 30-minute sprint race on Sunday afternoon - rather than than the usual Saturday slot due to the two-day Brands schedule.
Winning the title ensures a place in motorsport history books and - more tantalisingly - $500,000 in prize money for the champion to further her single-seater career.
The points permutations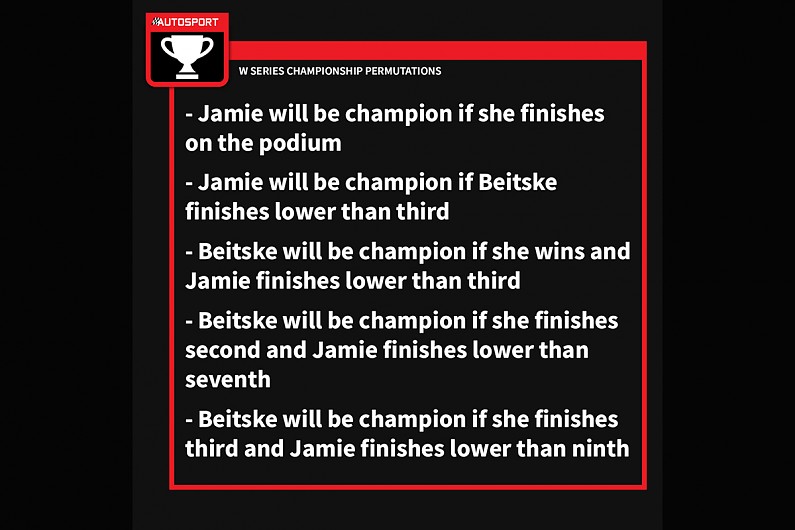 Jamie Chadwick leads Beitske Visser into Brands with a margin of just 13 points, having emphatically begun her bid for the championship with a dominant performance in the opening round at Hockenheim - where she topped every session, claimed pole and took victory.
Visser responded with her own storming display at the following round at Zolder, where Chadwick was third, with Alice Powell in second.
Visser has not won a race since Zolder, but consistent points finishes throughout the remaining rounds have kept her in close contention.
Chadwick, who has also become a development driver for the Williams Formula 1 team since beginning the W Series season, took her last win at Misano at the midway point of the season.
Although she has not taken victory since, her continued podium presence and pace means she has maintained a lead over Visser all season and it would be difficult to bet against her lifting the championship trophy come Sunday afternoon.
But W Series is by no means an 'ordinary' championship, with no teams, rotating cars and engineers and therefore no real 'underdog' choice - so Visser still very much remains in with a chance in a race where anything could happen, with a tight pack and wet weather forecast.
Leading standings before Brands
| Pos | Driver | Points |
| --- | --- | --- |
| 1 | Jamie Chadwick | 98 |
| 2 | Beitske Visser | 85 |
| 3 | Marta Garcia | 62 |
| 4 | Alice Powell | 51 |
| 5 | Fabienne Wohlwend | 41 |
| 6 | Emma Kimilainen | 35 |
| 7 | Miki Koyama | 30 |
| 8 | Sarah Moore | 23 |
| 9 | Tasmin Pepper | 22 |
The title fight is not the only contest ongoing, as Visser is also in a battle with Norisring winner and break-out star Marta Garcia, who lies third in the championship currently but could edge ahead if she wins and it's a particularly messy race for Visser.
Closer still is the fight for fourth place, which has taken another twist after Powell's resurgence at Assen.
Having endured a miserable mid-season around Misano and Norisring that was blighted with on-track clashes and technical concerns, Powell took second place at the last round and jumped ahead of Fabienne Wohlwend - who finished on the podium at Misano - as the pair do battle for a $100,000 share of the prize money.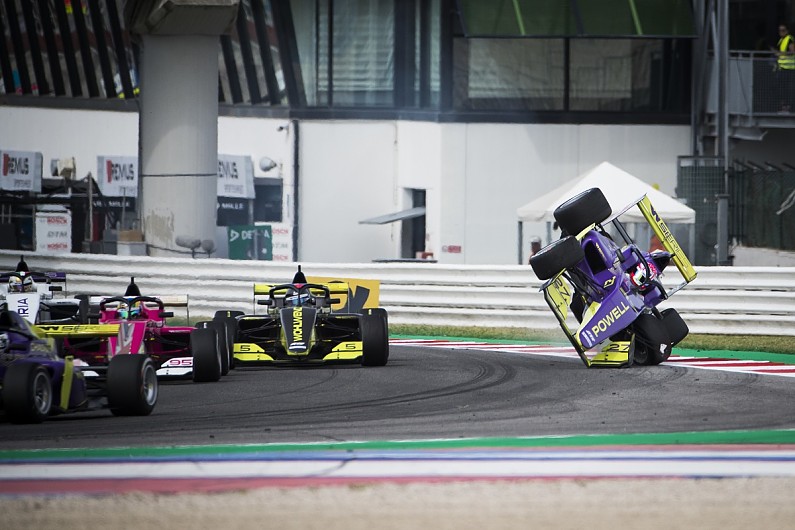 The lead 12 drivers in the pack are automatically set to advance to W Series' 2020 season, where superlicence points are due to be awarded.
Chadwick, Visser, Garcia, Powell, Wohlwend, Assen winner Emma Kimilainen and Miki Koyama are all safely guaranteed a place on next year's grid if they want one.
The battle to make the 2020 cut
| Pos | Driver | Points |
| --- | --- | --- |
| 10 | Vicky Piria | 16 |
| 11 | Caitlin Wood | 11 |
| 12 | Gosia Rdest | 10 |
| 13 | Sabre Cook | 10 |
| 14 | Jessica Hawkins | 6 |
But further down the field around the 12th place cut-off mark, five drivers - Vicky Piria, Caitlin Wood, Gosia Rdest, Sabre Cook, Jessica Hawkins - are in an ongoing fight for the final guaranteed place.
Dropping outside of the top 12 would mean drivers must re-qualify for the series as part of a yet to be announced new selection process.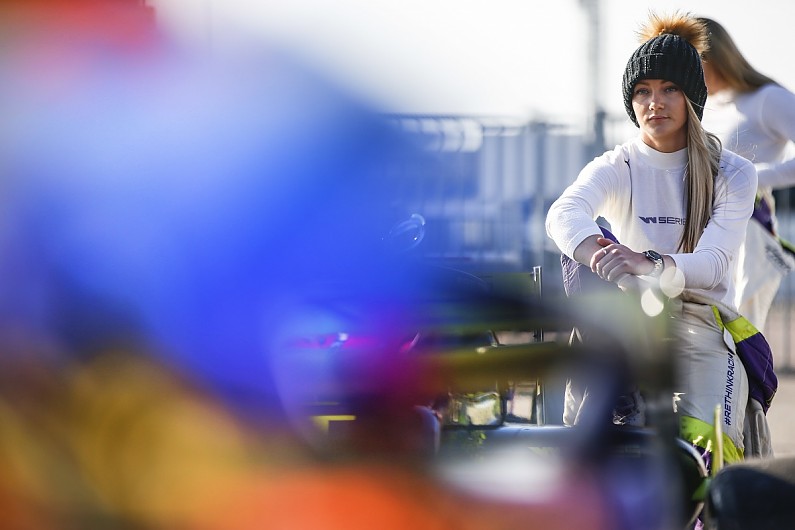 Hawkins, who currently has six points and lies outside the top 12 in 14th, is out with a particular point to prove after suffering a disappointing car failure at the Norisring round when she was set for her best finish of fifth, which would have leap-frogged her safely within the top 12. She managed a seventh place at Assen, but needs a considerable haul at Brands Hatch to assure her safety.
Meanwhile, current 12th place-sitter Rdest will be using the same chassis she used at Assen, rather than rotating, as she crashed out of the non-championship reversed grid race and sustained damage.
Assessing W Series' first season
The series' chassis rotation rule is suspended when a car is damaged at one round, to avoid any suggestion of a driver being compromised by lingering after-effects of someone else's shunt.
Points-scorers Esmee Hawkey, Naomi Schiff and Vivien Keszthelyi all have a mathematical shot at making the top 12 still but would each require at least a fifth-place finish and mayhem elsewhere - and Keszthelyi goes into the weekend as only a reserve, as does Sarah Bovy.
Shea Holbrook and Megan Gilkes are the only regulars who haven't scored at all this season, so would need fourth or higher at Brands to reach the top 12. That would be a major step from their form so far, though Gilkes showed what she could be capable of with more experience when she held on under huge pressure from Powell to win the experimental reversed-grid race at Assen.