Megan Gilkes' confidence has been boosted "no-end" by her surprise win in the W Series reversed-grid race at Assen last weekend.
Gilkes, who is the youngest driver on the W Series grid at 18, started the reversed-grid race from pole owing to her position at the bottom of the inaugural drivers championship.
She held the lead from the start, although came under pressure several times from second-place starter Sarah Bovy and Jessica Hawkins in a race that was interrupted twice by safety car periods.
Gilkes eventually came over the line side-by-side with Powell - who had launched a late attack after getting past Hawkins - and took her first victory by a margin of 0.003s.
"I really had an absolute blast out there," said Gilkes.
"It's boosted my confidence no end, after the race yesterday I was a bit disappointed with my performance and I didn't think things had gone as well as it could have done but I really can't say that about this race."
Gilkes has endured a particularly difficult debut season in W Series so far, having made the step up from Canadian F1200 when joining the grid after the selection process.
She was in a first lap collision with Assen race winner Emma Kimilainen at Hockenheim and was then temporarily dropped from the full-time grid at the Norisring, having been beaten to a race seat in a qualifying-style shoot-out in free practice two by reserve driver Vivien Keszthelyi.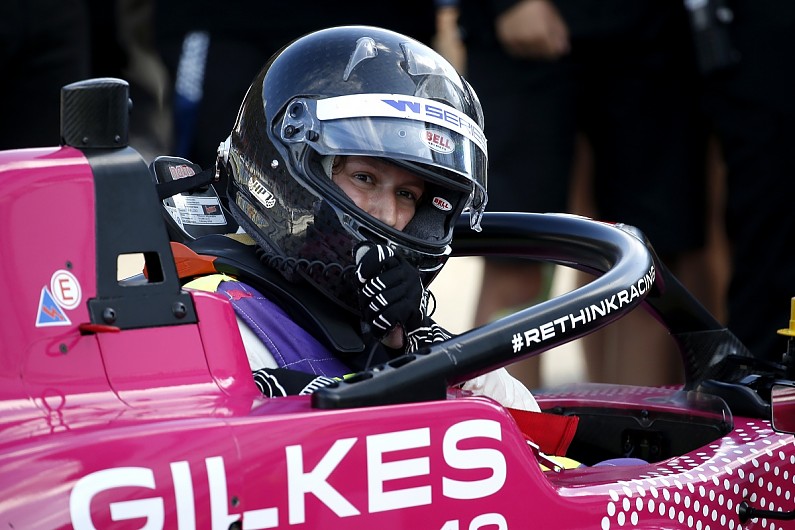 Sunday's reversed-grid race at Assen was run as an experiment as W Series seeks to confirm its 2020 format and therefore had no championship points awarded, meaning Gilkes remains last in the championship and will currently be required to re-qualify to enter the series again next year.
Only the top 12 drivers in the championship - 20 drivers have competed so far and 17 have scored points - will be guaranteed automatic entry.
A close fight is ongoing between Caitlin Wood, Gosia Rdest, Jessica Hawkins and reversed grid third-place finisher Sabre Cook for 12th place with one race remaining at Brands Hatch in August.
Wood enjoyed her best weekend of the season so far at Assen, qualifying fifth and ending the main race in sixth, while also battling with Jamie Chadwick and Beitske Visser in the reversed-grid race to finish 12th.
But Wood does not think that a reversed-grid race should be introduced with championship points and was all the more exciting because there was nothing for the drivers to lose.
"It was absolutely insane! But so much fun, it was really tough, hard, make-you-think racing," said Wood.
"I really enjoyed it and I think it was a great opportunity for W Series to highlight some interesting racing but I'm just glad there wasn't any points involved.
"I think it'd be a really good opportunity to get some more points but I don't know whether having championship points would make it as exciting as it was because everyone would probably be a bit more reserved in making moves and making passes and things like that."