Eight-time Ulster Grand Prix winner Peter Hickman says his record-breaking lap of 136.415mph in Thursday's Superbike race was a "testament" to BMW's all-new S1000RR.
Hickman enjoyed success on the bike in Superstock trim at the North West 200 and the Isle of Man TT, but an SBK win had eluded him due to a water leak issue with that spec of the bike - which has now been fixed.
Qualifying on pole for the five-lap SBK race on Thursday, Hickman overhauled early leader Dean Harrison following a mistake for the Silicone Engineering rider to dominate by 5.6s for the victory.
He also re-established the Ulster GP as the world's fastest road race - having previously taken the title away from the Ulster at the TT last year - and did so with a bike running a standard engine to blitz the previous Dundrod record of 134.619mph set by Harrison in 2017.
Speaking to Autosport after the race, Hickman said: "The new S1000RR is working really well, and no joke, that is a standard engine we are running as well.
"So, for it to be able to do that kind of lap around here is just testament to how good the new S1000RR is, and also a testament to Smiths Racing and they bike that they've been working for me.
"The bike has been working faultless, we haven't even touched a click or a setting on it really since we got here, and the bike has just been working good."
Hickman called the new S1000RR "a baby" in comparison to the other bikes on the grid. Hickman - who also won Thursday's Supersport race - says the pace the bike is showing despite running without a full race engine is "a really positive sign".
Cummins: Speed trap records a bit deceiving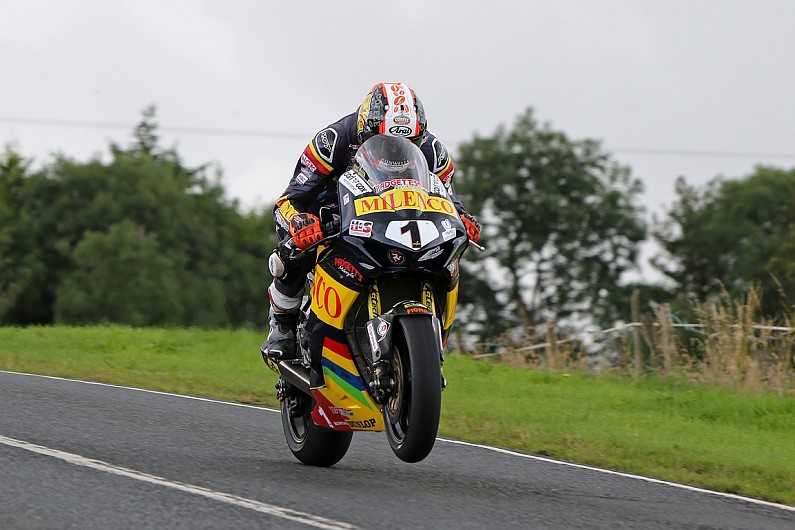 The outright lap record was not the only speed record toppled in the thrilling opening SBK race, as Padgetts Racing's Conor Cummins achieved a new top speed record of 202.8mph aboard his Honda Fireblade.
Cummins admits the strength of the tow at Dundrod makes speed trap records "a bit deceiving".
But he added that it proves the Honda is a "capable" package despite this version of the bike - introduced in 2017 - having not won at any of the international road races yet.
"I'm happy, I couldn't have done any more," Cummins told Autosport after finishing third in the race, some 16s clear of the factory Honda team rider David Johnson in sixth.
"We've got some data for Saturday, so we'll take a step forward and hopefully go faster.
"It's all a bit deceiving really, this whole speed trap thing.
"We had a good slipstream there for two laps, and there's no doubt about it - this bike's capable of doing fast times and we've just proven that again.
"So I've just got to get around the corners a bit faster I think."
Pictures courtesy of Pacemaker Press
Autosport has produced a standalone special magazine to celebrate our 70th birthday. All current print subscribers will receive a copy for free. To order your copy of the 196-page Autosport 70th Anniversary issue, please go to: autosport.com/autosport70th