Walkinshaw Andretti United has vowed it will fight its way back to the front of the Supercars field after a showing in Perth it deemed "not acceptable".
The Holden outfit created by a collaboration between long-time works team Walkinshaw, leading American squad Andretti Autosport and Zak Brown's United Autosports operation took its first series win in 2018 with Scott Pye, who went on to finish seventh in the drivers' standings in WAU's second year.
In 2019 though, Courtney currently lies 14th in the points and Scott Pye 18th. This time last season the pair were sitting sixth (Pye) and seventh (Courtney).
Off the back of a Barbagallo weekend that yielded a best result of 16th for each driver, co-team principals Mathew Nilsson and Bruce Stewart issued a statement admitting things were not good enough.
"Despite the progress of last year, there's no doubt we are currently struggling, and that's not acceptable," read the statement.
"We completely understand the frustration from our supporters.
"That frustration comes from loyalty and passion for this team, and that's what drives us.
"To our fans and amazing partners, we state that we are not going to sit on our hands and accept this.
"We will be using our resources to move forward, you will see us progress back up to the front, and no one will rest until that happens.
"We know a lot will say that's been said before, but we can only deal in the present. What we do know is that everyone here in Australia and around the globe are hurting, but no one is rolling over.
"We're down but we are not out."
Most Holden teams have struggled in 2019 as the new Ford Mustang has proven dominant, winning 11 of 12 races so far this season.
Poor Supercars season 'shook everything up' at Tickford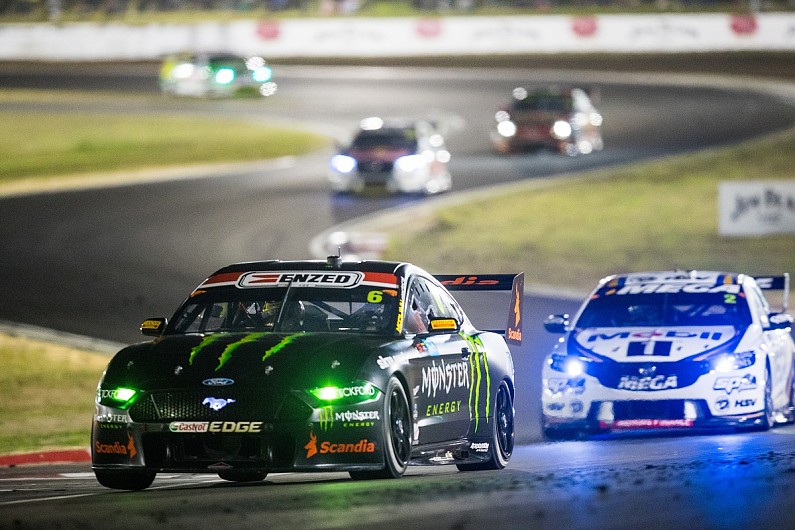 Cam Waters says a poor 2018 Supercars campaign provided the shot in the arm Tickford Racing needed to return to form this season.
The Ford squad endured a difficult final season running the FG-X Falcon platform, Chaz Mostert the only of its four drivers to finish in the top 10 in the final standings in sixth.
The 2019 season has provided a much brighter start for Tickford, the squad having already taken a win through Mostert in Melbourne and a total of seven podiums.
Tickford's upswing in form has contributed to the parity debate fuelled by the introduction of the new Ford Mustang, and ultimately led to two rounds of adjustments since the beginning of the season.
But Waters attributes the turnaround to a response to last year's struggles.
"Last year, as bad as we were going, it was probably almost good for us; it really shook everything up at the place and we rebuilt for the second half of last year," said Waters.
"[We] have really come out the box this year a lot stronger.
"The Mustang coming online really motivated everyone a little more as well, not that we really needed it, because we didn't.
"We were not motivated, I guess, last year, we were keen to get back to where we should be.
"Everyone's done a really good job to roll out where we are this year, to improve the cars. There's plenty more to come from us."