If you've never been out on a race track, you might think it fanciful that you could compete on the full 8.47-mile Circuit de la Sarthe at Le Mans inside three years. Even more so that you could win your class.
But that's what Bon Grimes has achieved after getting behind the wheel of a racing car for the first time in 2015, at the age of 43.
The trophy on his mantlepiece wasn't garnered in the 24 Hours at Le Mans, rather the Aston Martin Racing Festival one-make event on the support bill. But the French enduro remains the ultimate target for Grimes, and the aim is to achieve it within the next two years under the direction of a new motorsport mentoring agency called Red River Sport.
Grimes has embarked on what he calls "an amazing adventure" together with Red River and its founder, long-time sportscar driver Johnny Mowlem. It was set up to be much more than just a coaching operation: the aim is to guide someone essentially racing for fun through the pitfalls of modern motorsport.
Mowlem, who called time on what he describes as his professional racing career at the end of 2016, is pitching Red River as a one-stop shop for the ambitious amateur with the tag line of "maximising value for money, optimising the experience".
"It's about taking the client on a journey, setting goals and making things possible, as well as nurturing them as a driver," says Mowlem, who made 10 appearances at Le Mans.
"Red River takes the aggravation out of going racing for the amateur. I do all the dirty work, if you like. I have the contacts to do the best deals and everything is totally transparent, which is not always the case in motorsport.
The aim is to guide someone essentially racing for fun through the pitfalls of modern motorsport
"I get the invoice from the team, check it over, and send it to the client. Red River is only paid a management fee. We keep it simple, which helps ensure that it stays fun."
The journey for Grimes, co-founder of the Skyscanner travel website, began with a chance meeting with Mark Webber. The occasion was the Cannes Film Festival at which Grimes was present for the premiere of Steve McQueen: The Man & Le Mans in which he was the principal investor.
Ex-Formula 1 driver Webber offered some sage advice when the subject of historic racing came up.
"I mentioned that I was thinking about doing some historics," recalls Grimes.
"I'll always remember Mark's words: 'period cars have period accidents'."
That resulted in Grimes linking up with Mowlem - who was in the process of setting up Red River - courtesy of an introduction from one of the film's producers. An exploratory trackday was arranged, though Grimes was slightly taken aback by the choice of car.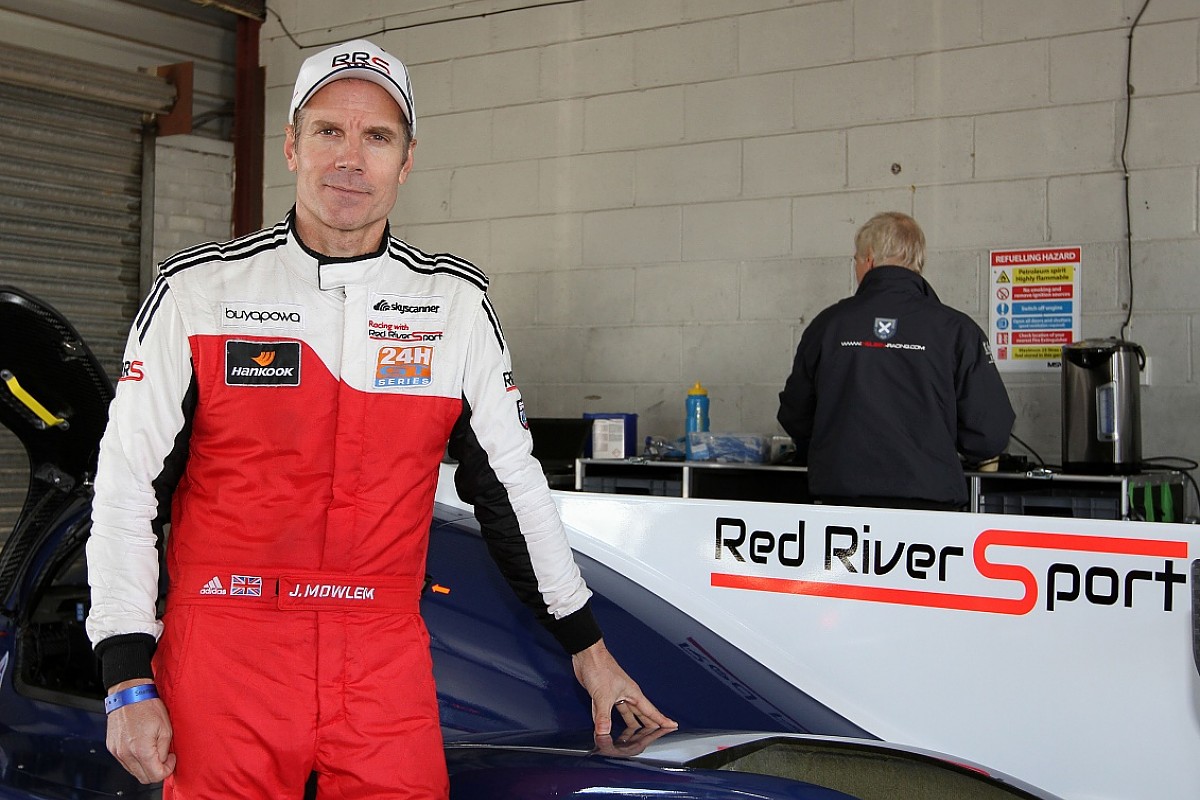 "I was thinking that we might start in a road-going Caterham," recalls Grimes, "but Johnny suggested we hire a Ferrari 458 Challenge car."
The previous-generation Ferrari one-make racer is Mowlem's teaching tool of choice.
"The 458 Challenge has narrow tyres that heat up quickly, a fair amount of power, a bit of downforce and a lot of mechanical grip," he explains.
"It's a relatively easy car to handle in which you can learn a lot.
"It makes no sense to start out in a car on road tyres if you have aspirations to race something on slicks. You have to learn one style of driving and then have to unlearn it when you move to a proper racing car."
Grimes was hooked after his first experience of the Ferrari on the Brands Hatch Grand Prix Circuit. It was, he says, "the start of an addiction".
That addiction resulted in a purchase of his own 458 and more trackdays with Red River. Mowlem soon started setting goals for the first driver on the company's books.
"First it was getting his race licence so we could start doing test days and then it was to do some racing," he explains.
"It's important to give the client something to aim for to move them along."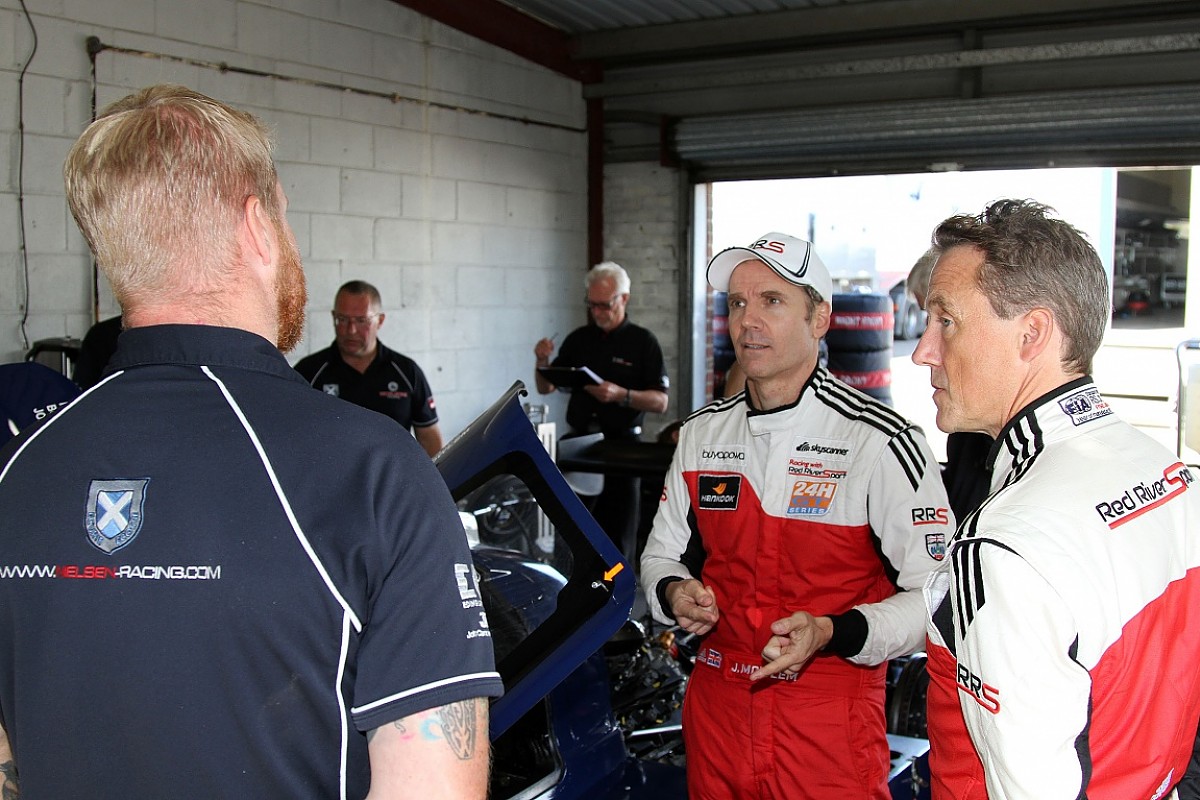 The racing started with a mixed programme of events in 2016 driving his Ferrari, run by FF Corse, in Britcar and the GT Cup. After that it was time to set a new goal.
"We sat down and talked about what I wanted to do and obviously I'm a fan of Le Mans," says Grimes in reference to the McQueen movie.
"It makes no sense to start out in a car on road tyres if you have aspirations to race something on slicks." Johnny Mowlem
"I'd watched the race on TV, but I didn't comprehend that someone in my position could actually share the track with all the big names."
A busy season of racing in 2017, which included six overall wins in the class-two Ferrari in Britcar alongside Mowlem, culminated in a couple of appearances in an LMP3 prototype.
One was a first international start in the Gulf 12 Hours in Abu Dhabi alongside his mentor Ivor Dunbar, another amateur driver who had provided the inspiration for Red River and helped to start the business.
"The LMP3 is particularly relevant to someone with aspirations to race a GTE car," says Mowlem.
"It doesn't have anti-lock brakes and the other driver aids of a GT3-type car like the 458 Challenge."
The graduation plan with Red River's Ligier-Nissan JSP3 always included a first outing on the Circuit de la Sarthe in the Road to Le Mans support event this summer with Nielsen Racing.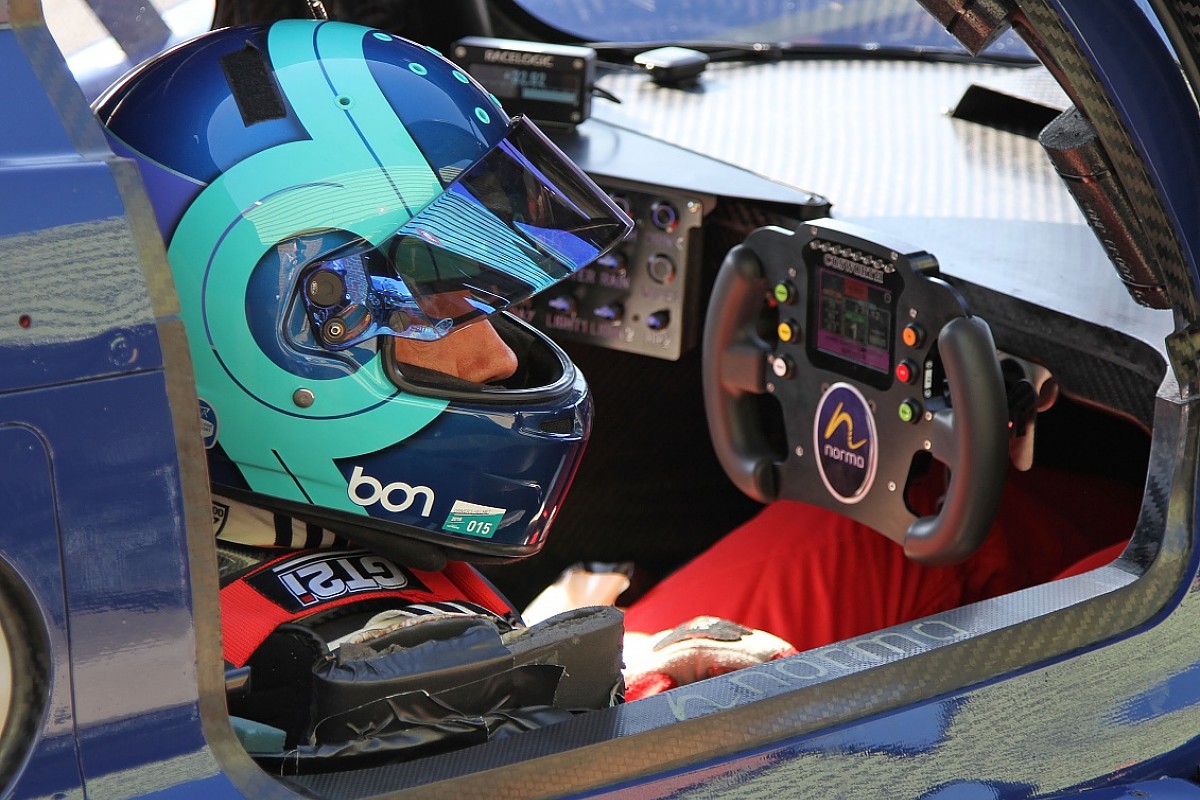 A month or so beforehand, Grimes got the offer to double up in the Aston event aboard Whitebridge AMR's Vantage GT4. What he thought was "a good chance to get a bit more track time" turned into a successful assault on the GT4 class.
Next up for Grimes is an Asian Le Mans Series campaign with an Aston Martin V12 Vantage GT3 run by TF Sport this winter.
The campaign alongside Dunbar and Mowlem is another step towards the Le Mans goal, but also a chance to "get the enjoyment of going to some new tracks, especially places like Fuji and Sepang".
Next year's programme will include another LMP3 campaign overseen by Mowlem, this time with a Norma M30, before a planned bid for a Le Mans entry in 2020. Red River's plan is for Grimes to drive with Dunbar in GTE Am with Mowlem in the line-up as a coach and mentor.
It would be a big moment for Red River's founder as he seeks to grow the company's roster of drivers.
"I was fortunate enough in my career to race in the 24 Hours 10 times and to stand on the podium, but should I get Bon to Le Mans it would be highly emotional for me," says Mowlem.
"It would be a massive achievement for Red River, because he started with us from absolutely zero."