Wind the clock back to September 2013 and the CIK KZ1 World Championship final in Varennes sur Allier, France. A highly-rated 15-year-old called Max Verstappen, the son of ex-F1 racer Jos and 1995 Andrea Margutti Trophy winner Sophie Kumpen, sits on pole. After a sluggish start, the factory CRG kart drops to third before fighting back to win, with ART's Monegasque prodigy Charles Leclerc heading a close battle for second.
Now the Formula 2 championship leader and with his feet under the table at Ferrari, Leclerc is widely-tipped to be an F1 star before too long, while Verstappen's meteoric rise to a Grand Prix winner aged 18 and 228 days with Red Bull is as well-versed as it is unlikely ever to be repeated.
However, that's not to say that everyone in the 2013 World Championships was a starry-eyed youngster. Indeed, several were established racing drivers with a proper pedigree in cars.
2007 Renault World Series runner-up Ben Hanley stormed from 16th on the grid to fourth and took fastest lap, ex-Toro Rosso F1 and Virgin Formula E racer Jaime Alguersuari was ninth and Le Mans stalwart Pierre Ragues, who won that year's European Le Mans Series title, an off-colour 22nd.
It points to a common trend that drivers are not too proud to return to their roots in karting and pit their skills against the next generation of talent to stay sharp. Indeed, even Fernando Alonso is not opposed to spending his precious spare time pounding around his privately-owned karting track in northern Spain. So what can a professional gain from returning to school?
For Hanley, karting offered a means to keep himself racing and an unlikely route to the Le Mans 24 Hours. A contemporary of Lewis Hamilton, Paul di Resta, Jamie Green and Mike Conway in junior karting, the 32-year-old climbed the single-seater ladder as high as GP2 before Renault pulled the plug on his funding in 2008, prompting him to return to karting as a factory driver for Maranello, ART and Croc Promotion.
In 2015, he beat Formula Renault 2.0 Eurocup frontrunners Richard Verschoor and Marcus Armstrong to win the European KF title, attracting the attention of Dragonspeed owner Elton Julian, who initiated his return to car racing in the ELMS the following season.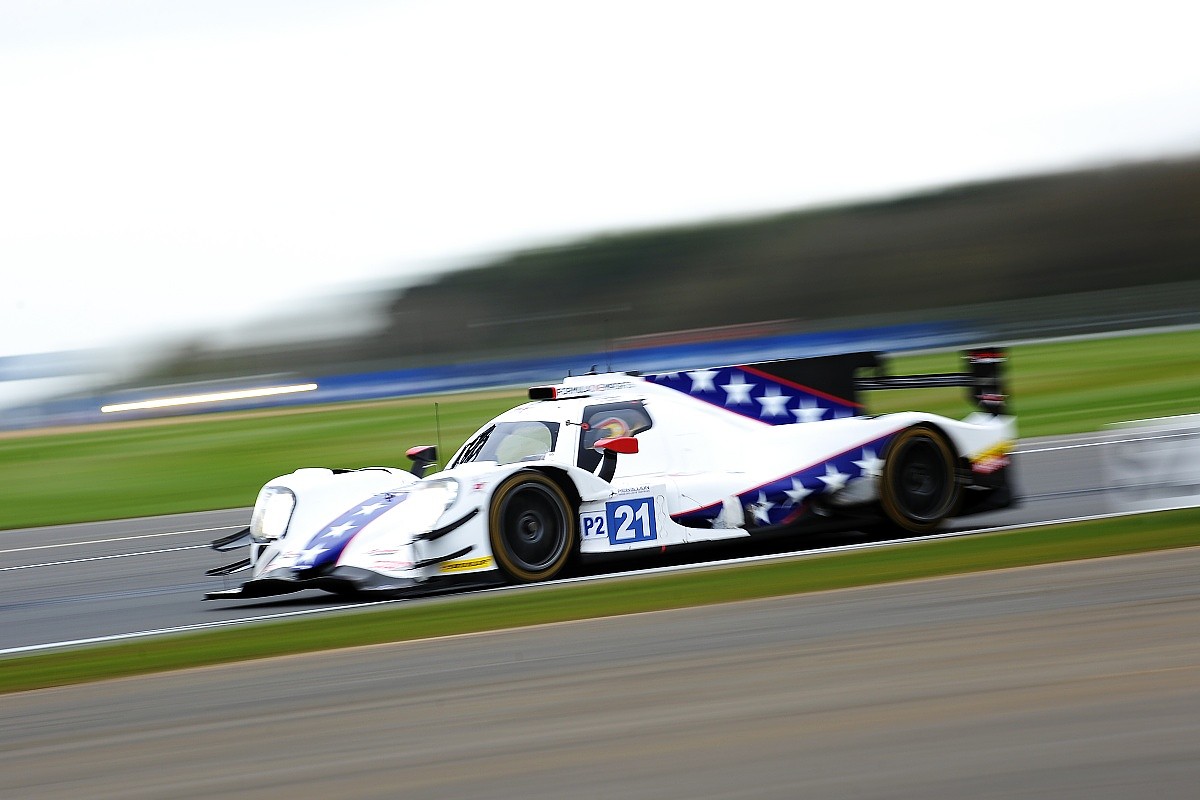 But despite spending five years out of cars, Hanley found it didn't take him long to adapt on his return, having preoccupied himself with fine-tuning the tiny details that make all the difference between success and failure in karting. In his experience, karting was not a step down but an opportunity to further his development at an international level while also earning a living.
"You get from it what you want to," Hanley agrees. "For me, I love the detail of it and how you can change frames, axles, everything, it's such small differences between winning and not being on the podium. Good feedback and feel for set-up changes don't just translate to karting, those differences can also be found in cars as well."
Ben Barnicoat also won the European KF title in 2012 before moving on to race in Formula Renault 2.0, Formula 3 and the Blancpain GT Series. He too was loathe to give up karting and credits his stellar form in the second half of his 2015 Eurocup campaign to a summer spent pounding around the PFi circuit in Lincolnshire, which he helps his father Paul to maintain.
"It would be good if all car drivers came back and did a race in karting now and again. It would be good for them, good for the sport and everyone would be a winner"
Gary Catt
"I did a year or maybe a bit longer when I didn't do any karting when I first moved into cars, but when I moved into Eurocup and the testing ban kicked in, I found that I had a lot of downtime, so I thought I would do a bit to keep me sharp and I've never really stopped since," said Barnicoat.
"In cars you don't get too much time to practice, you can have quite long periods when you're out of the car and it's expensive to do a day testing, whereas in a kart the costs are much lower.
"I'm a strong believer that any laps in any sort of racing environment trying to push yourself as fast as you can is beneficial and that year it really did me good. We had a long summer break of around seven weeks and I did a lot of karting, then came back and won at every weekend from there to the end of the season, which I think speaks for itself."
Without any suspension, a moulded seat or any of the creature comforts that are standard issue in his McLaren 650S GT3, Barnicoat - who recently added a sixth Kartmasters GP title to his CV - relishes the physical challenge too.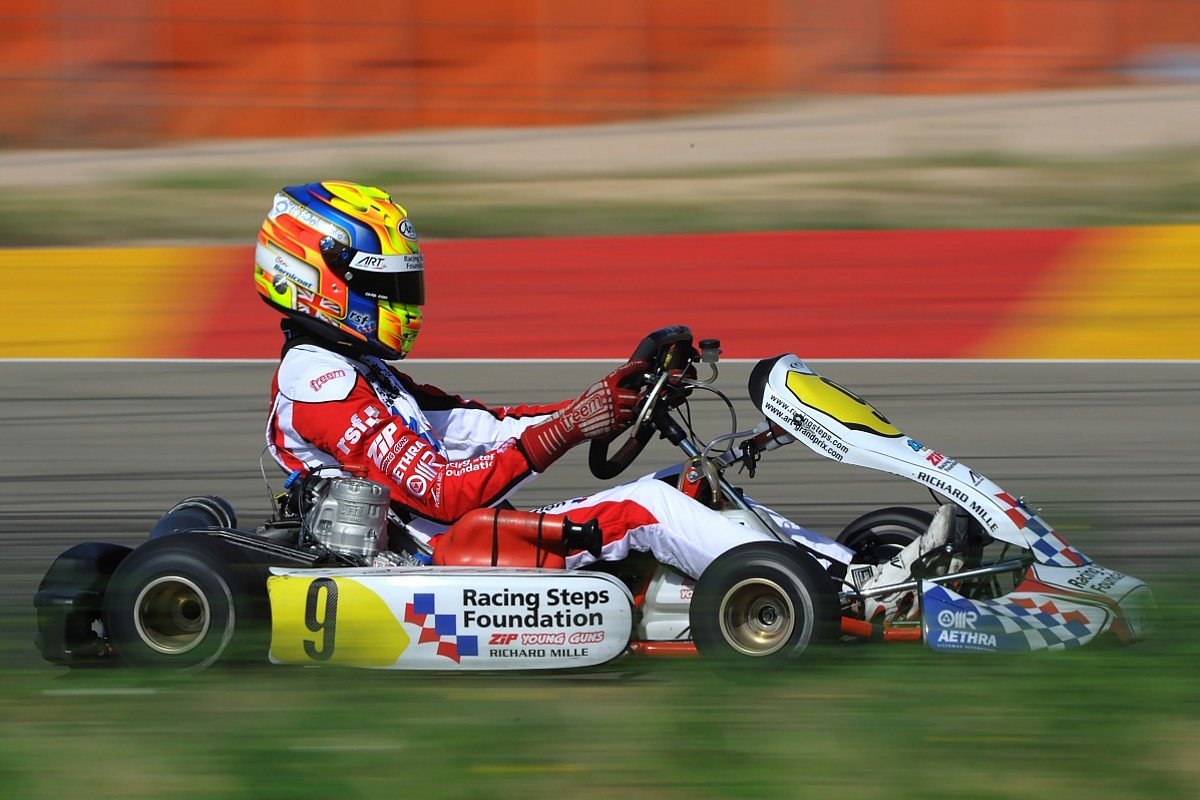 "You haven't got that much support from the seat so you do get thrown around in it," he continued. "You've got to have a very good upper-body strength as well as core and it's also quite demanding on your neck.
"When you go over a bump you know about it immediately, but from that side of things it's good because when you get in a car, even a slight thing you can still feel from what you learned in karts."
Of course, speeds are relatively low by comparison to cars, but being low to the ground means the sensation of speed is unrivalled - particularly when the braking zones and run-off areas are so much smaller.
"With it being a sprint race format and so much happening in the short space of a lap, it's good mental training," said Hanley.
"Where in karting you've got to battle your way to the front and be pushing 110% every lap, in the endurance there's a lot of traffic and different categories in the same race, but you can't think that you've got time to overtake people because it's a longer race - you've still got to attack the competitors you're racing against."
Former British champion Gary Catt won back-to-back Andrea Margutti Trophies as a factory TonyKart driver in 2007 and 2008 and believes there is not a more stimulating form of motorsport on the market.
"In terms of a driver thinking and keeping fit and sharp, there's nothing better than driving a gearbox kart because you're sitting so low to the ground and everything happens so fast," he said.
"You do four or five heats, you have two finals and a lot of testing, so it throws many different aspects at you of what can happen over a race weekend.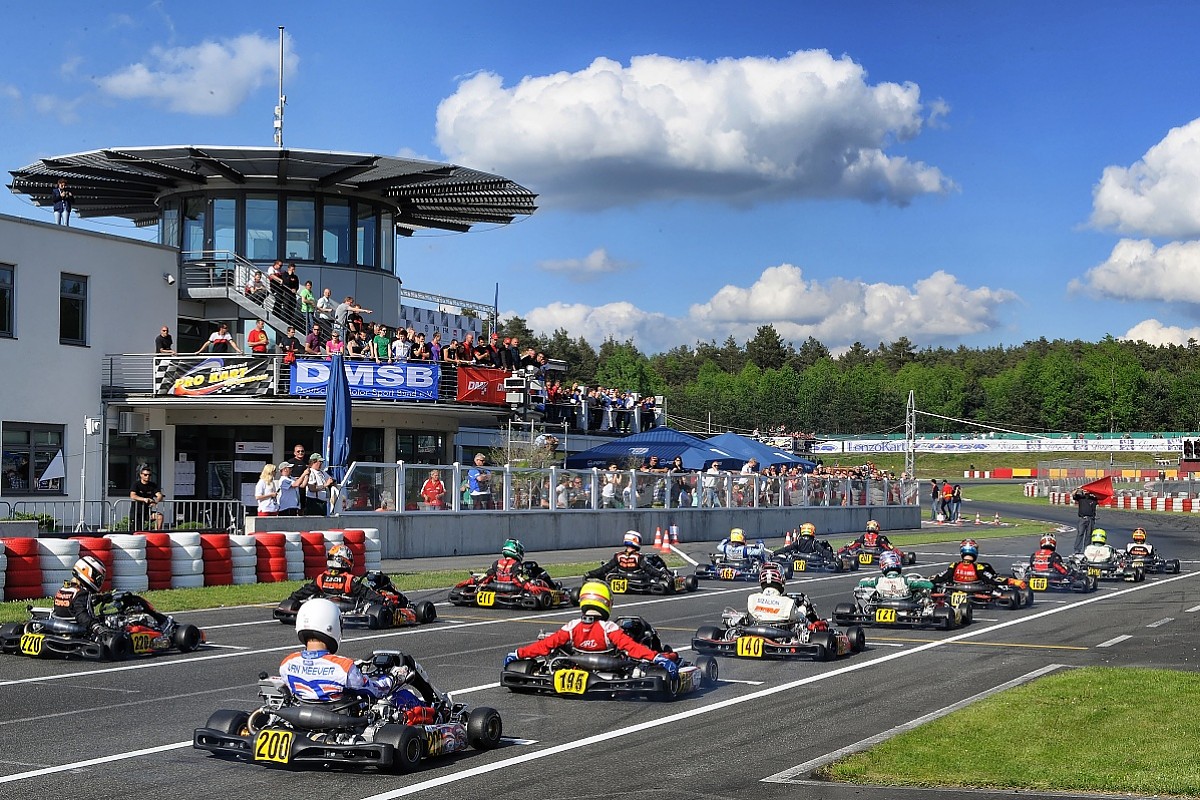 "For some people once they've gone out of karting, they've gone then - it's just a part of the path you have to go on, but I think it would be good if all car drivers came back and did a race in karting now and again. It would be good for them, good for the sport and everyone would be a winner."
Catt now runs the Infinity Sports Management stable that helps several drivers move into single-seaters, including Mercedes F1 junior George Russell.
He is a staunch advocate of karting and among many who view karting as a serious category in its own right, rather than merely a finishing school to leave behind as soon as drivers are old enough to race in Formula 4. As Hanley showed by taking five years to win his European crown, a car racing background is no guarantee that a driver can jump in and immediately sweep the opposition aside, much the same as with any other racing category.
"I think some people do see it as just the start of going up the ladder, but you do still get a lot of the older drivers and even F1 drivers still doing karting every now and then because one they enjoy it, but two it's still a good form of racing and you can always learn something," said Hanley.
"I'm pretty old compared to the people that I was racing against, especially in the KF category, and the younger people have got more of a point to prove - the older people can't just go back into it thinking they've got the experience to be able to beat them. You can never expect to be at the front, you always have to work for it."
True enough, as he has proven, karting can still have a relevance wherever you are on the scale and his determination to fit as many European championship events around his sportscar commitments in the ELMS and one-off WEC outings underlines that his aspirations are not over yet.
"I'm in a good position where I have the opportunity to be able to do it, so why wouldn't I?" he said.
"Winning a world title would be nice. It took me long enough to win the European, so never say never..."