Any drivers consider bravery through fast corners a more desirable trait than proficiency through slower turns. Having a car on the edge through rapid sweeps is a sexier image than downshifting efficiently, rotating the car and accelerating cleanly from a corner's apex.
But with more time spent in a corner if you're travelling through it slowly, that means there's more time to be gained - or, more accurately, lost.
Since I have had opportunities to graduate from my old karting days and test or race cars - or drive different vehicles on simulators - the result has often been the same. The lines are fine, medium-to-high-speed corners are fine, and the general theory is correct. But something is missing - something gets lost in translation from what I know to be right and what I do in the car.
So, on this trip to Position One, the objective is simple: how can I improve my braking?
For those who have followed this series of simulator-based lessons, the Porsche Cup car has become our vehicle of choice. It's a well-sorted model and our on-hand driver coach Ben Barker has masses of experience with the real-world version, too.
So we're back in the 911, but this time at Silverstone National. Why? "You use the same corners more," says our simulator guru Matt Beers. "You don't have to spend two minutes getting back round to the corners again - you can just keep practising and practising."
"The technique you learn for Brooklands you can apply to any braking zone on any circuit," chips in Barker. Duly noted.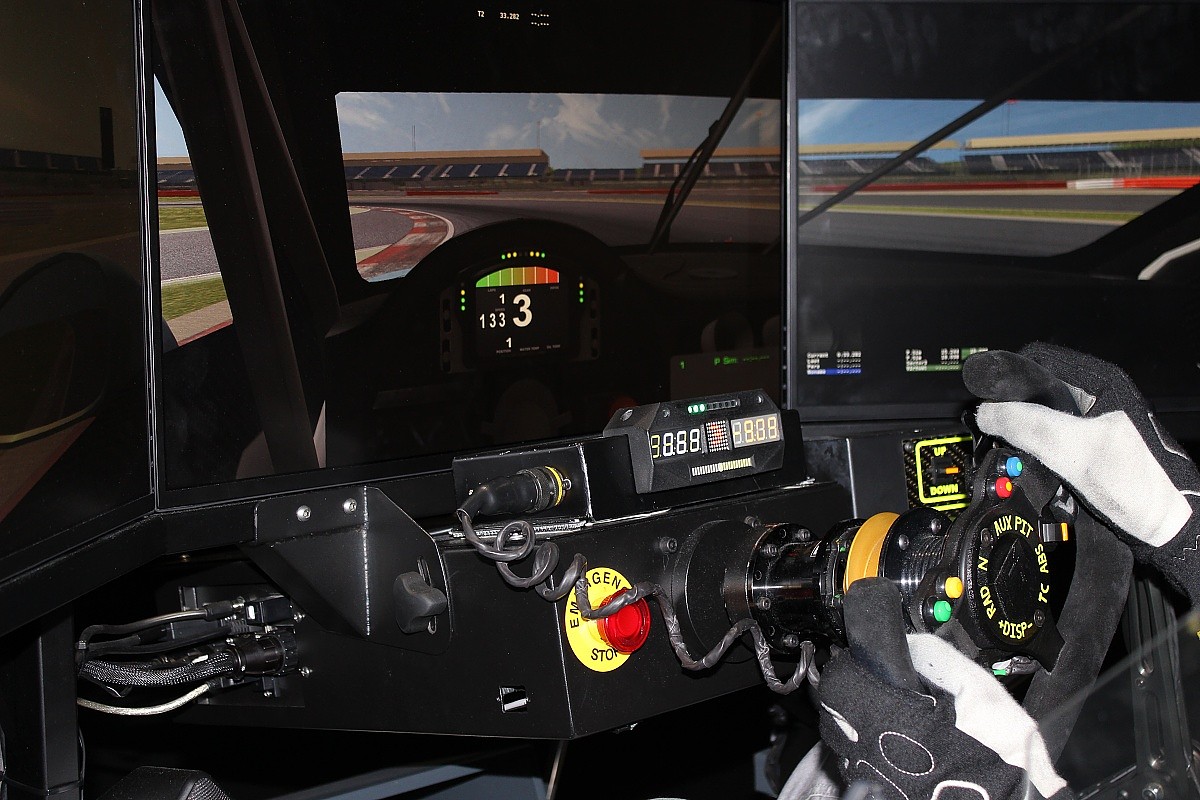 Barker's initial run sets a benchmark time but, more importantly, gives us a proper data trace. This is where the simulator comes into its own as a form of driver development - there's no hiding place. And, given we're focusing on a specific technique here, the ability to zero in on our focus is incredibly useful.
Especially as, while I note everything I'm being told, less apparent is my application. My first run isn't promising - OK, my 56.016s is only 1.5 seconds off Barker's pace, but Silverstone National has four corners...
Copse, surprisingly to me, is the best of the quartet. I have that incorrect assumption that as the fastest it should be the trickiest, yet I'm only two tenths off from entry to halfway down the next straight. But when you compare our best sectors, through Becketts I lose three tenths (and carry that down the Wellington Straight), through Brooklands 0.6s, and in Luffield I lose another 0.4s.
One thing that throws me is that my braking point feels too early - by the time I reach the apex, I'm just waiting for the corner to end. I'm not braking, but I have to coast because I can't apply the throttle this early in the corner.
It's obvious that I'm slowing the car down too much. But, interestingly, when I try to brake later I mess the corner up entirely.
Barker and Beers are watching all the time, but this run isn't about 'live' driver coaching. They are just observers. The in-session input comes later - first, we need to have a proper debrief.
Immediate analysis reveals that the reason I'm slowing the car excessively is not because I'm braking too much, but because I'm braking incorrectly. I'm actually braking for too long, and releasing the pedal too suddenly.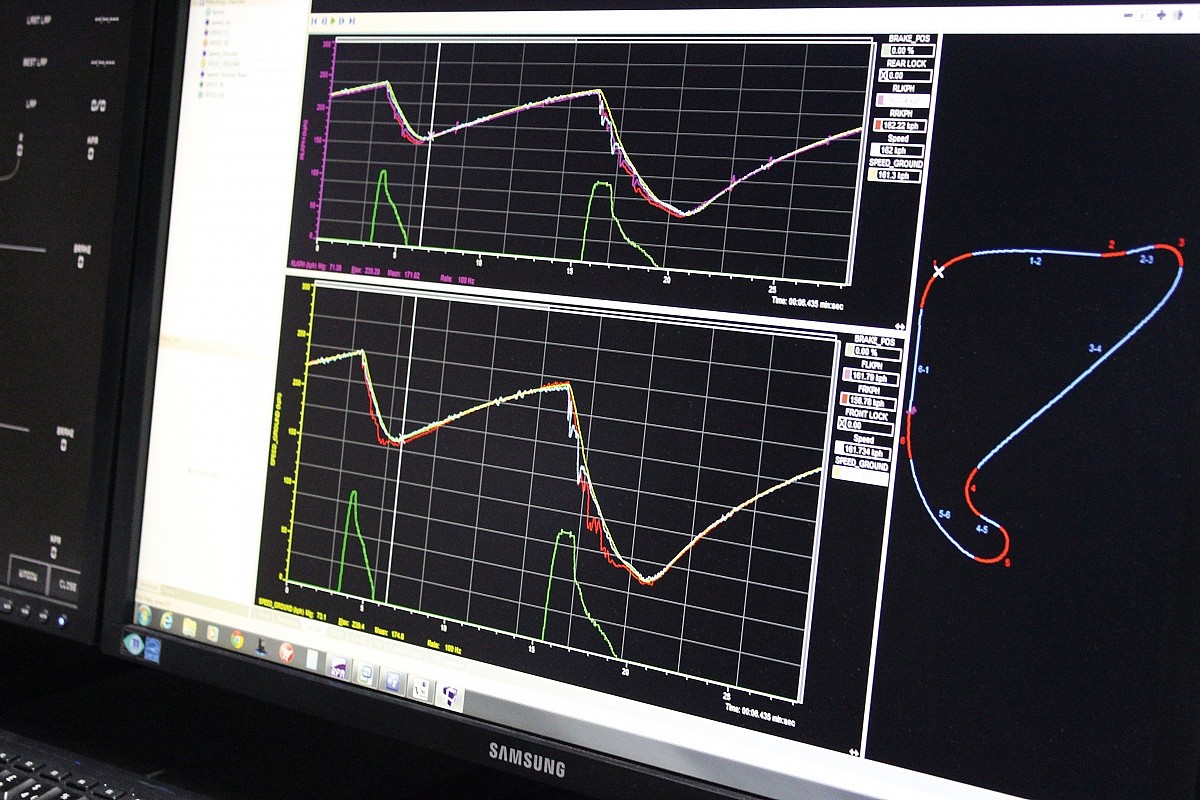 Luffield is the perfect case study - my peak brake pressure is lower, but I hold it at that peak for a further 20 metres. And Barker is trailing the brake for an additional 23 metres compared to me.
That's a trait more crucial in the Cup car, because, if the brakes aren't being applied, the weight of the car is shifted more to the rear - and the 911 needs to be loaded more at the front to give the tyres a helping hand.
It also means that my steering inputs are all over the place. I'm actually putting much more lock on, because that poor weight transfer is making it difficult to rotate the car, so I'm trying to force the nose of the car to the apex. This is a crucial lesson if I'm going to make the corner properly once I start braking later - 'understeer' isn't being induced by the car, it's being induced by the poor braking technique.
For the second run, there's improvement all round. I get down to a 55.375s, halving the deficit, and most of my times are in the 55s. The time losses at Copse and Becketts are now minimal, even if the technique is still lacking at the latter. But Brooklands and Luffield are my downfall - 0.3s and 0.2s given away respectively.
At Brooklands I'm arriving at the apex completely lost because I'm still overslowing the car. A look at the data reveals that my minimum speed comes much earlier in the corner than Barker's, I'm still holding on more lock.
While my trail braking has improved, I've not combined this with steering into the corner. I'm still very much driving in a 'step one... step two... step three...' fashion. What I need to do is combine these elements.
Luffield is quite simple, but a source of great frustration (as it is in reality, thanks to its extended horseshoe design). Barker suspects I'm not looking far enough round the corner, and that means I'm braking too early and too hard, because I'm slowing for the 'first' apex. Fortunately, that gives me a clear instruction to improve.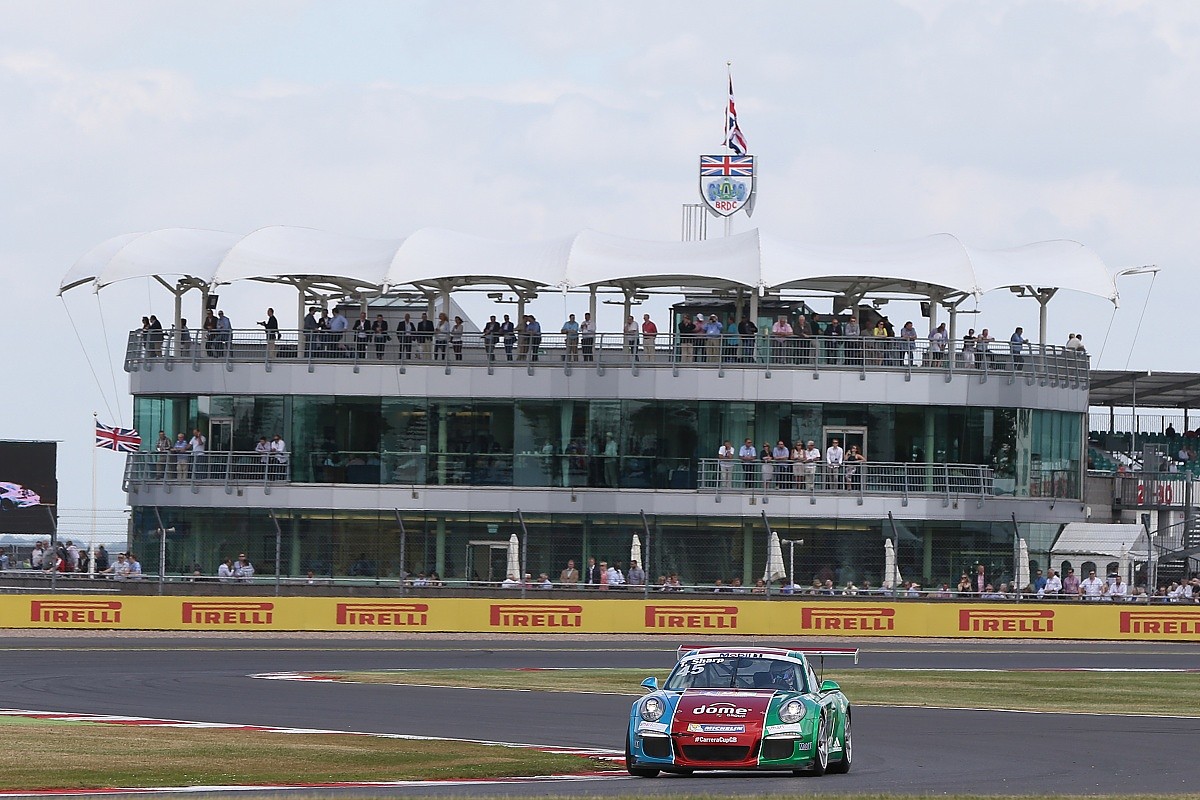 Knowing Copse/Becketts are pretty much sorted is a welcome feeling heading into the final run. This is where testing on the National circuit pays dividends - I face the two big tests of my technique on a regular basis.
There's enough time to quickly digest what's going wrong and what can be improved - with the help of the live radio link to Barker - but then it's right back at it. As an aside, we clocked up 34 laps in about two hours. Not bad going.
Even after the final run, it's clear there's work to be done - but far less than before. I end the day with a 55.159s, 0.5s slower than Barker (and with a quicker first sector - thanks to a good run through Copse and my day-long decision to grab sixth on the run into Becketts).
That time loss is limited to pretty much 0.3s across Brooklands and Luffield. I can still trail the brake more, but the trace is better - "a hill, not cliff", points out Beers. And at Luffield I bite the bullet and dab the brakes later, with less intensity. The result is an entry speed 9km/h (5.6mph) higher!
The bottom line is that you can't avoid the fact that braking is utterly fundamental to cornering. And while that may seem obvious, consider how many people view braking and cornering as independent things - they are intrinsically linked. And this was at the heart of the lesson.
It's easy to get lost with jargon such as 'trail braking', 'feel' and 'apexes' - just as it's easy to find yourself going around in circles because buzzwords like 'understeer' are misunderstood.
Set-up is not the only thing that stops a car going through a corner quickly. It's incredible just how much performance can be found in the flesh behind the wheel.