W Series champion and Williams Formula 1 development driver Jamie Chadwick could contest Euroformula Open this year, after testing the Dallara F317 Formula 3 car the championship uses at Silverstone.
Prior to fulfilling her Williams duties at the Italian Grand Prix, Chadwick joined Double R Racing for EF Open's two Friday free practice sessions.
Although she was only 13th fastest out of 15 drivers after being struck with a seat problem that needed fixing between sessions, Chadwick was impressed by with her time in the car.
"It's unbelievable. So much downforce, a lot more power than I'm used to. It's a really, really cool car," Chadwick said.
"I think it's a great F3 car, it's a shame they don't run it still in other series, or W Series as well. It's fantastic to drive.
"It's a peakier tyre [EF Open uses Michelins to W Series' Hankooks], but obviously when you have a peakier tyre you get more from that. I'm looking forward to exploring that level of grip."
The lateness of Chadwick's Silverstone deal, and her Williams commitments, meant she was only able to contest free practice at Silverstone, but is keen to return for the remaining rounds of the EF Open championship at Barcelona and Monza.
"If they don't clash with anything, it would be great to look at doing some more racing at the end of this year," Chadwick said.
"Obviously this weekend didn't quite work out, it was very last-minute to do today, I've got to go out to Monza afterwards anyway. If an opportunity comes up, I'd love to do a race weekend this year."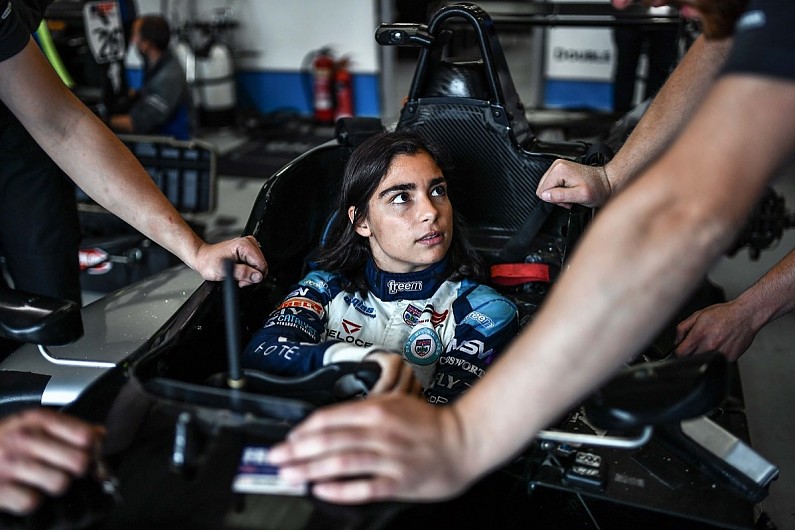 As champion, Chadwick is already guaranteed a spot on the 2020 W Series grid and intends to return to defend her title.
But her first EF Open experience, and the prospect of driving the new-for-2020 Dallara 320 car, means she may also seek a full-time ride in the continental F3 championship if she cannot afford a leading seat in F1 support FIA F3 Championship.
"[The 320's] got me really excited. I think this car is such a good step for junior drivers. The amount of downforce it's got, the power, everything.
"The new car is kind of similar along those lines: light, a lot of downforce. It's going to be an awesome car. I would definitely love to race it."
Chadwick's fellow Aston Martin Autosport BRDC Award finalists Enaam Ahmed and Billy Monger are making their sole 2019 racing appearances on home soil at Silverstone this weekend, and Ahmed set a record pace in free practice.
Beitske Visser, Chadwick's W Series title rival, is also racing there in International GT Open, where she is co-driving a BMW M6 GT3 car.