Hyundai World Rally Championship driver Thierry Neuville will make his race debut aboard an i30 N TCR car at the Nurburgring later this month.
Neuville will drive Hyundai's VIP car, run by Team Engstler, at the August 16-18 round of the TCR Germany series.
The Belgian has already tested the car, and is being assisted in his preparations for the Nurburgring round by defending World Touring Car champion Gabriele Tarquini.
Tarquini recently made the switch in the opposite direction, driving an i20 Coupe WRC for the first time the day after Hyundai's Dani Sordo used the car to win June's Rally Italy in Sardinia.
After his first test of the car at the German track, Neuville said: "The i30 N TCR is a very fun car to drive, but it's also very competitive at the same time.
"I was surprised about the speeds you could go. You have around 350bhp, sequential gearbox and all this combined with good aerodynamics and good brakes makes the car very competitive."
The round takes place the weekend before Rally Germany, which is the only asphalt event left on the 2019 WRC calendar.
Neuville, who scored his maiden WRC victory in Germany in 2014, said he hopes his sealed-surface experience will help him in his TCR outing.
"I'm looking forward to it," he said.
"The speed was quite interesting and quite fast and I'm sure when you are with all the others drivers in the competition it's going to be rough and tough. I hope I can use some of my experience of asphalt rallies."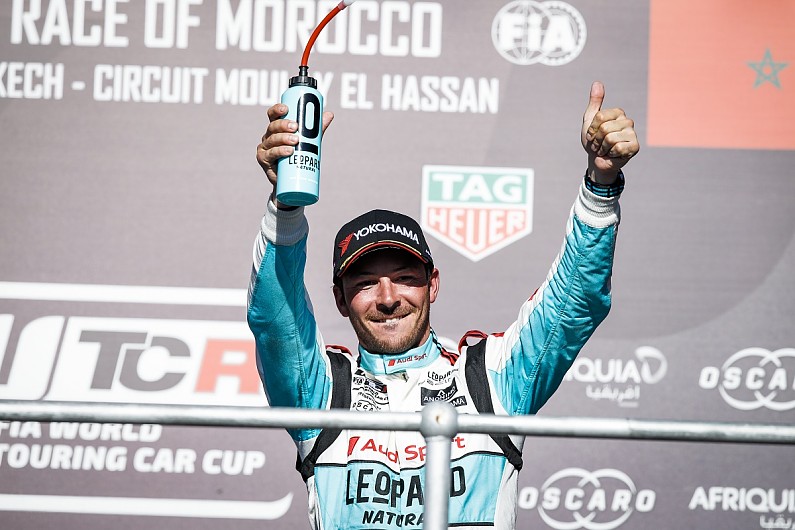 Audi WTCR racer Vernay to race in TCR Australia
By Andrew van Leeuwen
World Touring Car Cup race winner Jean-Karl Vernay will make a one-off appearance in TCR Australia at this weekend's Queensland Raceway round.
Vernay, who is an Audi Sport driver for WRT in WTCR, will race a Melbourne Performance Centre-run Audi RS3 LMS in the new-for-2019 series in place of Supercars driver Garth Tander.
"I'm really looking forward to coming to Australia and racing in the new TCR Series down under," said Vernay, who won the TCR International Series in 2017.
"I've seen some of the racing and the amount of cars that they have and it looks very competitive. For a TCR series that has only just started, it is a very good series so far.
"The circuit looks interesting - only six corners, but the guys at MPC have said that it is quite technical too, so I'm really excited to get to Australia and experience the racing."
Watch qualifying and all three TCR Australia races from Queensland Raceway this weekend live and for free on motorsport.tv