Toomas Heikkinen and Timmy Hansen took a win apiece at Essay in the opening two rounds of the new TitansRX Europe rallycross series.
The experienced rallycross drivers won the two rounds across the two-day double-header in France from pole position in the finals, and both topped qualifying on the respective days and won their semi-finals.
Heikkinen led the round one final on Saturday in searing heat from lights to flag, as behind him Kevin Hansen passed Jerome Grosset-Janin for the runner up spot at the former European Rallycross Championship venue.
That left Grosset-Janin to fend off the attentions of World Rally Championship refugee Hayden Padden in the closing stages.
In cooler conditions for round two on Sunday, World Rallycross Championship points leader Timmy Hansen led throughout the final, while fellow front-row starter Craig Breen battled his way through the seven-lap encounter.
Starting from the back row of the grid in the day two final, Kevin Hansen cut the second corner when he was pushed onto the grass.
He rejoined immediately and battled side-by-side with Breen, who had travelled overnight to take part in the event after winning the Ypres Rally on Saturday, for second.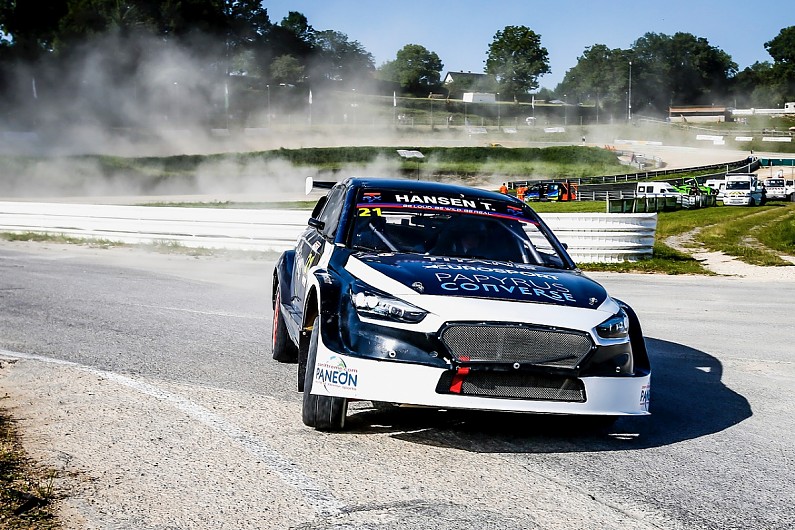 While the race format in the new series is similar to that used in WRX, qualifying points are awarded on race position as well as overall time in each qualifying session, while the compulsory extra-route joker lap has been ditched in a bid to encourage overtaking.
The joker lap is instead used as a penalty lap during the races.
Kevin Hansen was later penalised for his first lap shortcut, but retained track position after he took the extra penalty route, while Breen was overtaken for the final podium spot by Heikkinen.
Paddon was third on track when the second semi-final was red flagged, but was penalised for a move on Antoine Masse that resulted in the latter's car spinning into the barriers and causing the stoppage.
This meant Paddon's place in the final was taken by Grosset-Janin. Former Formula 1 and Formula E driver Nelson Piquet Jr had a difficult weekend.
He crashed out of Q3 on Saturday after contact and didn't qualify for the final. He then made a poor start in his semi-final on Sunday and again missed out on the final.
The TitansRX Europe series, founded by former WRX driver and team owner Max Pucher, aims to provide a cost effective single-make alternative to traditional rallycross Supercars, with the 2.3-litre spaceframe-chassis four-wheel drive machines offering similar levels of performance.