Euroformula Open started its higher-profile 2019 season in dramatic style at Paul Ricard, with a clash between two Red Bull juniors and the debut of its engine equality formula.
Liam Lawson, who will also compete in the Formula 1-supporting FIA Formula 3 this year, won the first race of the weekend but then wasted his pole advantage in race two and clashed with his Motopark team-mate and fellow Red Bull junior Yuki Tsunoda.
While ex-European F3 racer Marino Sato took a unexpected victory in that race, Lawson fought back to second - until a penalty for the Tsunoda clash was applied several hours later that dropped him to fourth.
Lawson still leads the standings, though, with Sato in second and race one poleman Lukas Dunner in third.
The Spiess-powered Motopark team and Dunner's HWA-powered Teo Martin Motorsport team were the class of the field, with the teams using EF Open's long-serving Piedrafita engines failing to score a single point despite the introduction of a 'Balance of Performance' to ensure the new to EF Open engine suppliers would not have an advantage.
This proved especially frustrating to RP Motorsport. The squad has been EF Open's dominant force, winning six of the last seven teams' titles and fielding five of the last seven title winning drivers.
At Ricard, RP lost one of its three cars to an engine problem prior to qualifying for the second race.
Adjustments made to the Spiess engine to ensure performance parity are believed to have been the source of the poor starts suffered by the Motopark drivers, who were quicker than their opposition but also worked through their Michelin tyres faster.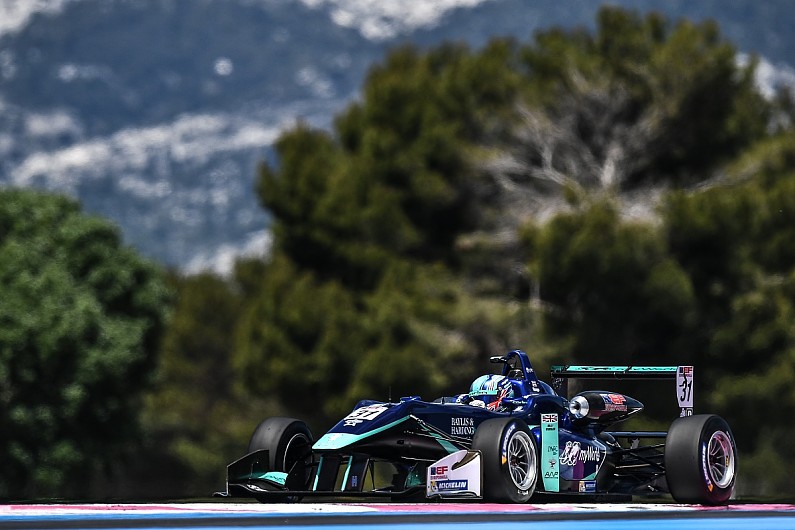 In addition to the Red Bull juniors - which also included Double R Racing's Jack Doohan, who took a pair of ninth places - there was a lot of attention on the series debut of Carlin's Billy Monger.
The double amputee's bespoke hand clutch system proved troublesome in testing, and it was technical problems that restricted him to 19th on the grid for the first race.
He stormed through the field to take the final point in 10th, and qualified an improved 13th for race two.
Unfortunately a messy opening few laps meant he was unable to score points for a second time.
EF Open's second round of the season takes place in Pau in three weeks' time, where it will be awarding the coveted Pau Grand Prix title that was previously part of the F3 European Championship.