British GT driver Jack Butel is targeting a works Aston Martin drive come the end of the year having been selected as part the famous marque's revived young driver programme.
Butel was one of 23 drivers to be accepted onto the Aston Martin Racing Driver Academy after an intense selection process last month.
The 23-year-old is attempting to follow in the footsteps of Ross Gunn, who won the previous iteration of the scheme known as the Aston Martin Evolution Academy in 2015, and who is now a reserve driver for the AMR GTE Pro class World Endurance Championship squad.
Having performed well on the simulator and fitness tests, as well as impressing a judging panel including factory drivers Darren Turner and Maxime Martin, Butel was selected.
"I never expected out of 100 people to get into the Academy," said Butel.
"From just being there that day I learnt a lot more about myself, a lot more about who I should be as a person. Just been at Aston Martin and Prodrive meeting the people who put the cars together was great.
"They are going to be assessing us through the year, it's a constant assessment. If you just try your best and do your best they will see that.
"It's not about being the fastest, it's about being consistent and how many times you put it off the road."
Butel's campaign will begin this weekend at the opening round of the British GT season at Oulton Park.
He has joined top-flight outfit Optimum Motorsport, which secured GT3 honours with Flick Haigh and Jonny Adam in 2018 and the GT4 title in '16 with Graham Johnson and Mike Robinson.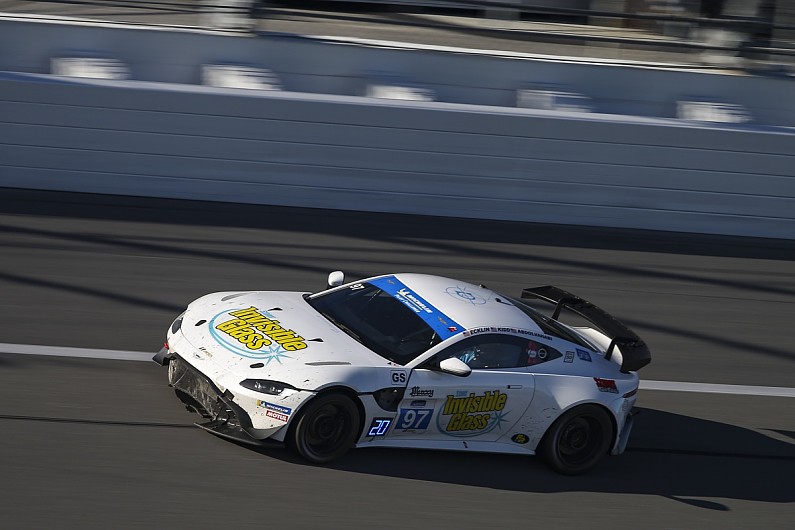 Butel and team-mate Connor O'Brien will share a new Aston Martin Vantage GT4 (similar to the one pictured above) this season, with the pair completing three days of testing ahead of two one-hour races on Easter Monday.
"We got the car the day before the Donington Park Media Day, so we've done two days at Oulton Park and one at Silverstone," said Butel.
"It's been good, Jonny Adam got out in the car and set the pace, we were there or thereabouts around Jonny's time."
Despite a limited amount of seat time, Butel is confident that his experience of faster machinery and the fact that other Aston Martin teams are getting to grips with the new car will be to his advantage.
Butel finished fourth overall in the LMP3 Cup standings last season alongside team-mate Dominic Paul in 2018.
"We're just trying to chip away as it's a new car for everyone," he said.
"I hope the new car is an advantage for me, I've driven something that's a bit quicker and the difference between the two is quite a bit. I think as a whole we've adapted well.
"There's 21 GT4 cars on the grid at Oulton Park so it's going to be tough."