Red Bull's latest 'man most likely to make Formula 1', Juri Vips's opening comment about his impending season in Japan is unsurprising.
"If I realistically want to get to F1, I have a big, big job in hand this year," he reflects. "The jump from Formula 3 to Super Formula is humungous. The car is so much faster."
You only have to look at the fate that befell Dan Ticktum, his predecessor as 'man most likely' and at the Super Formula Team Mugen squad, to appreciate the task faced in 2020 by the 19-year-old Estonian.
Ticktum was dumped after three SF starts in 2019, and his replacement Pato O'Ward didn't do much either. Two years before that, in 2017, Pierre Gasly lined up in the same seat and came close to winning the title, but he did that as reigning GP2 champion and had spent three seasons at GP2/Formula Renault 3.5 level.
That's a big difference in experience level to that of Vips, who since winning the 2017 German Formula 4 title has had one year in the Formula 3 European Championship, and one in FIA F3. He finished fourth in the championship in both those years of F3, which puts him in a quandary as far as F1 superlicence points are concerned.
The points he earned from his F4 success will be wiped clear next winter under the FIA's three-year rolling rule, meaning that one of the most exciting young drivers in the pre-F1 firmament could be denied a shot at the big time because of a) his lack of budget before he arrived in the Red Bull stable in October 2018, b) the fact that in F3 he never drove for one of the recognised establishment top teams such as Prema or ART, who seem to plug in champions like lightbulbs, and c) Red Bull sending him to Japan, when it would likely be easier to earn the points he needs in Formula 2.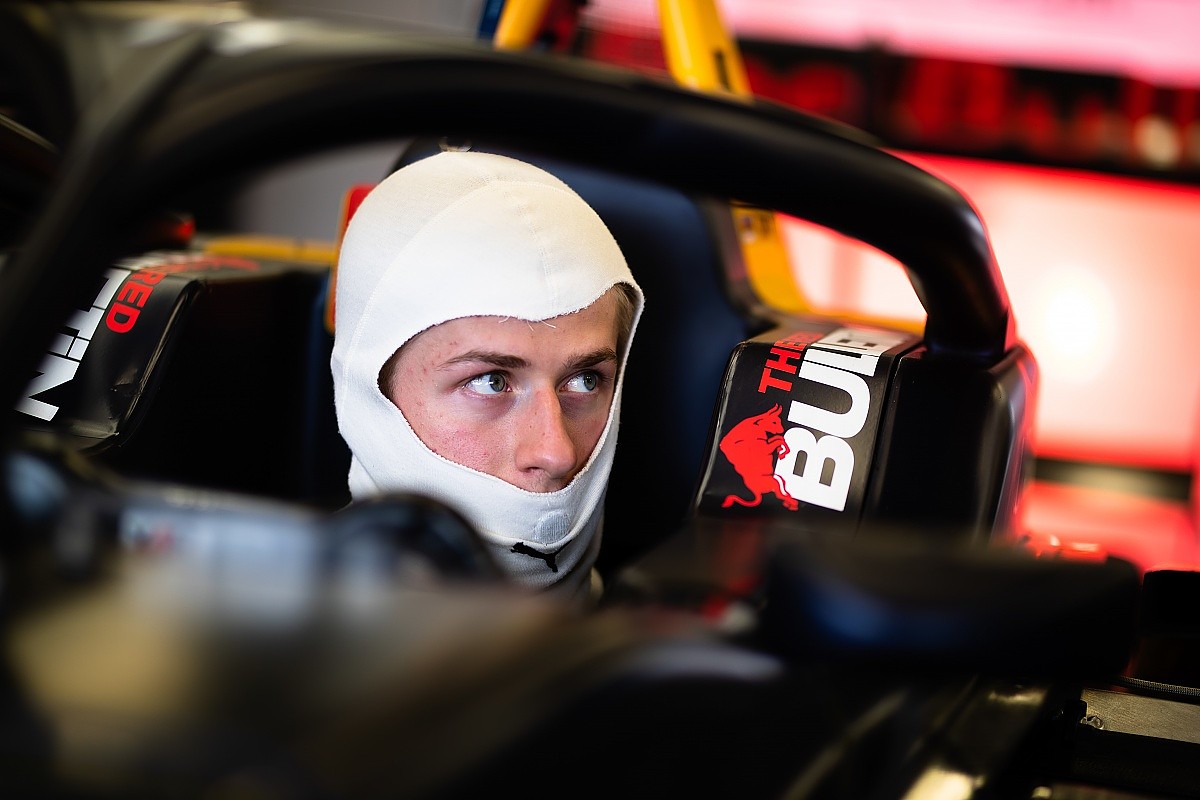 "For sure it's a harder job," offers Vips. "I've got 20 superlicence points - I finished fourth in really, really strong championships and you need to get 40 points, which is pretty annoying for me because I've never been in the best team, the winning team.
"The points system is a little bit frustrating - in F2 it would be a lot easier, but I don't think it was ever an option for me. It costs a lot of money to go there and it would be a big, big commitment from Red Bull.
"They didn't want to do it, and our family doesn't have the money to do it."
Red Bull came calling in the first place because Vips's reputation grew rapidly during his rookie Euro F3 season, at Motopark alongside Ticktum.
Interestingly for a man whose press-on, spectacular driving style had suited the forgiving Hankooks in Euro F3 so well, he adapted nicely to the high-degradation Pirellis last year
Stunning performances had unexpectedly propelled him into title contention - just before the end-of-season steamroller from Prema pair Mick Schumacher and Robert Shwartzman left the entire paddock scratching their heads.
"I had the least mileage out of anyone on the grid in terms of testing, because we were really limited from the family budget," he recalls.
"So I knew I was really unprepared compared to everyone else, and I think that's the reason why I was sort of struggling in the first two rounds. But then I really understood how to drive the car at Norisring [the third round] and that helped me for the rest of the season.
"After that there weren't many rounds where I didn't have the potential to win. If I look back now, I made so many mistakes that year. After the second round I was 62 points behind the leader already. Without the first rounds, I think I could have still won the championship without the Schumacher problems if I did a good year.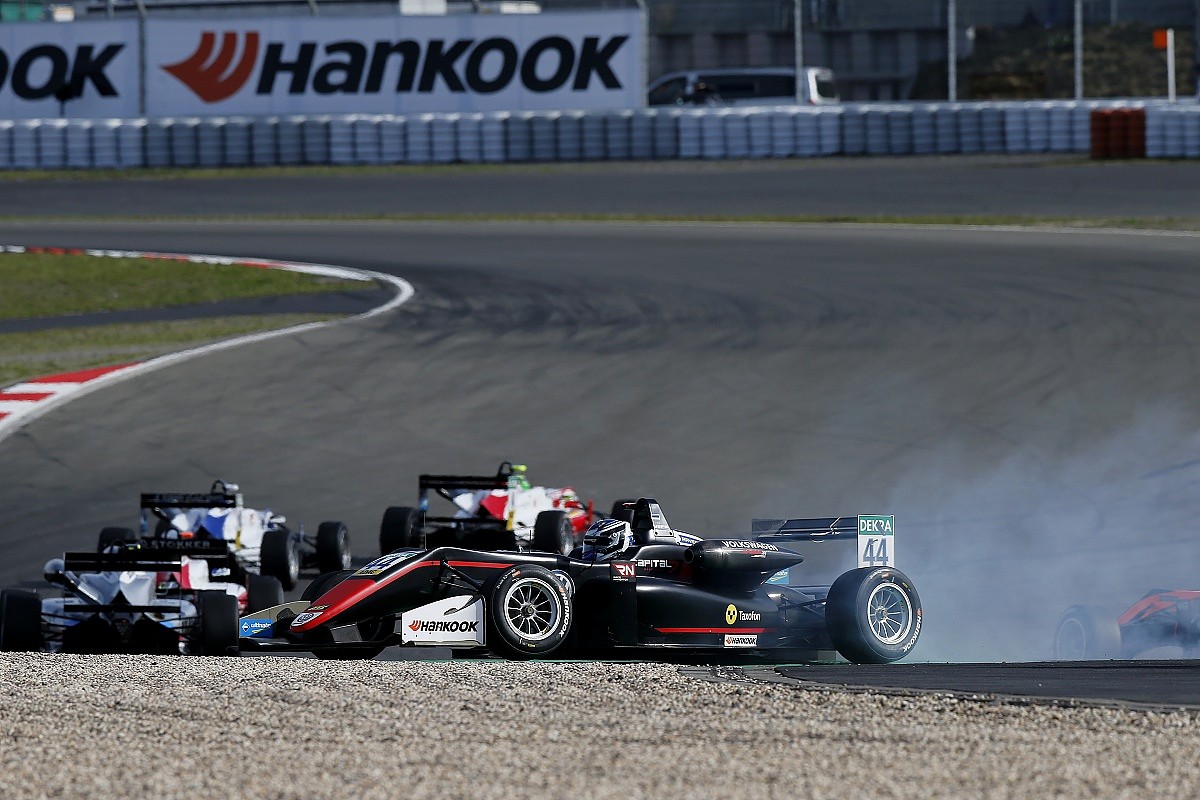 "It's a bit of a shame, but I guess I was still pretty young and immature, and I've improved ever since and I've learned from that."
Interesting that he refers to 'the Schumacher problems', bearing in mind the discontent that was circulating at the time - particularly at Motopark - about the German's late-season pace...
"Ah, well, yeah," he muses. "But in the end no one knows, you know?"
By the penultimate round of Euro F3's 2018 season at the Red Bull Ring, Vips had an offer to join the Renault F1 junior programme when Red Bull's Helmut Marko dropped in on his home track.
So the story goes, Marko marched into the HQ of one of the top teams and declared: "I've got Vips!" even before a deal was agreed. Turned out he was right, if a bit premature...
Vips came close to joining ART for the new FIA F3 Championship in 2019, before plumping for Hitech Grand Prix.
Hitech had got up and running over 2015-16 in European F3 with an engineering collaboration with ART sister company AOTech, and now had ex-ART man Christophe Perrin as engineering chief across the whole team, and another ART old garcon, Pierre-Paul Fery, stepping up from the role of data engineer to look after Vips's car.
With the new FIA F3 Dallara effectively a revamped version of the old car from GP3, which ART had a history of dominating, that looked like a good technical structure.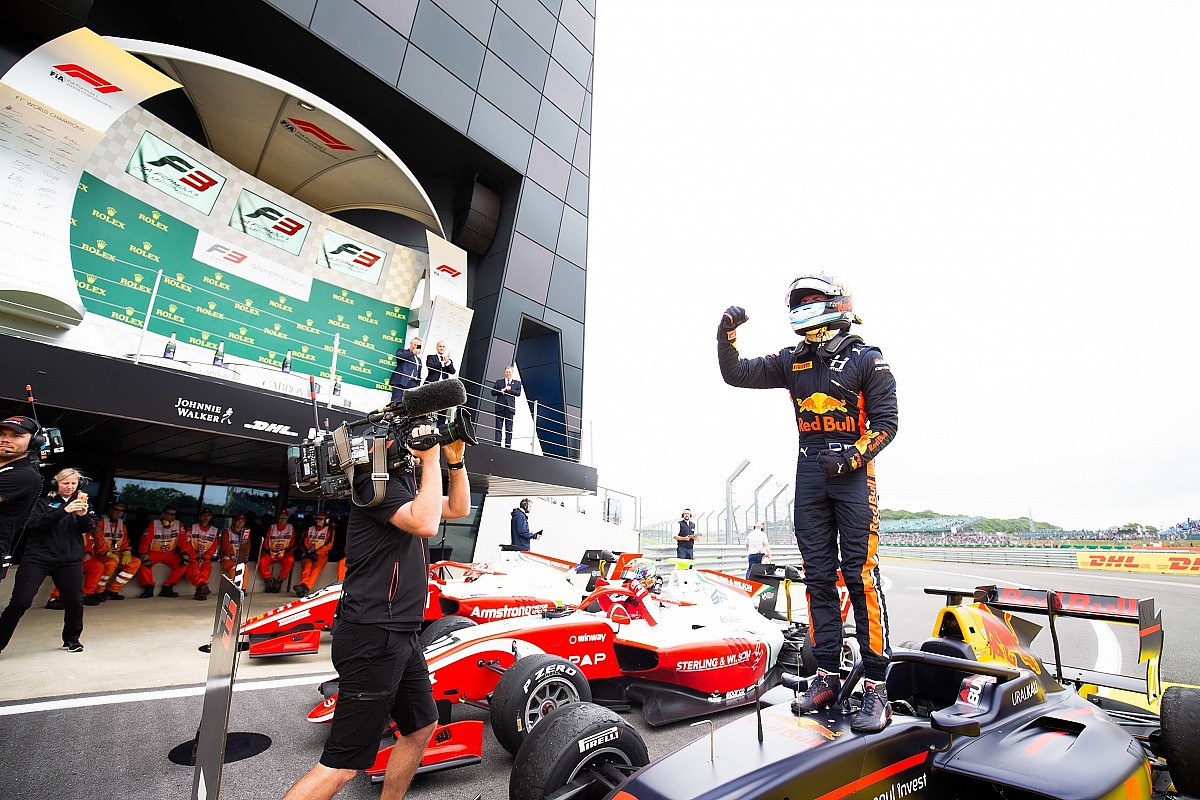 "For sure it helped," Vips declares, "but, as we sort of found out throughout the season, on the FIA F3 car the [Pirelli] tyres wouldn't really behave in the same way as the GP3 tyres did.
"I don't know if they changed the compound or not. So the set-ups we were trying that worked really well in GP3 didn't really work last year. But it helped me get up to speed as soon as possible, because they knew a lot what previous drivers coming from European F3 and the Hankook tyres struggled on."
"The drivers I was fighting for the championship with just did a better job in the beginning of the year. After Paul Ricard I was fully comfortable, but each weekend really counts" Juri Vips
Like in Euro F3 in 2018, a mid-season burst of form - wins at the Red Bull Ring and Silverstone; pole at Silverstone - brought Vips right into the frame for the title. But a late-summer slump at Spa and Monza cost him, although he brought it home to win the reversed-grid season finale at Sochi.
Interestingly for a man whose press-on, spectacular driving style had suited the forgiving Hankooks so well, he adapted nicely to the high-degradation Pirellis. The big difficulty for Vips, used to a relatively wide plateau of peak performance from the Hankooks, was nailing his qualifying effort on the first shot.
He blames that - and also, as usual, readily admits to his own mistakes - as reasons for falling short of Prema trio Shwartzman, Marcus Armstrong and Jehan Daruvala, all of whom had also graduated from Euro F3 so had the same things to learn, for his position in the final standings.
"Honestly, I found the step from F4 to European F3 smaller than coming from European F3 to FIA F3," he admits.
"There's so much to learn. I think the drivers I was fighting for the championship with just did a better job in the beginning of the year. I would say after Paul Ricard [the second round] I was fully comfortable, but each weekend really counts in this high-level championship."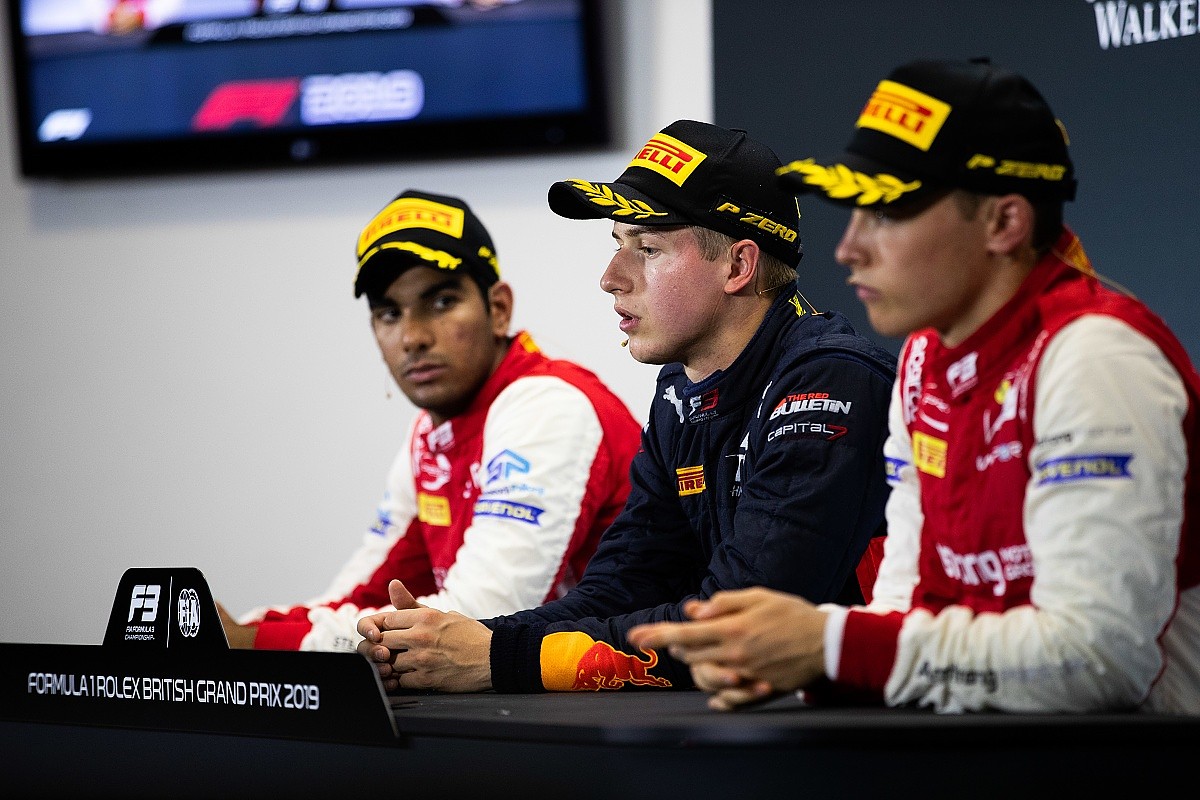 Vips's failure to win the end-of-season Macau Grand Prix is well-documented. He was sensational there on his debut visit in the old Euro F3 car in 2018, only to be incredibly unfortunate with red flags while on hot laps in qualifying.
In 2019, he won the qualification race and looked on course for victory in the main race, before a safety car allowed Richard Verschoor to tow past on the restart.
Vips's DRS didn't work in the immediate aftermath, forcing him to try to repass "the old-fashioned way", but in doing so locked up "at the peak of the brake and the front tyres were ruined. I don't know how I managed to keep up with him in the last few laps".
Vips reckons the MP Motorsport team of Verschoor had a set-up that allowed his Dutch rival an advantage: "We were bottoming a little bit, and I think the Prema cars were as well. If I look at the qualification race, I remember coming out of the last corner on a restart, and Shwartzman was just as far as Verschoor was [in the main race], and he got nowhere near me on the braking into Lisboa.
"Verschoor was already overtaking me after Turn 2 [the Mandarin kink]. The MP car was not bottoming, so I think they had a bit of an advantage on the straight. But that's Macau - the team did a perfect job, the car was mega and I feel I didn't make any mistakes. I'm proud of that weekend."
By then, Vips had already made his Super Formula debut at Suzuka with Team Mugen. With no testing, he was straight in at the deep end - literally.
"First lap at Suzuka, first lap in the car in free practice, and it was in heavy rain, so I didn't get as much track time as I wanted to," he says.
"In qualifying it was still pretty poor [Vips lined up on the back row], but in third free practice on full tanks I was P4. In the race as well we were really fast, but it was my first-ever pitstop.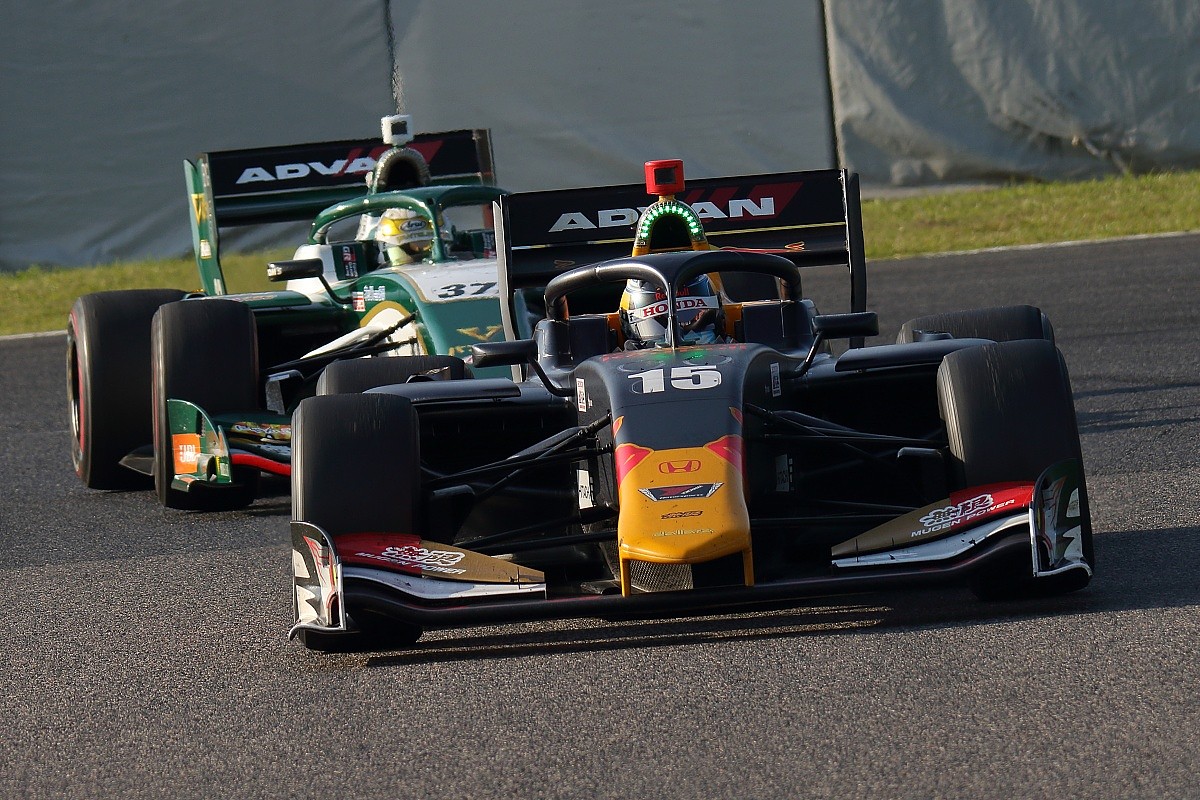 "I managed to do the hard part right, so enter with a decent amount of speed and not lose too much time, but then I stalled going off. Without that I would have gone from 19th to finish ninth or 10th."
By the time the two-day Suzuka test in December had finished, Vips had shown notice of intent. Fastest overall on the first day, he was third on day two.
"On the race weekend I never actually got to use a new soft-tyre set," he explains.
"I only got used soft tyres [which can only be used in Q3], which already felt really fast for me. But in the test, the first time I got to use the new soft tyres it was like... unreal. It was so fast!
"And then when I learned to use them properly it was like... ahhh [he sighs with pleasure]. Amazing."
"I'm not that good in the simulator actually, so I don't know if [Red Bull] are going to want me for race supports. At least, I don't think I'm that good!" Vips
As Ticktum did, Vips will line up at the Honda-powered Mugen squad alongside Tomoki Nojiri, fourth in the 2019 points.
"He's really fast, a tough guy with a lot of experience, and that's only a good thing because I need someone like that next to me," asserts Vips.
"And he seems like a genuinely nice guy. He doesn't seem political or anything like that."
There are also the language and cultural differences of racing in Japan. Vips is only racing in Super Formula (no additional Super GT programme), so is flying in for each round.
"The racing in Japan is very different to racing in Europe," he states.
"In Europe everything is regulated really heavily, and in Japan they're pretty laid-back, but they put much more focus on other stuff.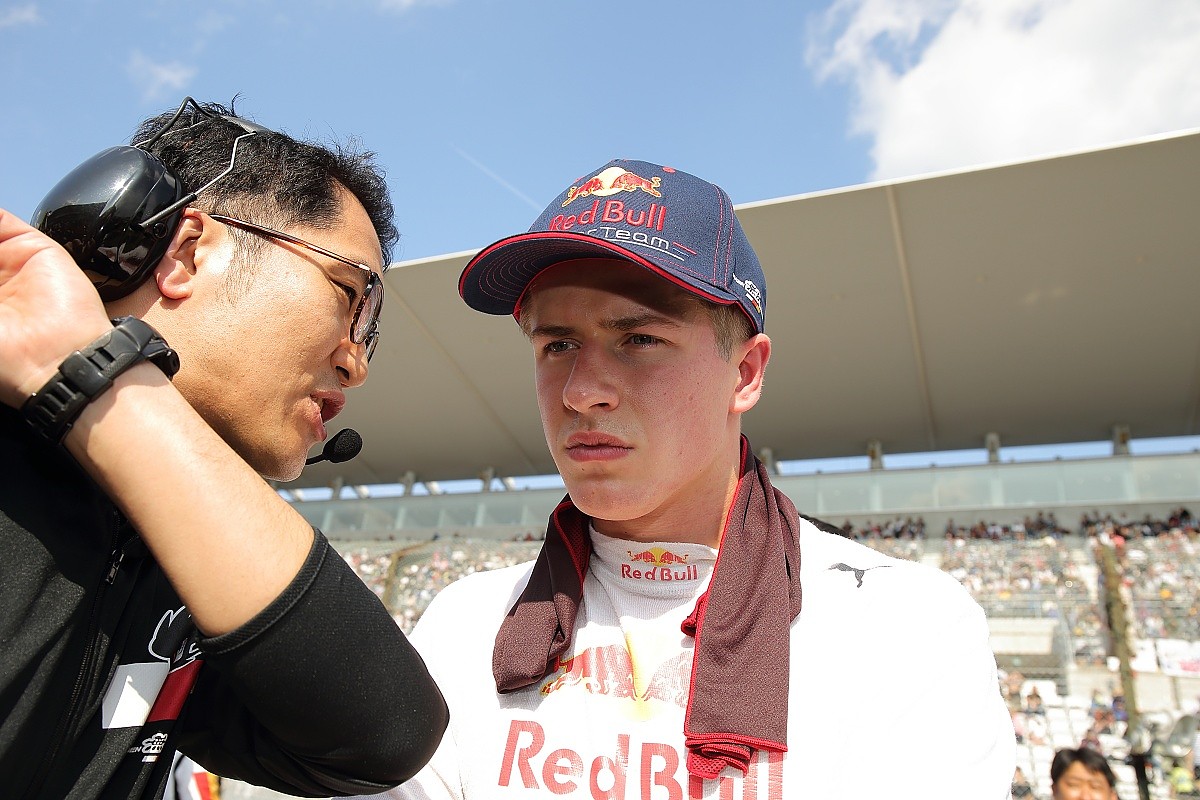 "You just have to learn to work with them properly. It's tough.
"We have briefings in Japanese and I have this data engineer who is translating to me, but not in a really good way. They talk for a minute, and he tells it to me in 10 seconds, and I'm, 'Woah, woah, be a bit more specific'.
"But Pierre, Stoffel Vandoorne and Felix Rosenqvist have proved you can go there and do well."
Of course, as that Red Bull 'man most likely', the subject of F1 work crops up.
Ticktum used to spend a lot of time on race-weekend 'live' work in the team's simulator.
"I haven't done race support yet, but I've been in the simulator for a few days now," says Vips. "It's mainly been development of the car."
Any race weekends in the sim coming up?
"I don't know yet. I'm not that good in the simulator actually, so I don't know if they're going to want me for race supports. At least, I don't think I'm that good!"
And he's itching to get into the real thing: "The guys in the simulator say it would be good if I have references of the real car, so I can help them develop better for the correlation. I need to push them to let me do a few days..."
But the main thing is performing in Super Formula. Vips needs to finish in the top two in an incredibly tough championship to be eligible for the F1 grid in 2021. And Red Bull man Marko is notoriously hard to please.
"There's always as much pressure as you can have when you're a Red Bull Junior driver," says Vips.
"But it's stupid to have the superlicence in my head; it's stupid to think of anything else other than: how can I win this championship?"
If he does that, he'd be much more than Red Bull's 'man most likely to make Formula 1'.