Pitstop trickery, imaginative designs, covering up cameras - there have been many examples of motorsport teams bending the rules to their favour to try and gain an advantage over the years.
But some ploys are more audacious than others.
Here, we take a look at the times when not all things in racing have been what they appeared, from brotherly shenanigans to cars pretending to be something they're not.
When Brendon Hartley wasn't Brendon Hartley
Brendon Hartley and Murphy Prototypes got a slating on social media after scrutineering for the 2013 Le Mans 24 Hours. Hartley had declined to sign autographs after the traditional team photograph, and the twitterati weren't happy. It was a bit harsh, given that young Brendon wasn't present at the time. Nor was he even in France.
There was, however, a fake Brendon Hartley in the set of Murphy overalls with his name embroidered on the waistband in the team set-up shot. To be fair he didn't took too dissimilar from the driver who was busy making a name for himself in sportscars that year. That's because it was the elder of the Hartley brothers, Nelson, a bit of a star on the New Zealand dirt-track scene.
The real Brendon Hartley was still hours away from making it to Le Mans as a result of a deal arranged by Greg Murphy, owner of the team that had given the Kiwi his break in sportscars and also his manager at the time. Hartley undertook a handful of Grand-Am races in a Starworks Daytona Prototype that year, and one of them was at Mid-Ohio on the Sunday before Le Mans week.
It shouldn't have been a problem for Hartley to make scrutineering on the Monday, only there was a hiccup in his travel arrangements. At some point on the drive to the airport he realised that he'd left his passport in his kitbag in the truck. That led to some frantic calls, a rendezvous with the Starworks truckie on the side of the interstate and a missed flight.
Murphy came up with the idea of putting Nelson in the team line-up, but it was team manager Malcolm Swetnam who had to call time on the illusion. "People were asking Nelson for autographs and he was signing them, so I said, 'That's enough'," he recalls. "Then I noticed on twitter that we were getting slagged off for refusing to let 'Brendon' sign autographs."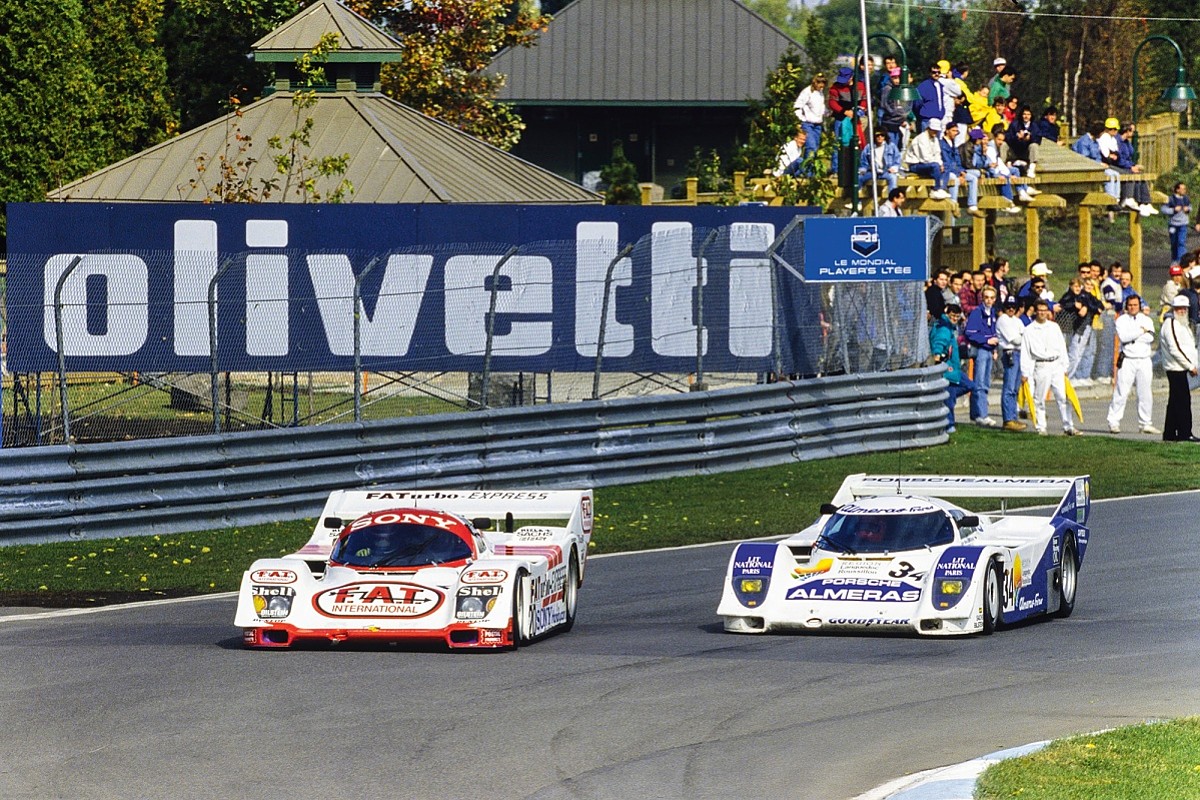 Team Davey's fake Porsche 962
The impecunious Team Davey squad had entered a pair of Porsche 962Cs for the 1990 World Sports-Prototype Championship without having the funds to run two at every round. In fact, it owned only one car. But it still needed to scrutineer two at each race to avoid punitive fines, resulting in a series of deals and escapades that culminated in an ingenious identity swap at the Montreal race in September.
The second Porsche over which the scrutineers cast what was clearly a cursory eye in Canada was not all that it seemed. It wasn't a 962 at all, rather an example of its short-wheelbase predecessor, the 956, of six years' vintage. So it was a Group C car, but one that had been obsolete under the regulations since the end of 1985.
Team owner Tim Lee-Davey can reveal today that the second of its cars that day had been begged and borrowed for the occasion from a collector by the name of Chris MacAllister from Indianapolis. And it didn't matter that the car he blagged was an ex-Trust Racing 956 because, he explains, "the rules didn't say you actually had to pass scrutineering".
Team Davey's antics that year - including presenting a car without an engine - hadn't gone down well with the WSPC officials, so the men in blazers decided that the cars needed to go forwards and backwards under their own power in scrutineering. The borrowed Porsche fulfilled that requirement, but Lee-Davey reckons the 962C imitator remained incognito throughout technical checks.
"My memory is that it stayed under a cover all the time and we just lifted it up to open the door, start the thing and put it in gear," he says. "I don't know whether the FIA were oblivious to what it really was or just chose not to look too closely."
The success of this ruse resulted in Lee-Davey plotting an even more outlandish scheme to overcome his car shortage at the next race, the series finale in Mexico City.
"I was going to hire an original-style Volkswagen Beetle from Hertz, put a sheet over it and take it to scrutineering," he explains. "Alain Bertaut [an FIA steward and Automobile Club de l'Ouest rules boss] got wind of my plan, put his head in his hands and told me not to make the FIA look stupid. He suggested I write a letter instead, using the words force majeure very forcibly."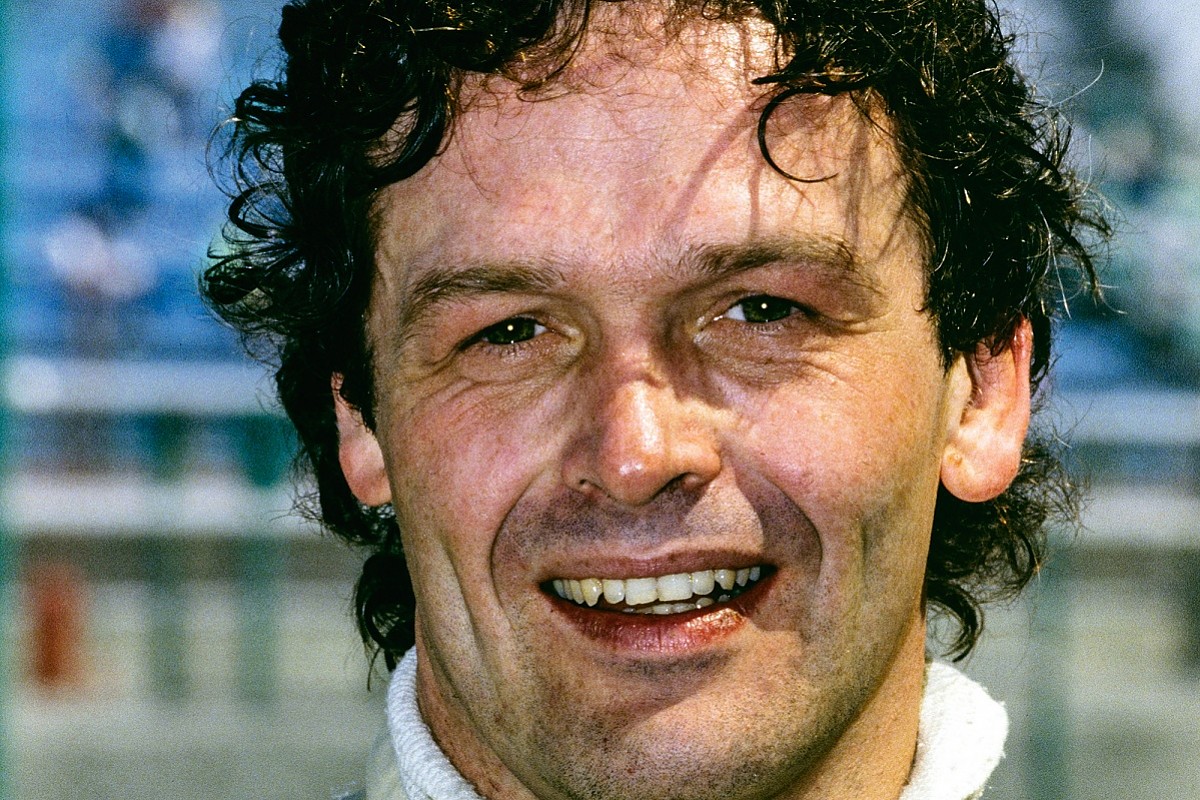 By way of a post-script, Lee-Davey isn't actually the real name of our subject. He was christened plain Timothy Davey, the name he goes under today. He added the Lee - after his early racing exploits had featured in the BBC's Big Time series - at the suggestion of Brands Hatch boss John Webb, who'd taken the young wannabe under his wing.
"John said there were too many drivers with similar names," recalls Lee-Davey. "My dad's name was Lee Davey and his caravan company in Kent was called Lee Davey Caravans, so I added Lee to my surname."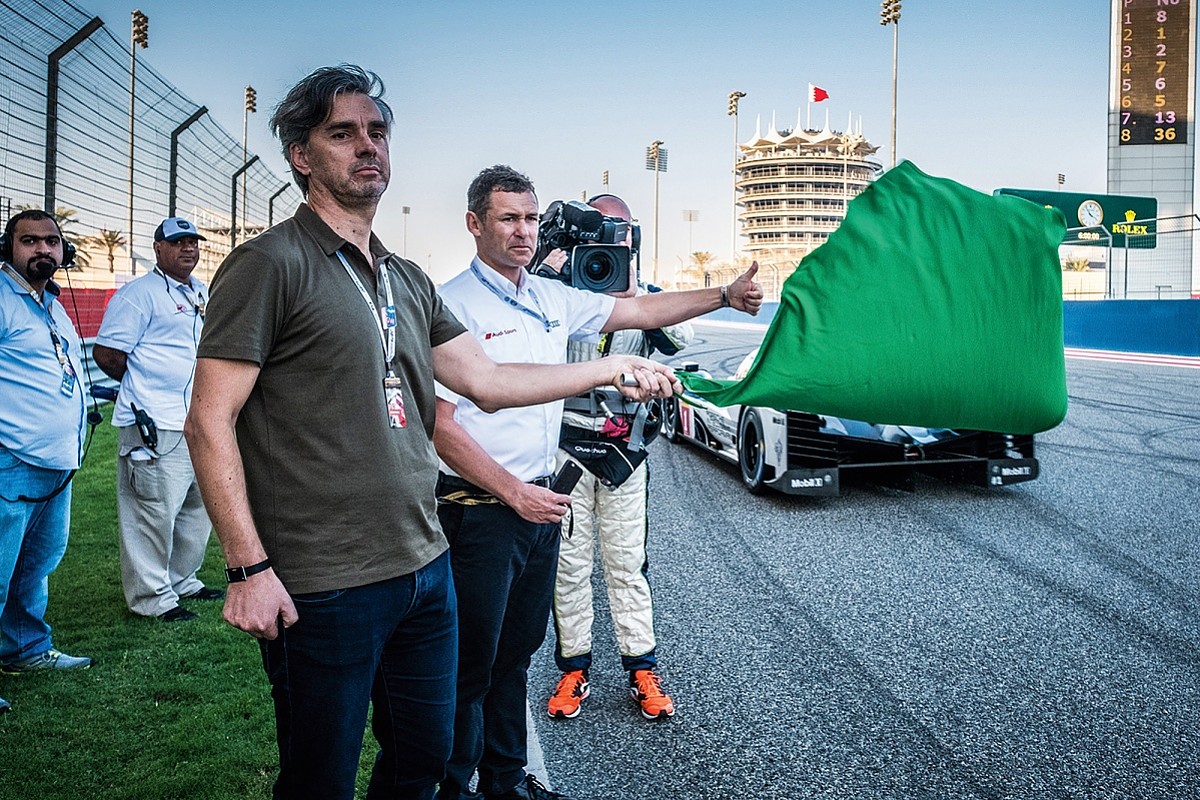 Mark replaces Mick as honorary starter
Aussie bike legend Mick Doohan was a visitor to the 2016 Bahrain World Endurance Championship event courtesy of his son Jack, now a Red Bull junior, competing in an event on the adjacent kart circuit that weekend. He was introduced by Porsche driver Mark Webber to WEC boss Gerard Neveu, who decided that the five-time 500cc world champion would make a good honorary starter for the event.
Only Neveu also met one of Webber's oldest friends that weekend, another Australian called Mark Thewlis. Say Mick and Mark quickly in your best Aussie accent, and you might get an inkling of what happened next.
Somehow when the invite was made by Neveu to brandish the green flag, it went to the wrong man. It seems that there was a last-gasp attempt to rectify the mistake, but Doohan was on the wrong side of the track. That meant there was only one living motorsport legend on the grid waving the cars away from the echelon line-up to start the formation laps. It was a slightly bemused looking Tom Kristensen standing next to someone who most definitely wasn't Mick Doohan.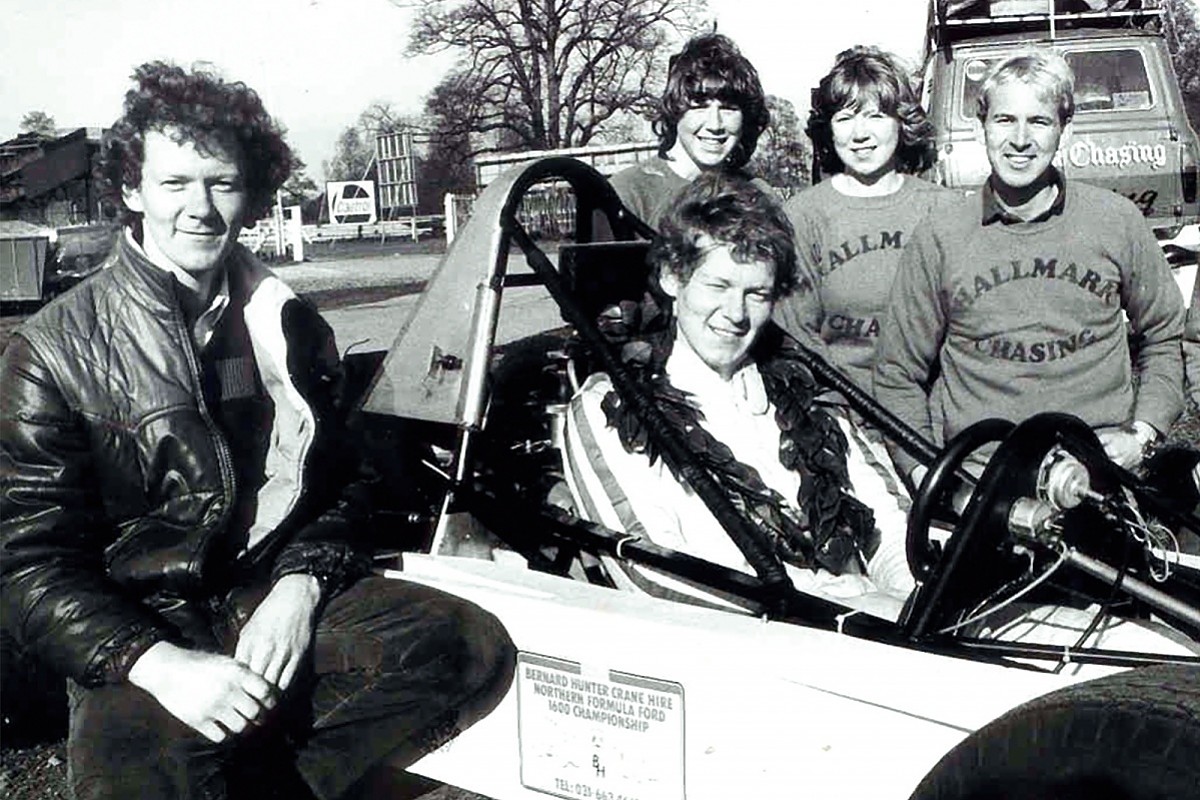 Identical twins play FF1600 games
Motor racing was very much a family affair for Tim Atkinson and his late brother Gregg. They shared a succession of Formula Ford 1600s at the back end of the 1970s and into the '80s, and went racing with their other siblings and mother. Having a car between them meant picking a championship each to chase at the beginning of the season and sticking with it. Or that was how it was meant to work.
Tim and Gregg were not just brothers, but twins of the identical kind, and that allowed them - unofficially, of course - to mix and match their races if they so chose. That's what happened in the 750 Motor Club FF1600 series race at Donington Park in September 1981.
Gregg was chasing the 750 title that year, while Tim had become a bit of a circuit specialist at Donington courtesy of its own one-circuit series. So for the crucial penultimate round, Gregg hatched a plan for his brother to drive their Hawke-based Agent DR2.
"Gregg was going for the championship and he suggested that I should drive, because I was quicker around Donington," recalls Tim. "He just told me to make sure I finished second."
Tim came home behind race winner Tony Trevor masquerading as Gregg, who was watching from the sidelines in his brother's jacket, to secure the Wilkes FF Challenge. No-one was the wiser, save for their mother Maureen. She, reckons Tim, was "probably the only person who could tell us apart".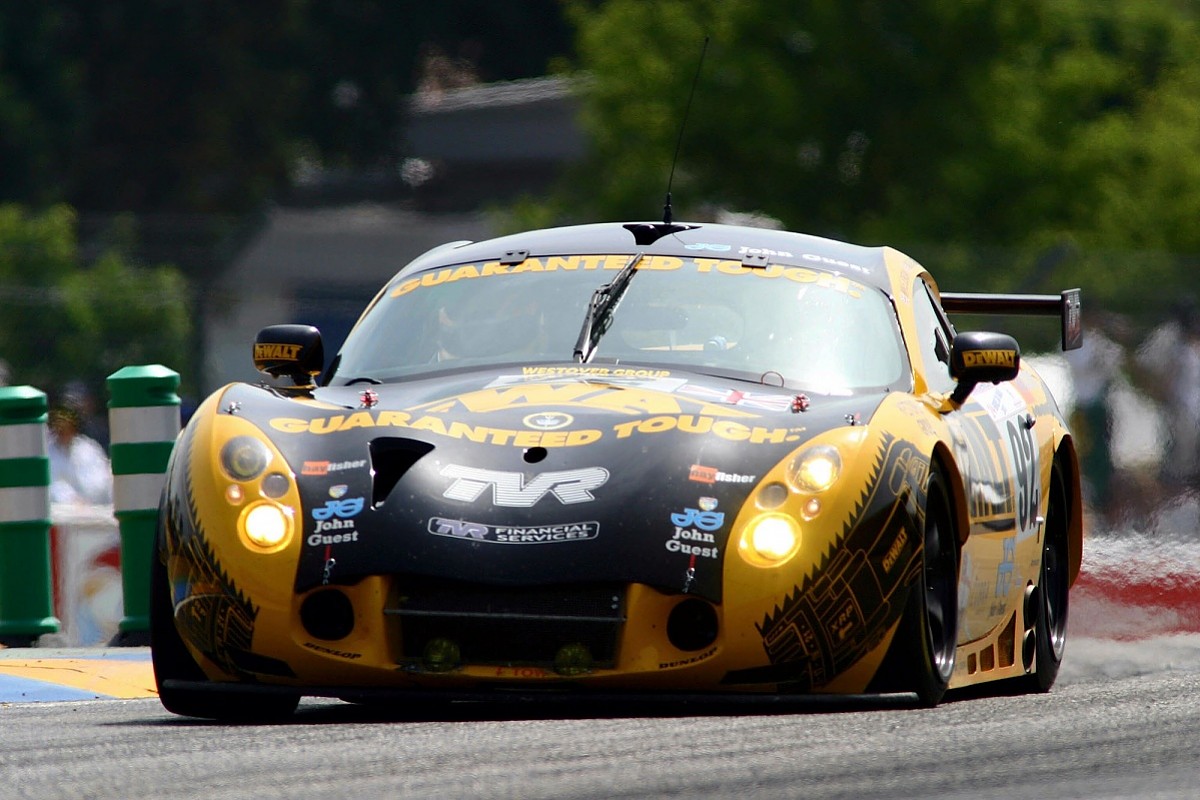 Cover up for cable tie repairs
The rules at the Le Mans 24 Hours are pretty draconian when it comes to repairing a car if it conks out on track. Only the driver is permitted to work on the thing. The RaceSports Salisbury team bent that regulation a tad in an ultimately fruitless attempt to get one of its TVR Tuscan T400Rs back to the pits in the 2003 edition of the French enduro.
Michael Caine had been forced to pull over at the end of the Mulsanne Straight during the night after a propshaft joint failed on the car he shared with Mike Jordan and Tim Sugden. The team knew that Caine wouldn't be able to fix the problem, so a posse including Jordan hiked it down to Mulsanne Corner.
"Cainey is a great little driver, but he doesn't know what to do with a set of spanners," says Jordan, who reckoned that as one of the drivers of the car he might just be permitted to have a go at fixing it. "I got talking to one of the marshals and asked him if he liked the TVR.
"When he said that he did, I suggested that it would be better if it was out on the track than stuck behind the barrier. He eventually agreed with my suggestion that I should swap places with Michael."
Jordan then spent what he remembers as "about an hour and a half" getting the car up in the air using a jack borrowed from the friendly marshal - another no-no under Le Mans rules - and a pile of logs so that he could jury-rig the propshaft joint with cable ties.
With the temporary fix completed, Caine was strapped back in and told by Jordan that one false move would undo the repair.
"Unfortunately there was a bit of rough ground for him to go over to get back on the track," recalls Jordan. "Michael had to dip the clutch, and that was that. I wasn't going to have another go at repairing it, and besides I was out of cable ties."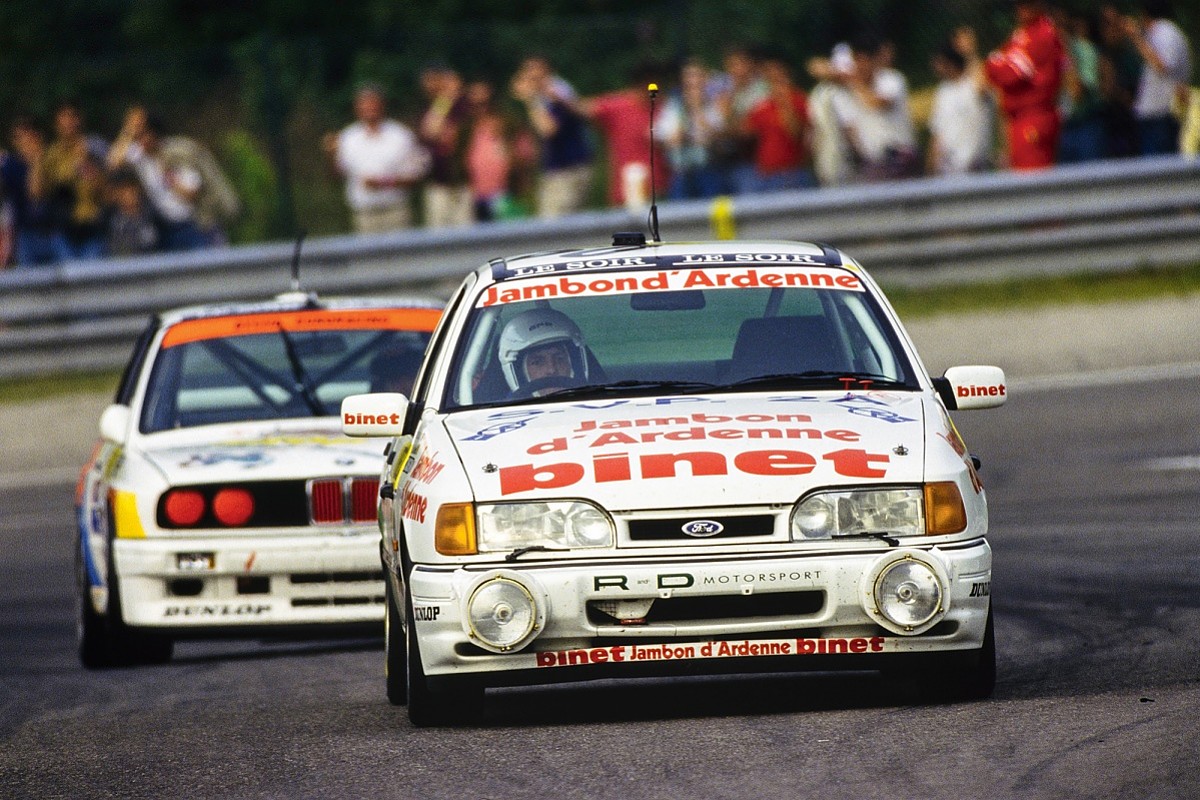 Qualifying an extra Ford at Spa
The R+D Motorsport squad had a problem as qualifying for the 1991 Spa 24 Hours drew to a close. One of its pair of Group N Fords, a rent-a-car to be raced by a couple of local drivers and team money man Ken Grundy, hadn't made the cut. And a non-start would mean that two thirds of the hire fee wouldn't be coming its way. That's when team manager Malcolm Swetnam hatched a cunning plan to make sure the race didn't turn into a financial disaster.
Among the drivers in the team's lead entry, a three-door Ford Sierra RS Cosworth, was club legend Ian Flux. He remembers being called into the team's truck, handed Grundy's overalls and told to put them on by Swetnam because he had an undercover job to do in the team's four-door Sierra Sapphire rental car.
"Ken was five foot nothing and four feet wide, so they weren't really my size," recalls the experienced Fluxie. "I had to put his helmet on and go out and qualify the car."
Fluxie managed the feat without too much difficulty. He puts the one-second deficit to his time in the three-door car down to the late hour. "I thought I was finished for the day and it was getting late, so I'd probably had a beer by then," recalls Flux (below). "But I was definitely happy afterwards, because Malcolm bunged me an extra 500 quid for my efforts."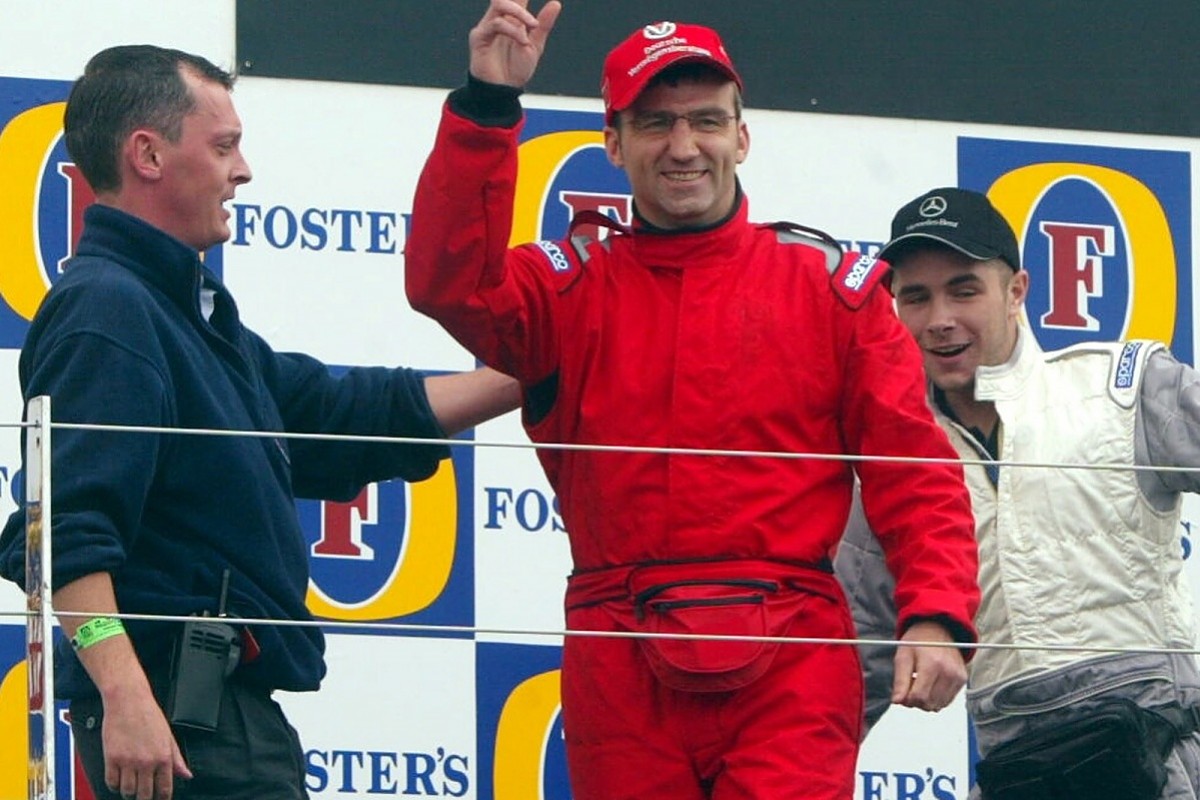 Power and no glory at Silverstone
Serial hoaxer Karl Power is most famous for stealing a spot in the team photograph on the pitch with Manchester United ahead of its 2000-01 Champions League quarter-final defeat to Bayern Munich, but he also managed to make it onto the podium ahead of the celebrations proper at the 2002 British Grand Prix at Silverstone.
It took some daring to pull it off with his mate Tommy Dunn, but it didn't have quite the impact of his Old Trafford escapades, nor striding out onto the pitch at Headingley during an England v Australia Test match. Power had the right kit on those occasions, but his plain red Nomex at Silverstone made him an implausible Michael Schumacher impersonator.