In this week's Autosport magazine, a special edition of our Engineering supplement celebrates the achievements of drivers racing with disabilities - and the technology that helps make that possible.
Here are the stories of three such racers: a young karter acclimatising to racing with deafness, a national racer who isn't letting a rare form of muscular dystrophy stand in the way of his endurance-racing ambitions, and a man who was on the cusp of Formula 1 before an accident left him in a wheelchair - but who has rebounded to become a touring car champion.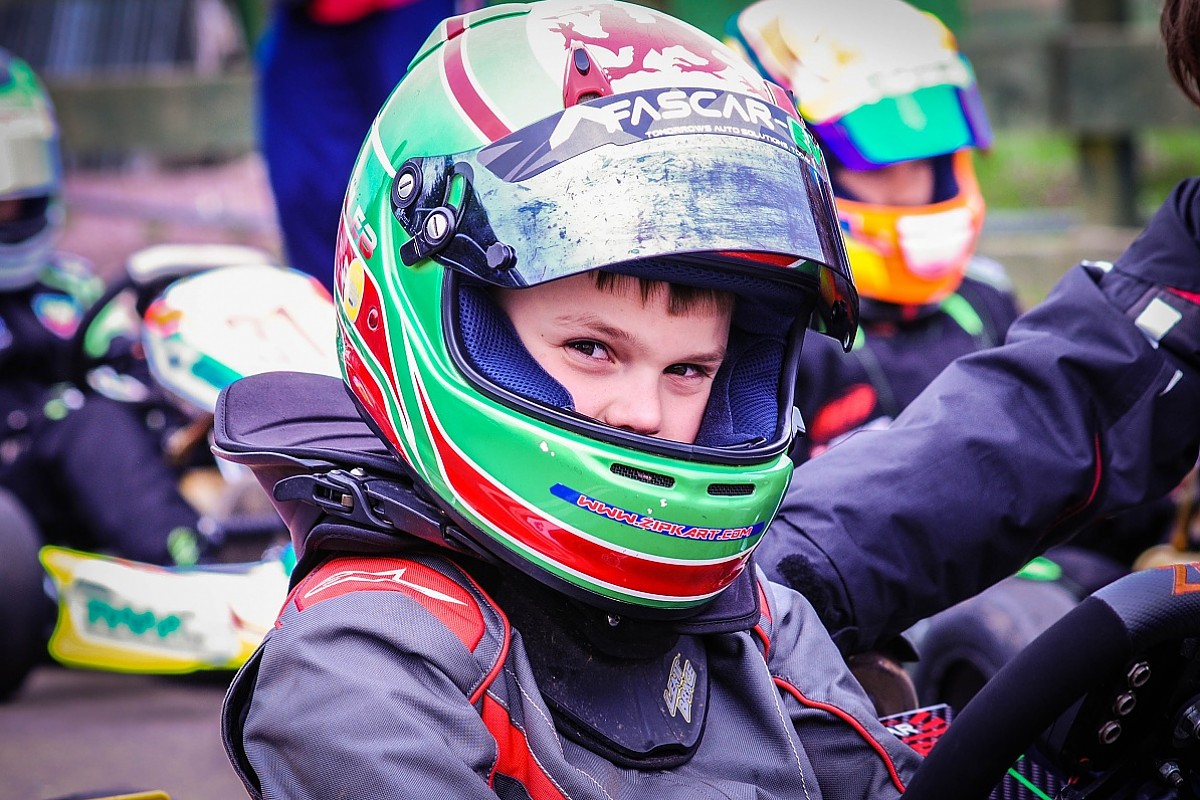 Caleb McDuff (by Ian McDuff, his father)
Caleb passed the newborn hearing tests, and as far as we know had full hearing. At nine months he began suffering chronic ear infections, finally having grommets fitted aged three.
We were told the infections were normal for young children and would clear naturally. They never did, and as a result he suffered irreversible damage, losing 90% of his hearing.
At four, Caleb was successfully fitted with cochlear implants. Though these give a simulated sense of sound, they're not a cure for deafness, so the quality of sound received is far from normal hearing.
Caleb began karting when he was five. I had my own kart and raced at a local track with friends for fun, nothing like the level Caleb competes at now. He'd showed an interest, so the natural step was for him to have a go himself, with Santa bringing him a 35cc Bambino kart!
"Caleb wants to be the first deaf F1 driver. It's obviously going to be a tough road, but I encourage him to dream big and work hard to achieve it" Ian McDuff
He started competing in the 2014 Bambino Kart Championship, but due to costs we could only attend one race a month, so development was slow. In January this year we were able to get enough backing to compete properly with Luke Hines' AllStars team.
The biggest thing Caleb has to overcome on track is the lack of sound, as he can't wear the cochlear implant over ear sound processors with his crash helmet.
This brings several disadvantages. Firstly, the engine noise, tyre noise, wind noise that we hear when driving helps us naturally gauge speed. Think about driving your road car with the radio very loud - it disorientates your speed awareness.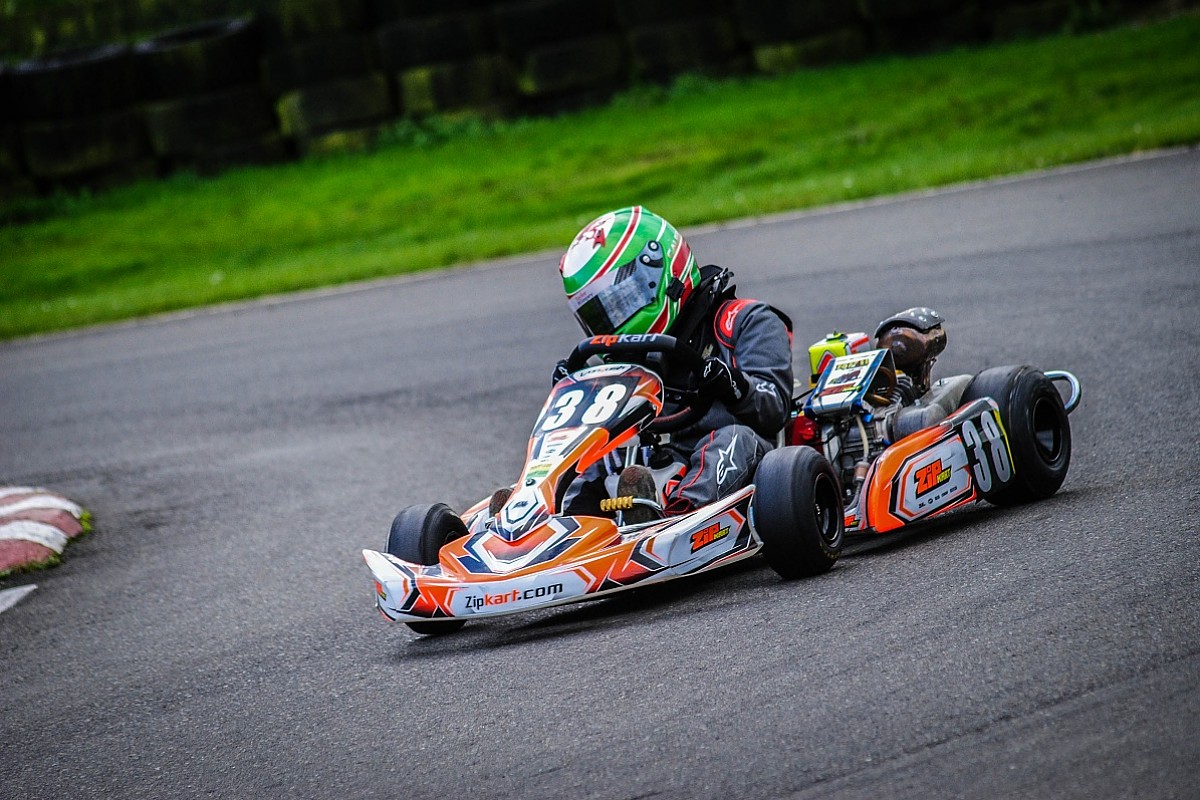 Secondly, he has to concentrate more than others on track to know if there is someone behind him, and where.
When Caleb first started in Honda Cadet, he struggled with starts and would lose many places as he found them very disorientating and requiring immense concentration. He's constantly adapting to this and becoming much stronger on starts.
He's also more aware of when a kart approaches from behind now and doesn't get as surprised when a faster kart suddenly appears next to him. He claims he can feel differences in vibrations when another engine is running nearby.
We are also looking for a helmet manufacturer to work with us to adapt a helmet that would allow Caleb to wear his processors when racing - using technology to help him further overcome any disadvantages.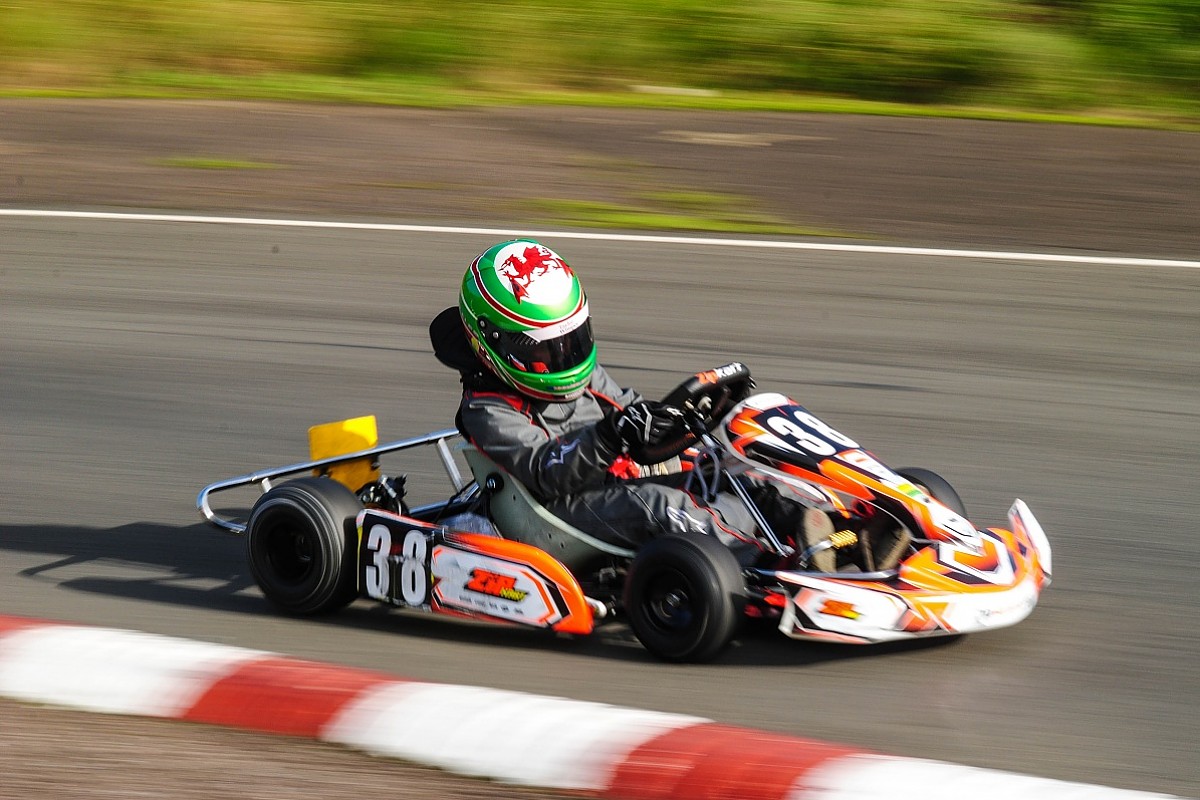 We've had talks with Arai, which seems positive it can find a solution regarding this, but nothing has been agreed yet.
Caleb's biggest achievement has been working hard to close the gap this season. To compete in Super One in his first year in Cadet karting has meant a steep learning curve.
At the beginning of 2018 he was still on novice plates, being pushed about by the experienced kids, then went straight into Super One. Though he's still off the Super One drivers' pace, at Club level it's really brought him into the mix, improving his lap times and racecraft.
He finished Super One in 36th place from 44 entries - with the obstacles he's had to overcome, that's quite an achievement.
His ambition is the same as any other 10-year-old kart racer, to be the next Lewis Hamilton (though I wish he'd say Jenson Button!).
More specifically he wants to be the first deaf F1 driver. It's obviously going to be a tough road, but I encourage him to dream big and work hard to achieve it. What a story it would make!
Alex Tait
I'm 20 years old and the only racing driver in the UK with myotonic dystrophy, a rare form of muscular dystrophy. I'm also a grade C ARDS race instructor.
Myotonic dystrophy affects more than one in 8000 people worldwide. It's an inherited disease that can occur at any age, though onset is typically in the twenties and thirties.
I inherited the condition from my mother, so have the rare severe form of congenital myotonic dystrophy. As it stands there is no cure for the condition but as a family we've been working closely with Queen's Medical Centre in Nottingham, researching in the hope of a breakthrough.
My condition has a huge effect on racing due to the weakness aspect of myotonic dystrophy. I can't build muscle as you would expect as it speeds up the wasting effects of the muscles.
Even in sprint races I suffer from fatigue and muscle spasms in my hands, arms, legs and neck. So, I have to make the best use of what I've got.
I need a good 10-hour sleep the night before and after a race to ensure I'm fully energised and recovered.
Sport was a challenge for me as a youngster, and I was always being picked last for teams at school. It was something I felt was for other people, until I found motorsport.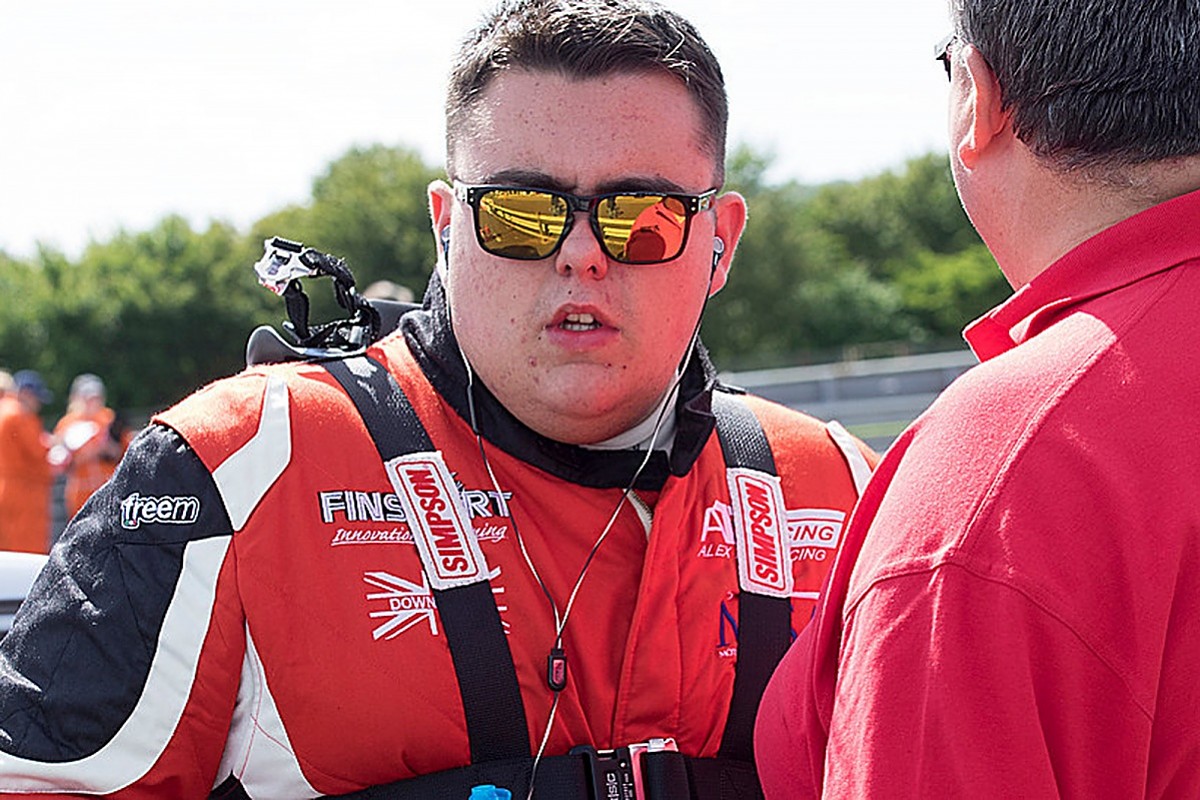 I'd always been crazy about cars and racing, but assumed that you needed to be a super-fit athlete. I dreamed of competing, but after my diagnosis I thought that dream was over.
When I was 13 my parents took me to a disabled driving event at Donington Park called Get Going Live! It was aimed at getting young people with disabilities behind the wheel and preparing them for what may be needed in terms of adapted vehicles.
We attended as an eye-opener, learning what would be available in future years due to the unpredictable way the condition deteriorates, but while there I was introduced to Autotests and Autosolos.
The local Loughborough Car Club was holding demonstrations for their disabled driver scholarship programme, an initiative run by the Go Motorsport regional development officer for the East Midlands, Richard Egger.
"Racing is my life and has given me a fulfilment of competing on a level playing field with able-bodied people in a way no other sport could" Alex Tait
I took information about the scholarship for the following year and entered. I never expected anything more than a fun day out and getting greater insight for competing in the future, but I became the youngest ever winner of the scholarship aged 14.
That was a huge boost for my confidence, fuelling my desire to follow the dreams I'd thought were over just three years earlier.
At the end of 2013 I entered a scholarship for junior drivers to win a season of circuit racing. Unfortunately I was unsuccessful, but on seeing the determination and desire I had to compete on a level playing field in the competition, my parents promised me some rounds in the following year's BRSCC Fiesta Junior Championship. I entered the final three rounds of 2014 at Donington Park, Silverstone and Brands Hatch.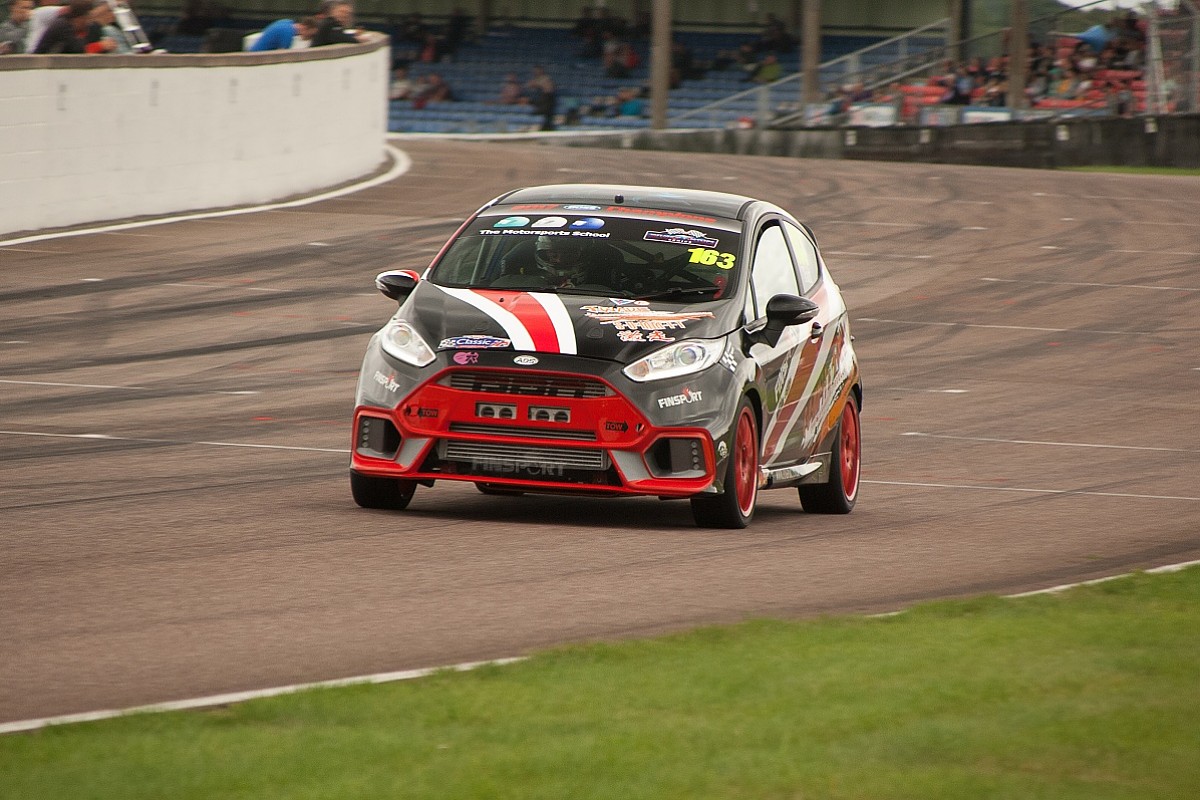 At this point, I thought my short foray into circuit racing was over due to budget constraints. But the decision was made to let me continue racing, and the budget for me to do a full season the following year was found. I finished seventh overall and fourth in the rookie championship in my first ever season of circuit racing.
I progressed up to senior racing in 2016, forming a partnership with my current team, Finsport. Competing in the Classic Touring Car Club's Pre-2003 Production Touring Car Championship in a Honda Civic Type R, I finished in the top five in every race, achieving five podiums.
Last year we undertook a new challenge, with a completely new car, racing in the Blue Oval Saloon Series with a Mk7 Ford Fiesta ST. I competed in 12 races finishing on the podium in each, taking 10 wins and the class championship.
This season has been a real struggle for me, as I lost my mum at the beginning of the year due to complications of myotonic dystrophy.
As you would expect, this put us massively on the back foot for the start of the season. We've had horrendous luck on track too, due to mechanical issues or being collected in other people's accidents, one of which resulted in a broken wrist.
So, I've only contested a few rounds of the 750MC Hot Hatch Championship and CSCC The Motorsport School Turbo Tin Tops Series.
Moving forward I'm looking to progress as far up the ladder as I possibly can, as all young drivers are. The path I want to take is an unconventional one for someone with a condition such as mine, though, because I would ultimately love to follow a career in endurance racing.
In a nutshell, racing is my life and has given me a fulfilment of competing on a level playing field with able-bodied people in a way no other sport could.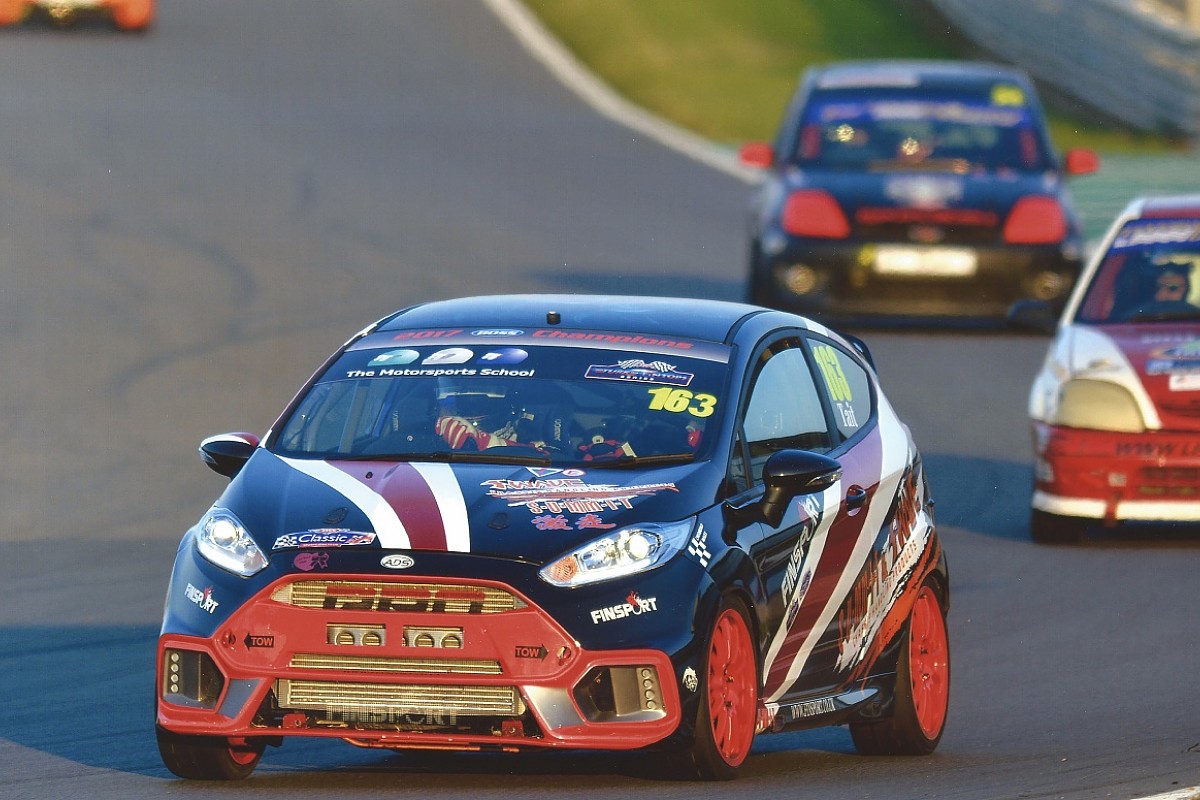 Jason Watt
One step away from Formula 1 when a motorcycle accident changed his life. For those who know Jason Watt - and those who don't - his smile and upbeat attitude are both bigger than ever. Here he tells his story of overcoming spinal injuries to win again and help others too.
Where do I start?
I began karting in a small town near Copenhagen where I grew up and it was this small place, a tiny karting track with engines taken off mopeds. I was taken by my mum one day when I was 10, and I had a go. I just remember the feeling going down the straight for the first couple of times thinking, 'I'm doing 200km/h'. I wasn't, but it felt like it!
From that day on all I wanted to be was a racing driver and reach Formula 1. My dad did some club racing in his Ford Escort and he thought he saw some potential in my youth kart club. So, he sold his road car, bought a Transit van and we went karting - racing and sleeping in a tent or in the van.
A couple of years after I started, a chubby little kid called Jan Magnussen started at the same karting club. I joke now. Jan's older brother was his mechanic and he told him to follow me because 'he knows how it's done...'
Jan went on to be a three-time world karting champion. I draw a straight line for his success from me - I taught him all I knew!
We joke still, but Jan has been key in many moments in my life. He first got me into real cars and racing. I had no money, I worked as a mechanic in my spare time. It wasn't until 1993, when I was 23 years old that I got support through friends of Jan, and a test at Snetterton in a Formula Vauxhall car, having only ever done karting.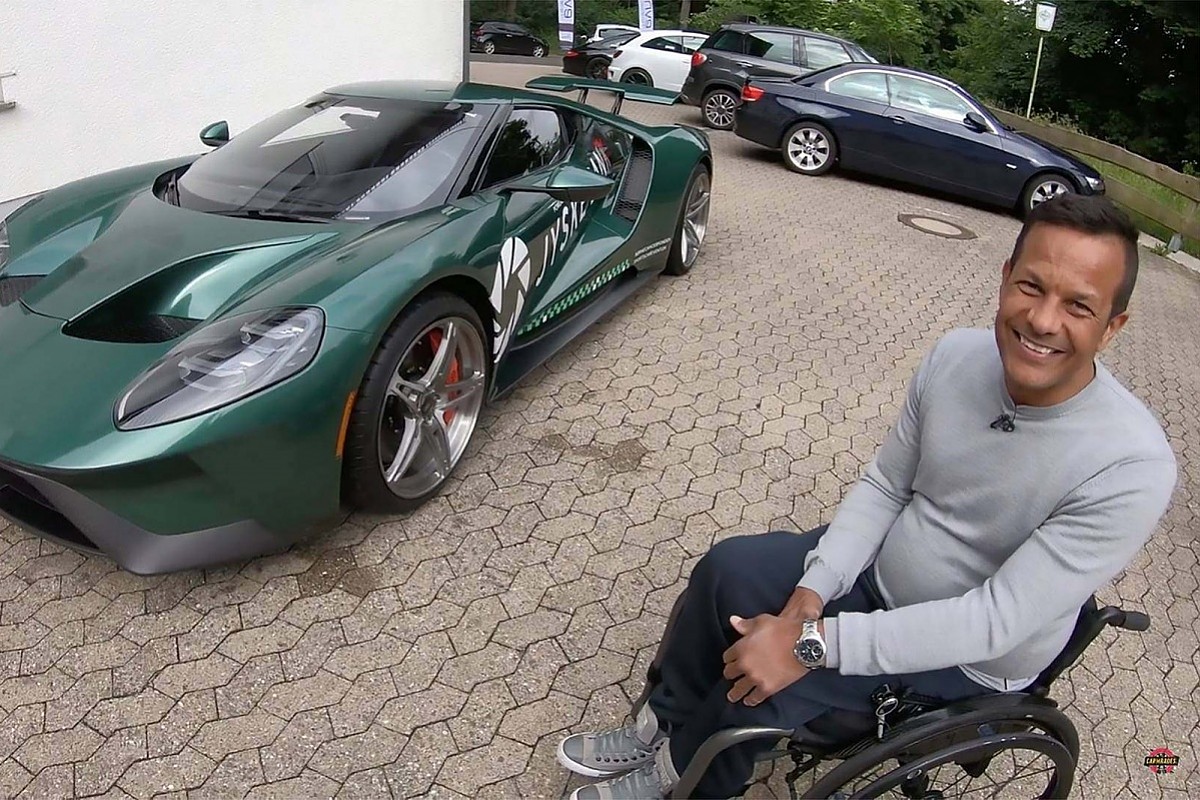 Then I had contact from the Vector Formula Ford company. They had a brand-new FFord car; would I like to drive it? For free? Nobody had heard of them. I won the championship, and I won the Formula Ford Festival too!
I went from there through Formula Opel Lotus, winning the championship too. From that I was invited by Alfa Romeo for a DTM test. There were 20 of us, 12 laps each. The stopwatch doesn't lie.... 'Incredible', said the team.
I had a Formula 3 offer at the time, which was complicated. But in 1996 the DTM was seen to be the stepladder, racing against McLaren F1 reserve driver and my best mate Jan, Dario Franchitti, Giancarlo Fisichella and Alexander Wurz. It wasn't the 'old geezers' championship anymore and suddenly I was being paid to drive!
Then I got backing from Den Bla Avis that took me to Formula 3000. In 1999 I was told, 'Alright, last chance' and I finished second in the championship to Nick Heidfeld. I won the last two rounds, Spa and Nurburgring. I was on a high. I came home and was talking to David Sears, my manager, who told me that Williams was having an F1 shootout test with a couple of drivers and he was trying to get me in that.
I had a motorcycle at the time, and a magazine was interested in doing an article about my passion for two wheels, so we went to do photos. I jumped on the bike, went down the road, turned around, came back... I was leaning under the fairing, giving him the thumbs up looking like I was going 320km/h, and didn't pay attention to where I was going. The road swerved a little bit, I went into the ditch and somersaulted over the handlebars doing about 60km/h. And that's it, I'd broken my back.
I was laying in hospital thinking, 'What am I going to do with my life now?' I thought to myself, 'OK, I could become a team manager, or team owner or something, to help young talent'. And then a young colleague from Formula Ford, Vincent Vosse, sent me a video of this French guy who was driving a touring car in the French championship. This guy jumped out of his wheelchair, pointing at his handles, and I was like, 'Woah - this is what I want to do'.
So, I called Jan and he came by with his little son Kevin, who was about five or six years old. Kevin came up and whispered, 'My dad tells me that you can't feel your legs, is that right?' I said, 'Yeah', and he says, 'So can I hit them?!' So, there he is slapping my legs like crazy, and asking, 'Can't you feel anything?!' No, I can't!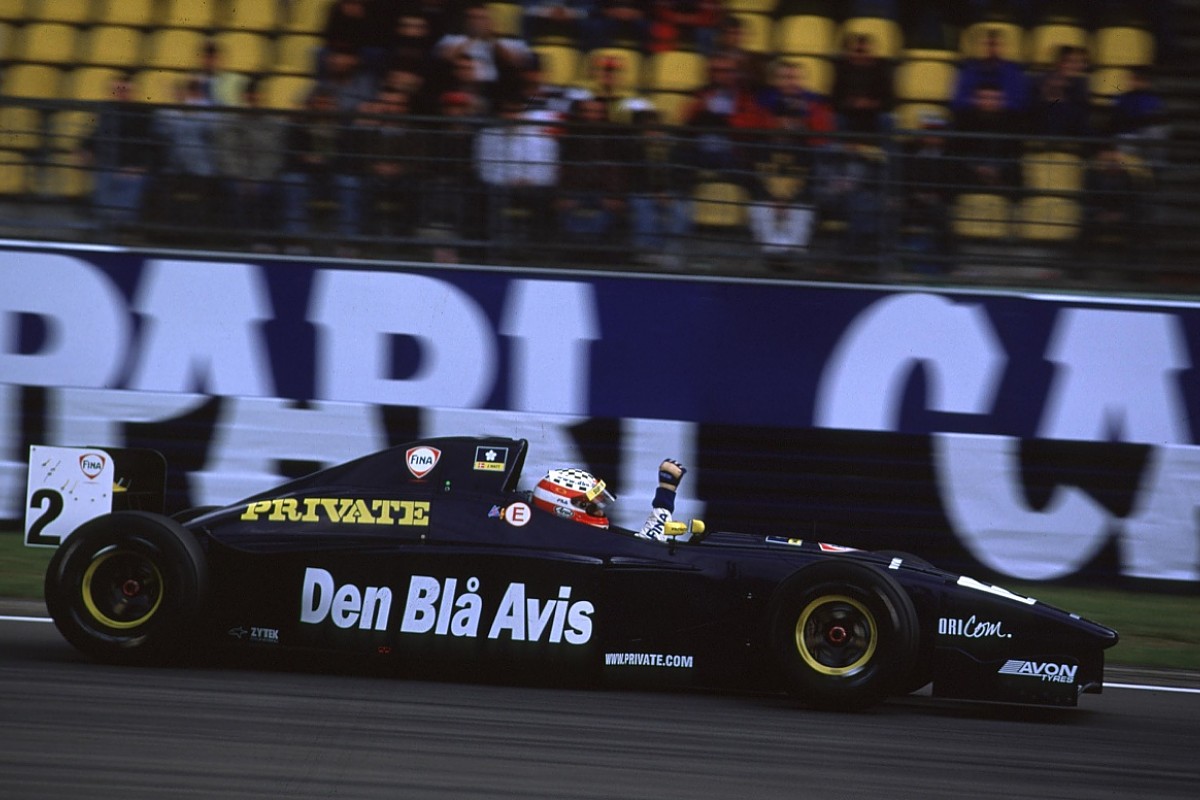 Jan approached the Peugeot importer of Denmark because they had a team in the Danish Touring Car Championship. They called me and said, 'Jan tells us you are going to drive a racing car. We want to be involved in this. You need to sort out how to convert it to hand controls, but otherwise, we have everything for you'.
And that was it. I was a racing driver again before I could even operate a wheelchair!
I never thought of myself as disabled. In 1996 I was team-mates with Alessandro Nannini in the DTM after his helicopter crash. I never really thought about that. He was a guy that did the job and won races. He literally drove that car with one hand, didn't he? I never looked at him as a disabled racing driver, even though he must have been one of the first in the world to do that at that level.
"I stopped racing in 2007, but never say never. Billy Monger has certainly put us on the map and Alex Zanardi doing the DTM race was awesome. I was so close to thinking I could do that again" Jason Watt
There are so many stories in my racing when I made it back - some good, some bad. But in 2002 I became the Danish Touring Car champion. We overcame a lot of resistance, but we proved it was possible.
We then adapted a Panoz for a European Le Mans Series race at the Nurburgring. Once I got the hang of it (that was a hell of a car!) I was catching the sister car.
People asked if I would do Le Mans, but, how can I say this? I never really put much effort into making this happen. I was happy with the touring cars in Denmark and was a little fed up with the resistance we had met from within.
We would go to teams, to see their pride and joy of a racing car. Well, when two people show up, one in a wheelchair and one little guy telling them, 'We are going to make this car hand controlled', they are suddenly, 'Woooooaaaaaahhhhhh... you mean our racing car? No way, this can't be done'. The guy that ran the cars was saying, 'It's not possible', yet obviously it was possible!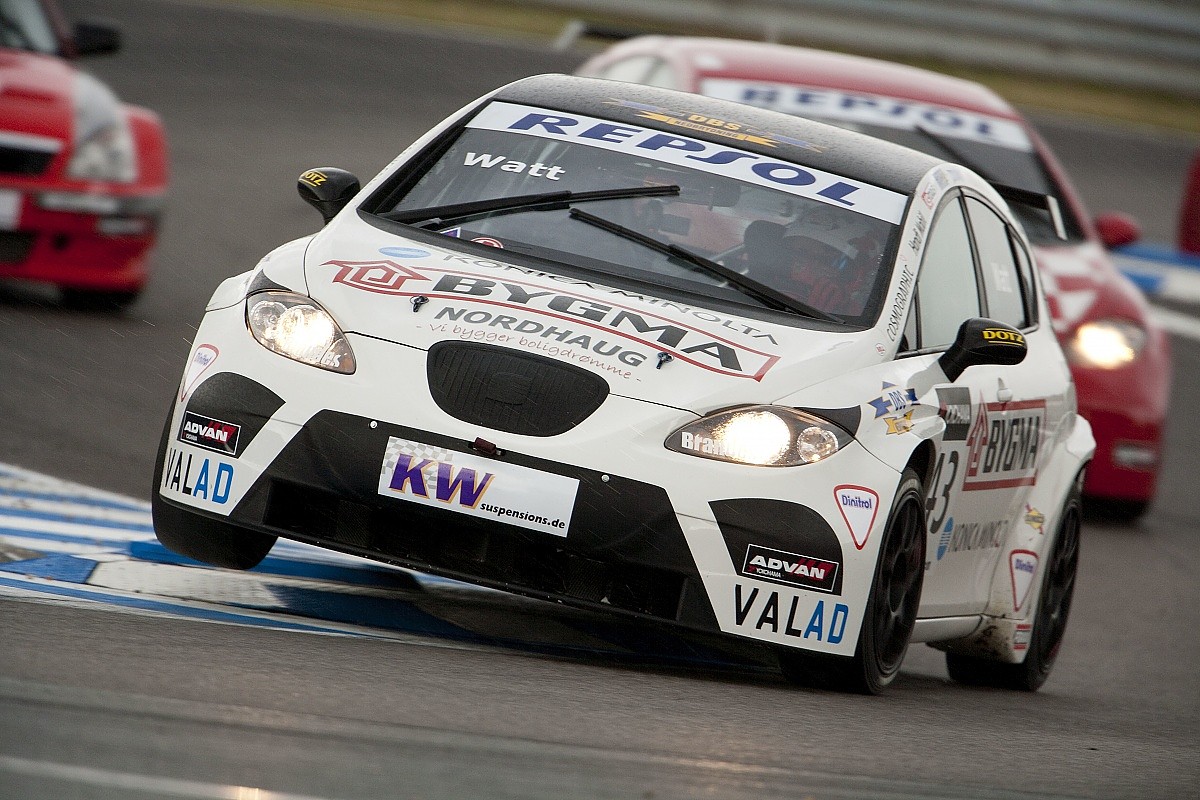 Away from that, back in 2001 I was invited to a track to give rides to some kids with cancer. I turned up for this children's day and as soon as I saw what this was about I was like, 'Can I join? Can I enter and help somewhere?' And I've been involved since then.
I was one of the first to put my name down for a new Ford GT. They announced that they were going to sell cars to people who were going to use them and show them off. I had the old GT as well. I wrote to them and said I intended to use this new car for charity, and I was approved! I was one of the first in Europe to get mine. I got a brand-new Ford GT, then took it apart and made it hand-controlled!
Even then, we were again met with scepticism. 'It's a Ford GT, you can't just take it apart!' I'm like, 'It's just a car!' But when people see it now it's all, 'Wow it looks good, it's brilliant!' Even officially, Ford people looked at the car and said it looks nicely done.
We have three events per year at three different tracks in Denmark, and we have Kids Days too. We invite the children from the cancer foundation, and their families so we give them rides as well. In all, we have six of these days, and we raise 3.5m Krona, around £350,000 each year. I am the official ambassador for this organisation, and we really are having fun. It's called Sports Car Event (sportscarevent.dk) and it's mega!
I stopped racing in 2007, but never say never. Billy Monger has certainly put us on the map and Alex Zanardi doing the DTM race was awesome. I was so close to thinking I could do that again - give me a test!
The acceptance is the hardest part still. The other competitors will pat you on the back and say, 'Welcome back, glad to see you are here, great job'. But when you start beating them, the jealously is still there.
I did get all the attention here. I was the disabled guy winning races. I would sit there on the grid signing autographs and other drivers were standing around waiting, full of jealousy. I was like, 'Alright, maybe I would actually swap my situation with you. Have you ever thought of that exactly?' Equally, in a great way, it drives you on and gives you a bit extra motivation!
But having a Ford GT, with my chair and a suitcase on the roof? Brilliant.