FORMULA RENAULT NEC: HOCKENHEIM
Reigning champion Jake Dennis was among the three winners as a remarkable 38-car field fought out the opening round of the Formula Renault North European Cup, but it's the Warwickshire man's Fortec team-mate - and fellow Briton - Matt Parry who is looking good in the points.
Parry emerged in front after the opening FRenault NEC event © Chris Schotanus
Parry took pole for races one and two, the first of which beat the ALPS round at Vallelunga by a couple of hours to the honour of being the first Formula Renault race run with the new-generation Tatuus update kits.
A collision between Parry and Dennis at the Spitzkehre hairpin demoted Parry to third and dumped Dennis to the back of the field, promoting Frenchman Esteban Ocon to the lead.
Ocon, driving for the ART Junior Team, was in front when the safety car emerged - due to a roll for Miika Laiho - and he won from Fortec-run Finn Mikko Pakari and Briton Oliver Rowland, who charged from 10th on the grid to third on his first race outing with Manor MP Motorsport.
Parry was next, with Jack Aitken (Fortec) making it three Brits in the top five.
The second race provided a British 1-2-3, with Dennis scoring victory. Rowland, this time from eighth on the grid, passed reigning InterSteps champion Parry for second, with Ocon close at hand in fourth.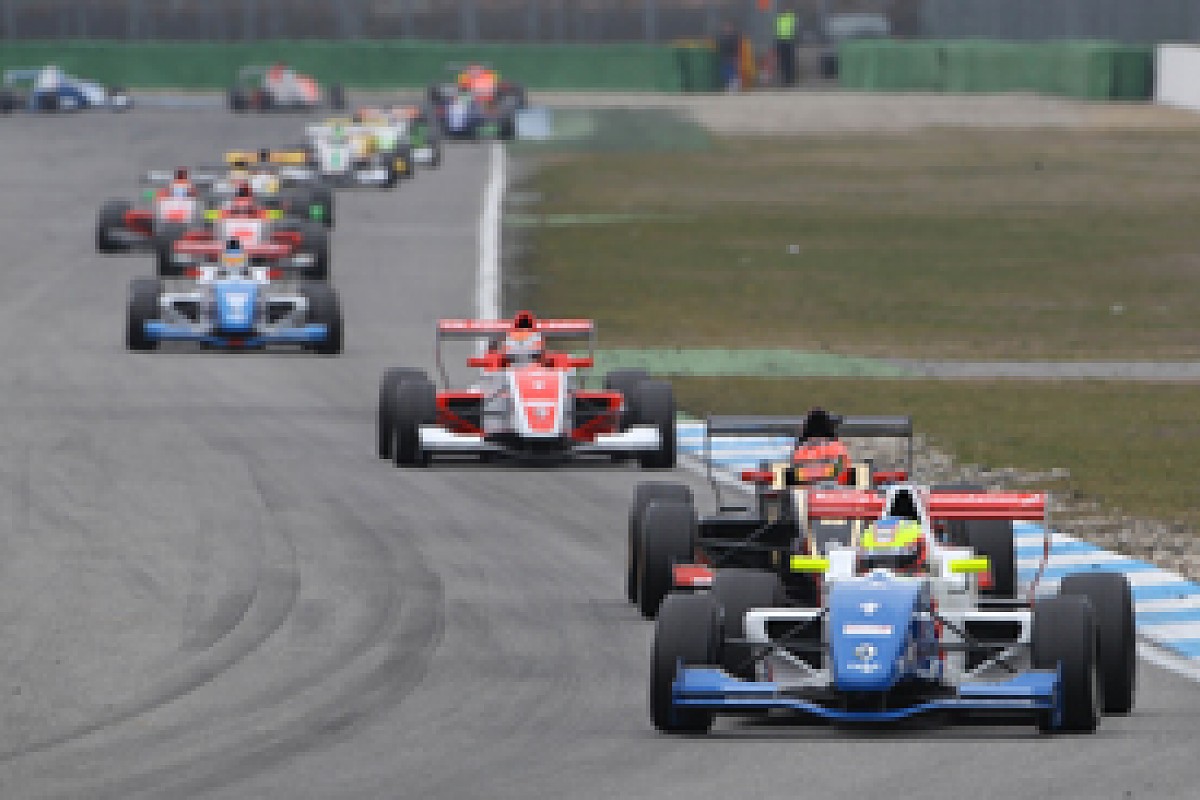 Dennis leads Ocon at Hockenheim © Chris Schotanus
Race three was led all the way by the ART machine of Andrea Pizzitola, the Frenchman earning pole on a grid formed by a reversal of the top six from race one.
Rowland was again on a charge, passing Caterham protégé Parry for second, with Pakari taking fourth.
Rowland therefore leads the points from Ocon and Pakari, but all three - along with Dennis among others - are concentrating on the Eurocup this season and are not contesting a full NEC programme. Of those who are, Parry is the best-placed in fourth.
Of the other drivers with British links, Anglo-Thai Alexander Albon - the son of mid-1990s BTCC privateer Nigel - took a ninth-place finish.
FORMULA RENAULT ALPS: VALLELUNGA
Formula 3 titan Prema Powerteam's return to Formula Renault 2.0 has begun in style with a pair of one-two finishes at the Vallelunga circuit just outside Rome.
The field of 36 fell just two short of the NEC opener at Hockenheim, and it was Brazilian Bruno Bonifacio, who raced in Formula Abarth with Prema last season before the team's end-of-season toe-in-the-water Renault return, who claimed pole.
Bonifacio was unhappy with his start, but held on to the advantage and led all the way. He came under pressure from 16-year-old Ferrari protégé Antonio Fuoco, before the Italian settled for second.
Pierre Gasly completed the podium in his Tech 1 Racing car, with McLaren junior Nyck de Vries recovering from a disappointing start to beat Luca Ghiotto to fourth.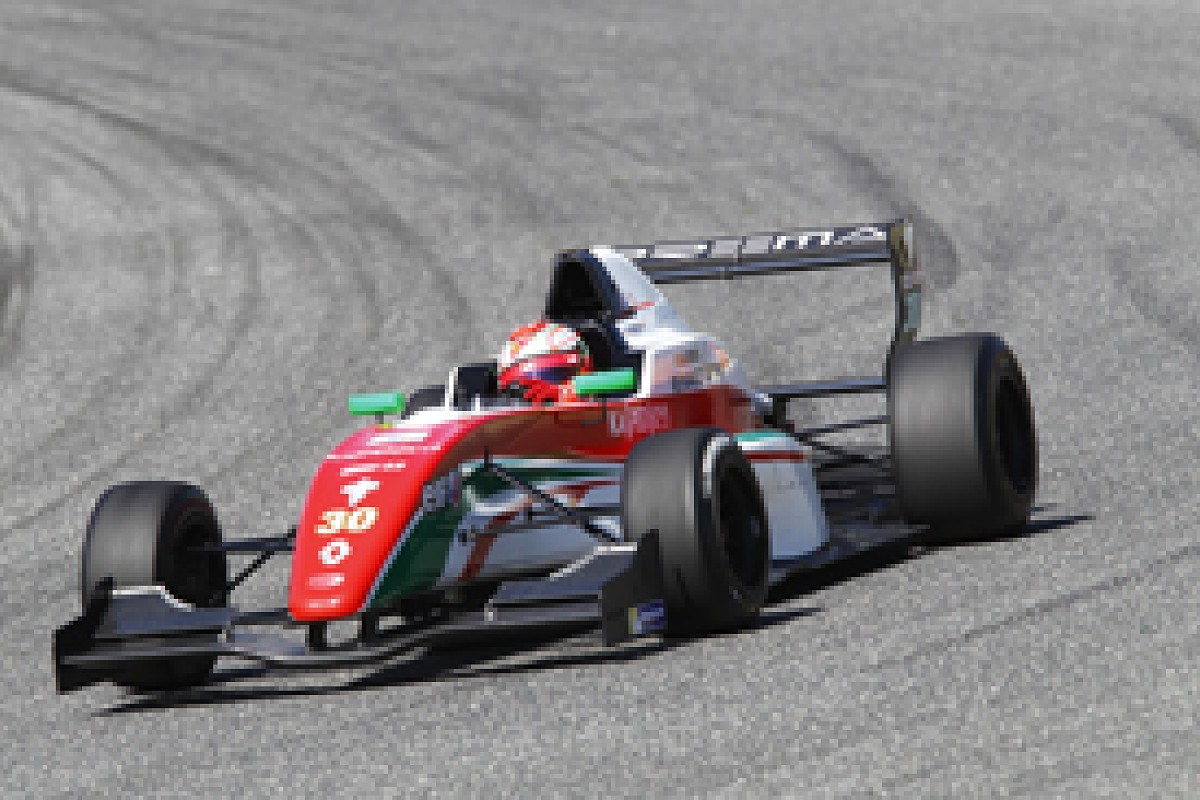 Fuoco was sensational in FRenault ALPS
Fuoco, a veteran of just two race meetings in cars in the PanAm Formula Abarth Winter Series, caused a sensation by winning race two and jumping to the top of the points table.
He benefited when a move from Koiranen-run de Vries on Bonifacio for the lead ended with them tangling and dropping back. Ghiotto moved up to take second from the Koiranen car of Guilherme Silva and Gasly.
Another Italian team, Euronova Racing, also returned to FRenault, with Scottish FAbarth graduate Gregor Ramsay - who missed a month of testing due to hand and wrist injuries in a shunt - beating Japanese car-racing debutant Ukyo Sasahara to seventh in race one. Sasahara made it a double points-score later on.
AUSTRALIAN FORMULA 3: SYMMONS PLAINS
With British veteran James Winslow only in for the opening weekend at Mount Panorama, fellow seasoned F3 racer Tim Macrow replaced him at Team BRM for Symmons Plains and took a triple win.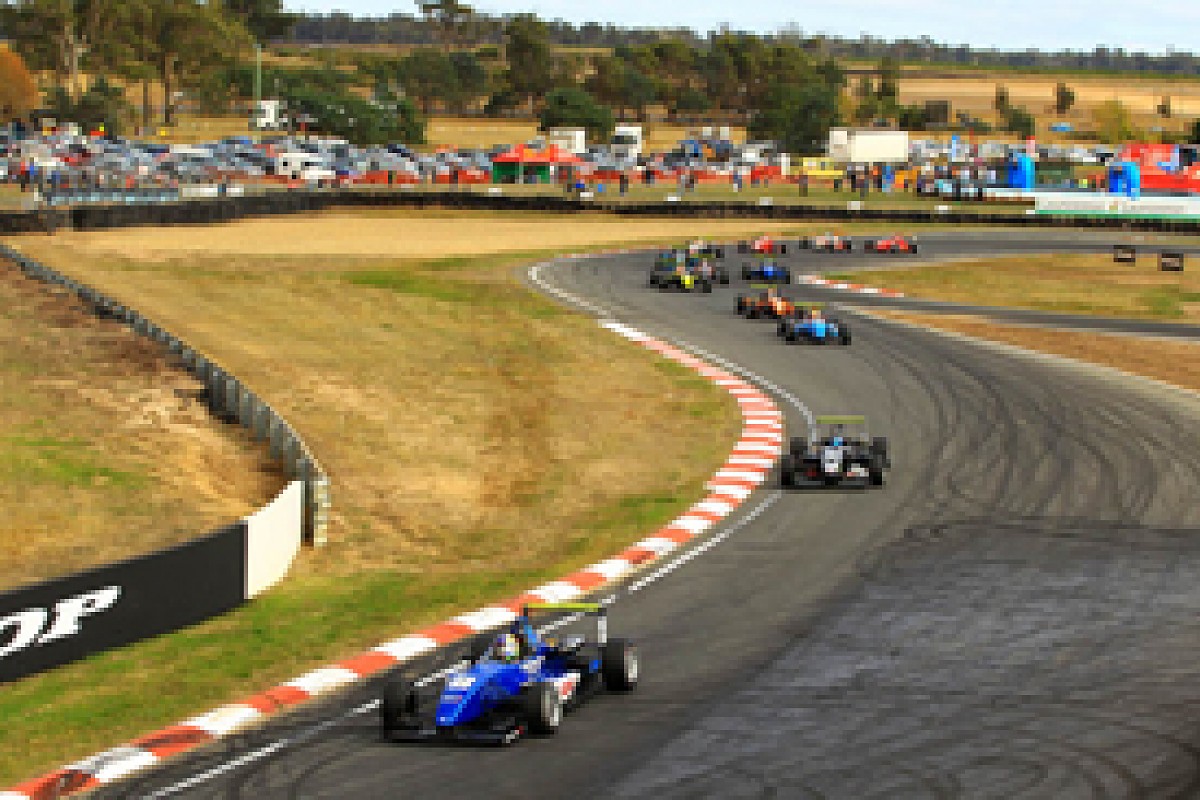 Macrow took a Symmons Plains hat-trick © Dirk Klynsmith
Macrow headed the similar Dallara-Mercedes of R-Tek Motorsport's Steel Guiliana in both of Saturday's races. In Sunday's race, which counted for extra points, he quickly repassed Guiliana, after losing the lead on the opening lap, to complete a Tasmanian treble.
Nathan Morcom completed the podium in the opening race, but it was reigning Formula Ford champion Jack LeBrocq, driving a Mygale for the junior arm of the Erebus V8 Supercar team, who took that spot in race two.
LeBrocq ran second on Sunday before slipping behind Guiliana and John Magro, who was racing a repaired car after rolling in race two.
AUSTRALIAN FORMULA FORD: SYMMONS PLAINS
Anton De Pasquale tops the points after the opening round thanks to winning one of the four races in his Sonic Motor Racing Mygale.
De Pasquale lost the first race by just 0.2 seconds after a battle with Sam Power's Synergy Motorsport Spectrum. He took another second later on, after Power and Liam Sager collided while battling for the lead on the final lap, allowing Ash Quiddington through to win.
That shunt left Power 12th on the grid for race three, but he charged through to win, with De Pasquale and Quiddington recovering from a tangle to complete the podium.
Last time out De Pasquale finally took a win, emerging atop a five-car final-corner scramble to pip Power and Macauley Jones (son of V8 Supercar boss Brad).
There is now a long break before the bulk of the season kicks in starting from July.
SOUTH AMERICAN FORMULA 3: INTERLAGOS
Felipe Guimaraes flew straight back from GP3 testing at a bitterly-cold Silverstone to Interlagos (and who wouldn't want to do that?) to cruise to an opening-round double in his Hitech Brazil car.
Guimaraes won the first race by 58 seconds from Raphael Raucci, but was a 'mere' 35 seconds ahead of runner-up Bruno Etman in the second.
NEWS IN BRIEF
* The champion in this season's Italian Formula Abarth Championship will win a prize test in an Auto GP car as part of an incentive by the country's ACI and CSAI governing bodies. The series kicks off at Vallelunga at the end of this month.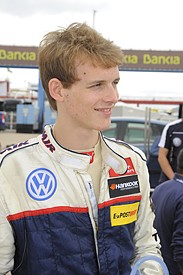 Bernstorff will now race in Germany © XPB
* Anglo-Dane Emil Bernstorff has secured a drive in the German F3 Cup this season with the Motopark-run Lotus team. Bernstorff, who raced in European F3 last season, will join Russian second-year driver Artem Markelov and reigning ADAC Formel Masters champion Marvin Kirchhofer.
* The Formula Middle East series for the ex-Formula BMW Pacific/Asia cars, centrally run by Italian team EuroInternational, has secured a double-header slot on the Bahrain Grand Prix bill this month. The series had been suspended after one Sakhir date earlier this year, but it is planned to start a full FME in November.
* Britain's popular Formula Renault BARC Championship, for the older-generation Tatuus chassis, kicks off at Donington Park this Sunday with an 18-car field. Among them is Pietro Fittipaldi, grandson of Emerson, who is with the Jamun Racing team.