It's March 1986, and a cold grey Saturday at Silverstone. I'm there to cover the first club meeting of the season - Minis, Classic Saloons, even a VSCC Pre-War Handicap - but what I've really come to see is the first FF1600 race of the year, a minor non-championship event called the Derek Daly Trophy, which features a gaggle of new young drivers.
Inevitably the one who catches the attention is Paul Warwick, brother of British F1 star Derek. The 17-year-old goes on to win his first ever circuit race, but not without a fight with fellow rookies Kurt Luby and Derek Higgins. He shows some real spirit, and does so again the following day when he wins a wet race at Thruxton. "A dream come true," he says when I report his stunning debut weekend in Autosport.
Fast forward five years to July 1991, and Silverstone again. It's the Saturday of the British GP, and I bump into Paul on the grass banking - later removed - on the outside of the new Bridge corner. In the intervening seasons he's had a rollercoaster career, but he's now on the up again. He's dominating the British F3000 championship, and has already done some F1 mileage for Arrows. As we watch qualifying together he has that confident look of a driver who knows that, in a year or two, he will be out there as well.
Sadly, he never got the chance. One week later Paul lost his life at Oulton Park, and we were robbed of the chance of seeing what he might have achieved.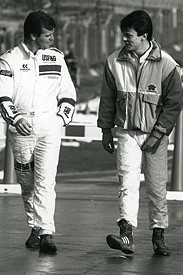 Brothers in arms: Derek and Paul © LAT
"I can sit back with my hand on my heart and say the lad was good," says Derek, his greatest supporter. "He was a nice lad, he was intelligent, he was quick, and he would have been in F1. How good he would have been, no one will ever know."
Born the same month as Michael Schumacher, Paul started his career in the rough and tumble of stadium racing, following in the Warwick family tradition.
"Paul had a different upbringing than me, inasmuch as he actually had an education, rather than just a working experience," says Derek. "He was quite bright at school, but he hated it as much if not more than me!
"He idolised me, idolised what I was doing, took a lot of notice of what I was doing. He was just completely besotted with everything about motor racing.
"He started Ministox at the age of about 11-12 - literally Minis with big, strong iron bars, and a standard engine. To be honest, he started off pretty rubbish, he was pretty average. He didn't really have the bottle, and we didn't think he'd ever be strong enough to be a racing driver. The second year he became much stronger, started winning races, and then all of a sudden was one of the stars of the show.
"He seemed to grow up overnight, to me. I didn't do all of his races, I only went to a few, and the progression from being a good driver to a great driver was very sudden for me, because I didn't see the gradual development of it."
After success in F2 Superstox the next step was FF1600, and in 1986 Paul appeared with the same blue and white helmet and yellow Warwick Trailers colours that Derek had run a decade earlier. With no karting background the teenager had a lot to learn, and one early Goodwood test ended with the car over the barrier.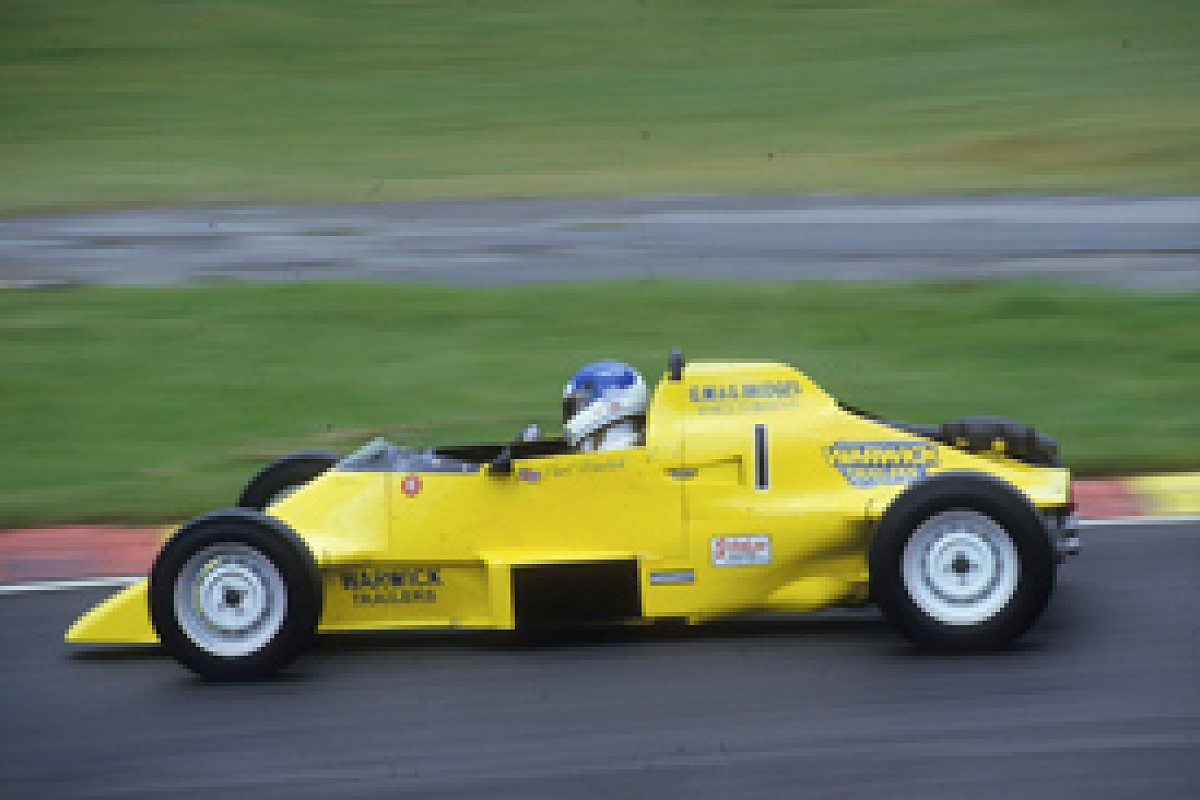 Paul dominated in FF1600 © LAT
"He started to have to get used to changing gear and heel and toeing, and it proved a little bit of a problem. I remember dad ringing me and saying he's just jumped the barrier and gone through some hoarding. That got everybody's attention. I think he just got confused with the pedals! Again he wasn't instantly quick, but he worked at it and got quicker."
But by March, he was on the pace. After that successful debut weekend he went on to take both of the prestigious junior FF1600 titles.
"From then on he had a completely different focus in life, he just wanted to be in F1. But not just to be an F1 driver. Paul was a bit of a ladies' man: he loved the trappings that F1 would bring too, I can assure you. He came to a lot of my races, got into a lot of trouble, and I used to bail him out and apologise to various lady friends that he hurt, as he had a bit of a reputation. He was very flamboyant in that area, shall we say!
"It wasn't always easy for him because he was always the 'brother of,' and that in itself was difficult for him. Having said that it actually wasn't, because Paul was proud of his brother, and he used it to his advantage, he didn't let it affect him in any way, really."
There followed another year of learning in FF2000 with Middlebridge, although the only win came at Zolder.
Paul then stepped up to F3 in 1988. As is the case today you had to be in the right team with the right engine at the right time, and through seasons with Eddie Jordan, Intersport and Superpower there were flashes of real promise, but little in the way of hard results.
"With hindsight it was a little bit my fault, because I didn't really put enough money into it," Derek concedes. "I had to see that he was serious about it: if he wasn't, I wasn't going to throw good money after bad. Remember I wasn't earning a fortune in those days, so it wasn't easy to find everything. It had to come from me.
"He used to come training with me in St Mouritz, two weeks of solid training. He ran every day, he was in the gym, he played squash. That helped to convince me that he should be worth a go. It was difficult because you want to push him, but you've got to make sure that he wants to do it as well."
In 1990 Paul became so frustrated with lack of results at Superpower that he dropped out of F3 halfway through the season. He then landed an FIA F3000 chance with Leyton House and, while the car was hopeless, he earned some respect in the four races he did.
"It was then that I thought the guy looked like he was good enough to be a racing driver. It got a lot of people's attention, and he was against some serious drivers. With Paul, the more horsepower you gave him, the better he was, the faster he went."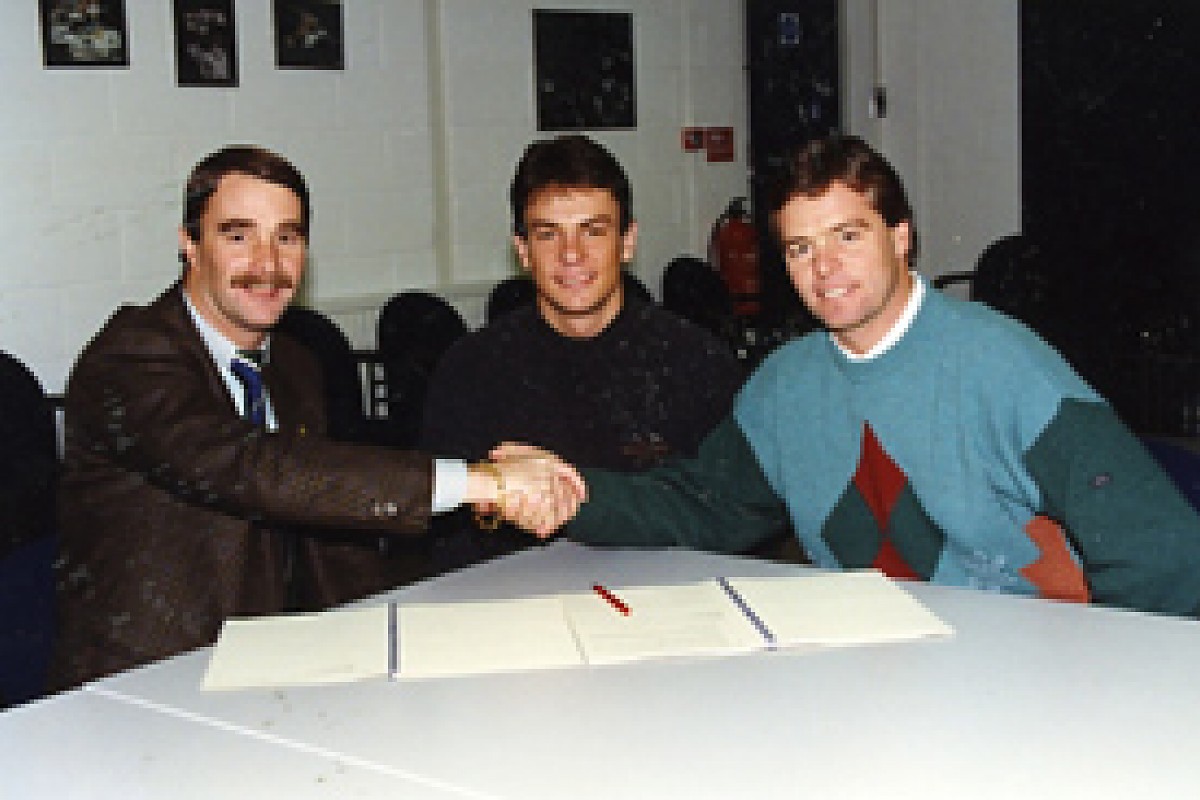 Warwick signs for the Mansell-backed Madgwick team © LAT
For 1991 Derek agreed that Paul should go into the British F3000 series, signing a deal with the Nigel Mansell-backed Madgwick team: "I just felt that he should win it and then go to Europe. Then he'd be in front of F1, and he can start to make the move. Already Arrows were using him for some straight line testing, so he'd got the bug.
"He reminded me so much of myself, if he got the opportunity, he used it to 100%. He wasn't going to squander it. Even though he was spoiled in terms of the way we all treated him, he was very unspoiled in terms of his outlook in life.
"He grew into a man almost that year. I remember going to St Mouritz and we did the same training that we'd done for the last five years, but that year he was better at running than me, he was better at cross country skiing than me, he was better on the bikes, he was better at tennis, he was better at squash. He just moved into that next category."
Paul won the first four races, all from pole. He was on pole again for the fifth round at Oulton Park. Derek, racing that year for TWR Jaguar, opted for a rare weekend away from the track, and was playing golf with wife Rhonda in Jersey. He kept in touch with Cheshire by mobile phone.
"I rang him on the way to the track, and he wasn't feeling very well, he had a sore throat. My mum rang me and asked should he race, because he didn't feel very well. He was definitely a mummy's boy!
"From the tender age of 16 or 17 he was also running Warwick Trailers - that was part of the reason mum also got upset with me before the race. He had just finished a massive order and was working 12-14 hours a day to get the order out. And he was pretty knackered going into Oulton Park.
"I told him to toughen up and don't be such a cissy. I also spoke to him on the grid, and obviously wished him luck. Then his best mate James had the phone."
Derek continued to ring James every few minutes as he and Rhonda made their way around the La Moye course. He can remember every minute of that afternoon as the devastating story began to unfold.
Initially all was well, and Paul had a seven second lead. Derek then learned that there had been a red flag, although at first there was no suggestion that Paul was involved.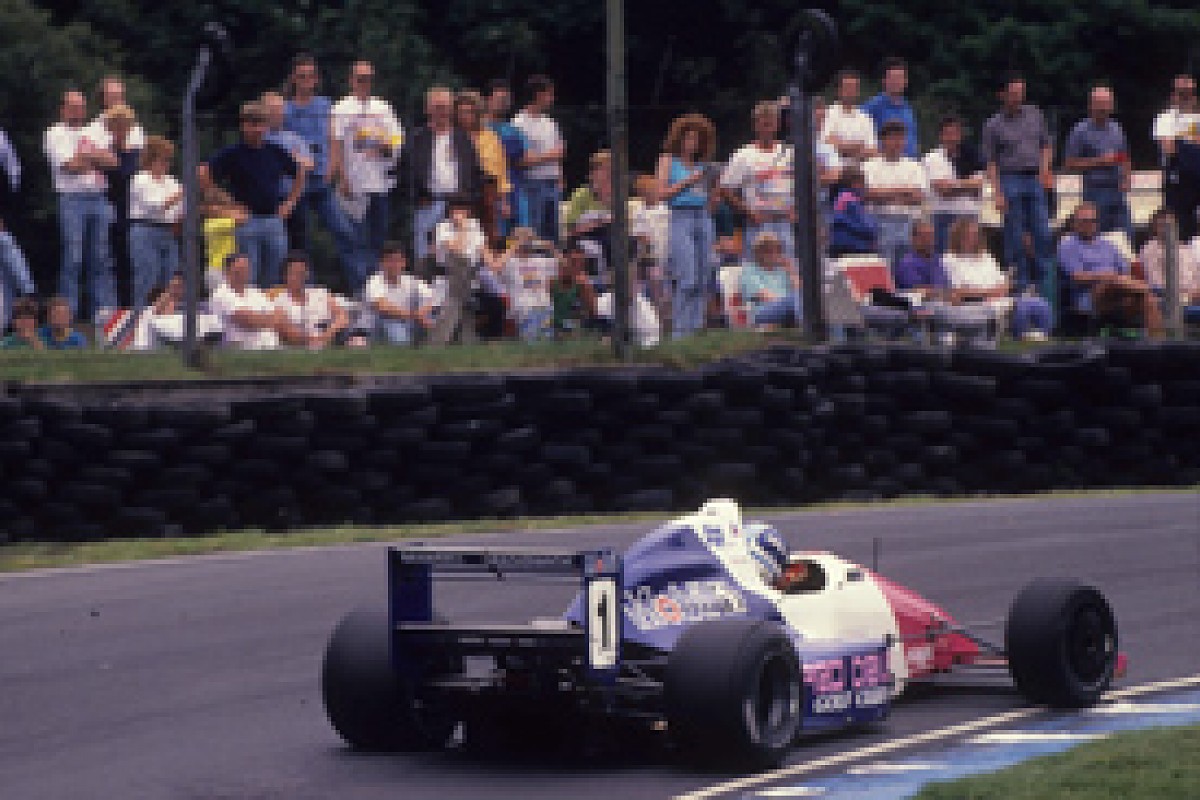 That fateful day at Oulton park © LAT
"I walked to the 16th hole and rang up and said, 'What's going on James?' he said, 'Paul is involved but it's alright, we've just heard on the commentary that he's out of the car.' I naturally thought he hasn't broken anything, he's had an accident, he's obviously clipped a backmarker or something.
"I teed up on the 16th, got halfway down the fairway. This is how vivid it all is. I hit a 5-iron to the middle of the green, thinking 'what a great shot.' I picked up the phone again, and James said, 'It looks like he's been injured, Derek, but it's OK.' I said, 'What do you mean, injured?' He said, 'It's OK, he's out of the car, he's fine. Race control are taking us down there.'
"So I'm now walking to the green, and we're all a little bit upset and worried. Then the phone rings back, and it's dad. He said, 'Derek, it's not looking good, they've called for a helicopter...'"
The next message was that the police were now involved. In a matter of 10 minutes, Derek's life had turned upside down. He and Rhonda ran from the golf course and dashed by private plane to Manchester.
"When we got on the plane he still okay, and when we landed in Manchester he'd already passed away. We came out and Dad and everyone were at the airport waiting for us. And then all it all became a bit of a blur, to be honest."
It was of a little relief to learn that the accident was totally beyond the driver's control. A front suspension failure had left him with no steering and pitched the Reynard off the road at the daunting Knicker Brook corner.
"They'd changed every rose joint on the front suspension, i.e. they lifed it, except one joint on each side which was they considered could be lifed a bit longer because it was just stressed under braking. This joint had a fracture in it and it hadn't shown up under crack testing.
"He hit the barrier, and the barrier was backed up by earth, so there was no give at all. The car broke its back and he ended up and he ended up on the bank several yards away, still strapped to the seat.
"The guy that was following him in second place, Richard Dean, was the only driver who stopped to help Paul. And I thought afterwards that was a pretty special thing. For a guy that's running second to stop to help a fellow comrade, and I suspect the red flags weren't out at that stage, he didn't get the recognition he deserved. I did try to get something done for him, but it fell on deaf ears.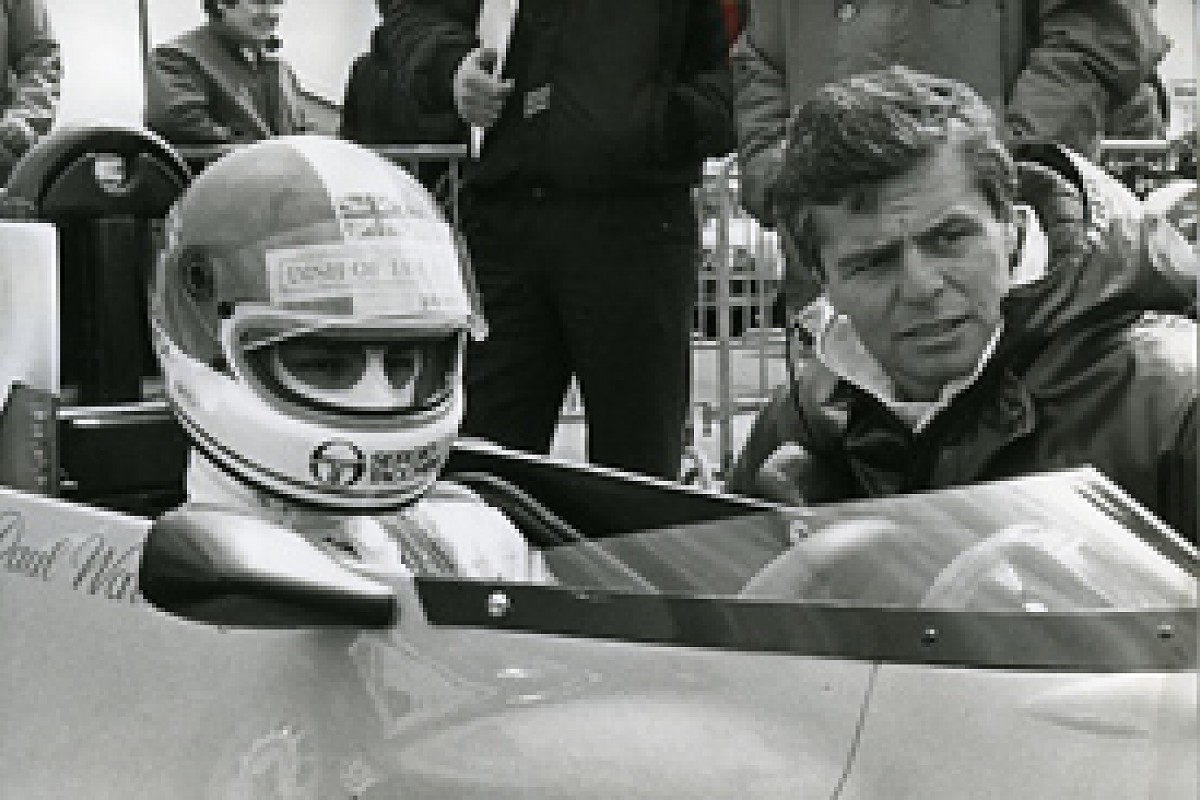 Racing brothers: Paul and Derek on the grid © LAT
"We never, ever really blamed the team or the mechanics. They were so in love with Paul, they were hurting as much as we were as a family."
A few days later Derek drove the hearse that carried Paul's body back to Hampshire: "I insisted on going and getting him, I took a hearse up to Manchester or wherever it was to pick him up and bring him home. I don't know whether it was right or wrong, but I always felt that I had to cling on to every memory. You just didn't want to miss that opportunity.
"When we did the order of service and everything the vicar said, 'Do you want flowers? Don't you think it's a waste of money?,' and I said, 'No I don't, we're going to give Paul a big send-off.' Alresford shut down for a couple of hours. All the streets were lined.
"I'll always remember we came down from where mum and dad lived, and we went across the main road and took him round Warwick Trailers, and then drove back up the high street to the church and carried him in. We wanted it to be big, emotional, and memorable. And it wasn't to play to the crowd, it was to give respect. It wasn't until ages afterwards that saw some pictures - and we didn't organise this - but the police were stopping the traffic both ways.
"The floral tributes were 250 yards two-deep, on both sides of the pathway, leading up the grave. People like Senna and Bernie sent massive tributes. That meant a lot to us as a family."
In the days following the funeral, Derek had his own career to think about. He was due to drive for Jaguar at the Nurburgring exactly a month after the accident, but in the immediate aftermath he'd told his family that he would stop.
"Tom Walkinshaw knew that I was under immense pressure, and that I was going through a tough time with the accident. He rang me up and said, 'What are you going to do? I need a decision.' And I said, 'I really don't know, Tom.' I'd promised my mum I wouldn't race any more, just after Paul died.
"Then we had a big family meeting, we got everybody together, and said, 'I'm not sure I am ready to stop.' My sisters were really upset that I'd put my family through it again. And my mum, who was one of the old fashioned mums who only did the ironing, cleaned everything for you, and didn't have a point of view, stood up and said, 'Derek's always been a racing driver, he's a great driver, and he's got to decide whether or not he's going to do it.' All the family just turned to mum and thought, 'where did that come from?'
"Tom organised a secret test at the Osterreichring. The emotion when I got onto the garage was unbelievable, because the guys didn't know how to handle it. That was the problem. It was a lot of pressure on them, because they didn't know whether to laugh or cry. I walked into the garage and as soon as I arrived everybody found something to do. Just to avoid me they were doing imaginary bolts up, and all sorts of things. Then we had a big meeting and a big hugging session, and that was it.
"I went out the next day, it was sort of strange. I was driving it, but I wasn't really in myself, I was driving it from up here somewhere. Then we put some different dampers on the rear, I went out, and one of the rear dampers broke. I spun going into the Bosch Curve at about 200mph and ended up in the gravel trap.
"I got out of the car, got in my hire car, and went to the hotel. I cried nearly all night. I remember about 4am looking in the mirror. I looked a ****ing mess. And I'm thinking, 'You've got to make one of two decisions here. You've either got to pack your bag and go home, or you've got to get in there.' I went in there the next day, and broke the lap record.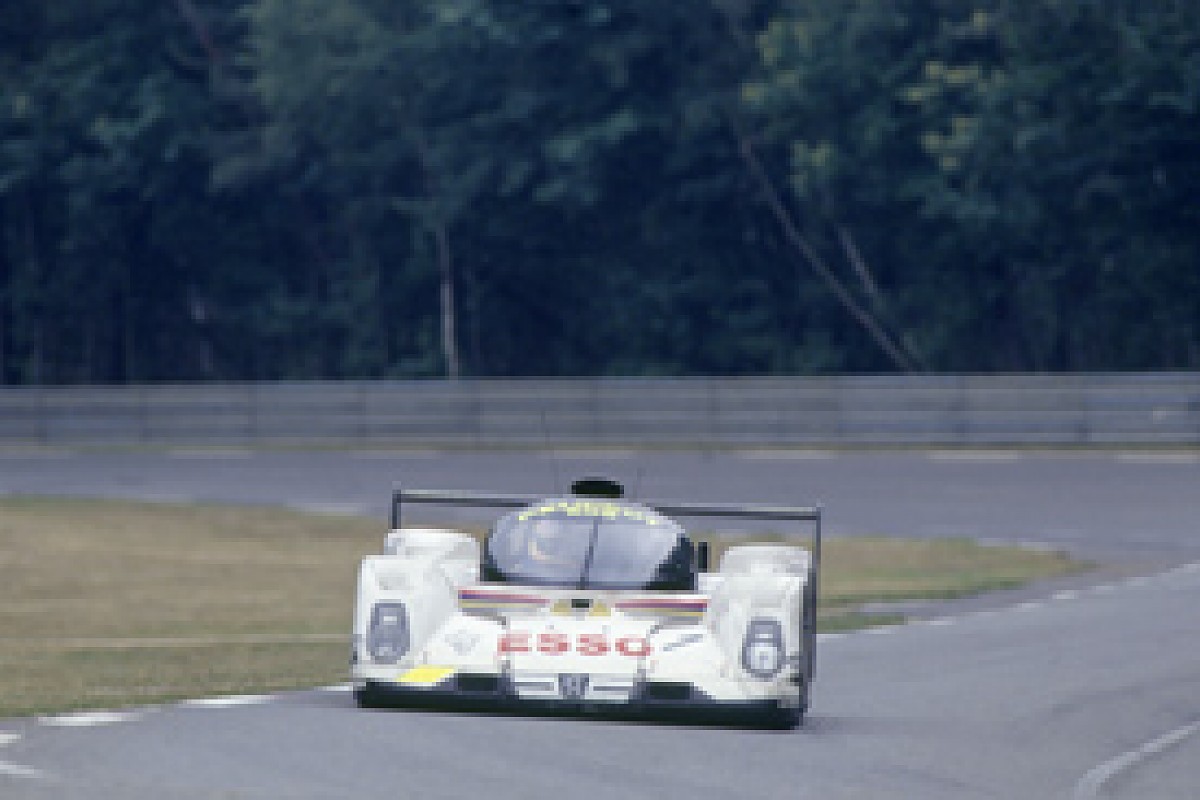 Derek went on to win Le Mans and the World Sportscar Championship with Peugeot © LAT
"From that day on, I found a way of locking Paul in a little safe in the back of my head. Sometimes when I was racing he was so far in the back of my mind that I lost him, I couldn't find him anymore, I couldn't picture him. I used to carry a picture to remind myself on the Sunday night after the race what he looked like. That's how bizarre racing drivers have to be."
For the Nurburgring race the Warwick family turned out in force to offer support. At one point I was chatting to Porsche 962 driver Harri Toivonen when Derek walked past. "I know exactly how he feels," said the Finn. A chill ran down my spine as I registered what he meant.
In qualifying Mercedes driver Michael Schumacher crudely drove across Warwick's nose after feeling that he had been baulked by the Jaguar. All the emotion came flooding out.
"Well I just lost it, I was absolutely furious," Derek admits. "I came into the pits on three wheels, I jumped out of the car while it was still doing about 20-30mph, and then went running after the driver to smash his face in. I ran into the first garage, and Jean-Louis Schlesser was taking his helmet off. I was just about to hit him, and he said, 'No, no, it was Schumacher!' And Schumacher was running out of the back of the garage."
Derek caught up with him in a Mercedes truck, and was all set to teach the cocky German a lesson. But instead in Michael's youthful face he saw his brother, and he turned and walked away.
The following day Derek and David Brabham - someone who knew what it was like to have brothers in motor racing - won the race: "David was very strong for me because he knew emotionally; I couldn't have asked for a better team mate really. There were a lot of questions after the race at the press conference, and David could see that I was struggling with them, and just deflected them. I thought that was pretty cool, really."
Meanwhile, over the remaining six British F3000 races no other driver would beat Paul's points total. He would thus win the title posthumously at the final round.
"I'll always remember the emotion of Donington, because we put Jason Elliott in his car to finish the season off to try and take points away from other drivers. Although he didn't really get on the ultimate pace, he did take some points away from guys that were challenging Paul at the end of the year.
"At the last race when it was all over and the others missed the championship by four points or whatever it was, nearly every driver came up to me and said that they were pleased that Paul won the championship. It was arguably the most emotional day of my life, just because it was so important for the Warwick family to have this championship for him, to pin it on its shoulders."
Derek, meanwhile, would go on to win Le Mans and the World Sportscar Championship with Peugeot the following year, and after a final season in F1 in 1993, he enjoyed a long career in touring cars.
Meanwhile, he created a legacy for his brother by channelling his energies into an impassioned effort to improve safety at UK venues - which continues to this day with his ongoing role with the MSA. The work he has helped to push along may well have saved lives over the years.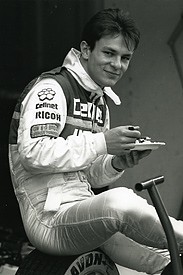 Paul Warwick © LAT
The passing of two decades has not dimmed the emotions in any way. Every day in his office, Derek sees photos of his brother.
"We just remember him for being a 22-year-old kid," he says. "I've now got a 33-year-old daughter and a 29-year-old daughter. It just seems bizarre that my little brother will always be younger than my own children. He will never have aged.
"I think Paul would have been a racing driver for a long time, he wouldn't have come in just for 10 years and then finished. Like me he loved the testing, he loved the driving, he loved the autographs, he loved being recognised, he loved the women, he loved the training. He didn't mind hard work.
"Here we are 20 years later and I'm still crying. But to be honest it's good for me, I love talking about my little brother. It doesn't seem like 20 years. To be honest with you, it seems like yesterday, but it also seems like it was a long time ago.
"I sometimes feel cheated that I didn't have the next story of my life. And I think it would have been a good story. I think I would have had lots of opportunities to see a great racing driver win races, and maybe even championships. And I think my family feels cheated because they miss somebody they loved very much."