Last year's Daytona 24 Hours was decided by just 0.167 seconds, as Brumos driver David Donohue pipped Ganassi's Juan Pablo Montoya and denied the latter squad a fourth consecutive victory in the event.
Although the Daytona Prototype entry is a little slender this year, it still contains an array of stars from across the American racing scene as well as the drivers who make the Grand-Am series so close-fought and thrilling all season.
AUTOSPORT picks the teams to watch when this year's race commences at 3.30pm local time on Saturday.
Ganassi BMW-Riley of Scott Dixon, Dario Franchitti, Jamie McMurray and Juan Pablo Montoya © LAT
Chip Ganassi Racing
Car: Riley-BMW
Drivers:
#01 Scott Pruett, Memo Rojas, Justin Wilson, Max Papis
#02 Scott Dixon, Juan Pablo Montoya, Dario Franchitti, Jamie McMurray
With Toyota pulling Lexus out of Grand-Am, three-time Daytona winner Ganassi is making its debut with BMW power in this year's race - but don't expect that change to put the crack team off its stride. Indeed the drivers believe the BMW engine is a step forward over their old power unit, which proved comparatively breathless against the Brumos Porsche in last season's final showdown.
2008 series champions Pruett and Rojas only narrowly missed out on back-to-back titles and form a very strong line-up in the #01 car with Wilson and Papis, the latter a late addition when Marino Franchitti was called up for Acura testing duties instead.
Ganassi has again summoned an all-star driver combination for its second car, bringing its pair of IndyCar champions Dixon and Franchitti alongside its NASCAR duo Montoya and McMurray.
Michael Shank Racing
Car: Riley-Ford
Drivers:
#6 AJ Allmendinger, Brian Frisselle, Mark Patterson, Michael Valiante
#60 Oswaldo Negri Jr, John Pew, Burt Frisselle, Mark Wilkins
Still hunting for its first Daytona win, and stung by its early retirements last year, Michael Shank's team will be a very strong contender in 2010.
Its driver line-up is not as high profile as many other teams', but Negri Jr is one of the series' quickest drivers, Allmendinger and Valiante should be US single-seaters heroes by now in a more just world, and Brian Frisselle almost took the Grand-Am title alongside Max Angelelli at SunTrust last year.
Quick throughout practice and second and third in qualifying, the MSR cars - particularly the #6 - have the pace to beat the famous names.
Action Express Racing
Car: Riley-Porsche
Drivers:
#9 Terry Borcheller, Joao Barbosa, Ryan Dalziel, Mike Rockenfeller
Though ostensibly a new team, Action Express features a Brumos crew and runs from Brumos premises - having come into existence when financial considerations forced the main Brumos squad to scale down to a single car.
Former Daytona winner Borcheller, 2009 season finale victor Barbosa, the under-rated Dalziel and Audi Le Mans driver Rockenfeller give the team a very strong line-up for its debut.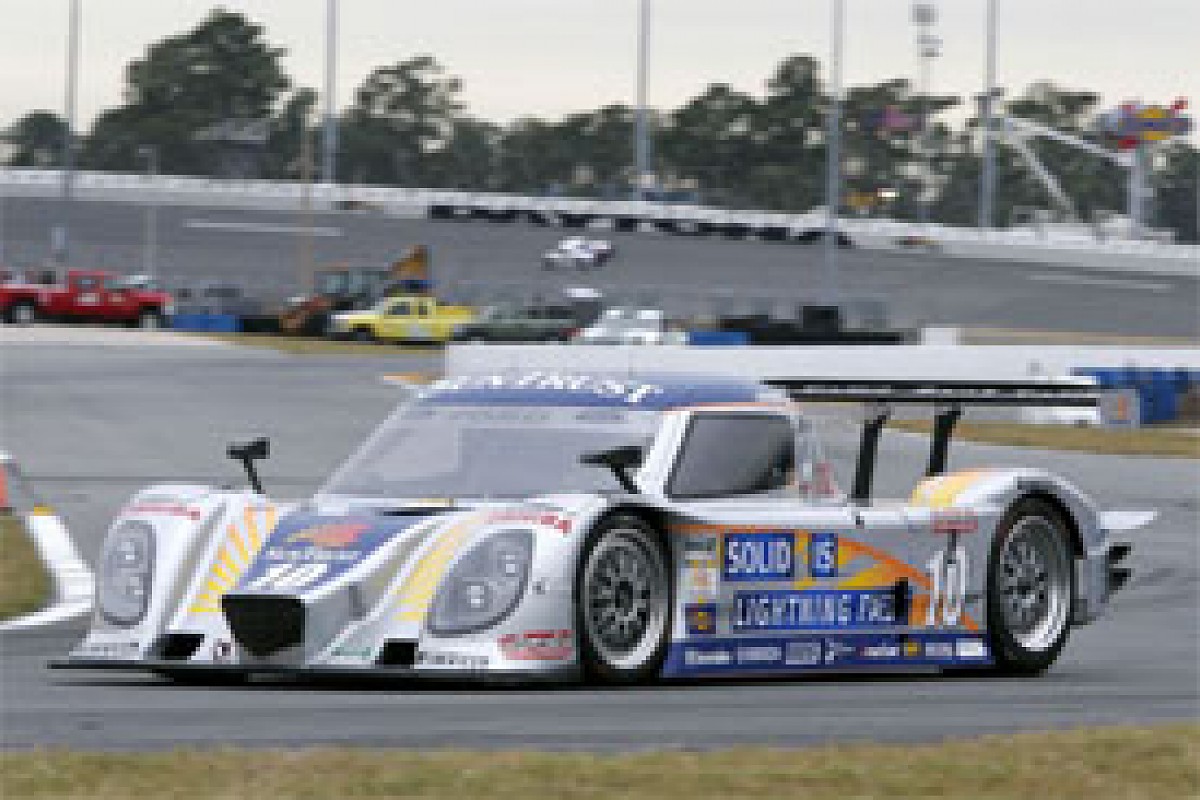 SunTrust Ford-Dallara of Max Angelelli, Brian Frisselle, Pedro Lamy and Wayne Taylor © LAT
SunTrust Racing
Car: Dallara-Ford
Drivers:
#10 Max Angelelli, Ricky Taylor, Pedro Lamy, Wayne Taylor
SunTrust hasn't won Daytona since 2005, but Wayne Taylor's team's self-developed Dallara has been quick throughout the build-up, loves the latest Pirelli tyres, and took a dominant pole in the hands of Angelelli.
Peugeot Le Mans driver Lamy will be Angelelli's main support, while team boss Taylor again joins the driving squad and has also recruited his 20-year-old son Ricky after a two-year apprenticeship with other Grand-Am teams.
Level 5 Motorsports
Car: Riley-BMW
Drivers:
#55 Christophe Bouchut, Scott Tucker, Sebastien Bourdais, Emmanuel Collard, Sascha Maassen
#95 Christophe Bouchut, Scott Tucker, Lucas Luhr, Richard Westbrook, Ryan Hunter-Reay
Ambitious team boss and driver Tucker has bolstered Level 5's challenge for its second year in the prototype ranks, with its enhanced technical team including ex-Super Aguri Formula 1 man Graham Taylor, and its driver line-up packed with big sportscar names.
Hard-charger Bouchut will, like Taylor, potentially drive both cars, and they are joined by former F1 driver and Champ Car champion turned Superleague race-winner Bourdais. Former Porsche factory drivers Collard and Maassen, and former Audi man Luhr, bring plenty of endurance experience, as does FIA GT2 champion Westbrook, while IndyCar race-winner Hunter-Reay is among America's finest road course talents.
Brumos Racing
Car: Riley-Porsche
Drivers:
#59 David Donohue, Darren Law, Hurley Haywood, Butch Leitzinger, Raphael Matos
Last year's winning squad has slimmed down to one car and has kept a low profile during the Daytona week so far, but will be a real threat in the race.
Not many drivers can say they have gone head to head with Montoya in a final lap shoot-out and won, but that's exactly what Donohue did to secure Brumos' win last year.
Law is the only other returnee from the victorious 2009 line-up, but the new recruits are all high calibre. Five-time Daytona winner Haywood promises he will retire after this weekend, and would love to bow out with a sixth win in the 24 Hours. Leitzinger brings vast experience, endurance nous, and speed, while IndyCar star Matos had plenty of sportscar miles via Mazda earlier in his career.
Krohn Ford-Lola of Colin Braun, Nic Jonsson, Tracy Krohn and Ricardo Zonta © LAT
Krohn Racing
Car: Lola-Ford
Drivers:
#75 Nic Jonsson, Ricardo Zonta, Colin Braun, Tracy Krohn
Despite major issues between Lola and Krohn, the car and team keep moving forward - although Daytona has so far not suited the package as well as slower tracks did last year. Should rain hit the race though, watch out for Zonta. The ex-F1 driver (and sometime Mercedes GT star) was dominant for Krohn at a sodden New Jersey Motorsports Park last year.
While Zonta is the team's main weapon, young American Braun impressed greatly with Krohn as a teenager in 2006 before being swept off to NASCAR and will be a valuable asset again.
Doran Racing
Car: Doran/Dallara-Ford
Drivers:
#77 Memo Gidley, Fabrizio Gollin, Brad Jaeger, Derek Johnston
An low budget dark horse that completed relatively little testing, former Daytona winner Doran's experience will still ensure it is in contention across the 24 hours.
Gidley is yet another driver in the Daytona entry who never had the IndyCar chances his talent deserved, and is a Doran regular like ex-FIA GT champion Gollin and Jaeger. Radical UK Cup champion Johnston gets his big chance thanks to Sunoco's innovative Daytona Driver Challenge, which gave British racers the opportunity to earn a prototype drive in the 24-hour race.
Spirit of Daytona Racing
Car: Coyote-Porsche
Drivers:
#90 Antonio Garcia, Buddy Rice, Darren Manning, Paul Menard
The team admits its Coyote-Porsche package is not a potential winner yet, and its aim for Daytona is simply to gather more mileage to help its development programme, which is assisted by Pratt & Miller this year.
It boasts talented full-season drivers in Garcia and Rice, both part of Brumos's winning squad last year. They are joined for Daytona by IndyCar regular Manning and NASCAR's Menard, whose family company provides its usual eye-catching colours too.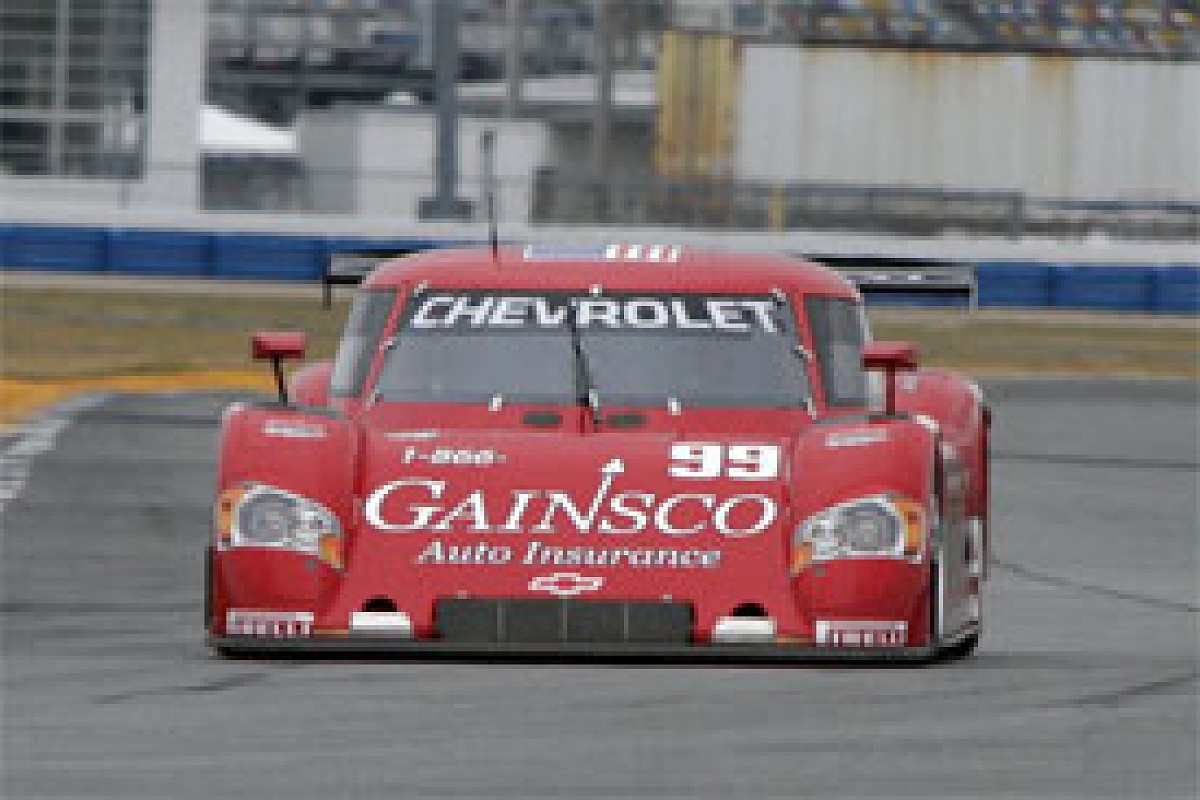 GAINSCO Chevrolet-Riley of Jon Fogarty, Alex Gurney, Jimmie Johnson and Jimmy Vasser © LAT
GAINSCO/Bob Stallings Racing
Car: Riley-Chevrolet
Drivers:
#99 Alex Gurney, Jon Fogarty, Jimmie Johnson, Jimmy Vasser
Gurney and Fogarty now have two Grand-Am titles under their belts, but still need a Daytona win, as this race has not always gone well for Bob Stallings' team in the past.
NASCAR legend Johnson and former Champ Car champion Vasser add even more strength to the team, but things have not got off to a great start this week. Johnson crashed heavily in practice avoiding a GT car, forcing Stallings to miss qualifying while a major rebuild commenced. Starting at the back should not be too great a handicap with 24 hours of racing ahead and a line-up this strong, though.
GT class
The GT cars make up the majority of the entry, and although many of them are from smaller outfits and driven by amateurs, there is a strong core of endurance aces and factory drivers among the production-based machinery.
Romain Dumas, Timo Bernhard, Jorg Bergmeister, Patrick Long, Richard Lietz, Wolf Henzler, Jeroen Bleekemolen and Johnny Mowlem are just some of the drivers representing Porsche, while Jan Magnussen appears in a Camaro and BMW sends works drivers Bill Auberlen and Joey Hand to join Boris Said in Turner Motorsport's M6.
But it might be that they are all chasing a Mazda. The SpeedSource team won the class at Daytona two years ago and has already clinched a third straight GT pole, with Jeff Segal leading a Mazda 1-2-3 in yesterday's GT qualifying session.