My phone chirrups - it's a text from AUTOSPORT Towers. It reads: 'Do you like water?' Hmmm, this sounds suspiciously familiar to the similarly cryptic 'do you like sand?' message that led to me driving a Volkswagen Touareg Cross Country Rally Raid car for a track test last year. That was fun. But water? The last boat I'd been offered to drive was the Stranraer-Larne ferry in 1983 when I was 13. My mum didn't quite share my enthusiasm at the prospect of having a go. This time, I type 'tell me more' by way of a somewhat non-committal reply.
A week later and I'm in Southampton's ocean marina, gazing at a UIM Powerboat P1 Supersport World Championship contender bobbing up and down on the water. And guess what? I'm in the driving seat next. I don't know whether to be scared or excited - I think I'm a bit of both - even more so for one very good reason: I don't swim very well.
It's with that extra element of danger in mind that I clamber aboard into the four-person cockpit. First of all, it's got Recaro bucket seats, so I feel at home straight away. The seating position is more DTM than Formula 1, an upright posture to allow you to see over the bow. With my five-foot-five frame in mind, that's probably a very good thing. You also need the absorption offered by the upright driving position, since if you were more reclined it would be tough on the spine with all the buffeting I was about to experience.
This boat, a Dragon 39 Mercury, is normally driven by Jackie Hunt and navigated by Mike Shelton - former RYA Formula 1 British National and BIBOA F1 National champions. Now on the burgeoning P1 World Championship scene, they are unusual in that they are a two-person team when almost all the rest have three crew onboard.
Jackie steers as well as trimming the throttle, which seems perfectly reasonable to me - but in boaty terms, so I'm told, you normally have one person each at the helm and on the throttle. I can see her theory here, because you eliminate the potential for miscommunication between the driver and the throttle controller. After all, the reaction between your hands, your feet and your brain is much faster than the reaction between your hands, your brain, someone else's brain and hand on the throttle.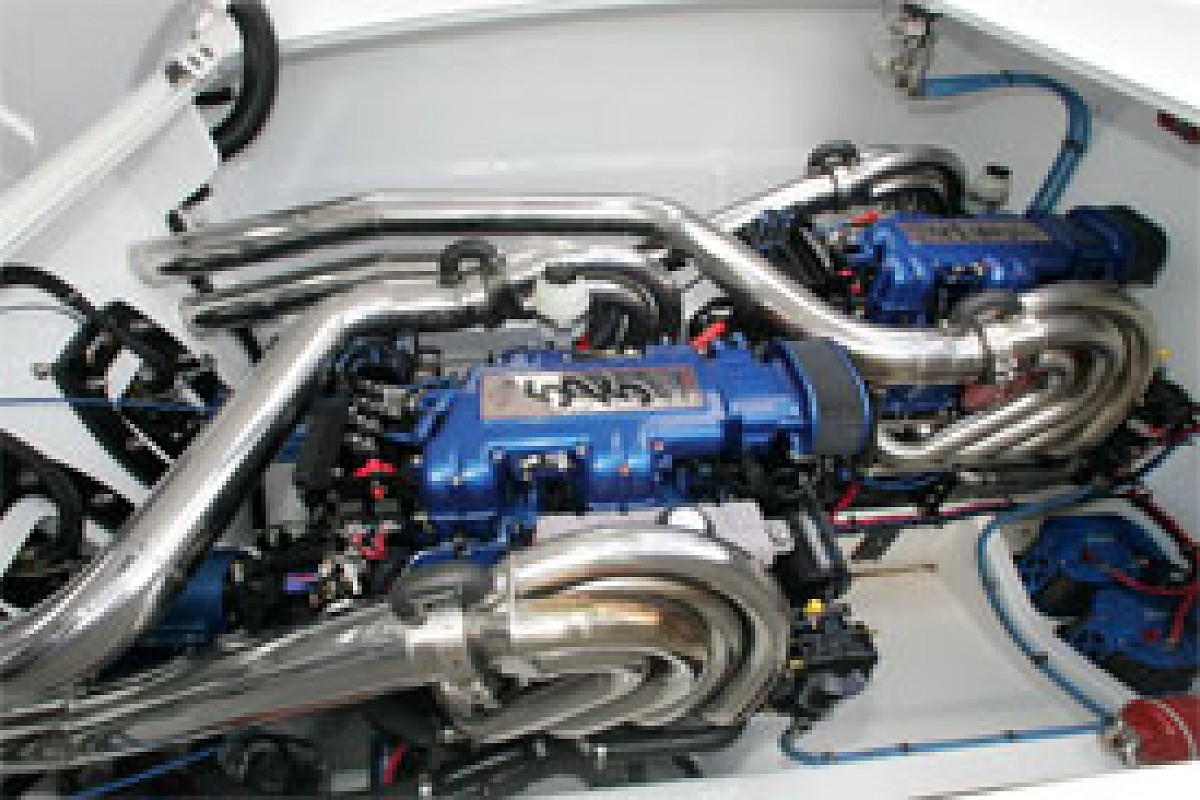 Dual V8s
Before we strap in I take a peek at the engine. It's a meaty-looking V8 with mad-looking exhausts everywhere. Prompted, I peer into the engine bay a little further - yikes! - there's another one. Two V8s, each producing 525bhp. Crikey, this is going to be the most powerful vehicle I've ever driven and it doesn't even have wheels.
We take our positions and I'm soon puzzled again. Jackie takes her normal left-side position, in front of the steering wheel and behind the single throttle pedal (again, I learn that using a foot pedal to adjust the throttle is unusual - normally it's a hand control). Hang on, I thought the whole point of me getting in was that I was going to drive? When's my go?
"I'll give you the steering wheel when we get out of the docks," she says. Ok, we switch seats then? "No, I'll give you the wheel," she says again with a look that asks have-you-just-been-born? Only then do I realise there's a steering boss on my side, too - so you can have your boat in left or right-hand drive whenever you like.
Jackie controls the throttle for the test, which is sensible because it's all about reading the surface so you're not on full throttle if the propellers come out of the water. Not good for engine life, understandably.
As we chug out of the docks, the first thing I realise is that we've got such a moving environment, because the surface isn't consistent at all. Even when you're in the marina, before you get up to any speed, everything is moving all around you. The boat feels cumbersome initially too, especially in the 9mph speed limit, until you get out there into open water.
Once there, the throttles are opened wide and he boat squats down on what is called the rear axis (if it had one like a car does) and the nose comes up so far in the air, all you can see is Pluto. The noise of the engines really kicks in; it's a surprise to me how loud they are. They are real racing engines and it makes me feel right at home. That's when it becomes a pukka racing beast.
As the speed builds you can feel the boat pop up onto the surface of the water, and it reminds me much of skiing. Suddenly, everything becomes stable in terms of the feel of the craft, but it's a rough old ride out there and it's utterly relentless as you hit wave after wave, or crash through the wake of other boats.
The view from the cockpit felt amazingly wide, in stark contrast to that of a racing car; you get a full scope of the horizon. I don't know whether that's to do with the excellent peripheral vision from the cockpit, or whether it's because you always focus on a narrow track when you're in a car. That in itself I find quite difficult to take in, because there are a lot of things to look out for, such as buoys and little boats, and it feels quite alien.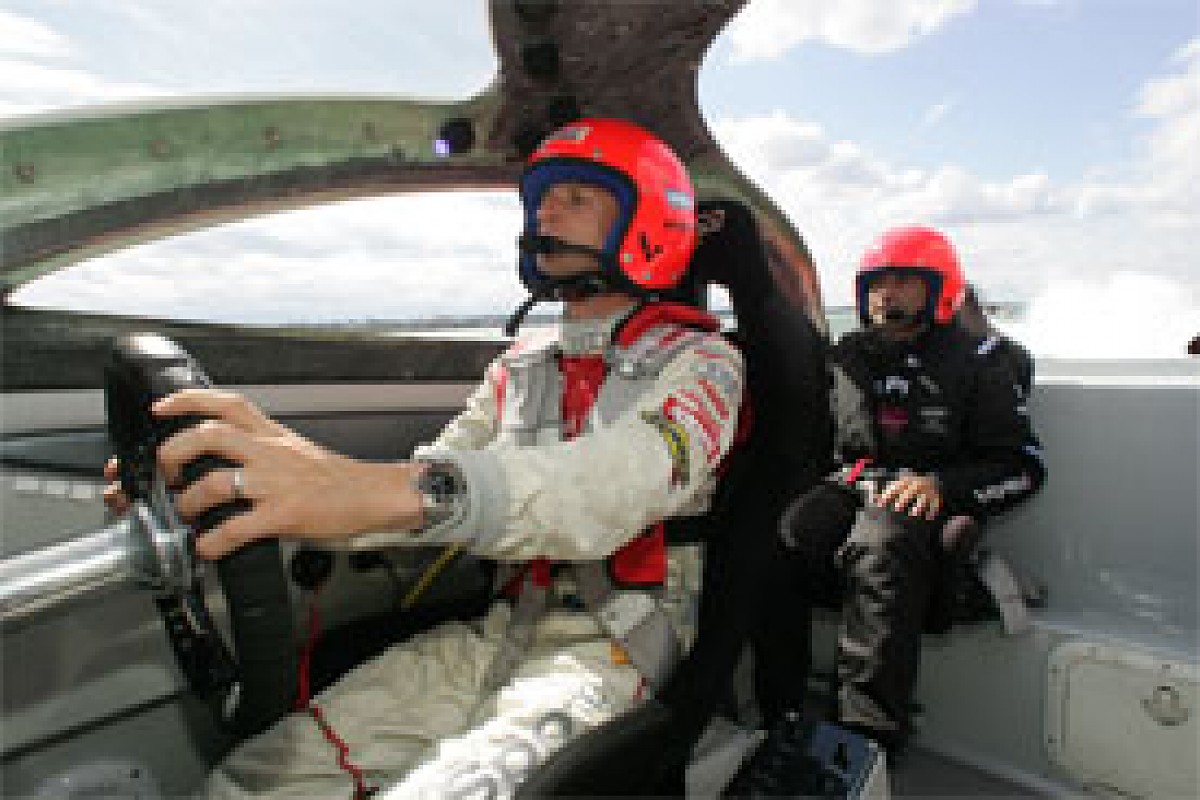 Allan McNish takes the controls
On track, besides where you're going, you only need to look out for the cars you're racing against, backmarkers and flag signals - nothing else. Out here, in this wide open space, there are all sorts of things you feel you have to be aware of. It feels bizarre and it's something I'd never anticipated before we headed out.
Turning the boat feels very different to turning a car, because you turn against the waves. You bank into the corner, rather like a jet fighter (I'd been up in a harrier jump-jet a couple of weeks previously, so trust me I know what I'm talking about here). You feel that vertical compression as you're squashed down into the seat. You're turning tighter and tighter, and I hear Jackie playing with the throttle, helping the boat pivot around.
The main difficulty I have is when the boat hits the wake and it suddenly wants to roll back to being flat to the surface. It feels like turn-in oversteer, so I want to roll back to being flat then try again. That's totally the wrong thing to do. The technique is to turn it even more. Do that in a car and you'd be shunting into the fence, but here the style required is to get it kicked in to a turn and keep it there.
One thing that strikes me as we're practising turns is that it's easier to turn the boat at full charge rather than two-thirds speed. Then I find it more willing to skip across the wake and not dive into each wave we strike, because it seems to patter across them instead.
The boat feels really agile, as if it's dancing on its tiptoes, whereas before it felt flat-footed. In racing car terms, it felt on the point of oversteer, which is certainly the fastest way to drive one.
The faster you go, the better it is, but I imagine when you're in rough seas or have the multiple wakes of other boats around you, then you'd be on one hell of a knife edge. But you need the boat to be trimmed out so it skips about, giving you that sharp intake of breath every time you hit a wake or a wave, so I'd visualise the racing being really exciting.
There are two knacks to driving a boat. The first is reading the water and pre-empting what it will do - it's very similar to how you would read a racetrack in the wet, judging where the puddles are, reading the grip levels and how you should react if you aquaplane. That's the closest I think the two disciplines get, besides the actual racing element.
The other knack is knowing how to corner. You've not got a circuit that's five or six metres wide, you've got a stretch of water that's maybe 200 metres wide. When you corner around a buoy, you can go in tight, or go in wide, do a bit of both, or one thing or the other. That is the real finger-tip stuff, there's no brutality in steering these things, it's all about finesse and keeping your speed through the corner. You've got 1050bhp, it's a big old beast in terms of horsepower, but it also weighs a lot so you've got to have controlled aggression when it comes to hustling it around the 'circuit'.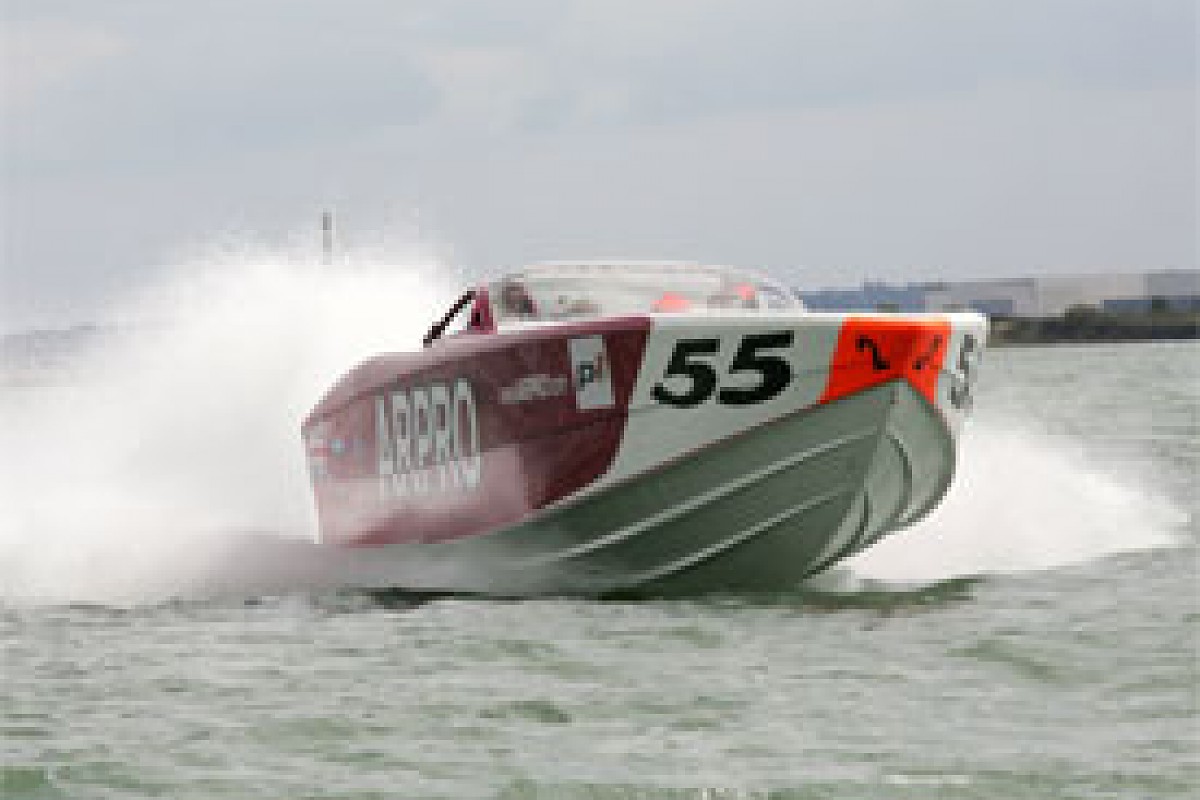 Allan McNish at speed
We have an open expanse of the Solent to play with, but I focus on picking a place I want to be and turning the boat to get there. I also find you can use the waves much like I'd use a berm in my motocross days, and use it to give you traction, for want of a better seafaring description, to spit you out of the other side. Hit the top of the berm, and that's when it wants to go flat, which is where I find myself steering out of it.
There's no problem depending on Jackie's throttle inputs, because I trust her - and she's obviously significantly better at it than I would have been! It feels a bit like driving on cruise control, except we aren't on a motorway and we're going faster than the highway code would allow.
In a race situation I'm not sure I'd be comfortable with that. That's why I doubt whether I could trust a co-driver in a rally car telling me the next corner was flat, when it could be a 90-right. You'd have to build that sort of trust.
That said, I think I could handle the throttle side of the equation myself, because I could feel the boat and was uncomfortable with the level of grip, if you can call it that, and would have judged the throttle accordingly. I could feel whether the front or rear of the boat was sliding or not, and felt confident that I'd be able to adjust the throttle accordingly to keep it in line.
In motorsport, whether it's on land or water, we all rely on our reactions to gain the experience of what we can later predetermine. I wouldn't say I was ever in tune with the boat during my runs, but I certainly got a fair appreciation of what it takes to drive one quickly, albeit on a very calm day with no other boats out there racing me.
I would say that I'm a long way away from being ready to race one of these. There's no way you could jump into this sort of Powerboat without having started from the bottom level and worked your way up. You'd have to learn the lines, how to overtake, how to set it up, and how to start - they don't have a grid, they gather in an undetermined space and jostle for position - like the 3.30 at Ascot until the flag drops - unbelievable!
It was intriguing to get an insight into another power sport that I'd previously had no experience of. The initial thrust of acceleration was much more vibrant than I ever imagined it would be, it really shakes your bones, and it was amazing how sharply it could turn without having any downforce on a moving surface.
Most importantly, it was bloody good fun. I know I don't swim very well, I know the people racing these boats are utter professionals, but at the end of the day I was left with one overriding feeling: I want another go!