Everyone was delighted to be back at the Brands Hatch Grand Prix circuit. Owing to track-usage restrictions, it was the first time the British Touring Car Championship and its support package had tasted the legendary ribbon of asphalt through ancient Kentish woodland since 2005. The spectator banks were crammed (ironically on the Indy circuit section) and the fast, sweeping GP circuit bends contributed to the best BTCC action of the season.
For many of the drivers on the support package it was their first race on the longer Brands layout. Quite a few took advantage of a recent track day to do a cheeky recce. Among them was Formula Renault UK runner-up James Calado, who had great fun scaring some of the Fortec Motorsport crew by giving passenger rides in a KTM X-Bow.
Johnny Herbert gets to grips with the Brands Hatch GP circuit © LAT
But for most of the BTCC boys it was a case of getting reacquainted with an old friend. Matt Neal clinched his first title in 2005 on the GP circuit after a battle with Yvan Muller, so it was a coincidence that the Frenchman was on hand as part of a gathering of Vauxhall legends (cars and drivers) as the manufacturer bade farewell to the series. And ironic that, since he left the BTCC for the world championship in 2006, Muller had contested eight races on the Brands GP circuit to the zero of the national battlers.
"It's a shame for the BTCC that they haven't been able to do more races on the GP circuit," said Muller. "We're lucky in the WTCC, because everyone prefers it."
"It's one of the best circuits we've got in the country," added Neal. "And what Jonathan Palmer has done with the big screens, so that people can see all the action around the country parts of the track, is fantastic.
"You've really got to hang it out around the back and you need a very well-balanced car for that. It's all good, high-speed stuff, and even some of the Indy circuit corners are faster - Clearways and the approach to Paddock. And then the exit to Surtees is different and more vital."
Neal, of course, is affected by the Vauxhall pull-out. And, even though he's not affected, Muller regrets the decision. "The VXR club is there because of the BTCC, so it's a great shame Vauxhall are stopping," he says. "But never say never - it would be good if they came back."
O'Neill's old nail
How does that old Honda Integra still go so quickly? Results have been up and down for crowd favourite Paul O'Neill - now officially the BTCC's most popular driver! - but his ability to mix it in the heat of the championship battle has raised eyebrows over the second half of the season.
Engineer Alex Somerset, who designed the Integra BTC Touring racer for Team Dynamics, moved on to the Triple 8 Vauxhall team and from there to Mofaz Fortec Motorsport's Formula Renault 3.5 squad. But he's been back on the Tech-Speed Motorsport-run Integra this year, moonlighting from his single-seater duties.
"I don't count Paul as my driver - he's my friend," explained Somerset. "It's funny - people from other teams help us purely because it's him."
O'Neill was instantly on the pace when he reappeared in the BTCC at Thruxton's second round, but form tailed off a little before a mid-season rejuvenation. "We did some mechanical work with the diffs at the Snetterton tyre test, and we've been tweaking it and tweaking it and the car's been getting better and better," said Somerset.
"The thing is, it's new thinking so it's taking two days to set the diff up for each meeting. Problems can occur because of the way it's set up and it's been a big learning curve to prevent reliability issues like the ones that caused us problems at Rockingham."
Somerset's FR3.5 responsibilities are growing now that Mofaz has taken complete ownership of the team from Fortec. But he's still hoping to be involved with O'Neill and the Integra next year, and seems quietly confident that more time can be found from the old girl.
"The chassis is 2006 and the mechanicals from '04," he says. "And some of the bits are donor parts from the Civic, which were '02/'03 bits. There's a romantic attachment to the car. It can still be the car to beat."

Going up in the world
With Brands being the last TOCA event of 2009, attentions turned to what the drivers are going to be up to next season. There's plenty of talent rising through from the support championships, but who's going to be making waves at a more senior level in 2010?
Formula Renault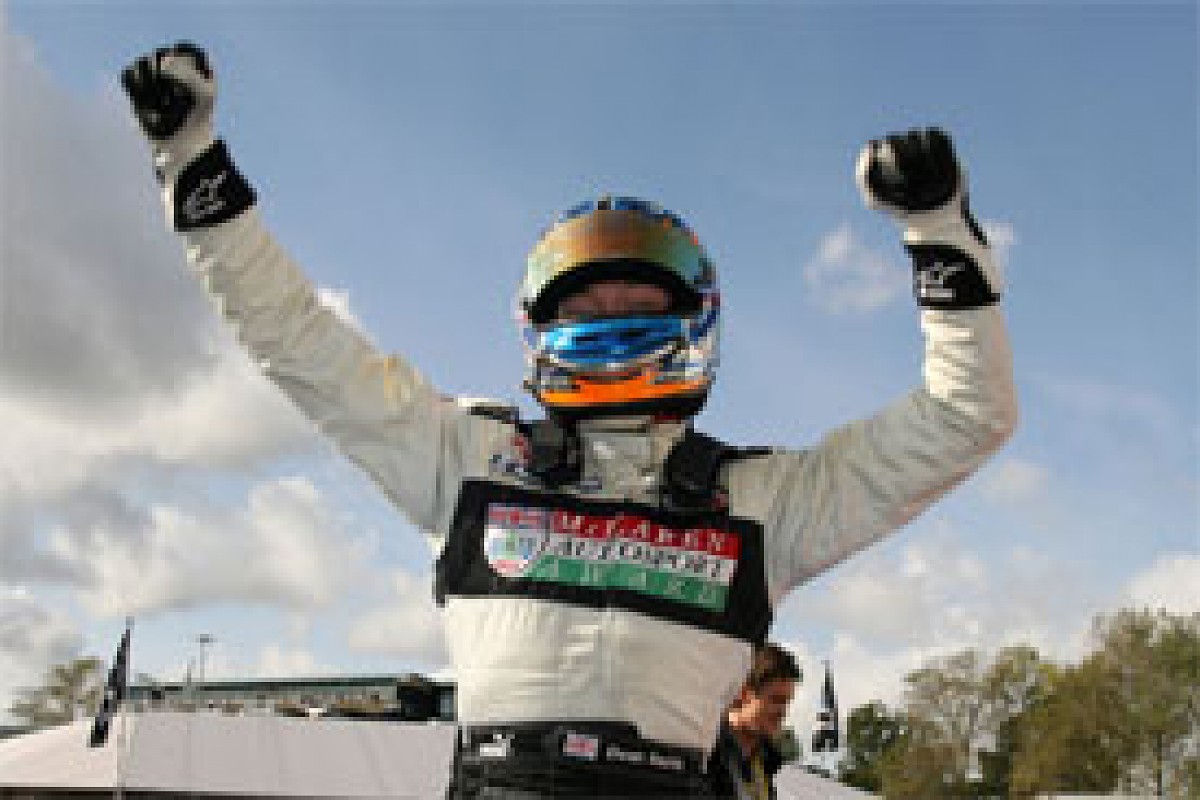 Formula Renault Champion Dean Smith © LAT
Dean Smith: the champion's Manor Competition team has no formal relationship with Manor Motorsport/Grand Prix, but John Booth still keeps a keen interest. Expect to see the Black Country boy testing one of Boothy's F3 Euro Series cars soon.
James Calado: two days after the TOCA season finished he was out with Carlin Motorsport's British F3 team at Pembrey. A safe bet that this is the first step towards a 2010 title shot.
Oli Webb: is getting out with Fortec Motorsport's British F3 team at Rockingham. But dad's beginning to run out of money to fund Oli's racing, so he needs backers.
Dean Stoneman: has already tested with Double R's British F3 squad at Pembrey before the FRenault finale. Reportedly very quick, but needs cash desperately.
Jesse Krohn: the garrulous Finn has a good relationship with Italian team RP Motorsport and should race with the squad in European F3 Open (that's the one that used to be Spanish F3) full-time in 2010.
Josh Scott: amiable Australian is looking to F3 or GP3. "I think I'll be sending Mark Webber a few emails!" he quipped.
Porsche Carrera Cup
Tim Bridgman: champion is looking to race in the Supercup next year. "I love the British circuits, but having 40bhp more with the new car and racing on the grand prix circuits would be great."
James Sutton: almost certain to go Supercup with Red Line Racing. "I can't say much at the moment," he said, tight-lipped. Looking good then!
Renault Clio Cup
Phil Glew: sights set firmly on a move up to the BTCC. Very personable and good with media and sponsors. If anyone can do it, he should be able to.
Alex MacDowall: also has BTCC ambitions but is delaying them until the new rules in 2011. Looking to the SEAT Eurocup as a stopgap.
Ginetta champions:
Both Nathan Freke and Sarah Moore are likely to remain on the TOCA package. G50 Cup winner Freke is pushing for a Carrera Cup deal, while continuing to run his Ginetta squad. Junior champion Moore looks most likely to defend her crown with the new G40 model.

Passing comment
For two of the commentators who keep you entertained on BTCC Sundays on ITV4, there are also racing commitments to keep them busy when they're not behind the microphone. Ben Edwards' sidekick Tim Harvey, a regular in the Carrera Cup, finally lost his dogged battle to repeat his 2008 title in a gripping final-round showdown at Brands Hatch against Tim Bridgman and James Sutton. And while Simon Hill isn't racing himself (anymore!), he's been biting his nails watching son Jake in the Ginetta Junior Championship.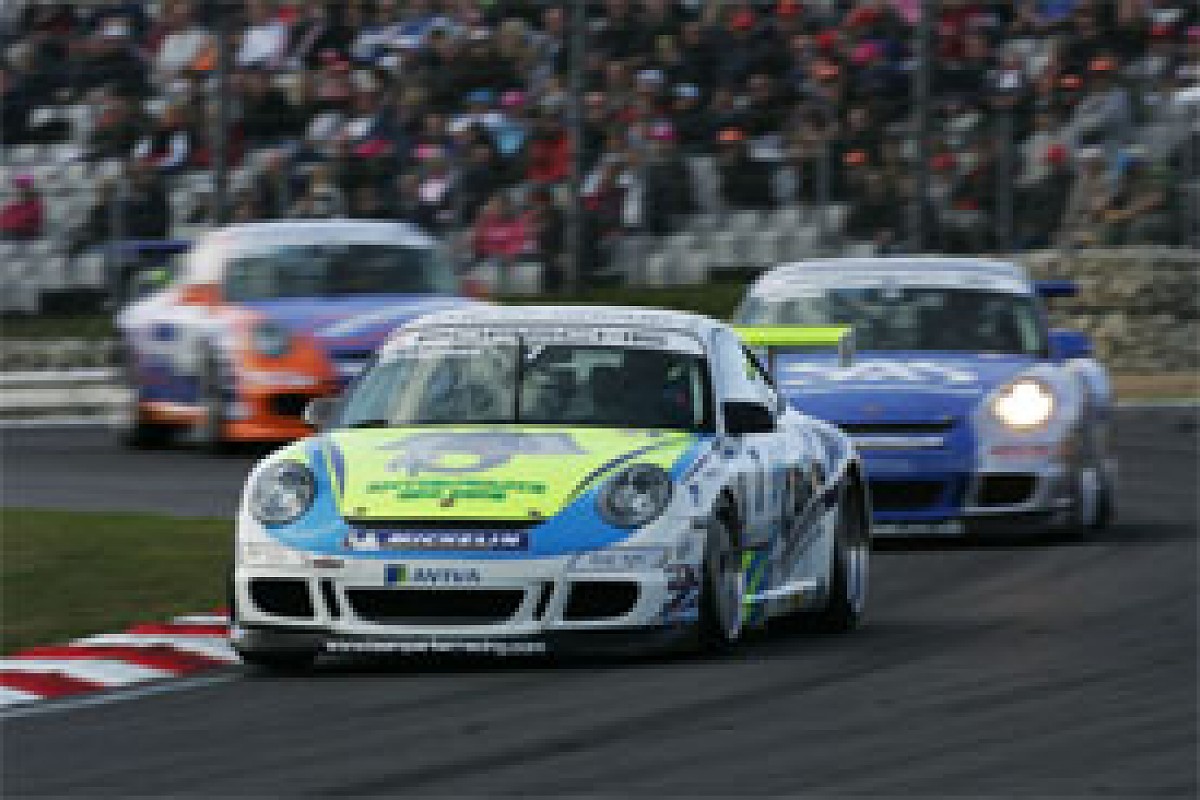 Tim Bridgman leads James Sutton and Tim Harvey in the Carrera Cup © LAT
Harvey had the best view of the incredible move by Bridgman that secured the Carrera Cup title from Sutton. Bridgman had just run off the road at Sheene's, but threw his 911 down the inside of Sutton at Stirling's to retake the lead - and win the crown.
"That was a championship moment," said Harvey, who was shadowing the pair. "James was past, but Tim just dived down the inside, which was a brave thing to do when you've just been on the grass. He stopped the car, didn't hit James, and that decided the championship. Having said that, he could easily have hit James and I would have won it!
"You've got to put it in perspective though. I may have lost the championship, but at least I got a hole-in-one in golf this week, which I've never done before - and I bet they haven't done it either!"
Hill, meanwhile, is very conscious that he is not an overbearing 'racing dad', but just can't help getting excited about his boy, who took two brilliant Junior wins at Brands. Even more impressive, bearing in mind he'd been out of action since Croft in June due to lack of funds.
Croft was actually young Jake's first win. With no karting pedigree to speak of, he had hitherto been unable to find the racecraft to complement his speed. Dad was absent from that one, due to commentary commitments at the Le Mans 24 Hours, but followed the race on his laptop, using TSL's live-timing service, in the Peugeot hospitality area. As the last-lap order flashed up, Hill Sr started leaping up and down.
"Are you all right, mate?" enquired a passing David Brabham. When Hill explained that his boy had just taken his first win, Brabs went away, got a poster signed by all nine Peugeot drivers congratulating Jake, and presented it to the proud dad.