The days of Formula One drivers keeping a window in their diary for Le Mans are long gone, but across the Atlantic the reigning NASCAR Sprint Cup and IndyCar Series champions are among the galaxy of stars who will kick off their 2009 seasons with the Daytona 24 Hours this weekend.
If any event can lay claim to the 'Race of Champions' title, it's Daytona. NASCAR legend Jimmie Johnson is the highest-profile guest star, and his Sprint Cup rival Juan Pablo Montoya is one of four Indianapolis 500 winners in the entry, alongside recent IndyCar champions Scott Dixon and Dario Franchitti, and 2004 500 victor Buddy Rice.
Throw in Danica Patrick, IndyCar's best-known name, 1996 Champ Car champion Jimmy Vasser, and a host of sportscar title-winners alongside the Grand-Am regulars, and you have a pretty enviable line-up - even though the likes of Jeff Gordon and Tony Stewart have chosen not to join the fray this year.
The field may be littered with big names, but there's one team that they will all have to beat. Chip Ganassi Racing made history by taking their third consecutive Daytona 24 Hours victory, and now they're chasing an equally unprecedented fourth win in a row. Their regular drivers Scott Pruett and Memo Rojas also regained Ganassi's series title last year, and are joined in the No.01 car by seven-time grand prix winner Montoya, as the Colombian and Pruett seek to equal Peter Gregg's 1970s record of three straight wins (which were achieved with two different teams).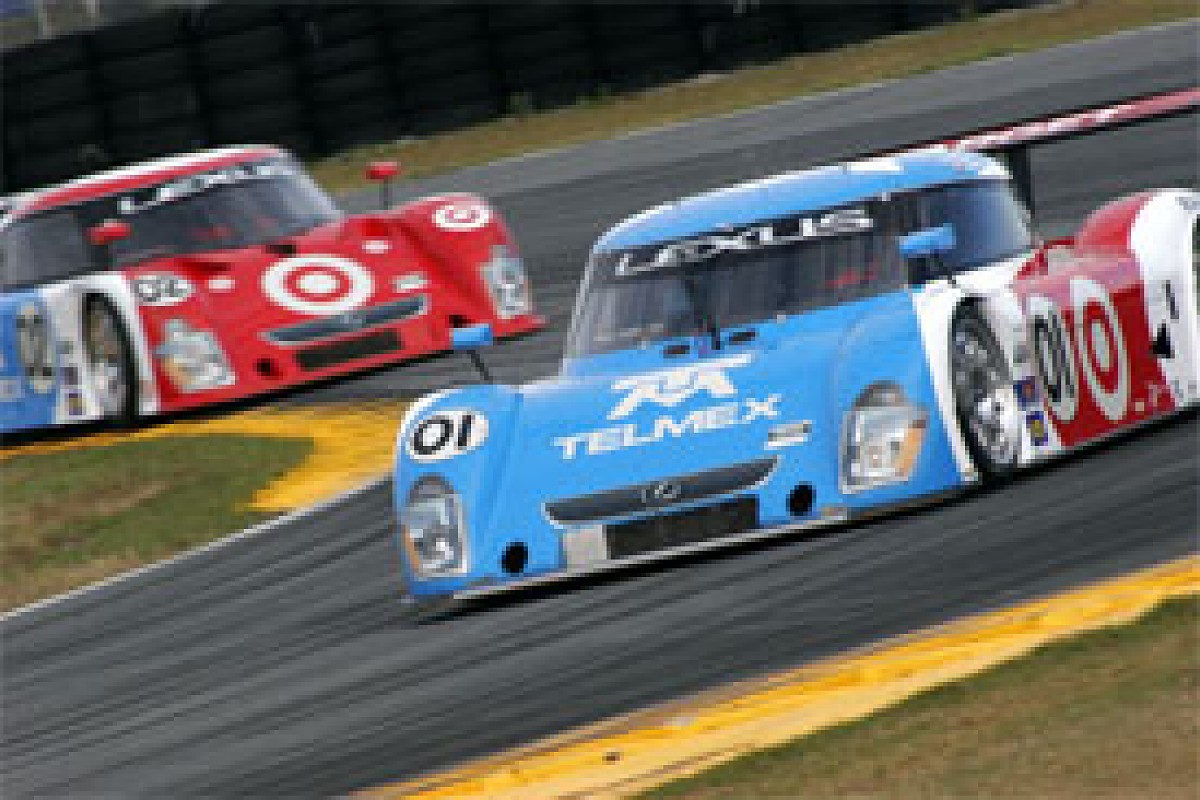 Montoya/Pruett/Rojas and Franchitti/Lloyd/Dixon Ganassi Lexus-Rileys © LAT
With IndyCar teammates Dixon and Franchitti joining up with Ganassi's reserve driver (and former Indy Lights champion) Alex Lloyd in their second Lexus-powered Riley, the squad are clearly going to be hard to topple.
"Last year was huge for Ganassi Racing, winning our third in a row," Pruett said. "Now, we're going for four, and that says a lot about the team and the commitment Ganassi have made. Even though we didn't test in October and November, we were fastest in the opening session at Daytona in January. To come here fast right out of the box is a great way to start the year."
Ganassi's main rivals last year - in both the 24 Hours and the series - were the Bob Stallings Racing team. With 2007 Grand-Am champions Alex Gurney and Jon Fogarty again joined by Johnson and Vasser, their driver line-up should certainly be a match for Ganassi - if they can match their arch-rivals' relentless through the race distance.
"We took a much more conservative approach in 2008, really, really focusing on staying out of trouble, and we were able to do that up until very late in the race," said Gurney. "We had a little gearbox problem I think at the 22nd hour. But if it wasn't for that, I think we would have beaten Ganassi.
"We're really going to bring in the same approach. We have the same drivers. Everybody knows the way to approach this race and how to take care of the car. Everybody knows each other. Everybody communicates well. So I think more of the same that we did in 2008, maybe a few more things that we've looked at reliability-wise on the car, we're in there with a chance for sure."
He also emphasised that Johnson brings a lot more to their team than headlines.
"We love having him there, obviously," said Gurney. "He brings a lot to the team and a lot of spotlight on us, as well. But he's just a great guy. The first day he showed up with the team he didn't have a big entourage or anything like that. And when he got in the car, he's immediately fast and very professional, very focused, has a pretty broad technical knowledge. There's definitely a laser-like focus, I would say."
While Ganassi have grappled with the Stallings squad in Grand-Am, the Penske team were their main opposition in IndyCar - and now that rivalry is transferring to sportscars.
Penske's full-time arrival in Grand-Am with Porsche is widely seen as a stop-gap before the German manufacturer launches its next LMP project. The team have brought their American Le Mans Series LMP2 champions Timo Bernhard and Romain Dumas, plus their IndyCar star (and ex-ALMS ace) Ryan Briscoe, and will be contenders from the outset.
Michael Shank Racing will also be among Ganassi's toughest rivals. They swept the Daytona front row last year, but couldn't maintain that dominance in the race. Their two-car line-up includes two superb drivers currently without 2009 rides in AJ Allmendinger and Ryan Hunter-Reay, last year's pole-winner Oswaldo Negri Jr, the highly-rated Canadian Michael Valiante, and Colin Braun - who was a teenage sensation in Grand-Am three years ago before opting for a NASCAR career.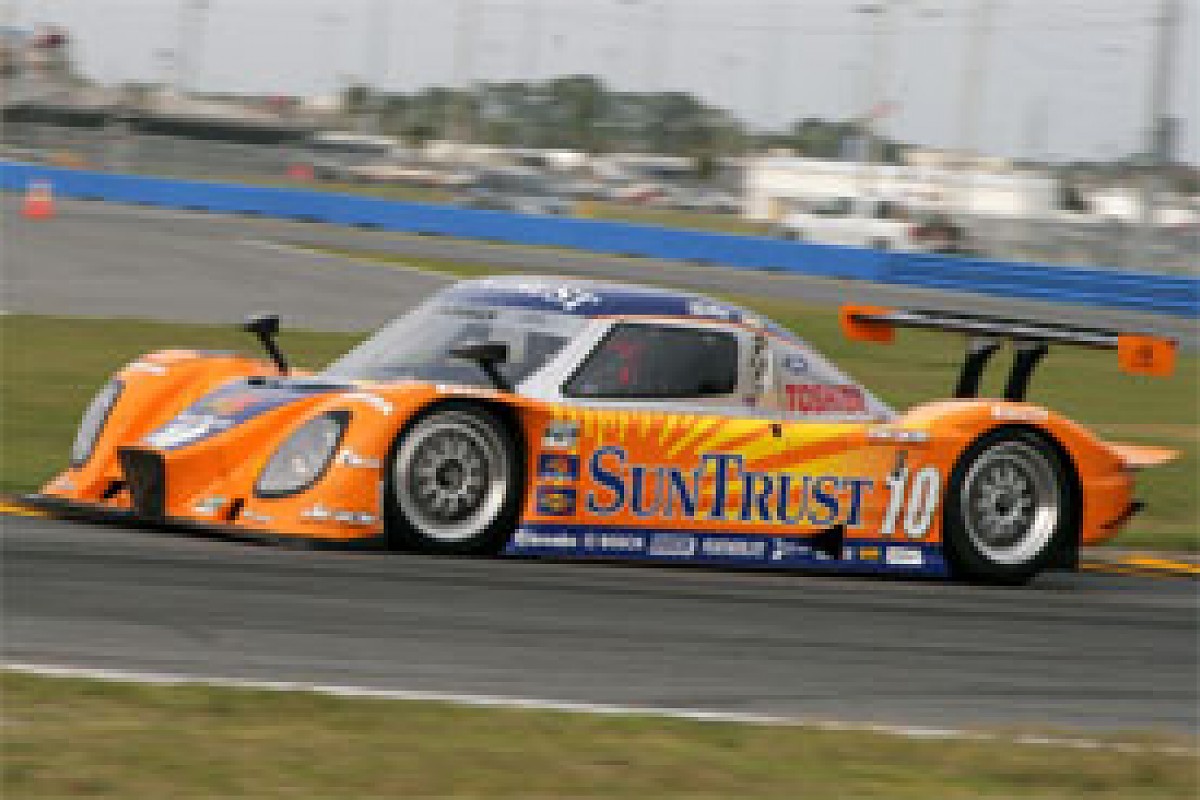 Angelelli/Frisselle/Lamy/Taylor SunTrust Dallara-Ford © LAT
The last team to beat Ganassi in the Daytona 24 Hours was SunTrust Racing in 2005. Two-thirds of their winning line-up are still on-board in Max Angelelli and Wayne Taylor, joined this year by Brian Frisselle and Peugeot LMP1 driver Pedro Lamy. By Daytona's standards, that's a pretty low key quartet, but it's a very quick one, and features abundant endurance racing experience.
At the other end of the showbiz scale, the Childress Howard team (a union between NASCAR powerhouse Richard Childress Racing and Grand-Am front-runners Howard-Boss) are giving Danica Patrick her second Daytona opportunity. Former Le Mans winner Andy Wallace will be the lynchpin of this squad, which also features NASCAR driver Casey Mears.
But it was a relatively unsung driver who beat all these names to the fastest time in the official pre-race test at the start of January, as American sportscar stalwart Darren Law set the pace in the Brumos Riley-Porsche. Law shares his car with David Donohue, sometime Aston Martin GT1 driver Antonio Garcia, and Indy 500 winner Rice. Again, it's not the most headline-grabbing quartet, but as they showed at the test, they're worth keeping an eye on.
Although the Daytona Prototype class monopolises the world's attention, the GT class will also be closely-fought. Last year's winners Speedsource Mazda no longer have rising star Raphael Matos on board, but have recruited Atlantic Championship runner-up Jonathan Bomarito instead. The Farnbacher Loles and TRG squads lead the typically strong Porsche challenge, while factory Corvette GT driver Jan Magnussen has been seconded to Banner Racing's Pontiac GXP-R.
The NASCAR-owned Grand-Am series and its 'stock car' style technical rules aren't to everyone's taste - few Le Mans prototypes could be described as handling like 'giant Formula Fords', as the early Daytona Prototypes were, and their 'stumpy Group C' car looks lack a little elegance. But it's a package that entices a wide array of top American names to Daytona, features a battle between manufacturers like Pontiac, Ford, BMW, Porsche and Lexus (plus chassis from Dallara and Lola as well as the ubiquitous Rileys), and offers extremely close competition - and as such is hard to criticise.
SunTrust owner/driver Taylor certainly has no complaints: "The series has the engine formula so well-matched that it's tough for anybody to run away with it," he said.
"The top 16 cars were separated by one second at the test. I don't know where else in motor racing you see that kind of competitiveness.
"This year, while there might be fewer entries, the quality and competitiveness of the field is much better than ever. So it'll be an incredibly difficult race, as it always is."