There were contrasting fortunes among the title contenders in the British Touring Car Championship's support categories at Croft last weekend, not least in Ginetta Junior, while champions were crowned in the 750 Motor Club's Oulton Park event
It's not very often that a Ginetta Junior race is won by 6.8 seconds. And it's not very often that a driver bounces back from losing a win, a roll into the gravel trap and a disappointing 13th place to catapult themselves back into title contention in the next event.

But that change in fortunes is what Tom Lebbon has enjoyed in recent weeks. After his miserable Silverstone event, he was 74 points adrift of leader Bailey Voisin and admitted he "lost all hope for a little bit". That despondency was replaced by confidence at Croft as he came very close to winning both races.

The opener featured two safety car periods and all came down to a one-lap shootout. Lebbon had briefly lost the lead to Tom Edgar around the outside of Tower on the first lap, but Lebbon got back ahead with a dive up the inside of the hairpin. Also on the move was fellow title contender Josh Rattican, who passed Edgar at Tower on the first of the safety car restarts. And Tower again proved to be a happy hunting ground for Rattican on that final lap as he made another great move to take the win.

Things were far less close in race two as Lebbon was left comfortably ahead of first-time podium finisher Freddie Tomlinson and Rattican at the flag as the pack squabbled behind.

"It was a bit of a strange race to lead from lights to flag!" said Lebbon, who admitted he found driving without the usual Ginetta Junior pressure a tricky balancing act.

While Lebbon and new points leader Rattican had strong weekends, it could all have been very different. Voisin had qualified on pole for both races by over half a second but his R Racing car was found to have a modified restrictor plate and he was sent to the back.

He fought up to 10th in the opener but got tangled up in an incident in race two, leaving him 22 points behind Rattican.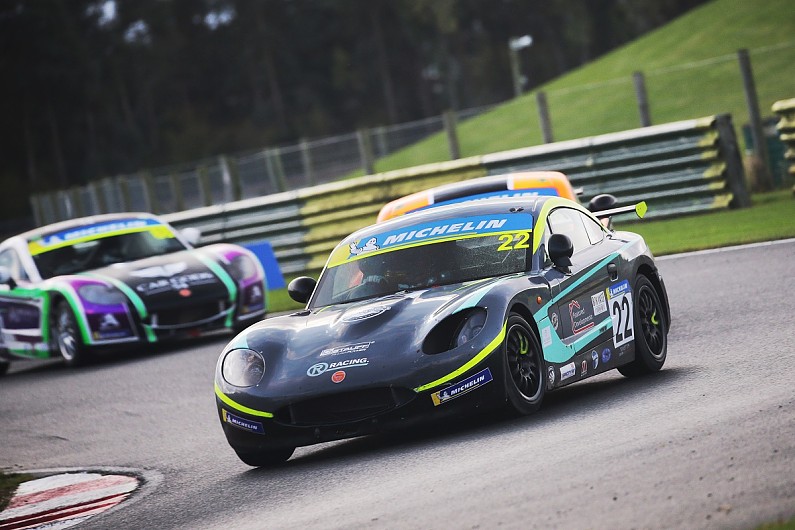 "It was just one of those weekends," said Voisin (above), devastated to have lost his poles. "The first race was a tough race - there were two safety cars so there wasn't much racing. I moved up 10 places, which was pretty decent.

"Today [race two] was one of those things. We've now got to throw this one [weekend] away and move on." Just as Lebbon was able to do after his own woes at Silverstone.

Momentum counts for a lot in a championship fight and right now it seems to be slipping away from Luke Browning in British Formula 4, as his main rivals Zak O'Sullivan and Casper Stevenson again took a significant chunk out of his lead.

The first Croft race was held in the wet conditions that Browning normally thrives in. But that was not the case in North Yorkshire as he made a slight mistake at Clervaux at the start, running wide and allowing O'Sullivan and Abbi Pulling through. Browning then lost out further at Tower as the Arden machines of Frederick Lubin and Roman Bilinski got ahead to leave him sixth - and that was where he stayed to the finish.

Up front, polesitter Stevenson led initially but was soon under attack from O'Sullivan, who pounced through the chicane on lap two. O'Sullivan built a gap of a couple of seconds before Stevenson reeled him in and was right with the Carlin driver at the flag.

"I was just a bit tentative at the start and O'Sullivan passed me and then I ran out of laps," admitted Stevenson, while O'Sullivan said he struggled for pace a little as the track began to dry.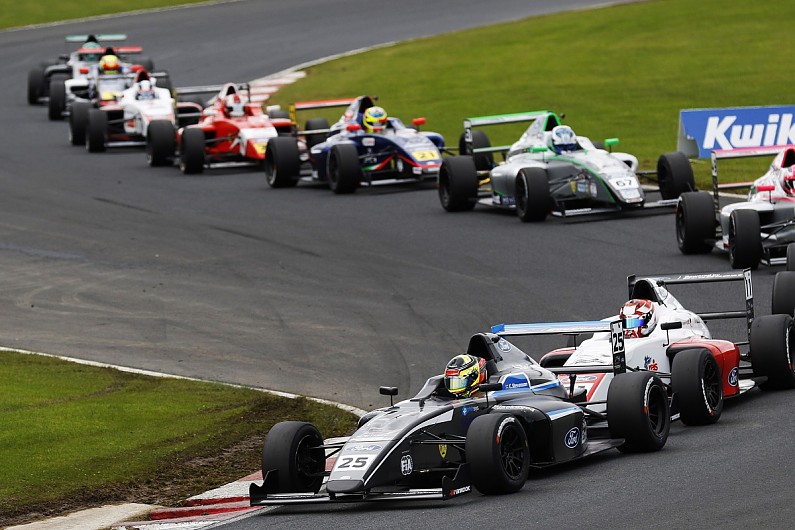 Perhaps one of the clearest indications that it was not going to be Browning's weekend came in qualifying. Stevenson and Browning's second fastest times were both 1m19.595s but, as Stevenson set his first, it was he who started from pole for race two, the reversed-grid race not taking place as each British Touring Car Championship support category has a reduced amount of track time at one of the final three scheduled meetings.

"It's crazy when you think about it," said Stevenson about the pole times. "One turn of the wheel could've been the one thousandth [Browning needed]."

Argenti Motorsport racer Stevenson managed to stay ahead throughout this time to bag his second series win and a record-equalling ninth consecutive F4 podium, while all eyes were on the battle for second. O'Sullivan made a brilliant dive down the inside of Browning at the hairpin on lap three of 15, only for Browning to fight back across the start/finish line, but he ended up cutting across the chicane and lost the place.

Browning remained right with O'Sullivan for the remainder of the contest, and did try a move around the outside of Tower late on, but he had to settle for third as Stevenson and O'Sullivan once again gained the upper hand to reduce his points lead to 13.

James Dorlin moved into the driving seat as the new-for-2020 Porsche Sprint Challenge GB made its debut on the TOCA package at Croft, thanks to his own vast superiority and an absolute disaster for pre-weekend series leader Tom Jackson.

PLUS: Testing the tiers of Porsche's motorsport ladder
Ex-Clio Cup runner-up Dorlin headed the 12-car field of 718 Cayman GT4 Clubsports in a wet qualifying session, while Jackson trailed in seventh. Things went from bad to worse for Jackson when he was excluded because his car had insufficient fuel for a sample, sending him to the rear of the grid.

Jackson went for slick tyres for the opening race, but took until the end of it to start matching the lap times of the leading runners, as he finished 11th. Up front, Ginetta Junior graduate Theo Edgerton got a slightly better start than Dorlin, but the In2 Racing man kept in front at Clervaux and splashed away to win by 12 seconds. W Series racer Sarah Moore ran a strong third, before Archie Hamilton outbraked her into Tower on the sixth lap of 15.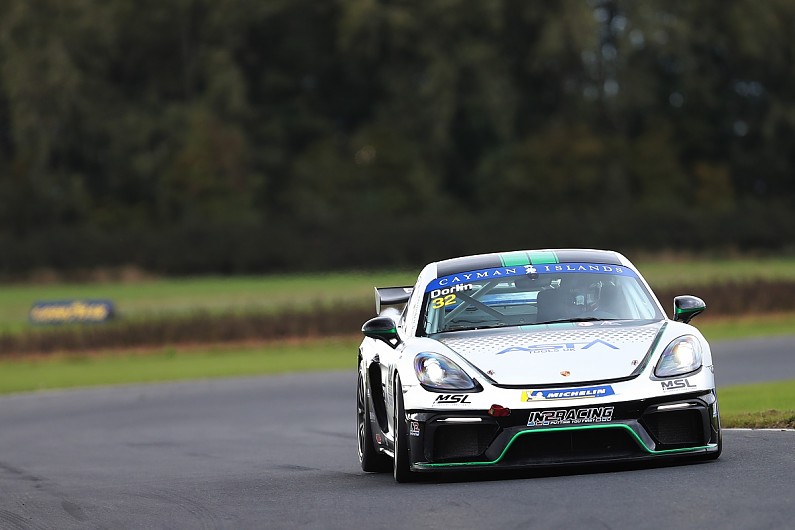 Dorlin dominated again in a dry second race, with Edgerton second, but there was chaos behind and only seven cars finished.

First, Jackson smashed into the pitlane barrier while battling Ambrogio Perfetti at the end of the first lap, causing a red flag. Then Moore lost it at the exit of the chicane and was collected by Nigel Rice, who wallowed into the mud. On the penultimate lap, Ethan Hawkey and Hamilton fought side by side into Hawthorn for third, and contact put Hamilton out.

Will Burns, Gus Burton and Tom Hibbert had proved inseparable across the majority of the Ginetta GT4 Supercup season, but it was Burns who edged clear in the title race at Croft.

Burns bagged two victories over Adam Smalley and Burton in the largely uneventful opening two races to retake the championship momentum as Hibbert could only manage sixth and fifth. The second race was much closer at the front than the first, which was held in damp conditions, and Burton tried a move around the outside of Smalley at Tower but to no avail.

The partially reversed-grid finale was far more dramatic. As polesitter Falvey led away, Smalley ran side-by-side with Burton through the Esses and sealed the move into Sunny In. Burns also got ahead into the Complex as Burton tumbled down the order with suspension damage and back from Burns in the standings.

Up front, Smalley was not content with a third second place and made a bold move down the inside of Tower to take the win, as Burns finished second after also passing Falvey out of the Esses to give himself a 36-point advantage.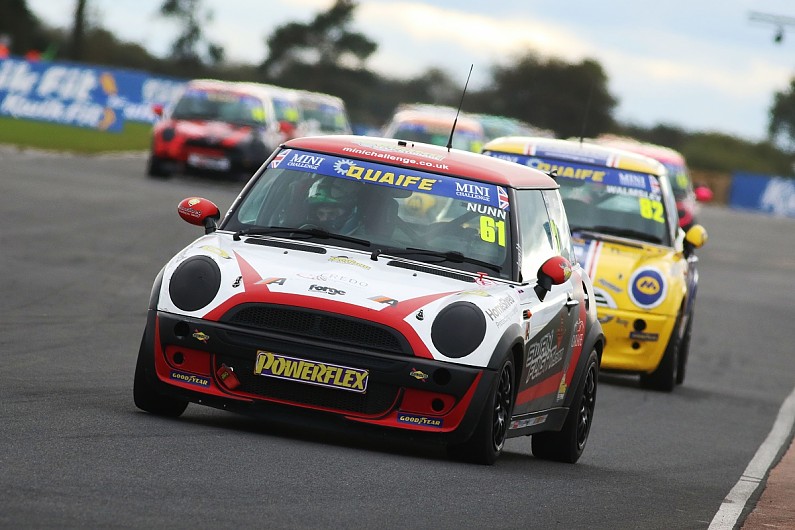 Harry Nunn was the star in the Cooper class of the Mini Challenge at Croft as he took his maiden win and a third to propel himself to the head of the points table.

Nunn grabbed the lead on the first lap of the opener, held in drying conditions, and stayed in front for the remainder as a dramatic battle unfolded behind him.

Polesitter Alex Nevill slightly overcooked it into the Complex on the opening lap and lost out to Dominic Wheatley, before soon dropping behind Lee Pearce and Lydia Walmsley too. But the driver on the move was James Hillery, having stormed up from 16th on the grid.

He grabbed third from Walmsley with a move up the inside at Tower with two laps to go, before passing Wheatley through the Complex. But it then turned to disaster on the penultimate tour as a brake problem into Clervaux put Hillery out, allowing Josh Porter and Wheatley to complete the podium, as Walmsley just missed out by three tenths of a second.

Race two was a disappointment as two safety car periods limited the contest to four racing laps, but it was still enough time for Nunn to surge from 10th on the partially-reversed grid to third. Up front, polesitter Andrew Langley was able to resist the pressure from Martin Poole to take the win.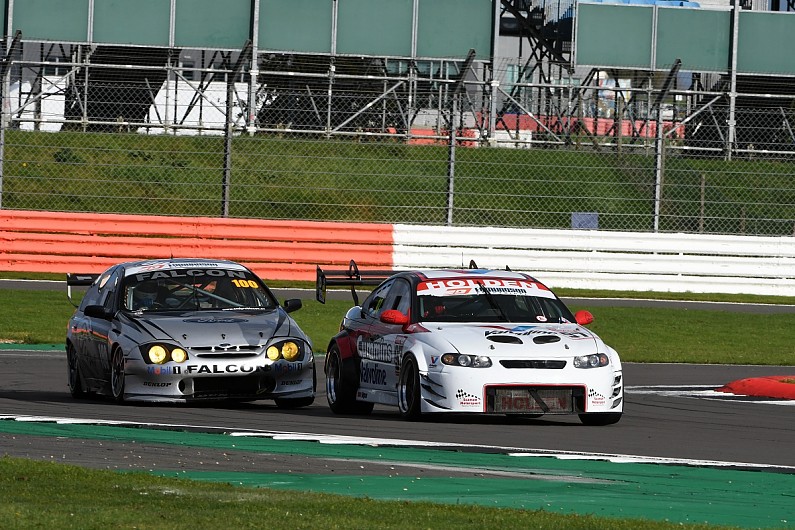 Silverstone BARC: Wilson's Monaro wins thunderous battle
Andy Wilson's seven-litre Holden Monaro came out on top of both Classic Thunder races, held in vastly different conditions, on Silverstone's International layout.

In a wet opener, he blasted well clear on the first lap, leaving the Ford Sierras of Dan Brown and Bradley Gelman to fight Andy Robinson's Ford Falcon for second. But their battle allowed James Janicki (Nissan Skyline) to close and, by the end of lap four of 12, he had passed all three and consolidated second place.

Robinson briefly dropped to fourth but, after retaking Brown, he had reduced Janicki's hold on second to only 0.301 seconds at the flag, with Gelman demoting Brown to fifth a lap from home.

It was another lights-to-flag win for Wilson in the dry race two, but Robinson was just inches away over the final laps. Brown had an early battle for third with Gelman, before leaving his rival to fend off Janicki's challenge for fourth, until Gelman retired to the pits after nine of 13 laps.

There was a double winner in the Pre-'66 & '83 Touring Cars too, with Simon Jeffs's Volkswagen Golf GTI in command. While Jeffs led the opening race, Mike Luck (BMW E21) and Stephen Primett (Ford Escort Mk1) had an intense duel for second, before Luck almost lost it at Stowe and Primett crashed heavily in avoidance.

That promoted the Escort Mk1 of Mark Lucock to second, and he headed a seven-car train from which David Howard's Jaguar XJ12 battled through to clinch the runner-up spot a lap from home, ahead of Lucock and Stuart Caie's Ford Capri, with Luck recovering to fifth.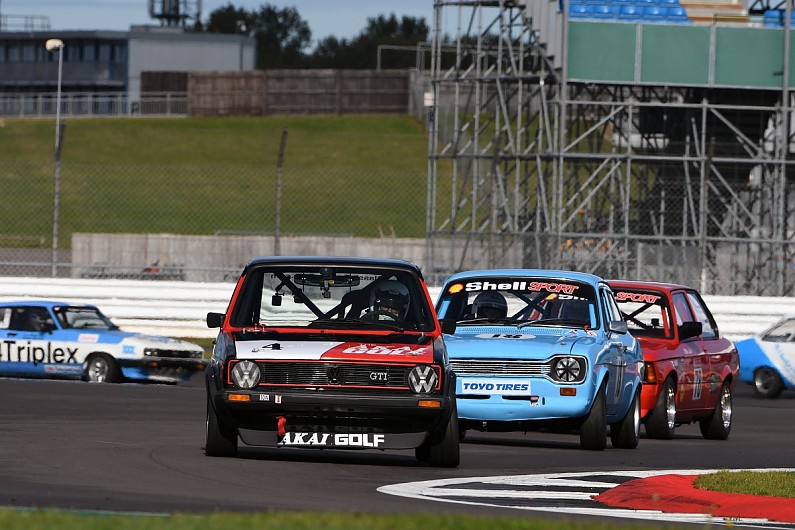 Howard made an early break in race two as Jeffs (above) and Lucock battled over second but, once Jeffs had made his move stick, he reeled in Howard and led from lap six. After losing out to Luck on the following lap, Howard had a duel with Lucock for the final podium spot, which was settled in the Escort driver's favour on the last lap.

A double National Formula Ford victory for Neil Maclennan (Spectrum KMR) gave the Scot the title. Initially, he had to hunt down Ross Martin and Rory Smith in race one, and passed Smith's Medina JL18 into Stowe on the fifth lap.

Martin's lead began to decrease, and on the penultimate lap they came out of Club side by side, before Maclennan made the decisive move on Martin's Van Diemen RF99 down Hangar Straight. Smith retained a solitary third, while a four-car train for fourth featured Matthew Cowley (Van Diemen JL15) getting the better of Jamie Sharp (Medina) a lap from home.

The second race was split into two groups of three by the second lap, with Maclennan, Martin and Oliver White (Medina) heading the Low Dempsey Rays of Jonathan Browne and Bryce Aron along with Joey Foster's Firman RFR20.

Just after White had tried for second at Club, Martin successfully challenged Maclennan for the lead, only to run wide and hand it back. It remained nose-to-tail to the flag, but it was Maclennan's race and title, while White fell back into a lonely third as Browne broke clear from the chasing pack to claim fourth.

The Praga R1T of Danny Harrison and Jem Hepworth won the first Britcar Endurance race, despite Hepworth causing chaos with a spin at the first corner. Steve Burgess and Ben Dimmack finished second in their Radical RXC after ousting Garry Townsend and Jack Fabby (Praga), who settled in fifth behind Ross Wylie/Paul Bailey (Ferrari 488 Challenge) and Mike Moss/Andy Schulz (BMW 1M).

Dimmack had the lead of the second race after Hepworth ran wide at Village on the opening lap, and Burgess retained their advantage after the driver swap, but was being caught by Harrison until brake failure left the Praga sidelined. Townsend/Fabby secured second from Wylie/Bailey.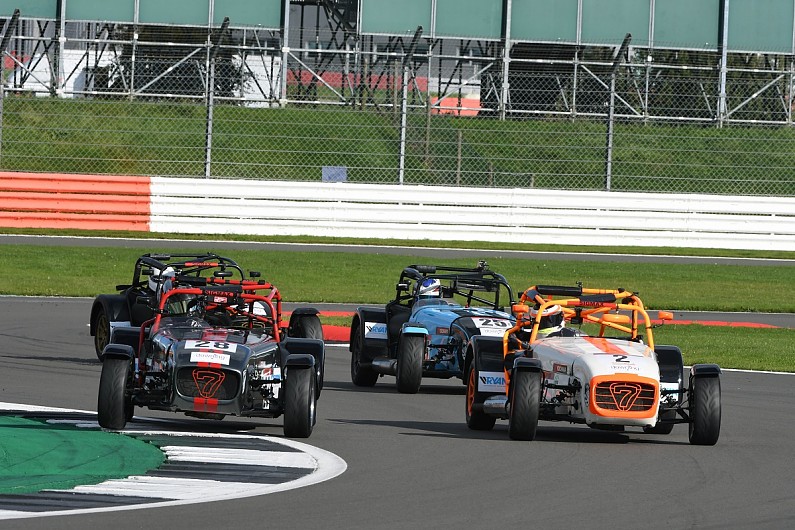 All three Caterham Graduates races featured race-long duels between Harry Senior and Jamie Ellwood. Senior just won the first two, Ellwood dropping to third behind Stephen Clark in the opener, but Ellwood finally got his win in the third.

After snatching a last-lap victory over Chris Davison's Dallara F301 in the first Tiedeman Trophy Monoposto race, Chris Woodhouse (Jedi) was never headed in race two as the Dallara F304 of Tony Bishop claimed a late second.

Dave Mellor came out on top of the first MG Owners' Club contest after charging past Fergus Campbell's similar MG ZR on Hangar Straight, but couldn't breach Campbell's defence in the second.

Both Britcar Trophy races were dominated by the BMW M3 of Adam Howarth and Chris Boardman.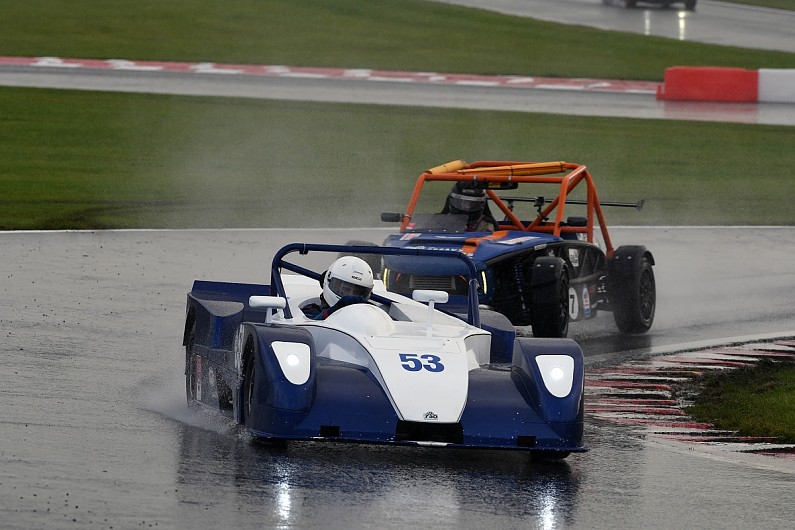 Oulton Park 750MC: Hiley splashes to Sport Specials crown
Autumn was in evidence at the 750 Motor Club's Oulton Park meeting as intermittent heavy rain created highly challenging track conditions.

The Sport Specials title was decided in favour of Andy Hiley, who took the overall prize in his Chronos HR1S. He travelled to Oulton five points ahead of Class A rival Paul Collingwood (Eclipse SM1) and, when Collingwood struggled in the first race due to his lack of wet tyres and Hiley won, Hiley only had to finish the second race to secure the title.

Never unbeatable, Hiley was bested in qualifying for both races by Rob Johnston's Cyana Mk2, but Johnston was no match for him at the start of race one and was quickly overtaken. Within a lap, John Saunders's Caterham had also got past and Johnston lost the final podium spot on the last tour, when Stewart Mutch charged past him in his MEV MX150R. Mutch had previously been involved in a close battle with Stuart Thompson's Caterham Sigma, who eventually lost a place to Steven Wells's SEWC SubZero.

Johnston was denied another chance at beating Hiley by a blown engine in race two as Mutch kept close to the Chronos in the latter stages but was unable to make a move. He had to settle for second, although a class title was some consolation. Saunders was third, moving ahead of Mutch's MEV team-mate Micky Scott on the line.

There may still be one scheduled round to go, but Aaron Cooke took another step towards the Toyota MR2 title with a pair of wins, meaning only reigning champion Shaun Traynor can now stop him.

Race one looked to be between Cooke and Paul Cook, and the latter managed to pass his rival after a red flag but Cooke (below) soon took the lead back.

Cook was then challenged by Alastair Topley, but the former short oval racer had a small off, dropping himself to fourth behind Traynor.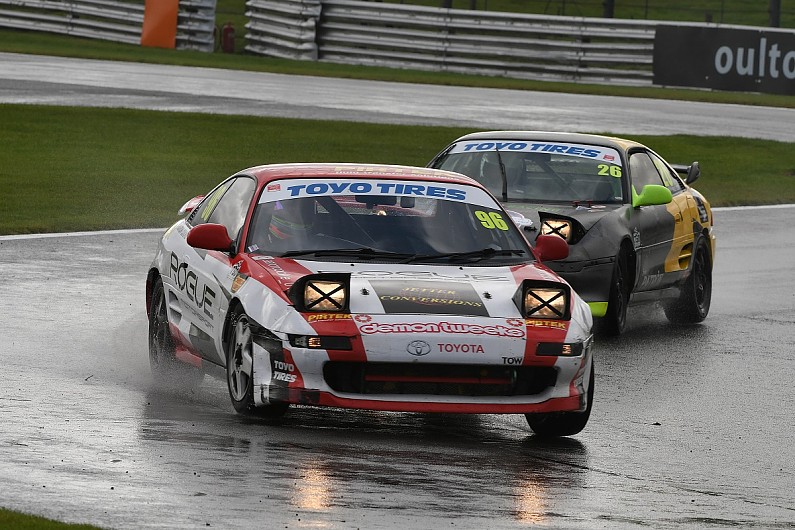 Cooke's rivals tried to crowd him out the first time they came to Old Hall in race two, but he still prevailed, snatching the lead from Cook. He fought back later on but made a mistake, eventually finishing fifth, behind Snetterton winner Paul Hinson, Traynor, and Nick Williamson. Topley had another off and came from the back to finish 14th.

James Harridge (Maverick) was another driver who wrapped up a title, although he was denied a clean sweep of Formula Vee wins by Daniel Hands's GAC. The multiple race-winner made a move on Harridge at the chicane on lap six and held on for the remaining two laps to take the victory.

Returning double champion Martin Farmer was third in another GAC, having challenged at the beginning but dropped back from the leaders. Harridge reclaimed his usual top spot in the second race, winning from Hands and Farmer.

There was a late season upset on the Locost grid, with Murray Shepherd netting a pair of wins, while championship leader Craig Land was fourth in the opener. The Locosts seemed particularly affected by the wet and greasy surface and the second race had to be restarted after a spinning car took out several others. Fortunately for Shepherd, Land was among those left on the sidelines, as he went on to take his second win.

Both Alfa Romeo races were decided by a game of cat and mouse between Graham Seager's GTV and Tom Hill in a GT. Hill was quicker in qualifying and led for the first part of both races, but Seager's more powerful Modified class car allowed him to reel Hill in and leave him behind as the GTV won twice.

Local drivers Andrew Woodbine and Samuel Carrington Yates were the winners of a topsy-turvy final 116 Trophy encounter of the year. Their BMW was easily the fastest on track, and they had qualified on pole, but they had to fight against a string of penalties as well as their on-track rivals.

They finished nearly 13 seconds ahead of Anthony Seddon and Alan Corfield, in spite of a whole minute of time penalties incurred during the pitstops. Seddon and Corfield led until the final 10 minutes but sheer speed won on the day.

Reports by Stephen Lickorish, Marcus Simmons, Peter Scherer and Rachel Harris-Gardiner. Pics by Jakob Ebrey Photography and Steve Jones. Want the full picture on last weekend's national racing, including more reports? Subscribe today and never miss your weekly fix of motorsport with Autosport magazine