From cutting his teeth in UK motorsport to winning the 2015 Le Mans 24 Hours, Nick Tandy has seen it all. But the Porsche factory driver still holds national racing in high regard
We are fortunate in this country that there are still national championships and series that allow you to race a wide variety of cars. There are still people out there who want to drive all sorts of things.
Along with the United States, the United Kingdom has probably got the most diverse scene of private motorsport in the world, from autocross to short-oval racing and circuit competition. There are like-minded people who can come together to do something they enjoy. It's fun motorsport.
This time last year I was going through the whole process of searching for a race car and then preparing it for EnduroKa (above), for relatively standard Ford Kas, which is the sort of low-budget idea people want. Half the scene is getting the car ready. And then you get to play with what you've been building at the race track. It's great that we have a governing body, Motorsport UK, and clubs that put on these events.
In the past few years there have been too many championships for too few cars, some of which could have been foreseen. There are a lot of volunteers and people who help run the sport and there needs to be more planning to make sure things are entertaining enough for them to want to do it. We need them to go racing.
The worst thing for me over recent years has been the closure of many of the short-oval circuits, where I started. There are probably half as many as there were when I was doing it 15 or so years ago.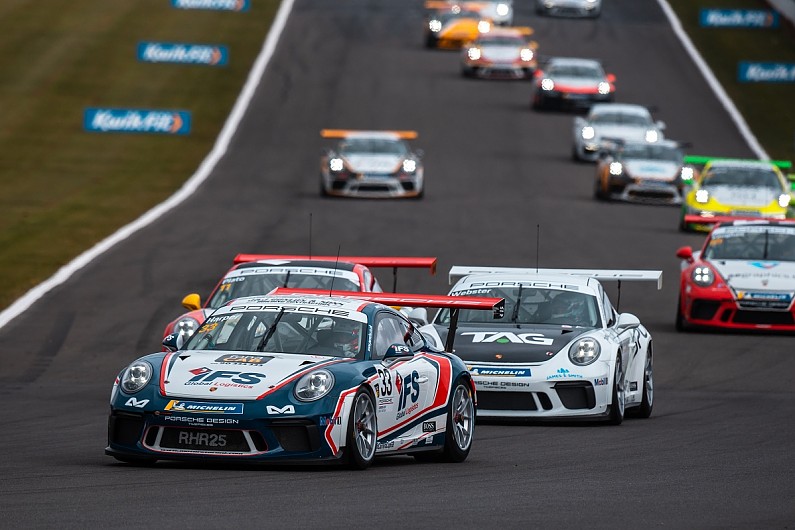 The people - the promoters, drivers and fans - need to make more of a case to their local authorities and landowners about what the land is used for and how much people depend on the tracks. You have to state your case that there is a community around the sport that needs the venues to support the businesses around them.
For my team JTR, the TOCA package supporting the British Touring Car Championship is good. From a team owner's perspective, you have to follow the fashion, the car counts in different series at any one time. We moved into the Porsche Carrera Cup GB from British F4 in 2017 because we saw the decline of formula racing across the board in the UK.
There are still career-minded drivers who want to race in professionally run series, and more and more of them are going into GTs and sportscars. From a tin-top perspective, the grids are healthy - there are good grid-counts in Ginettas, Porsches and the BTCC. Single-seater racing has been suffering more. Twenty years ago, everyone wanted to race in the UK because it had the best competition and the best tracks, but now other countries have those things too.
People talk about the cost of going racing, but if you're good enough you can still make it
The team for me has to be run as a business, but I don't rely on it financially for my livelihood, so it has to be enjoyable too. And the enjoyment I get comes from watching our cars competing and winning, so a big part is engineering for the drivers and developing them. In single-spec racing it's all about making the drivers go fast. That's what the top teams do. That's part of the satisfaction for me. These guys become your friends too and it's nice to see people become successful.
Dan Harper, who (pictured above) won the Carrera Cup with us last year after joining JTR in 2018, is a great example of a career-minded driver who wants to race his whole life and worked out how to do it early. He realised very quickly that there is so much more opportunity for drivers to become professionals in sportscar and GT racing than in formula racing. He started in Ginetta Junior and went through the various scholarships for very little money, based on his ability. If you can drive a car faster than anyone else it's still possible to go through the whole process and get to the top.
Dan had a clear view of what he wanted and got the opportunity because he knew what he had to do, presented himself well and was the best driver. In three years, Dan has become a professional driver with a big manufacturer, and he's only 19 years old.
People talk about the cost of going racing, but if you're good enough you can still make it. We've got this ladder - different from the single-seater one - so you can go from the UK to the international scene. We have that level of support from manufacturers and high-level teams.