The latest chapter in the distinguished history of Brabham got off to the perfect start as David Brabham and Will Powell steered the new Brabham BT62 to victory in the opening Britcar 'Into the Night' Endurance race at Brands Hatch.
All images: Gary Hawkins

Sodden conditions greeted the drivers for the one-hour encounter on Saturday as Powell led the field away from pole, chased by the BMW 1M E82 of Ollie Hancock (sharing with Mike Moss) and Tim Gray's Praga R1T.
A fuse problem and a damaged door dented Gray's hopes, leaving Hancock to take the fight to Powell, who was struggling with a misted up windscreen.
Hancock took over the lead with a fine move at Druids before Powell handed over the BT62 to Brabham at the mandatory pitstops.
Moss took over from Hancock a few laps later, but Brabham was quickly able to reel in the BMW. At two-thirds distance, the 2009 Le Mans winner was able to snatch back the lead approaching Surtees before pulling clear to record a memorable victory.
Lucky Khera, who had enjoyed a spell at the head of the field in his Ferrari 488 Challenge during the pitstop phase, worked his way up to second on the penultimate lap, while Moss was fortunate to hold on to third after spinning at Graham Hill Bend on the final tour.
Conditions were much improved for Sunday's two-hour contest, but hopes of a fairytale double for Brabham/Powell ended when alternator problems forced them into early retirement. Khera had initially been the beneficiary until Gray powered ahead at Paddock on lap 16.
A lengthy fuel stop dropped Khera and co-driver Lee Frost out of contention, while a 100-second stop and subsequent caution period cost Gray valuable time and swung the balance of the race in favour of Moss and Hancock.
Despite having to serve a late drivethrough penalty for a safety car infringement, Hancock reeled off the remaining laps to seal victory, much to the delight of co-driver Moss.
"We've finally managed to get the old girl on the podium after all the troubles we have had in the past two and half years!" Moss said post-race. "I have to thank Ollie for all his help in making this win possible."
Gray came home second after a strong solo performance ahead of Kevin Clarke's BMW M3 E46.
Citroen C1 Challenge: Early end hands it to Old Hat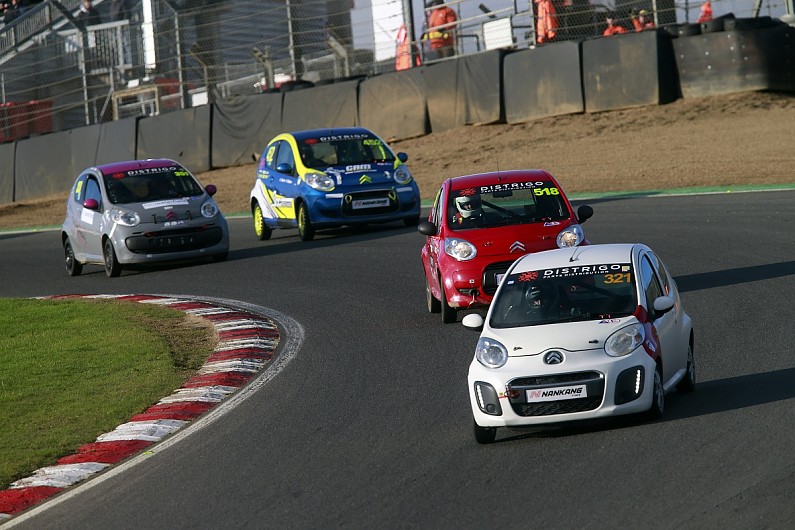 A total of 41 cars formed the grid for the two-hour Citroen C1 Challenge race on Sunday.
The focus of the event initially centred around the tactical battle that developed between the Renvale RT Hybrid Tune team of Stephen James and Sam Weller and the Viking squad of Jonathan Hoggarth and former Pickup Truck racer Nic Grindrod.
Both teams attempted to use caution periods in an attempt to gain the advantage over the other as they jostled for the lead, but neither would emerge triumphant.
An incident involving three cars at Paddock during the final 30 minutes brought the contest to a premature end and handed the win to Callum Hutchings and Daniel Bruce of Old Hat Motorsport.
Ginetta Junior Winter Series: Taylor takes title with clean sweep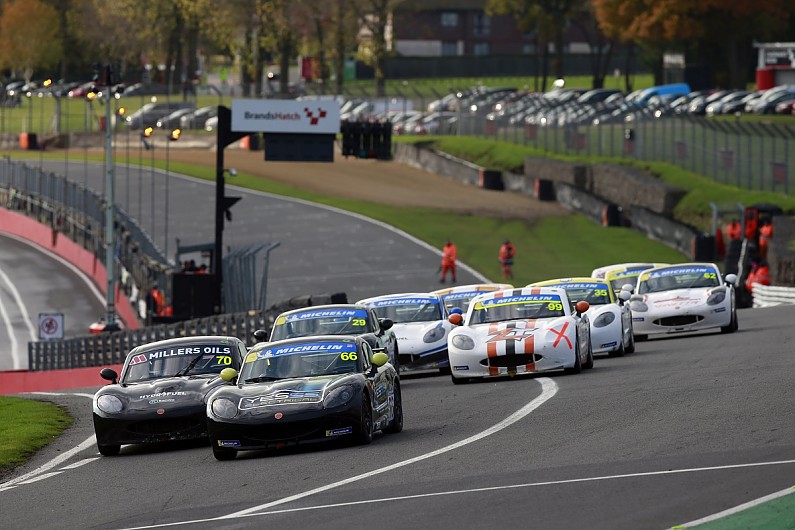 Having claimed four race victories during the regular Ginetta Junior season en route to finishing fifth in the final standings, James Taylor was expected to be a strong contender in the Winter Series at Brands Hatch last weekend, and he did not disappoint.
After taking pole position for three of the weekend's four races, Taylor took a clean sweep of race wins to seal the Winter Series title and add his name to a roll of honour that includes Seb Morris, Jamie Caroline, Seb Priaulx and recently-crowned Ginetta Junior series champion James Hedley.
Differing conditions threatened to provide variables and challenges over the weekend for all the drivers, but Taylor displayed confidence from the outset.
"The car has been set up really well this weekend, both in the dry and the wet," Taylor said.
"So I knew if I made a good start and kept the car on track, I was in a good place to win."
Taylor took a lights-to-flag win by over four seconds from Daniel Gale in a dry race one, but not before Ben Kasperczak and Joel Pearson had tangled at Graham Hill Bend battling over the runner-up spot.
Further back, 2020 Ginetta Scholarship winner Tom Lebbon impressed with a fine drive to fifth from 10th on the grid. It was a performance that was to earn him the 'Hard Charger' award.
Track conditions changed for the worse in the second event, but Taylor repeated his earlier performance with another faultless drive.
Behind him, a cautious Gale claimed another second place finish ahead of Pearson, who had fought his way past Aston Millar at Graham Hill Bend on the fourth lap.
"It was difficult to match the pace of James in these conditions and I didn't want to throw it off," Gale said. "But I'm happy with the way things have gone today."
Millar denied Taylor pole position for race three, but a pass around the outside of Paddock shortly after the start instantly gave Taylor another lead he would never lose.
Millar kept Taylor honest in the early stages but, as the race unfolded, Millar began to fall into the clutches of third-placed Bailey Voisin.
Voisin, who had endured a difficult day on Saturday following a tangle with Zak Taylor in race one, bounced back by powering his way past Millar at Paddock on lap 13 of 16.
Race four provided the best action of the weekend and also provided the dominant Taylor with his sternest test.
After dropping to third on lap one, he fought back to depose Millar from the lead at Paddock before sealing the win and rounding off his season in perfect style, despite the close attentions of Pearson in the final stages.
"They've got closer and closer to me as the weekend has gone on," Taylor added. "I didn't want to do anything stupid [in that last race] but it was tough, Joel was all over me."
As for the future, Taylor is keeping his options open.
"We're still undecided on what we are going to do next year, but winning the Winter Series has opened up chances for us to look at our options, whether that be in [Ginetta] G55s or elsewhere," he said.
Mini Winter Challenge: Peacock dominates but Se7ens entertain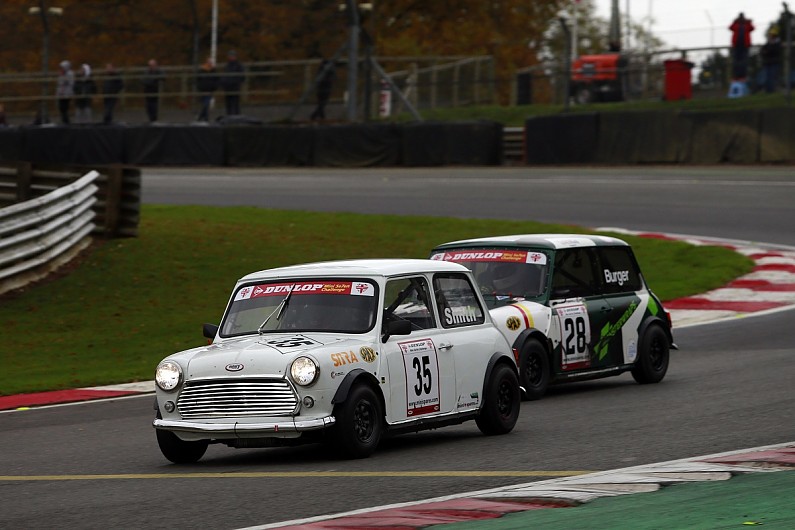 Colin Peacock dominated all three Mini Winter Challenge races in his Miglia, despite being forced to start from the back of the grid in the first contest after a warm-up lap spin.
With only two Miglias among the 14 starters, the excitement of the races was provided by the Se7ens that made up the rest of the shared grid.
In the first race, recently-crowned Se7ens series champion and ex-British Touring Car racer Jeff Smith came out on top in a thrilling race-long duel with Dom Burger (who would later be penalised for a false start) to claim second overall.
Burger hoped to reverse the result in race two, but a trip into the Clark Curve gravel following a sideways moment scuppered his chances.
Smith was given more breathing space in race three after Burger had to battle his way past the fast-starting Andrew Deviny.
By the time Burger had got ahead of Deviny at Druids on lap five of 22, Smith had built up an uncatchable cushion.
Tin Tops: Birley loses one and wins one
Niall Bradley took advantage of front brake problems for Rod Birley's Ford Escort WRC to claim the spoils in the opening Tin Tops contest in his BMW E46 M3.
Fortunes were reversed in race two when a wild opening-lap spin at Paddock wrote Bradley out of action and enabled Birley to claim the win, although the Peugeot 308 TCR of Steve Rothery came close to stealing the spoils in the closing stages.