Aston Martin Racing Academy driver Jack Butel is prepared for the unique test of the Brands Hatch GP Circuit this weekend at the penultimate round of the British GT season.
The 23-year-old, who is competing with Optimum Motorsport in an Aston Martin Vantage GT4, has raced on the iconic UK layout before in other categories and knows the challenges that await.
"I raced it in British Formula 4 and LMP3 Cup, I think it's such an iconic track, there's nothing really not to like about it," he said. "There's quick corners and slow corners and it's very demanding on the driver."
Since making the step up to GT4 machinery this year, and even before that in F4 and LMP3, Butel has focused on his physical and mental fitness to get the most from himself and the car during a weekend.
"I usually go to the gym four or five times a week just to try and improve myself," he said.
"LMP3 has got a bit more downforce so on your neck it's a lot harder, a GT4 car is slightly easier to drive but it's still endurance racing and hard on everything.
"I think doing the Dubai 24 Hours last year has focused me on what to work on and I've just gone from there."
When not at the race track or improving on his fitness, Butel works for his dad's company, Express Auto Parts, in Jersey.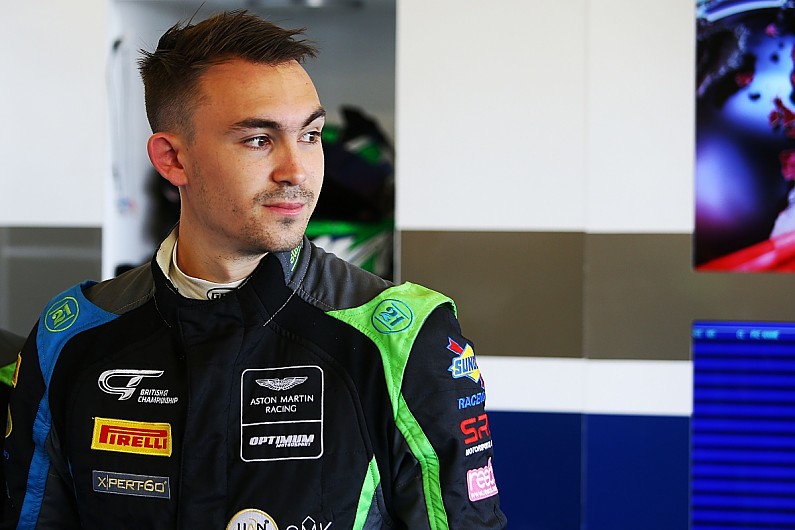 Coming from the largest Channel Island has meant it was difficult for Butel to get into racing, often having to leave the island to compete in karting races.
This weekend he and team-mate Connor O'Brien will be hoping to turn their fortunes around after a run of bad luck.
The Silver-Silver pairing had to retire from the previous round at Spa-Francorchamps with a mechanical issue, and retired from Donington Park before that after their car suffered broken suspension following contact from behind.
"Qualifying wasn't what we wanted [at Spa], we had a lot more pace in the wet than we showed," added Butel.
"I was on a quicker lap but got held up by one of the McLarens which meant I didn't have a great result but Connor did an amazing job.
"We had a good start, we made up a couple of places but we were struggling to get past a couple of Astons and then we had the problem.
"It was something to do with the loom so it just kept misfiring, it wasn't great at all. It happened on the second last lap before I came in and handed over to Connor but then he came straight back in and we had to retire."
They will be hoping to achieve another points finish having secured two sixth places in class at the opening round of the season at Oulton Park, before following that up with 10th and 11th in the two one-hour races at Snetterton, as well as seventh in class at Silverstone.