Any driver who can win a race in just their third ever weekend of car racing is doing pretty well.
When that comes in the closely-fought world of Formula Ford 1600 and against drivers with years more experience, it's an even greater achievement.
But that's what Tommy Foster managed to do this year.
The Arden Young Racing Driver Academy member contested three weekends of FF1600 at the end of this season in order to get signatures to upgrade his racing licence ready for next year.
Taking a win in those handful of races certainly was not expected.
Foster made his car racing debut with the Oldfield Motorsport team in a Van Diemen JL13 in the final rounds of the British Racing and Sports Car Club's National series at Donington Park.
"Practice day was about getting out and learning the car," recalls 16-year-old Foster. "But the conditions were awful, it was really wet.
"Then Saturday came with qualifying, we were 20th out of 25 but I didn't want to start there because I had never done a car start before so I started at the back and just got one signature out of the way.
"The start was alright but I missed second a couple of times, that was my downfall.
"I was racing around with the back guys, obviously they weren't as competitive as the front guys, but they still gave me a good race.
"There was one guy who was exactly the same pace and it was good to have him in my mirrors, dealing with pressure, defending sometimes, racing, overtaking. It wasn't for a competitive position but it was all I needed to learn."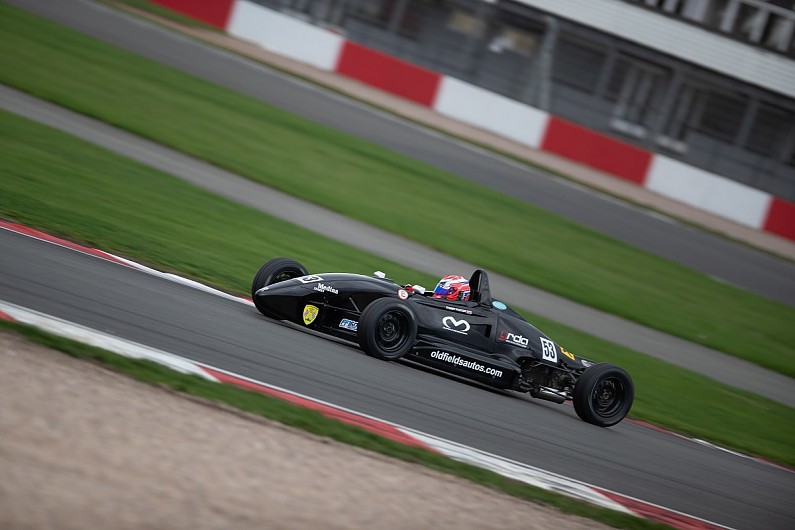 Foster took a best result of 15th across the three races and continued to progress in the Champions of Brands races at the start of November.
But it was at Anglesey for the BRSCC's Winter FF1600 races that things really came good for Foster.
"Donington was a learning weekend and at Brands I started to get a bit more confident with it and then Anglesey came and I had finally got my head around the stick-shift," says Foster, who also benefitted from having tested at the track before, unlike with his other races. And that showed as he was right on the pace in qualifying.
"I asked James [Oldfield, team boss] where I was because I had no clue, I thought I was fourth or third. He said you poled it. They were really happy, they weren't expecting it and I wasn't expecting it!
"Then it came to the race and it was a bit daunting being on pole with all these quick guys behind me. I got a bit of wheelspin and the revs were a bit too high and I dropped to second at the start and had to fend off the guy in third."
He was soon able to hunt down leader Jake Byrne, however, and got ahead at Rocket to take that maiden win.
"It was like I had never won a race before even though I've won quite a few in karts because it was completely different," Foster says.
There was further glory for Foster as third place in the second race and the fastest lap of the weekend meant he won the Brian Linley Trophy.
But this was not the first time Foster had battled the odds to triumph. Throughout a successful karting career, he competed as a privateer rather than running for the big budget teams that dominate the discipline.
That didn't hold Foster back, though.
Despite not having the resources of the large outfits, he enjoyed a string of successes including taking unprecedented back-to-back O Plate titles in Junior and Senior categories in 2017 and '18.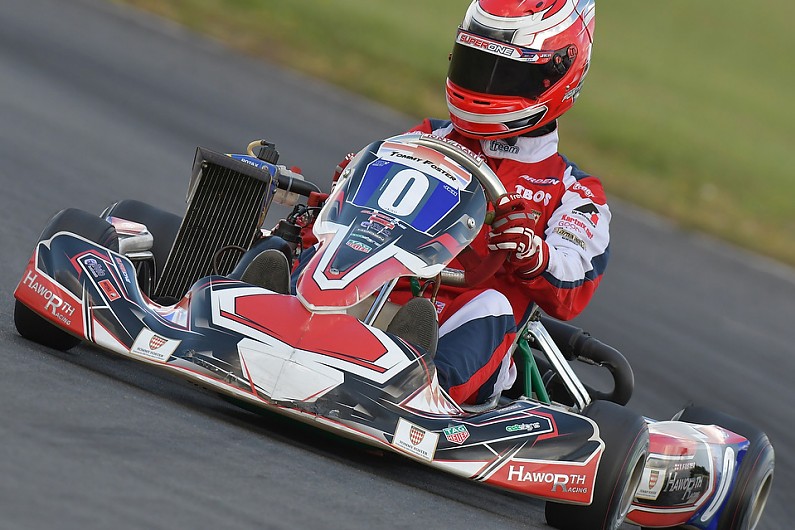 And he is keen to show other young karters that you don't have to spend huge amounts of money with top teams to be victorious.
"I think it's a lot easier to talk to dad than a mechanic I don't know," says Foster about being run by just his parents.
"Once we get there with fine-tuning the set-up, we're as competitive as the others, it just takes longer."
It clearly worked as Foster was able to qualify on pole position for the Rotax Max Challenge Grand Finals, representing Great Britain.
While he was able to show great pace during the heats and pre-finals, ultimately the event ended in disappointment as he was crashed into in the final.
But it still shows how far Foster has come since he first became interested in the sport when watching kart races while on holiday when he was still six years-old.
"It was on a holiday out in Monaco when they used to still hold kart races there, I'm not sure exactly what event it was, but they did the F1 track in 125cc gearbox karts and we were watching those," he recalls.
"I went out watched them, liked the look of them and went home and found a kart track 20 minutes away from where we live.
"We went there for an arrive-and-drive event and it led on from there."
Now Foster is leaving the world of karting behind as he looks to make a full-time graduation into single-seater racing in 2019, having also narrowly missed out on the Super 1 Senior Rotax title this year.
Through the YRDA, he has been able to test British Formula 4, BRDC British F3 (pictured below) and Formula Renault 2.0 machinery and the family is now evaluating which series to compete in.
But, based on his impressive karting CV and the way he has taken to FF1600 racing, you can expect Foster to be competitive whichever direction he heads in.