Leading single-seater squad Carlin has confirmed that it will return to British Formula 4 next season after taking a sabbatical this year.
The team was hugely successful in the series, with one of its drivers claiming the title in each of the first three seasons since the championship became an FIA F4 category, starting with 2019 McLaren Formula 1 recruit Lando Norris' victory in 2015.
But the team decided to take a sabbatical from the series for 2018 because of its expansion into IndyCar and Formula 2, although it did not sell any of its F4 equipment.
Carlin has now confirmed it will make an F4 return next year.
"We are thrilled to be heading back to the British F4 paddock for the 2019 season," said team boss Trevor Carlin.
"The championship holds many happy memories for us - we won the inaugural season with Lando Norris who three years later is on his way to Formula 1 so we know that the championship is the perfect platform for young and talented drivers looking to launch their career in the best possible way."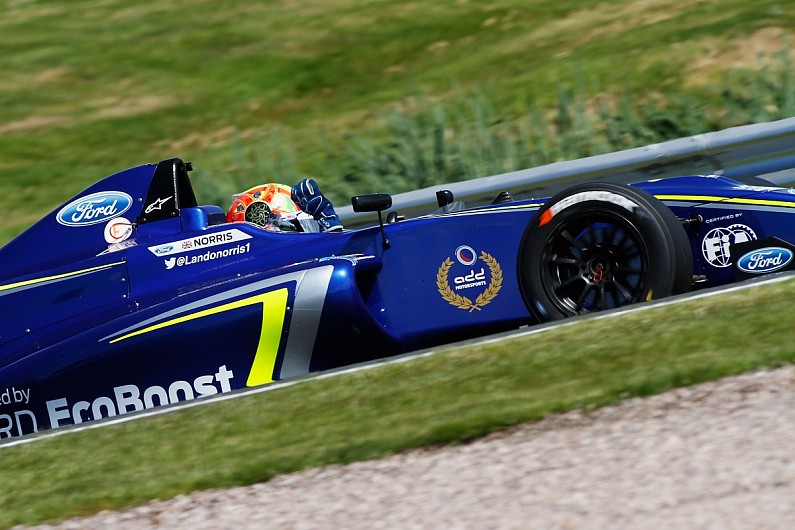 No drivers have been announced yet but Carlin said they should be confirmed "shortly".
Championship promoter Sam Roach added: "They always said it would be a sabbatical and we were hopeful they would be back with us.
"As three-time championship winners it gives everyone else a benchmark to aim for."
In Carlin's absence, just five different teams competed regularly throughout the 2018 season - the lowest since the series adopted its F4 guise.
This year's title was won by Double R driver Kiern Jewiss in the Brands Hatch season finale.