It's slow going for a Ginetta Junior rookie. The transition from karts to cars, and more aggressive driving, is difficult. Podiums are a rarity - but not so for Patrick Kibble.
The 15-year-old Total Control Racing driver had never raced a car before the 2018 season, a level of practice that contradicts his sparkling form.
Up against drivers with significantly more experience, Kibble qualified in the top 10 for the opening races at Brands Hatch and came sixth in just his second outing.
It soon got much better than that. He won at Thruxton, his sixth race in the car. In the past 10 Ginetta Junior seasons only three drivers have taken the chequered flag first in fewer starts.
Currently fourth in the overall championship standings, Kibble is enjoying a successful start to the season. He's second in the highly-populated rookie class, and is closing the gap on first, but he did not expect to be in such a good position at just past the midpoint of the season.
"I think it's been a really good start to the season," says Kibble. "I never really expected to be so high up in the main championship and already have a win.
"I was just really happy to win - it was really good for my confidence and showed I belong at the front."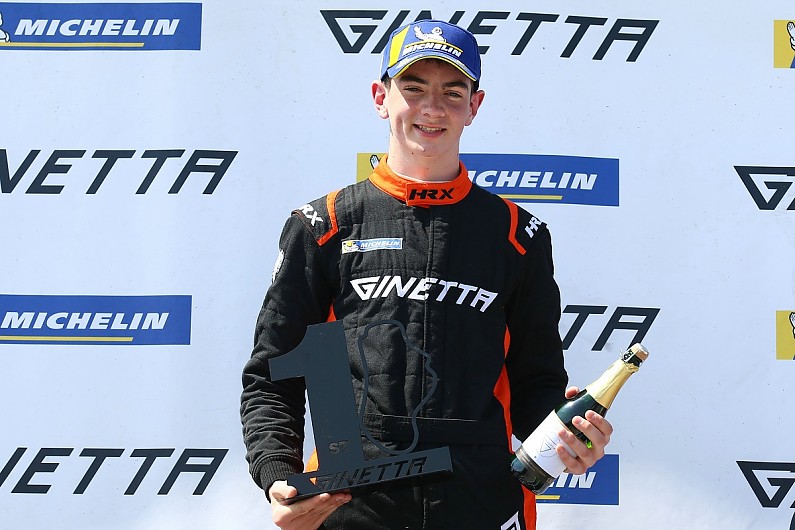 With four overall podiums - and 11 out of a possible 15 in the rookie class - there's no denying that. The achievement is made all the more impressive by Kibble's rookie status, and he is one of few drivers in the championship not to have competed last season or in the Winter Series.
Instead, he is fresh from karting. Competing in Super One Senior X30 last year, the 2015 Buckmore Park and East Anglia Cup Mini Max champion achieved success in a number of categories and has found the transition to cars easier than expected.
"I didn't find it too difficult, it was quite a quick transition," he says. "We only really decided we were going into Ginettas at the end of last year and had a limited amount of testing.
"I think the car has definitely helped me to learn racecraft because the road tyres help with car control. If you have a sideways moment you have to really control it, but with slicks it would be a lot easier. The road tyres help you learn quicker."
Heading into the second half of the season, the aim for one of the category's hottest prospects is to pick up more wins and the rookie title.
Kibble plans to spend another year in the championship, but given the success he's enjoyed so far, his options are open.
"Ginetta Junior is what we want to do," he says. "We are just going to keep doing what we are doing and trying to impress."
There's no question this prodigy has caught the eye. If he adds more wins to his tally, Kibble is one to watch for the future.
Contact details
Twitter: @pkibbleracing
Instagram: patrickkibbleracing
Facebook: facebook.com/pkibbleracing