A race weekend in the life of a karting team begins weeks beforehand. We drop in on the squad of Mick Barrett Racing at Whilton Mill...
It's a brisk late-November morning, the temperature gauge reads three degrees above freezing, while the sun shines brightly over the picturesque Northamptonshire countryside following a night of intermittent rainfall.
These are some way off the optimum conditions for any type of on-track racing, yet they are perfect as a learning tool for the youngsters competing in the final round of the 2017 Whilton Mill Kart Club Championship. The Daventry track glistens as it is prepared to host its season finale, with 172 drivers registered to take part in six separate classes from Honda Cadet to Senior Max.
From a small dad-and-lad outfit with their van in tow, to large, professional teams housed in areas big enough to host a multitude of karts, all are hoping to end the year on a high and learn more about what it takes to race in such tricky conditions. The Mick Barrett Racing team is an averagely sized squad, with its two-kart awning by no means taking up the most square feet in the paddock.
Yet the team, now run by Barrett's son Dan, has been established for over 20 years and has contributed to the early careers of recent stars Lando Norris, Charlie Robertson and Alexander Albon under the MBR banner.
Two new hopefuls are competing over the course of this weekend, both racing in the X30 Junior class: London-based Sean Butcher and Singapore racer Alexander Huang, coached by former MBR driver and now McLaren GT factory racer Ben Barnicoat.
While the drivers turn their morning focus to the weekend's opening practice session, the team's work already began 24 hours earlier, when it arrived at the track and started preparation. Barrett Jr explains that a team's race weekend begins days or even weeks beforehand.
"After the last meeting, the karts will be totally stripped down and chassis checked for any bends or cracking that could have occurred," he says. "We have a flatbed jig to ensure the karts are straight, and caster angles are correct. Engines will be cleaned and carburettors checked to ensure they're holding the correct pressure. Tyres and rims are also checked for wear and any potential cracks that could lead to punctures. Each driver owns a single kart and we carry a second for emergency. Each driver also has two scrutineered engines.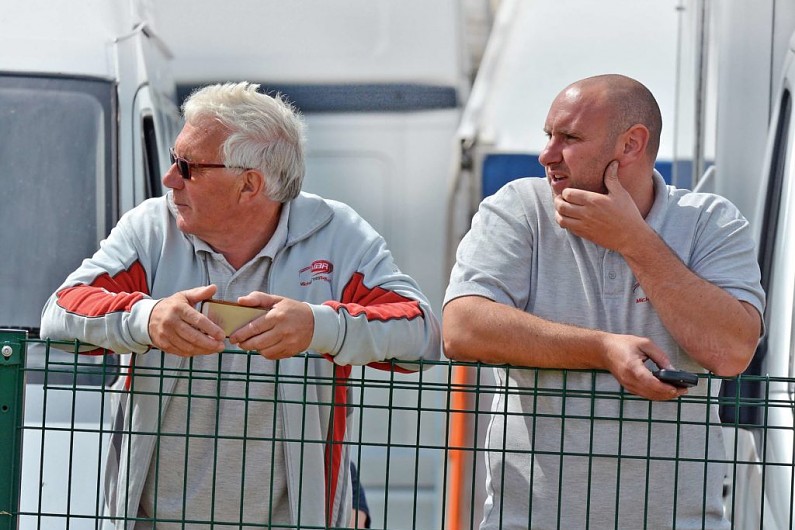 "We arrive at the track generally 24 hours before the track action begins, or even the night before that, and begin to set up the awning and equipment and finally the bare chassis before attaching all the bodywork, engines and fluids required. When the drivers arrive, I will then go out on a track walk with them to get them adjusted to their surroundings."
Barrett explains that the first practice session of the weekend is all about shaking down both the kart and the driver as they begin to focus on their racing and not their schoolwork.
"It's about getting them back into the swing of things," he says. "On their return I always then ask for their feedback before delivering my own to see how they can improve. We'll then go through their data; if we have more than one driver per class, we'll overlay the data to see who can improve compared to their team-mate and also compare it to previous weekends at the same track. We can team this with the on-board camera footage to check their lines and approaches.
"During testing, we're also allowed to run exhaust-temperature sensors so we can see where and how much the driver is applying the throttle, and look to adjust this if necessary before the racing begins."
After Saturday's full day of testing, the team strips down each kart once again, giving it a thorough service before the serious business takes place on Sunday. Following each of the day's three Junior X30 heats, each driver sits with Barrett to debrief, with Barnicoat providing further advice as they run over the data and camera footage.
Butcher explains that feedback at this point of the weekend is not just about improving his own results, but also learning that this is a crucial part of his racing journey.
"Data analysis is so important in modern car racing," he says, "so we need to have a thorough understanding and be able to provide good feedback now before we reach that stage. It's reassuring to know that modern technology provides you with all the tools to help you improve, there's no guesswork, and having people within the team who have been at your level and experienced it adds to that."
Between the heats, the kart's set-up will be tweaked according to how the driver feels and what the data shows. But after a full day's testing and honing the set-up, only minor changes are required on Sunday.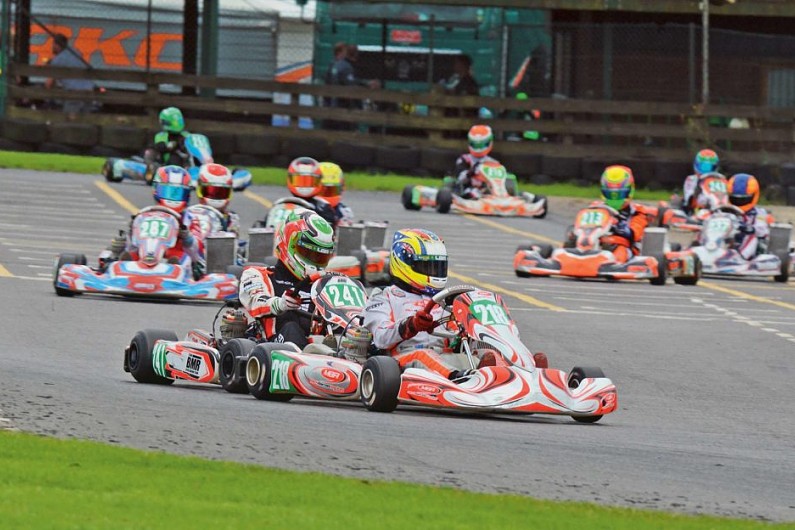 "Tyre pressures are the biggest thing on race day, setting them so that the driver is able to push early or later in the race," says Barrett. "As is ensuring the drivers look after the condition of the tyres. Some, such as Alex [Huang], have a harsher driving style and so tyre wear is more of a concern. Alex hasn't raced in the UK much so pushes that much harder because he wants to do well, overheats the tyres, and they wear quicker."
Butcher begins the weekend well, finishing second in his opening heat, while Huang is 11th after a 10-second post-race penalty for an incorrectly positioned front fairing. This occurs if the kart's front bumper makes sufficient impact with another kart. The same penalty is handed to Butcher and others in heat two, before the duo's opening-heat positions are repeated in the day's third and final heat.
"The front fairing has stopped lots of scary first-lap accidents where drivers bunch up too much," says Butcher, "but if you're in the middle of a train of karts and get hit from behind, you're bound to hit the kart in front and be penalised for it. But it teaches you to drive fairly."
Huang suffers another fairing penalty in the final, dropping him out of contention for the top 10. Butcher remains just clear of a tight skirmish behind to narrowly miss out on second place, so settles for the final spot on the podium. The team's job is only partly done, however.
As the drivers and families depart the circuit, they leave the team in the middle of stripping the kart to its chassis once again, before equipment and awning are deconstructed and, under chilly moonlight, loaded into the truck to be rechecked at base.
When praising the efforts of those teams at the pinnacle of the sport, spare a thought for the passionate individuals at its purest form, without whom our next superstars could not emerge, develop, and demonstrate their finest abilities.
All pics by kartpix.net.
Autosport karting, brought to you by Advance Construction Scotland.