Rewind the clock 18 months, and Mark Murfitt had never sat in a race car, or even been on a track. Yet he celebrated his first British GT podium finish at Snetterton back in May.
It's been a whirlwind journey for Murfitt - head of the Murfitts Industries tyre recycling firm - and it all started with a chance trip to Silverstone.
"My fascination with the sport only began when one of my customers started talking to me about his racing exploits, and it caught my interest," says Murfitt. "Obviously, as a business in the automotive sector, being involved in the sport made commercial sense, so I decided to go to Silverstone for some tuition to see if I could actually do it."
His coach for that day was Michael Broadhurst, a professional race instructor with his own background in sportscar and GT racing. The day marked the start of a much larger journey for the pair.
Murfitt bought a Porsche Cayman Clubsport GT4 and made his racing debut in the GT Cup Championship in 2017 with the Fox Motorsport team. With Broadhurst alongside, the pair scored three top-six finishes in the GT4 division from the first three rounds and also enjoyed class wins in the Britcar Endurance category. However, mid-season the Cayman was sold in favour of a Ginetta G55.
"When we first got the Porsche it was very relatable to a road car," says Murfitt. "The move to the Ginetta was a real baptism. It didn't have the ABS or traction control the Cayman had, so there was a certain pain barrier I had to get through at first, but racing a car like that really taught me how to drive."
Two further top-six places came before the end of the season, proving the drivers' ability to adapt.
"I was impressed with Mark from the first time we were in a car together," says Broadhurst. "He has the ability to take in information, process it and put it into action very quickly. There's very little lag in his thought process. He's ideal to coach.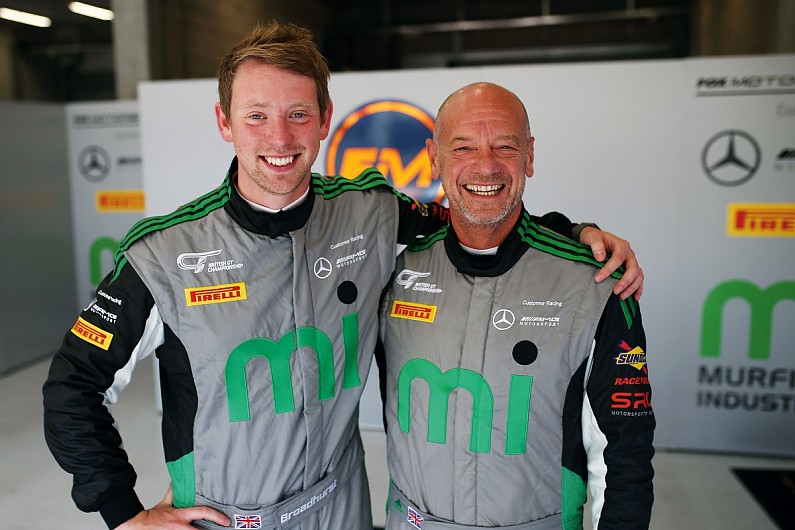 "His progress has been massive since that first day in a Renault Megane at Silverstone. We've put in a lot of hard work over the last 18 months to build trust between us as a driver pairing, with the team, and also now with our third new car."
For this year a new Mercedes-AMG GT4 arrived, and British GT plans were laid on the table. It's a big jump, with Murfitt being one of the least experienced drivers on the capacity grid, but still holding his own. Murfitt and Broadhurst took just five races to hit form, finishing third in the GT4 Pro-Am category at Snetterton.
Murfitt also showed his speed by qualifying as the top amateur driver for the Silverstone 500 showpiece, while Broadhurst topped the class overall at record pace, proving that both drivers and the Fox team are rapidly getting their heads around the new Mercedes-AMG.
"GT Cup was a great learning platform, but British GT is a different league," adds Murfitt. "It's more daunting, hugely professional and it is the place to race GT cars in Britain. It's a big challenge for myself, and the team, but we like a challenge."
Broadhurst adds: "The British GT paddock demands respect. There's some top teams and serious drivers, so you can't kid yourself that you'll walk straight in and win. It's been a learning curve for us all, having the new car - one of the first in the UK - and British GT isn't a place you can hide in. We're mixing with the works teams here, but so far we've done a more than respectable job."
Behind the scenes with the Fox Motorsport team
Racing in British GT presents a unique challenge within UK motorsport as no other series offers such a differing competition format, making it a real test for both teams and drivers competing at the top domestic level.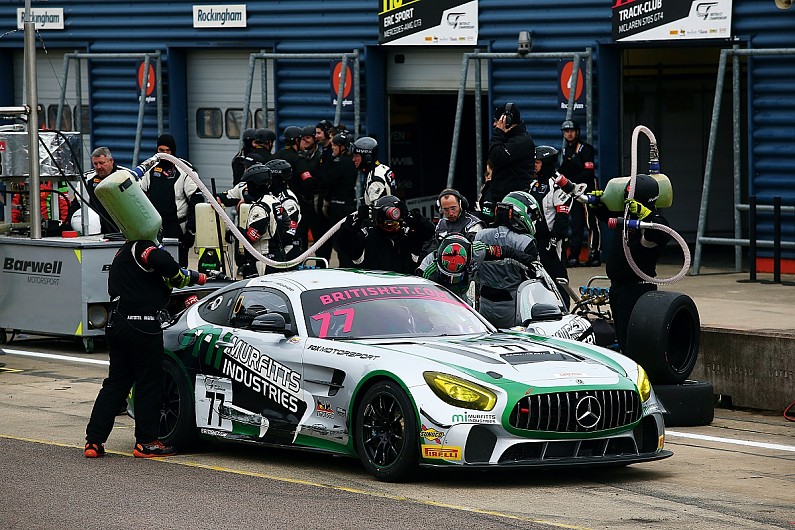 British GT offers three different race formats - from shorter, sprint-style one-hour races, to two-hour endurance and then the annual three-hour 500km race at Silverstone. Each format offers its own particularities with managing fuel, tyres and differing levels of race strategy.
Fox Motorsport is no stranger to the British championship, having run a mixture of Ginetta and Ferrari machinery before fielding the Mercedes-AMG this season. Broadhurst too knows his way around, having won the first-ever British GT4 race back in 2008. For amateur driver Murfitt though, this season is an all-new challenge.
"It's been a real learning experience, because the weekend format changes a lot," says Murfitt. "I not only have to learn the new car, and some new tracks, but also how the weekends work, because they really are organised on a different level."
A race weekend starts with two one-hour free practice sessions, which the team typically uses to hone the car to its drivers' liking. Being a Pro-Am driver pairing, Murfitt and Broadhurst have different roles. Murfitt's job is to learn and get himself as dialled in as he can before qualifying, while Broadhurst's role is more complex.
"Being the Pro, I'm both a race driver and a race coach to Mark," he says. "My day job is coaching, so it's familiar to me, but it's also very demanding having to do both sides of the sport across a single weekend.
"I work a lot with Mark on not just his driving, but also his knowledge. We get very involved with the set-up of the car, always debriefing with mechanics and making notes about how the car feels throughout each session. That way when we make a change, everybody knows about it and Mark can then feel and understand the effects of that change. It's about building up his racing armoury and giving him knowledge he can then take on to wherever the sport takes him."
Being a true Pro-Am pairing, the Fox crew race regularly against more experienced semi-pro pairings in GT4. Many Pro-Am teams opt to give the Am the majority of the driving time, as that's where the largest time increments can be found, but Murfitt and Broadhurst operate differently.
"We tend to share the driving 50/50 at the moment," says Broadhurst, "purely because we're also having to learn a new car in the Mercedes-AMG. We get through a lot of set-up work and my experience comes into play in judging the feeling the changes are having."
During practice, Fox usually makes changes to the set-up in search of the best balance for the car, depending on the type of race it's set for.
"We tend to avoid going into a weekend and making a radical change to the car," explains Broadhurst. "Things like red flags can severely limit your mileage in practice, making it harder to gauge the effects of big changes, so we make a series of smaller adjustments that hopefully add up to a good step forward.
"Sharing a car is always a compromise. We have many settings that can make the car go faster over a single lap, but they may make it too tricky to drive at pace for longer periods. We may see a gain in single lap time, but we might lose too much in consistency over a longer race stint. It's about making the car comfortable and consistent."
British GT qualifying is perhaps the most demanding of any series in the world. Each driver only gets a 10-minute window to set their best time, which basically equates to an out-lap to warm the tyres and car, and then a maximum of three laps to get a representative time in.
"Qualifying is a culture shock at first, and it's all about confidence," says Murfitt. "It's really challenging and the hardest skill to master in my opinion. You have to be very comfortable with the car and trust everything because you basically have to commit on lap two to stand a chance. Mentally it's a huge challenge."
With qualifying done and grid positions set, another anomaly thrown into a weekend is the public pit walk, where all drivers are made accessible to the fans for photos, autographs and meet-and-greets.
For a driver in just their second season of racing, it can be a daunting prospect being thrust into the public eye, but Murfitt says he finds it a source of motivation instead of pressure.
"I remember the first pit walk at Oulton Park [over Easter] - it was wet, freezing and miserable, yet so many people turned up that it shocked me a bit," he says. "It's an odd feeling, but it really makes the championship special. Motorsport can be a very selfish sport, but allowing the fans that sort of access I find really refreshing and it always gives me a lift, should I need one."
Murfitt and Broadhurst typically debrief over the data after each session, but perhaps the most important meeting each weekend will come pre-race, when things get serious.
"Even though the race lengths vary, the first lap is always so crucial as it's where the Amateur drivers lose the most time to the experienced guys, so we do a lot of preparation," says Broadhurst, who mostly drives second due to British GT's amateur-first focus. "Where you place the car on the first lap is so crucial, because you can create gaps that can be difficult to close back up during a race, especially in the shorter races.
"We'll watch a lot of video and talk through contingency plans. Such as where the safest places are off-line to put the car if we need to, or where the most likely overtaking spots are. We always head into the race with a clear plan, and often more than a few plan B options too."
Once the lights go out, the Fox team actively juggles strategy, communication to its drivers from the pitwall and keeps close eyes on the data, hoping to get the car to the chequered flag in the best possible position.