The reality of being a celebrity racing driver in national motorsport is both a blessing and a curse.
While it helps with opening doors and generating interest from sponsors, that external profile also means they are subjected to far more attention than their competitors, regardless of their level of experience.
Take Great British Bake Off judge Paul Hollywood, who was a total novice when he appeared in select rounds of the British GT championship in 2016. Alongside future W Series champion Jamie Chadwick, Hollywood managed a best result of sixth in GT4 at Snetterton, but his time in the championship is best remembered for unwittingly involving himself in the title decider at Donington Park when points leader Jon Minshaw came upon him at the Craner Curves and spun into the gravel in avoidance.
Olympic cycling legend Chris Hoy fared somewhat better. Sharing with GT Academy winner Wolfgang Reip, Hoy finished on the podium on BGT's Spa away-day in 2014 in a Nissan GT-R GT3, and after a foray in Europe - wining the inaugural European Le Mans Series LMP3 title with Charlie Robertson in 2015 against limited opposition - he won the GT4 pro-am class on his return earlier this year in a Multimatic Motorsports Mustang at Donington.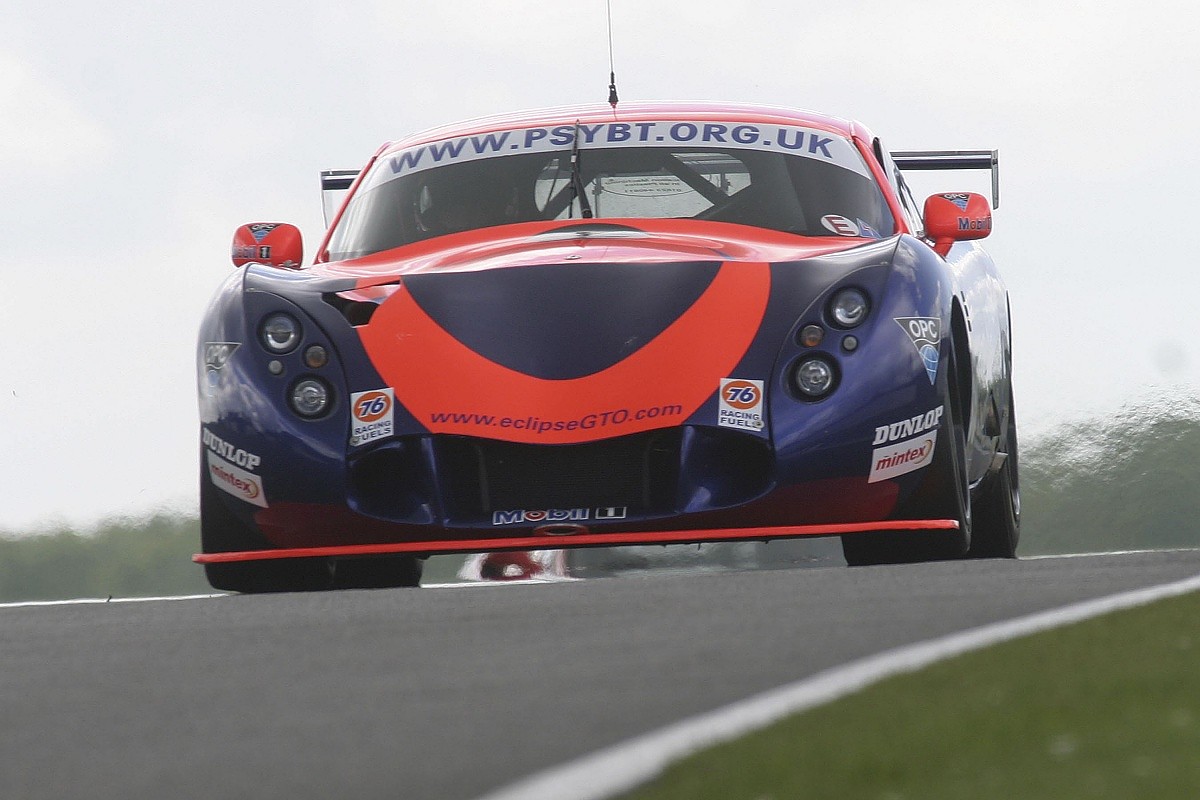 Former Boyzone singer Shane Lynch even took the 2003 British GT title down to the wire at Brands Hatch, but he and Piers Johnson lost out in heartbreaking fashion when Lynch's TVR Tuscan (pictured above) was clobbered by a spinning Marcos Mantis exiting the fast Sheene curve.
"I want to be treated like everybody else. When I'm here I'm obsessed with it" Kelvin Fletcher
Best known for a 20-year spell playing Andy Sugden on ITV soap Emmerdale and for his appearances on Strictly Come Dancing, Kelvin Fletcher has experienced for himself in recent years the disproportionate public interest in 'celebrity' drivers.
A popular draw for fans in the British GT paddock and at prescribed autograph sessions, Fletcher is stopped far more regularly than most drivers, which means his weekend schedule "feels more chaotic" and "does inadvertently bring pressure" but on the flipside, he recognises that it is his "ace card".
"It's not something I go out there and search for," Fletcher says. "I can get that outside of these circuit walls, that just happens to come my way and I deal with that, but I'm here to race cars and drive and hopefully win.
"I want to be treated like everybody else. When I'm here I'm obsessed with it."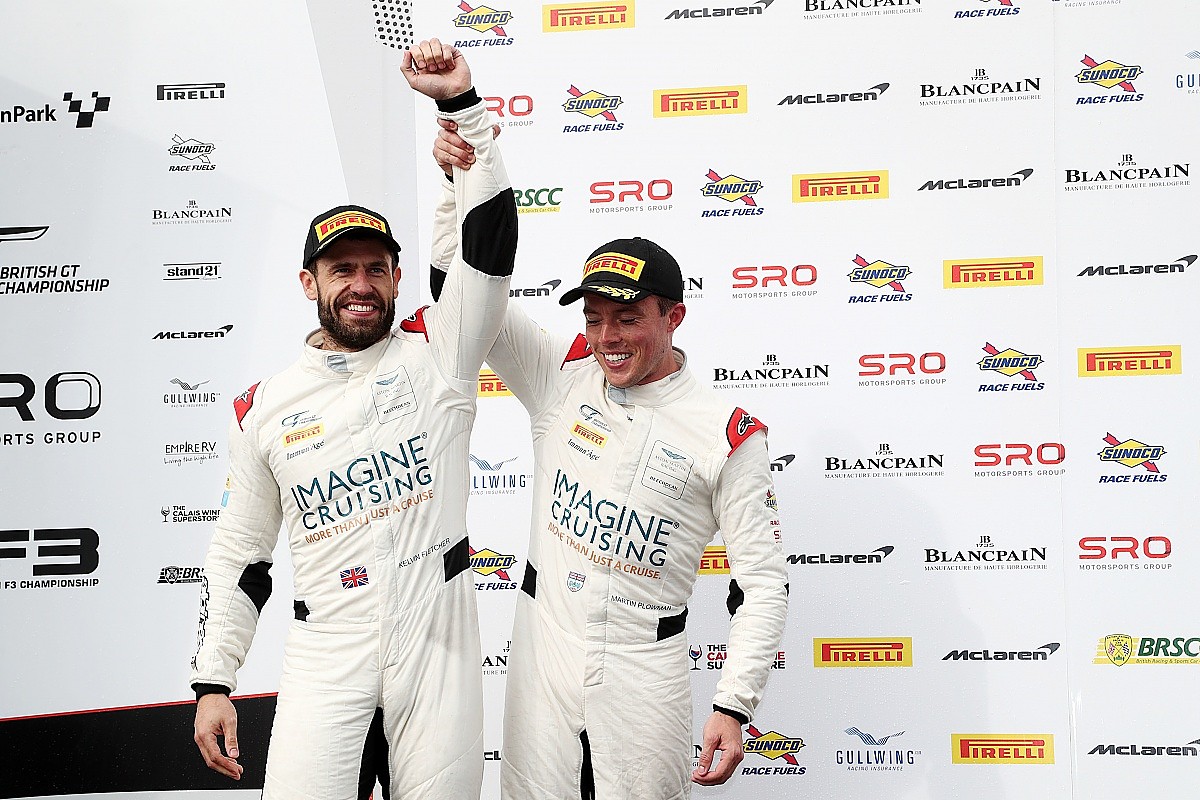 After taking the GT4 pro-am title down to the wire last year in an elderly Nissan 370Z, a switch to the new Aston Martin Vantage GT4 yielded Fletcher's biggest success in his short racing career.
He and co-driver Martin Plowman won the pro-am title and finished fifth in the outright GT4 standings - dominated numerically by all-silver crews - as the only pairing to score points in every race.
They took three pro-am wins and six podiums in all, and would certainly have wrapped up the title sooner had it not been for pitstop maladies at Donington and Spa when well-placed.
It was at Spa that Fletcher produced his best showing of the year, qualifying third in his session ahead of highly-rated McLaren junior James Dorlin, eventual GT4 champion Ash Hand in another Aston Martin and veteran Scott Maxwell's Mustang in greasy, unpredictable conditions.
Only Jacob Mathiassen's slick-shod BMW - which was 3.3s quicker than anyone right at the death - and fellow Aston runner Patrick Kibble were faster than Fletcher. He was the quickest am by 1.7s.
"That was a huge confidence-booster," says Fletcher. "I want to be absolutely rapid, but you've got to have that sense of realism that this takes time and you're still relatively inexperienced.
"The whole year has been a mixture of mini-success stories that have spurred me on."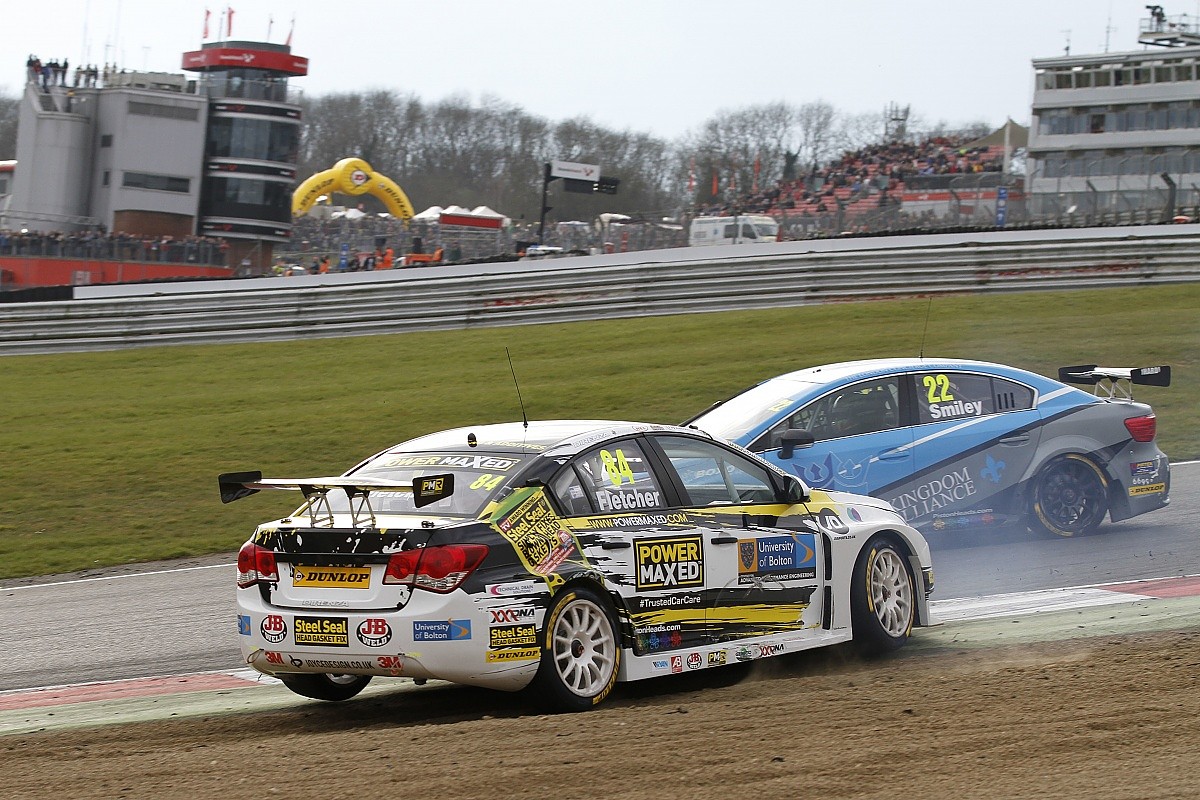 But Fletcher hasn't always found the going straightforward - rewind back to 2016, and he often found himself often in the firing line in the British Touring Car Championship, scoring no points in Power Maxed Racing's ex-RML Chevrolet Cruze.
It was a brave leap having only passed his ARDS test in 2012 ahead of a racing debut that year in the BRSCC Mighty Mini series, then sampled a season and a half in one-make Porsche racing before sitting out 2015.
"It wasn't like an amateur who was doing the wrong things, he was doing things that pro drivers do" Martin Plowman on Fletcher
Without an established team leader to learn from - PMR stablemate Hunter Abbott had never managed better than 10th in his 56 previous BTCC starts - it's perhaps unsurprising that results were few and far between.
Although Fletcher says he has "no regrets" about going into the BTCC, he spent much of the year "fighting a losing battle" defending his performances from public criticism.
"The only thing I would change is that my need of gaining reassurance and credibility from the fans used to really get on me," he says.
"I wanted to change everyone's opinion who had a negative opinion of me, I felt like I had to argue my point and say, 'well I'm only an amateur, who else is doing touring cars at such an inexperienced stage?'
"Having not raced for the best part of 18 months then to jump into touring cars was tough, but looking back I think I did really well.
"If being a second and a half off the pace in qualifying, maybe within a second in race pace is a failure then I'll take that every day of the week."
Plowman was first introduced to Fletcher as a driver coach at Silverstone that year and recalls being "blown away" by what he saw in the data.
"The mistakes Kelvin was making were so small and easy to correct, it was actually just about reigning in a bit of speed, braking a bit earlier and getting on the power a bit earlier," he says.
"It wasn't like an amateur who was doing the wrong things, he was doing things that pro drivers do. It was the details that were missing and having somebody in his corner to see that and get him focused on them.
"He's had a lot of unfair criticism from certain so-called fans because of the profile that he's got.
"They would see him in 15th or 20th in touring cars and say, 'he's not very good is he, that Kelvin Fletcher?' but they wouldn't say that about someone who is just starting racing and learning his craft.
"Kelvin really was an amateur and what he did jumping into the deep end in touring cars... I would struggle in my first year in touring cars even with 20 years of experience.
"Look at Mark Blundell this year, these things take time, so you can't expect someone with two years' experience to go there and be in the top 10 every weekend."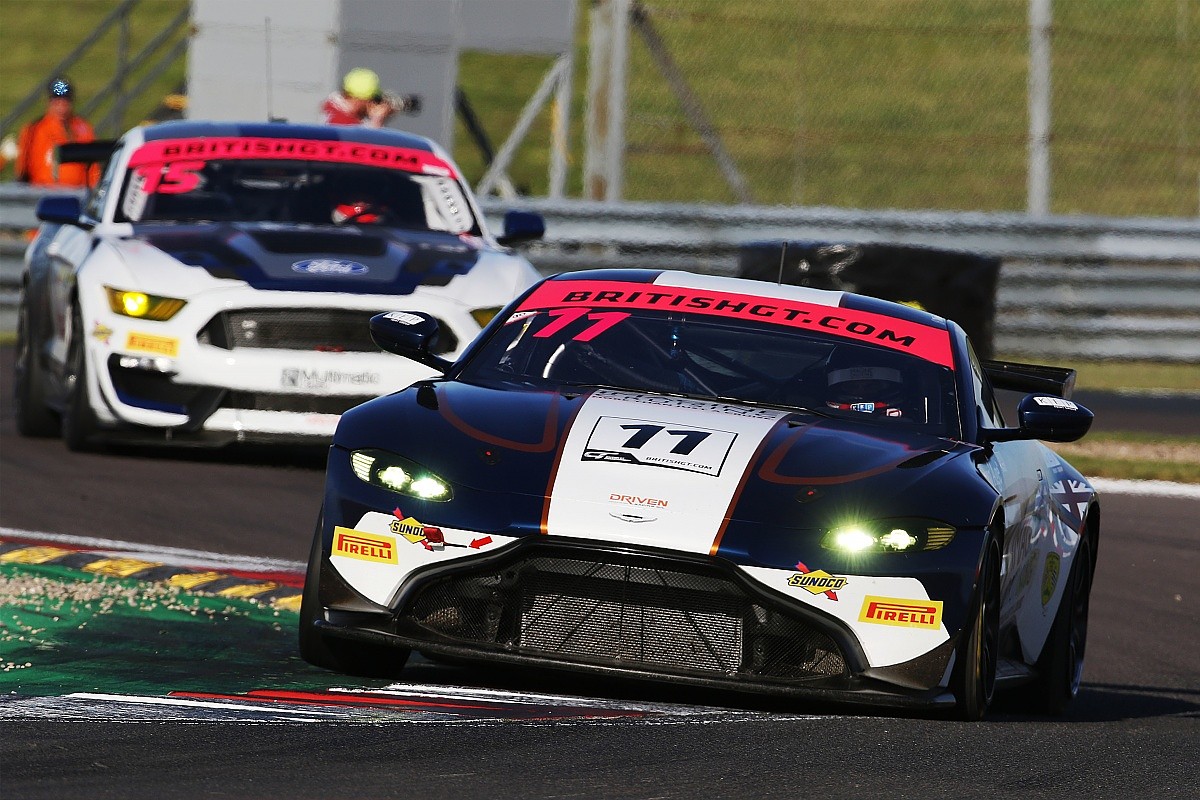 Since making the switch to GT racing and working more closely with Plowman in 2017, Fletcher has gone from strength to strength and now has his eye on stepping up to GT3, where pro-am line-ups are in the majority.
"I think that sense of continuity is starting to pay dividends," he says.
"You've got the advantage of working tightly with a pro, Martin wants me to be at the absolute best of my ability so it's a completely different dynamic to what it would be sharing a garage in touring cars or a sprint race because they're the first person you want to beat.
"I love the championship. The racing etiquette is as it should be, it's not stock cars, we're not bumping into one another, and I do think it suits my driving style."
His progress on-track has also been combined with a change in attitude. With the affirmation of being a champion, he's no longer worried about what the public think of his racing.
"That's not my concern anymore, so long as my team-mate and my team take me seriously, that's all that matters," he says.
"I'll let my driving do the talking."