Average speeds are in excess of 130mph, it costs around £1000 per round and your racing machine costs £12-£15000. It's not UK's motorsport's cheapest championship, but it is the fastest.
A focus on keeping costs down and driving standards up has helped the championship endure since its inauguration in 1997. It's the only club circuit racing series to race on an oval in the UK and Ireland, and plans to introduce night oval racing next season. And it succeeds where even NASCAR fails, in that it races on the ovals in the wet.
The oval racing is only a small part of this series though, as it heads to British stalwarts Brands Hatch, Pembrey, Donington Park and Snetterton for circuit racing too.
It's that's even inspired a British Touring Car champion, Andrew Jordan, to consider multiple outings for 2018 after he made his series debut at Brands Hatch earlier this month.
"I'd like to do some of them next year and the plans they have with the oval rounds next year sound pretty cool," says Jordan. "My dad [Mike] might look at doing a few, so we might team up and do some together. I'd like to do some at Rockingham."
Have you worked it out yet? It's the Pickup Truck Championship.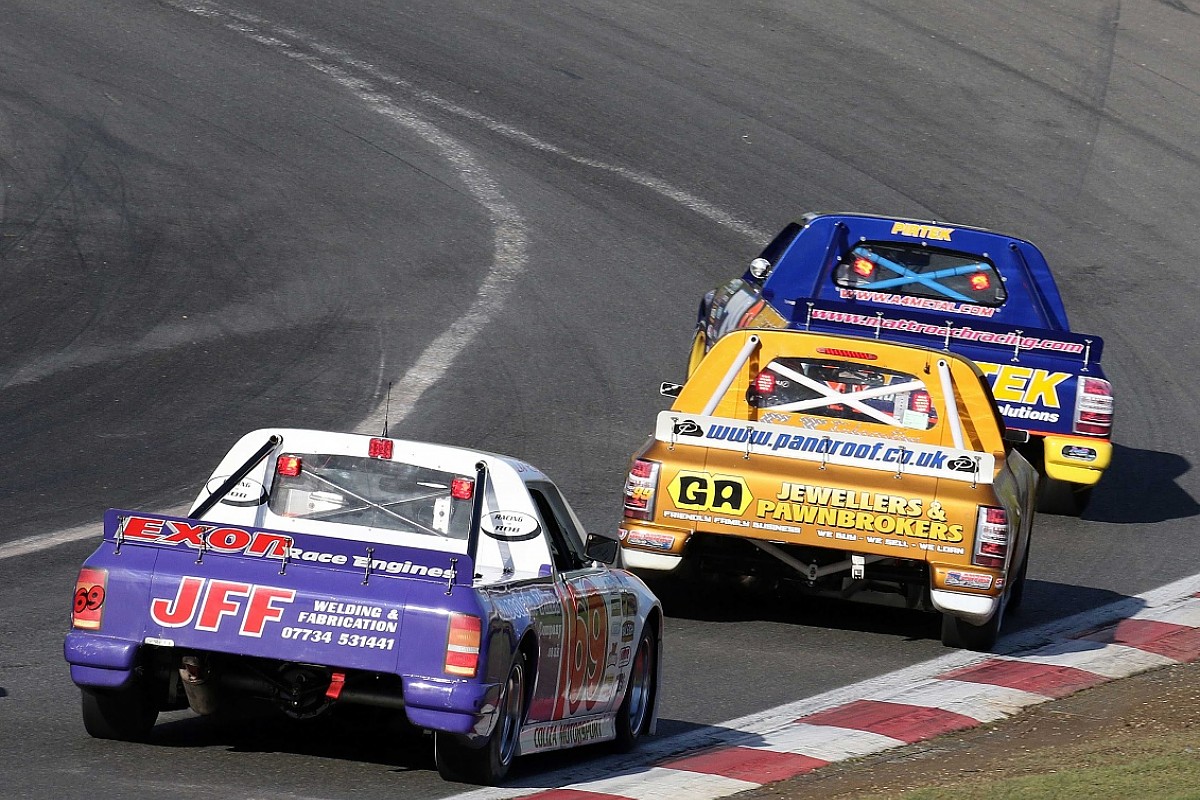 While you might laugh, it certainly has the drivers hooked. The oval racing is a unique aspect of the championship, and while it wasn't the key reason Jordan's ex-BTCC rival Lea Wood entered the championship in 2015, it's certainly a factor that's kept him there every year since.
"To be honest, it's the most exciting thing I've ever done," says Wood. "It's so exhilarating. The big thing for me coming from circuit racing, at Rockingham the race doesn't start until the last two laps and it's all about trying to get yourself into position for those last couple of laps.
"That's the big factor, understanding when to do that, where to position yourself. If you make the move to overtake and you don't make it work, the train will drive past you because they [the individual cars] aren't the most aerodynamic of things."
It's a tactic that's accepted by all the drivers. Work yourself into position and try not to be leading heading into the last lap, which helps to create some exciting finishes.
In NASCAR it's a given that if the heavens open, the racing is off. But in this championship the event goes ahead, even if the venue is Rockingham's oval. That provides another dimension entirely.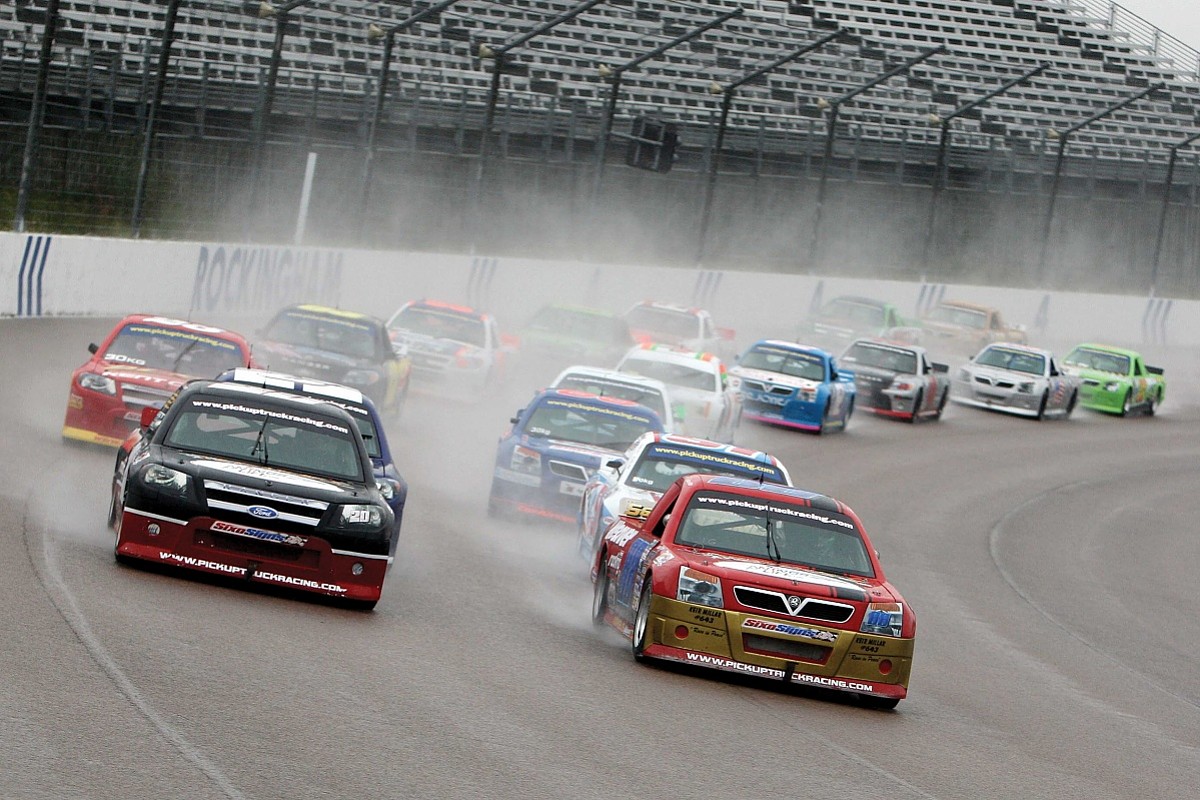 "The oval in the wet is definitely a lot more demanding on the car and driver," explains 2017 champion Scott Bourne. "You have a lot more to think about and you can't really put a foot wrong.
"You have to run a different line, which throws you a little bit. You're right up against the wall and you're doing the same sort of speeds as in the dry when you're lower on the racetrack. That's hard!
"The only way to overtake is to come down off the line. Sometimes you can lose a lot [by coming down the racetrack] and sometimes you can gain a lot. It's interesting."
"They handle and drive so much better than I expected. You look at them and they appear quite agricultural, but they're actually really nice to drive" BTCC champion Andrew Jordan
Mark Willis, generally accepted as the quickest driver on the ovals and the man who scored the most points from those rounds this year, races for one of the only remaining single-car teams in the championship, even as it has become popular enough to support multiple-car squads.
Willis says it's possible to change the car from circuit to oval specification quickly: "It takes three nights to change everything over from circuit set-up to oval set-up. It's the spring rates, caster, camber adjustments, diff settings, preload and cross weight.
"Once you find something you like, you've got to record it and measure it to make sure you can get back to the set-up. It's hard to find it and easy to lose it."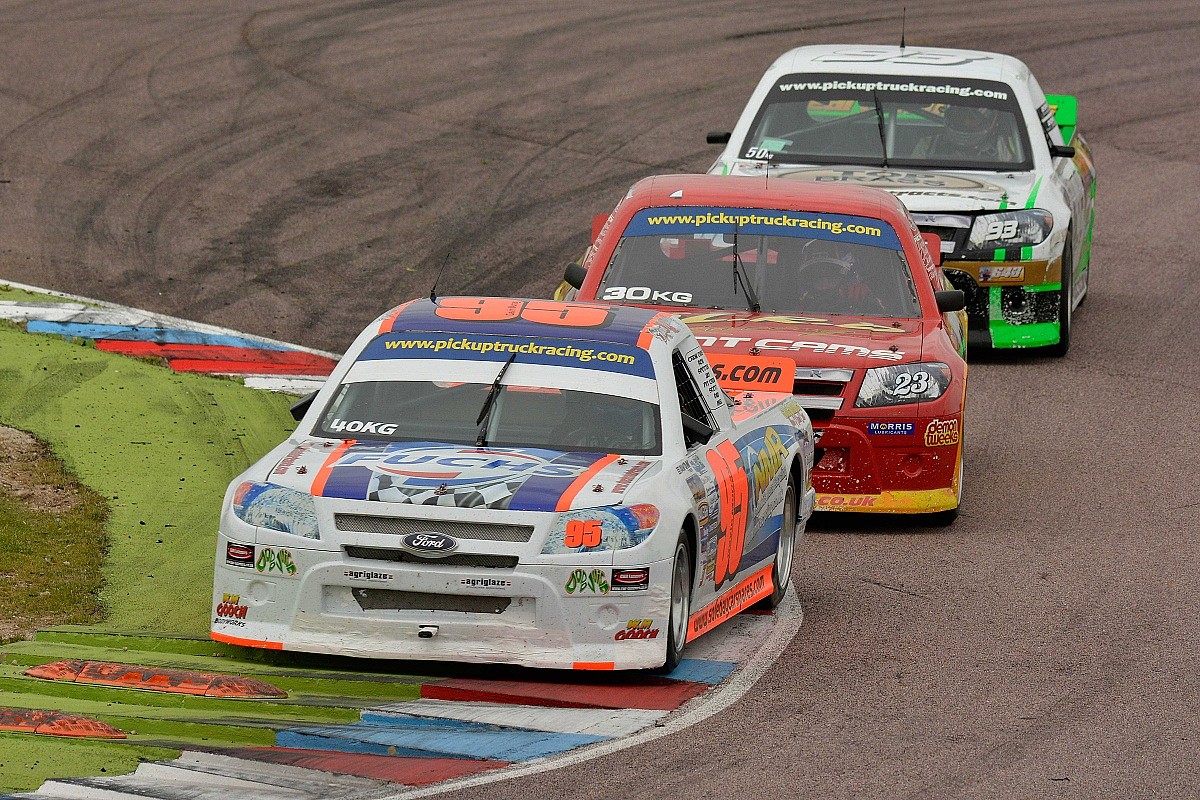 And there's more of a challenge on the way next year on the ovals, as the drivers are set to be racing under the lights, just like their American counterparts in NASCAR. There's also a plan to run a non-championship 'dash for cash' race with a mandatory pitstop (the series' normal races don't have pitstops). It's got the drivers excited, but the championship isn't just about the ovals. This year half the calendar was made up by circuit race meetings.
Despite the car being a pickup, Jordan insists there's more under the shell of these billboard-advertisement-looking machines.
"I'd never driven one before," says Jordan, who took a second and a first in his Brands Hatch November debut, and whose British GT champion father Mike raced in the Pickup series in its early days. "They handle and drive so much better than I expected. You look at them and they appear quite agricultural, but they're actually really nice to drive."
Wood and Jordan share experience of the robust racing in the BTCC. Both credit the pickups for being hard but fair, which is a difficult blend to strike in club racing. Too rough and the damage can really hurt those racing on a relative shoestring; no close racing and contact at all and it can all feel a bit tame.
"The truck has a few rubs on it... but no more than I'd expect," says Jordan. "We had some hard racing but it was fair and sensible."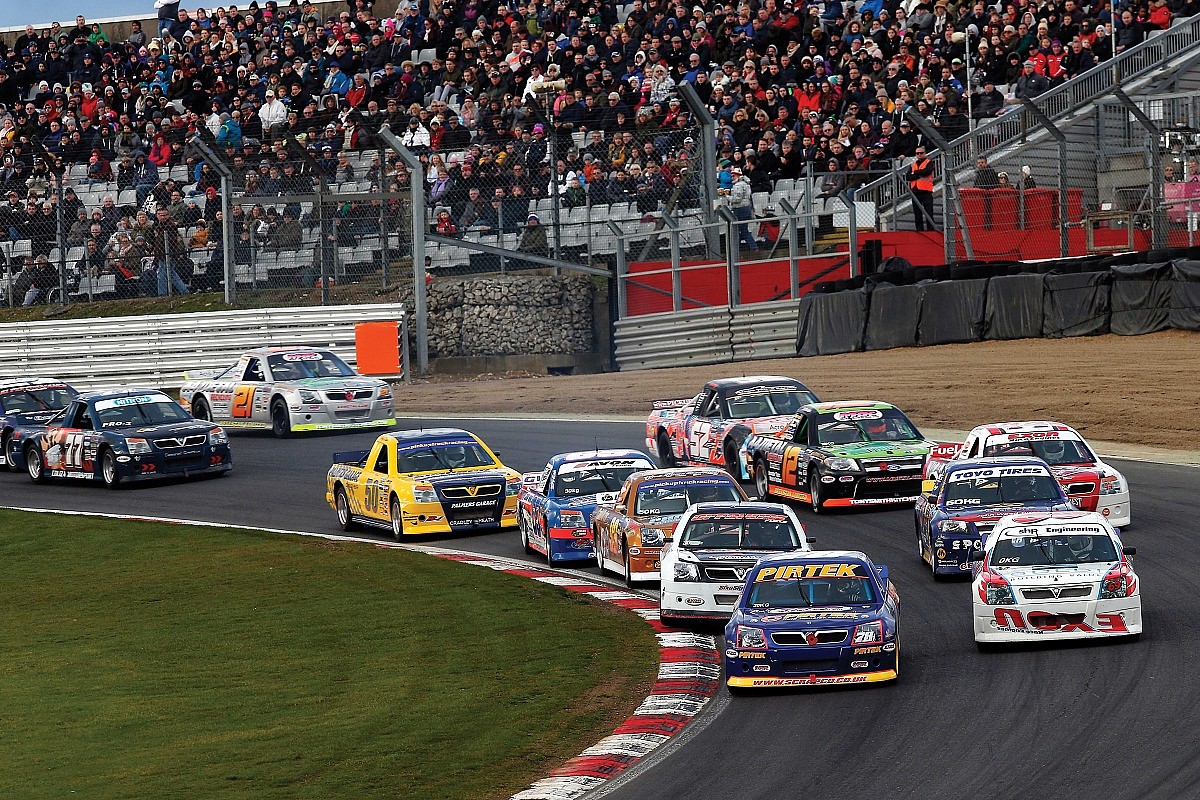 "It's a good standard, there are some good drivers involved with a mix of experience," adds Wood. "It's hard - everybody is hard when you're out there and there's a bit of door banging - but I'm used to that from touring cars."
It's clear the organisers of the championship are highly rated. Sonny Howard is the man behind the series and has a team described as "professional" by Willis.
"We'd done the V6 Eurocars and then the V8s came along, but they were a bit of a struggle," says Howard when asked to explain his inspiration for the series. "They were implemented by the British Racing and Sports Car Club and it was really ahead of its time.
"I wanted to do the Pickups first. I thought that would help the structure of the championships. They insisted on having the V8s. There was interest from the short oval people in going into something else and I ended up using the same specification engine as the National Hot Rods. When it started they could bring things over because the engine was the same."
What he created is a championship that offers variety, and does everything it can to keep costs down. The 2.3-litre Division 1 models can be picked up for around £12,000 and can be run for £1000 per round.
The Division 1 trucks get 30kg of ballast for race wins and, unlike other championships, you can only shed ballast if you finish outside the top three. If you 'tank' to lose ballast, your championship bid is significantly struck. Only allowing one new tyre per meeting also helps keep things equal.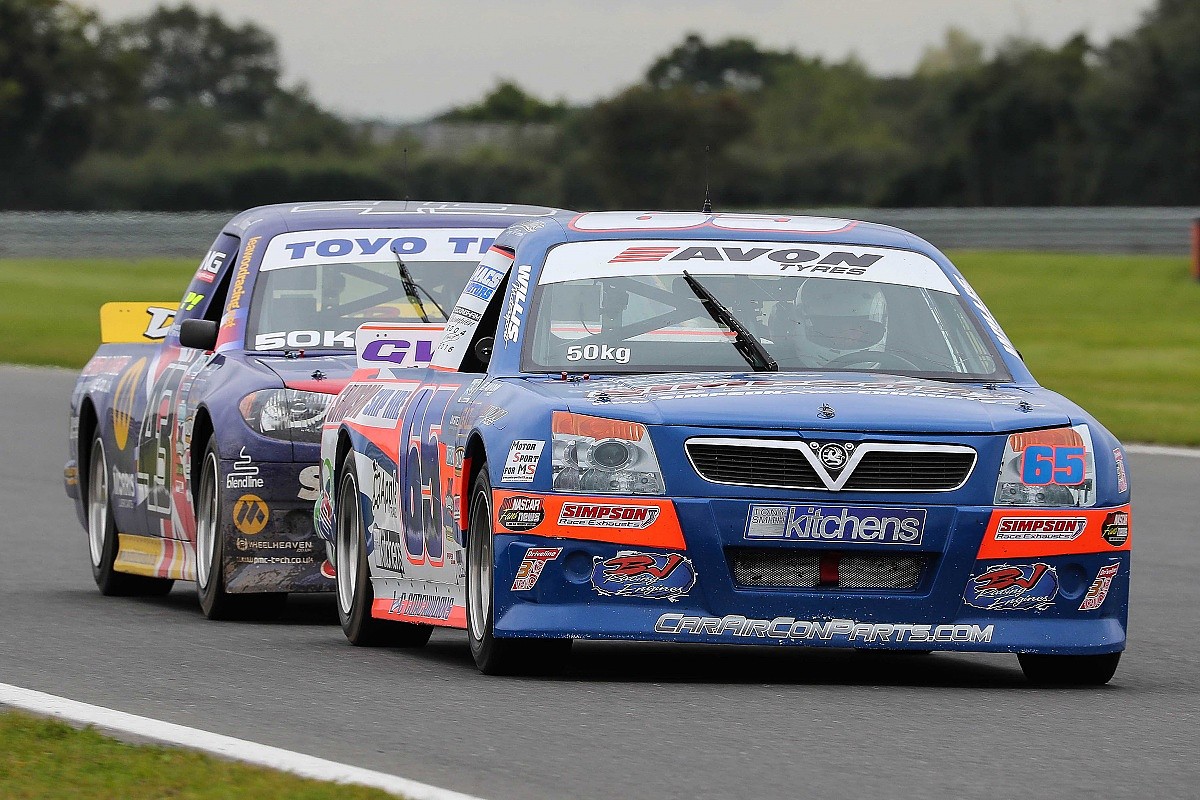 The two-litre Division 2 trucks don't accumulate ballast. They have a chance to cause an upset in the second half of the season - indeed, Bourne scored an overall win in a Division 2 machine at Brands in 2016.
Howard's engineering company built the trucks and carries the necessary spares inventory at every round.
"Sonny stocks everything, every nut and bolt from front to back," says Willis. "He has everything down to spare chassis. He has a van full of spares so there's no problem there. On the rare occasion he hasn't got something, one of the other teams will lend it to you."
Willis is one of the longest serving drivers in the championship, and feels that Howard and his team are key to its success.
"The way it's run by Sonny and Barbara and the dedication they put in; we have our own scrutineers, it's such a professionally run series," he says.
"I think it's the biggest-kept secret in motorsport. I can't understand why more people don't get on the bandwagon."