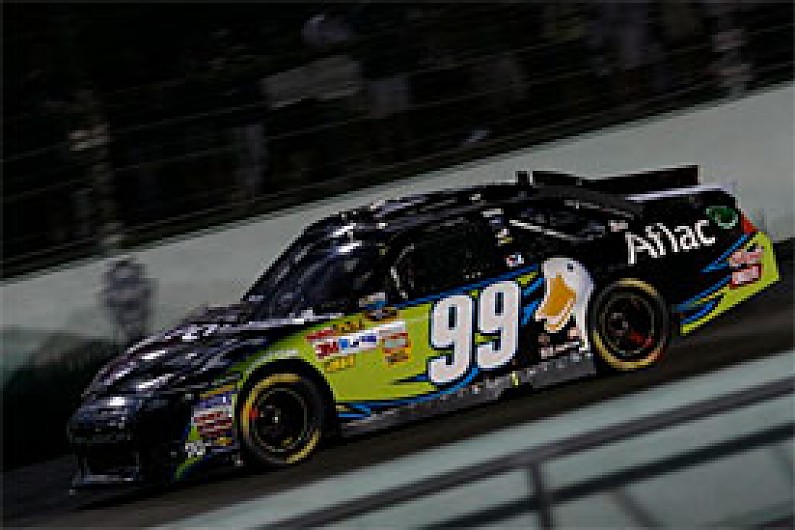 Tony Stewart has praised Carl Edwards for his sportsmanship following their great battle for the Sprint Cup series title, which he believes Edwards will also win in the future.
Following weeks of hard confrontation both on the track and through the media, Stewart recognised Edwards's fairness in their championship battle, which showed an even score after 36 races, the title going to Stewart by virtue of his superior win tally.
Stewart revealed that Edwards was graceful in defeat when speaking to him privately after the race and appreciated his sincerity when congratulating him, while trying to deal with the bitterness of defeat at the same time.
"When we were coming around with the flag sticking out of the car, he walked up and he said you're going to have fun with this for the rest of your life," said Stewart. "You couldn't ask for a better guy. And he goes, 'I hope a year from now, we are in the same battle again just like this.'
"And that - everybody respects Carl for the person that he is, and you know, there's been a lot of things that have happened that make you go, is there sincerity involved in what he says. But there's no cameras there when he said that. He just came and talked to me driver to driver, and that means a lot and it shows who he is as a person I think."
Stewart admitted he had to use every 'weapon' he had in his 'arsenal' to try to beat Edwards and put him under pressure whenever possible. He says it would have been no shame to be beaten to the title by the Roush racer, who he is convinced will eventually become a Sprint Cup Series champion in the future.
"I know there's times he hasn't done everything perfect and he's taken it upon himself to settle scores, but I think deep down, at moments like that and at Texas when he came out there and we had that conversation, it shows who he really is as a person, and he'll win a championship.
"He'll be up here in our position again, maybe be the guy on the losing end but when he gets it, hope he has to beat us to do it again. I appreciated that championship battle. It was a David versus Goliath battle to the end.
"To have the week that we had, and the sparring that we had at Media Day, and to finish the season running first and second, I just - I don't know how it gets better than that. No matter what the outcome was, there would have been no shame in finishing second to him [Sunday] in the championship. But to have that battle come down to me, that's epic."
Edwards led the championship during 21 weeks to Stewart's three and had an impressive 4.9 finishing average in the Chase, then losing his maiden title on the first championship tie-breaker in the history of the Sprint Cup series.