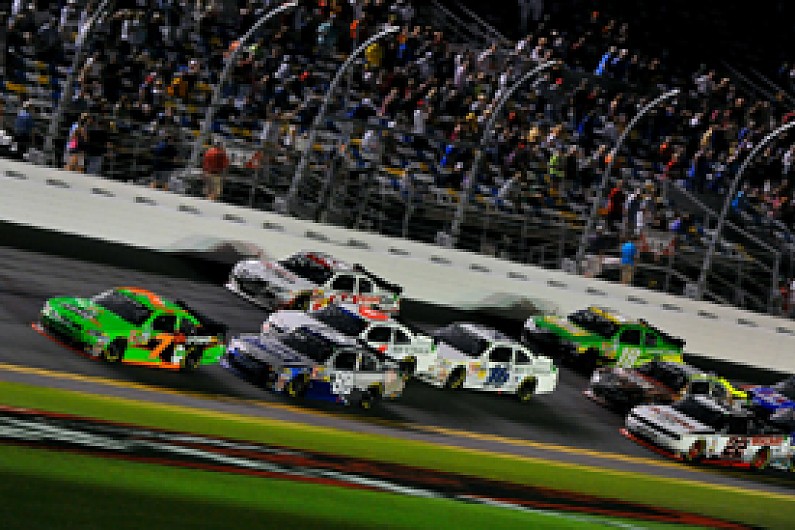 Danica Patrick said she enjoyed Friday's NASCAR Nationwide Series race at Daytona, where despite a last-lap crash she was classified 10th, having led the event.
The IndyCar star, who looks likely to make a full-time move to NASCAR next year, was among the leading contenders for victory in the 100-lap event, where she led 13 laps while being up front five different times.
Patrick seemed to master the two-car drafting technique in what was her fourth Nationwide Series race at the 2.5-mile venue.
Starting from seventh on the grid she initially worked in tandem with two-time Sprint Cup champion Tony Stewart, who pushed her to the lead for the first time in the evening, taking three laps at the front of the field.
After that she switched partners to her JR Motorsports team-mate Aric Almirola, with whom she had mostly worked with during practice. Their tandem gained enough momentum to allow her to grab the lead again, the last time with just four laps remaining.
On the final two laps as the battle heated up at the front, her tandem got shuffled back among the top 10 and while trying to charge through again she ended up brushing the wall and losing momentum for the decisive final run for the win.
As she battled behind the leaders for a good finish, she ended up making contact with Mike Wallace after being tapped from behind by team-mate Almirola, triggering a multi-car incident as they were approaching the chequered flag.
"People were just taking smaller gaps and I was one of them too," said Patrick. "The whole right side of my car is flat... there was a little bit of room to the outside of Elliott [Sadler] and Tony left a lane but Elliott was a little bit to the right of him. Coming up to him there was a little less room, therefore I had to squeeze my way through.
"That is what is was like, momentum runs. You've got to time it just right to take the lead at the right time and not too early and I understood that. But on the other hand if you back off other people are getting runs on you so you have to be careful that you don't drop too far and you're just dealing with more cars spread out the track, which is when things like that happen.
"It was just a bit of a mess at the end but it doesn't change the fact that I had a lot of fun. It was really good to run up front and lead laps for real. Not just I got pushed to the front for one lap and one straightaway. I led a lot of laps and I went to the front a lot. So that was a good feeling."
Patrick's good run came on the same day as her sponsor GoDaddy.com announced the company had been bought by a group of private equity firms for a reported US $2.25 billion.
Her next Nationwide Series outing will come at the end of August, in what will be her first road course outing in NASCAR at the Circuit Gilles Villeneuve in Montreal.
Autosport has produced a standalone special magazine to celebrate our 70th birthday. All current print subscribers will receive a copy for free. To order your copy of the 196-page Autosport 70th Anniversary issue, please go to: autosport.com/autosport70th