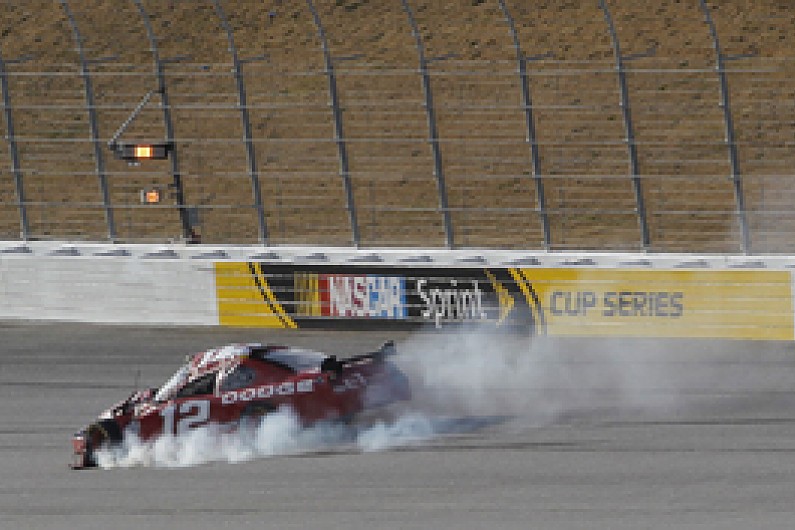 Carl Edwards was only lightly punished for his on-track incident with Brad Keselowski at Atlanta, with NASCAR officials announcing a three-race probation for the Roush Fenway racer.
With two laps to go of Sunday's Sprint Cup Series race at Atlanta, Edwards intentionally crashed into Brad Keselowski on the front stretch, causing a frightening accident for the Penske driver.
Edwards was parked by NASCAR following the incident and was called to face officials immediately. Keselowski was able to walk away from the crash unscathed but later called for NASCAR to act against Edwards.
However, having stated at the beginning of the year that it was willing to be more flexible regarding the way drivers race each other on the track, NASCAR announced a three-race probation for Edwards as the only post-race punishment for his antics at Atlanta.
NASCAR president Mike Helton said they considered Edwards' actions a separate issue from Keselowski's car getting airborne, something he said they will look at to prevent it from happening again in the future.
"We made it very clear to [Edwards] that these actions were not acceptable and they go beyond what we said in January about putting the driving back in the hands of the drivers," Helton said. "We believe he understands our position at this point.
"Also I'd like to say that it's important for us to step back and separate the issue of what happened with the #99 and the #12 on the racetrack, and the fact that the #12 car went airborne.
"We've not seen a car get airborne much at a mile and a half racetrack and that's something that is very important to us and that we're going to study closely and figure out things that we can do to help prevent this very quickly in the future."
Helton said parking Edwards on Sunday with just a handful of laps remaining was already a reaction from NASCAR against the driver, even if he was more than 100 laps down when he crashed Keselowski, who was running among the top ten at the time.
Edwards' feud with Keselowski goes back to last year when the Roush Fenway racer crashed hard against the fence after contact with the latter while battling for victory at Talladega. Further incidents in the Nationwide series and earlier on Sunday at Atlanta, seemed to have caused Edwards to retaliate.
"We parked Carl as soon as the incident occurred for the balance of the event," said Helton. "You can look back last year at some incidents in Homestead when it was a one-lap penalty.
"So the immediate reaction from NASCAR was parking the car for the balance of the event. In that end of its own can be a serious reaction from us I think. The balance of it I think will still need to be sorted out among the drivers as to what their opinion of all this is but I do say there's two things here.
"It's a function of us wanting to do the right thing about the competitors on the racetrack from both sides. One allow them to race but the other side of it is to maintain law and order within a reasonable level."
Helton said he expects to have both Edwards and Keselowski meet and bring their feud to rest.
Edward's punishment was well received by some but not so by other Sprint Cup drivers. Points leader Kevin Harvick was one of those who expected Edwards to be penalised.
"Huh! Surprised by the penalty or lack there of," he said on his twitter page. "I'm thinking about asking for a refund for all of my penalties!!!!"
He was echoed later by Kyle Busch, who tweeted "Me too! Let me know how that goes."
Robby Gordon, one of the most penalised drivers in recent NASCAR history, was obviously also in disagreement with the punishment.
"I wonder what would [have] happened to me in that situation? Hmmm someone playing favorites?" he tweeted, but Kasey Kahne said on his Twitter "Doesn't sound like favorites to me. Airborne is biggest and only issue. I like Helton's call."
Neither Edwards nor Keselowski have yet stated their opinion on NASCAR's ruling.
Autosport has produced a standalone special magazine to celebrate our 70th birthday. All current print subscribers will receive a copy for free. To order your copy of the 196-page Autosport 70th Anniversary issue, please go to: autosport.com/autosport70th