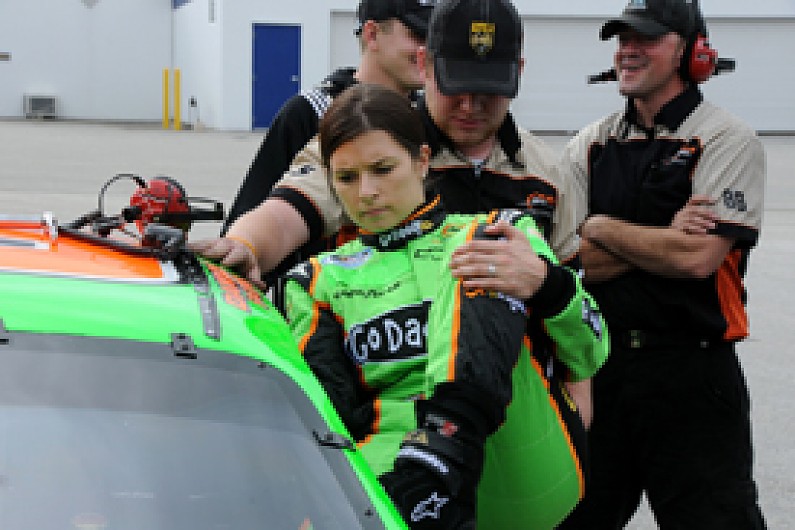 Danica Patrick is considering contesting some NASCAR events in between IndyCar races during the summer, rather than doing all her stock car racing outside the IndyCar Series calendar as initially intended.
The American will compete in a currently unspecified programme of ARCA and Nationwide Series races with JR Motorsports next year to get a taste of NASCAR, but is also committed to Andretti Autosport in the IndyCar Series for at least the next two seasons.
Although it was previously suggested that all Patrick's NASCAR outings would take place before or after the 2010 IndyCar season, which starts a month after NASCAR and finishes six weeks sooner, she is now pondering adding some stock car races between IndyCar rounds in the middle of the year, once the Indianapolis 500 is out of the way.
"I think our plan is to run a few races through the summer after Indy maybe," Patrick told American TV channel SPEED. "That's the idea right now. We still haven't nailed down exactly the places we're going to go to. But we do plan on running a few."
Patrick added that one of the reasons she had been attracted to NASCAR was because there were fewer opportunities to race on ovals in the IndyCar Series' increasingly diverse calendar.
"Just over the last couple of years watching the transition that the IndyCar Series has made with its schedules and tracks and everything... It's not that I don't enjoy that, as well. There's probably nothing more rewarding than being fast on a road course because it's really up to you," she said.
"But on the other hand, [in] the races, there's a lack of racing and not much passing that happens. It came to how much I liked oval racing, short ovals, mile-and-a-half, side-by-side, the challenge of the short ovals, the chess match that is the two-mile ovals - it's just interesting to me.
"I'm excited to do more of that and that's going to come with all this [NASCAR] running."