Kevin Harvick claimed his first ever Pocono victory in the first of two NASCAR Cup races at the 2.5-mile Pennsylvania oval this weekend.
The Stewart-Haas Racing Ford started from ninth on the grid, but dropped backwards in the first half of the race as the field ran a variety of strategies.
However, Harvick had relatively fresh tyres in the closing stages of the race and held a comfortable lead ahead of Denny Hamlin in second.
Hamlin struggled with vibrations, but the Joe Gibbs Racing Toyota driver had an easier time passing lapped cars and was able to reel Harvick in, finishing just 0.761s behind.
Pole-sitter Aric Almirola (SHR Ford) and 2018 Cup Series champion Joey Logano (Team Penske Ford) dominated the first two stages of the race, opting to pit much later than the rest of the field. Logano took the first stage win ahead of Almirola and fellow Penske driver Ryan Blaney.
The pair were joined by Martin Truex Jr after the first round of stops cycled through. The JGR Toyota driver was one of the earliest to pit, and his alternate strategy had helped him climb up from 11th on the grid.
Almirola then took the second stage win, ahead of Logano and Truex.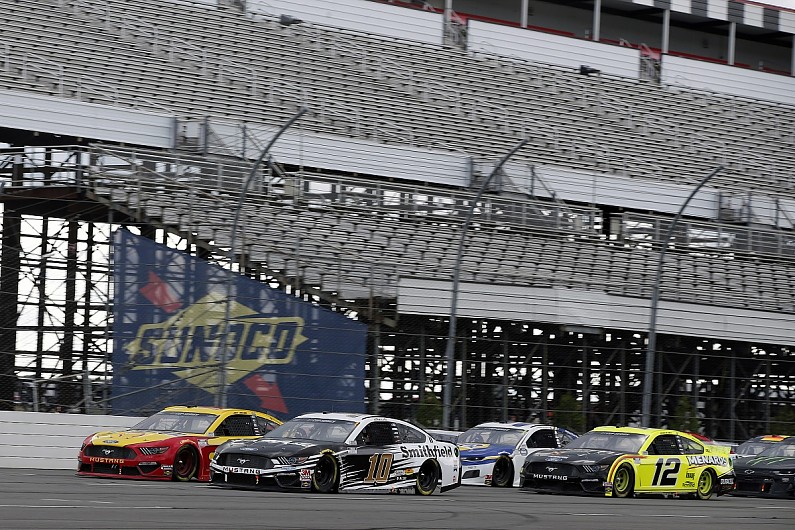 The trio led early in the final stage, but pit stop strategy put them behind Hamlin and Harvick after the final round of stops.
Logano's chance of victory dissolved when his left front tyre punctured in the closing stages, while Truex fell back to sixth with his own vibration issues.
Almirola completed a strong drive in third, ahead of Christopher Bell in a career-best fourth for Leavine Family Racing and defending Cup Series champion Kyle Busch's JGR Toyota.
The only major incident of the race came on lap 72 of 130, when Tyler Reddick ran into the back of Erik Jones. Both cars were heavily damaged and subsequently retired.
The incident could have an impact on tomorrow's race as drivers will have to use the same cars in both races and any changes to key components will put the driver at the back of the grid.
Clint Bowyer took seventh ahead of Michael McDowell, who briefly led after staying out late in the final stint.
Brad Keselowski and Chris Buescher completed the top 10.
Pending any penalties, Ryan Preece is set to start on pole tomorrow as the top 20 finishers will be reversed.
The Chevrolet driver finished 20th, just behind Austin Dillon and Kurt Busch.

Race results - 130 laps
| Pos | Driver | Team | Car | Gap |
| --- | --- | --- | --- | --- |
| 1 | Kevin Harvick | Stewart-Haas Racing | Ford | 2h25m01.s |
| 2 | Denny Hamlin | Joe Gibbs Racing | Toyota | 0.761s |
| 3 | Aric Almirola | Stewart-Haas Racing | Ford | 15.224s |
| 4 | Christopher Bell | Leavine Family Racing | Toyota | 17.163s |
| 5 | Kyle Busch | Joe Gibbs Racing | Toyota | 18.944s |
| 6 | Martin Truex Jr. | Joe Gibbs Racing | Toyota | 25.152s |
| 7 | Clint Bowyer | Stewart-Haas Racing | Ford | 26.072s |
| 8 | Michael McDowell | Front Row Motorsports | Ford | 26.841s |
| 9 | Brad Keselowski | Team Penske | Ford | 27.465s |
| 10 | Chris Buescher | Roush Fenway Racing | Ford | 30.071s |
| 11 | Matt Kenseth | Chip Ganassi Racing | Chevrolet | 31.312s |
| 12 | Ryan Blaney | Team Penske | Ford | 31.726s |
| 13 | Matt DiBenedetto | Wood Brothers Racing | Ford | 32.713s |
| 14 | William Byron | Hendrick Motorsports | Chevrolet | 32.897s |
| 15 | Ryan Newman | Roush Fenway Racing | Ford | 33.539s |
| 16 | Cole Custer | Stewart-Haas Racing | Ford | 40.283s |
| 17 | Ricky Stenhouse Jr. | JTG Daugherty Racing | Chevrolet | 40.578s |
| 18 | Kurt Busch | Chip Ganassi Racing | Chevrolet | 41.094s |
| 19 | Austin Dillon | Richard Childress Racing | Chevrolet | 41.140s |
| 20 | Ryan Preece | JTG Daugherty Racing | Chevrolet | 41.784s |
| 21 | Jimmie Johnson | Hendrick Motorsports | Chevrolet | 48.122s |
| 22 | Darrell Wallace Jr. | Richard Petty Motorsports | Chevrolet | 1 Lap |
| 23 | Corey LaJoie | Go FAS Racing | Ford | 1 Lap |
| 24 | John Hunter Nemechek | Front Row Motorsports | Ford | 1 Lap |
| 25 | Chase Elliott | Hendrick Motorsports | Chevrolet | 1 Lap |
| 26 | Ty Dillon | Germain Racing | Chevrolet | 1 Lap |
| 27 | Alex Bowman | Hendrick Motorsports | Chevrolet | 1 Lap |
| 28 | Daniel Suarez | Gaunt Brothers Racing | Toyota | 2 Laps |
| 29 | Brennan Poole | Premium Motorsports | Chevrolet | 3 Laps |
| 30 | Tyler Reddick | Richard Childress Racing | Chevrolet | 4 Laps |
| 31 | J.J. Yeley | Rick Ware Racing | Ford | 5 Laps |
| 32 | Josh Bilicki | Tommy Baldwin Racing | Chevrolet | 5 Laps |
| 33 | Garrett Smithley | Rick Ware Racing | Chevrolet | 5 Laps |
| 34 | James Davison | Spire Motorsports | Chevrolet | 5 Laps |
| 35 | Timmy Hill | MBM Motorsports | Toyota | 5 Laps |
| 36 | Joey Logano | Team Penske | Ford | 6 Laps |
| 37 | Joey Gase | Petty Ware Racing | Ford | 9 Laps |
| 38 | Erik Jones | Joe Gibbs Racing | Toyota | Accident |
| 39 | B.J. McLeod | BJ McLeod Motorsports | Chevrolet | Transmission |
| 40 | Quin Houff | StarCom Racing | Chevrolet | Accident |