Ryan Newman is in a "serious condition" in hospital following his final-lap accident at the NASCAR Cup season-opening Daytona 500, but his injuries are not life threatening.
Newman, driving for Roush Fenway Racing, was dicing for the lead of the race in the second round of overtime with Ryan Blaney and Denny Hamlin, with his #6 Ford Mustang edging ahead on the back-stretch following a bump from Blaney.
But rounding the final corner, Hamlin's Toyota Camry tagged the rear of Blaney's Penske Mustang, which in turn caused the #12 to make contact with leader Newman - spitting his car into the outside wall, before it flipped.
An unsighted Corey LaJoie then rammed the inverted Mustang, throwing the Roush entry down the track, with flames visible and fuel leaking from the tanks.
Emergency crews were quickly on site to extract Newman from his car, and he was then taken to Halifax Medical Centre by road ambulance.
"Ryan Newman is being treated at Halifax Medical Centre, he is in a serious condition but doctors have indicated his injuries are non-life threatening," read a statement released by NASCAR two hours after the incident.
"We appreciate your thoughts and prayers and ask that the privacy of Ryan and his family is respected at this time.
"We will provide more information as it becomes available."
Hamlin pipped Blaney in a photo-finish to become the first driver since Sterling Marlin in 1994 and 1995 to defend the race victory.
His Joe Gibbs Racing squad apologised after the race for his celebrations, which included a series of doughnuts on the infield, with the full severity of the incident unknown.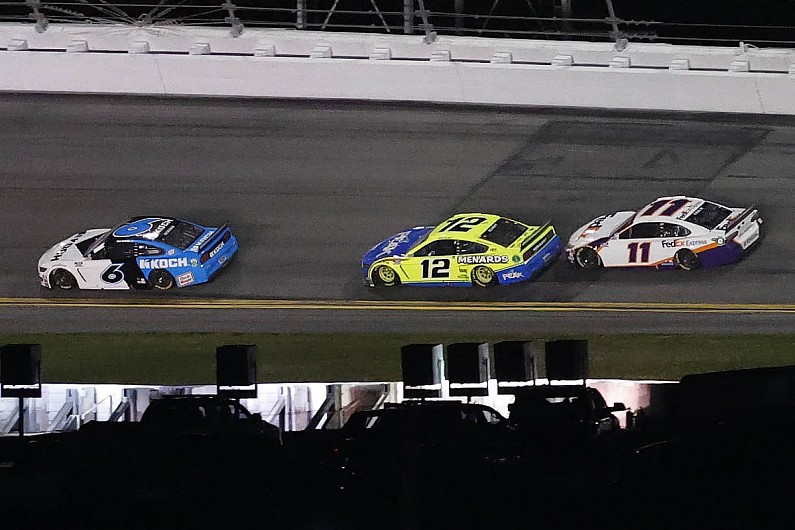 Blaney, who finished just 0.014 seconds behind Hamlin in the second-closest Daytona finish on record, offered his thoughts on the crash, the race's third big incident, immediately after stepping out of his car.
"We pushed Newman into the lead and then we got a push from the #11 [Hamlin] and I moved before and he [Newman] blocked it, went low and he blocked that, so then I was committed to pushing him [Newman] to the win and trying to have a Ford win it," he said, speaking to Fox Sports.
"I don't know [what happened].
"[Maybe the] bumpers hooked up wrong and I turned him, I hope he is alright, it looked pretty bad. [I was] definitely trying to push him to a win.
"I don't want to see them things happen and I feel really bad about [it], a close one but I hope Ryan is alright."