Darrell Wallace Jr believes he reminded his critics that he "can drive" with his third place in the Indianapolis NASCAR Cup Series round.
Richard Petty Motorsports driver Wallace famously came close to Daytona 500 victory last year at the start of his first full season at NASCAR's top level.
But he has taken just two top 10 finishes since then and prior to Indianapolis had not finished above 14th this year.
At Indianapolis he charged to third late on, fending off William Byron, Clint Bowyer, Denny Hamlin and Ryan Blaney to the flag.
"That's not supposed to happen according to Twitter - I'm supposed to run 25th to 30th all week and crash cars," said Wallace as he celebrated the result.
He regards RPM as a relative minnow compared to the teams that now dominate NASCAR but believed the way the aerodynamic package functioned at Indy gave underdogs a chance - although he admitted that he "didn't have anything" for top two Kevin Harvick and Joey Logano, and also felt Blaney could have beaten him had he got through the pack.
Wallace made it back to third despite being delayed in a multi-car pitlane incident early on.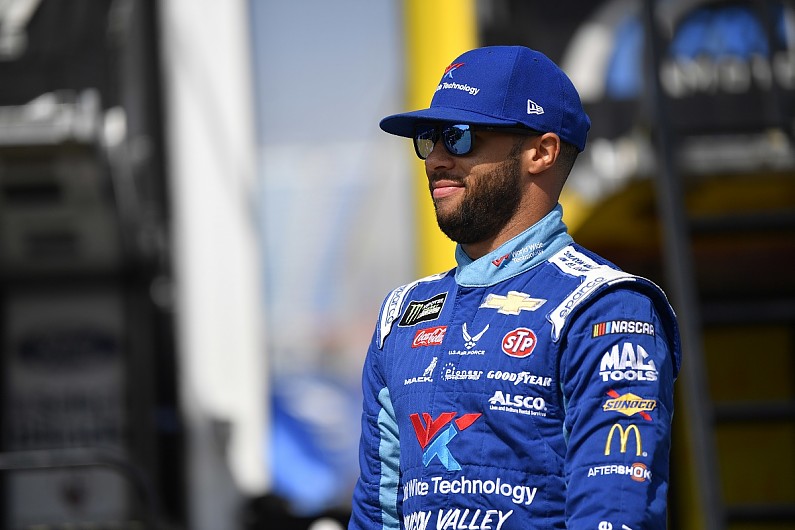 "We had speed since we unloaded here and with this package it kind of evened the playing field out and we were able to capitalise," Wallace added.
"A lot of guys wrecked out early. It was a super-long race.
"What a hell of a day for all of us, going from the lowest of lows, almost to the highest of highs.
"With this package you're able to kind of manipulate the air.
"Smaller organisations having big runs - it is very uncommon these days. Almost like David and Goliath.
"Everything kind of clicked for us. These little teams aren't supposed to run with the big teams.
"What the hell? Somebody can drive."
He joked that it was easy to tell that legendary team boss Richard Petty was pleased with his performance.
"'The King' came down and gave me one of those big bear hugs," said Wallace.
"I haven't had one of those hugs since the [Daytona] 500 last year.
"You know it's a special day and a special weekend when he's excited and he's not sitting on the plane already waiting on us."