Clint Bowyer was involved in a post-race spat with Erik Jones after the Kansas Speedway NASCAR Cup Series round over a "dumb" move that Bowyer felt cost him second place.
Stewart-Haas Ford driver Bowyer had a strong run at the leaders on the outside coming up to the final lap but was blocked by Jones's Joe Gibbs Racing Toyota.
While Jones went on to finish third, Bowyer had to lift and fell to fifth. Bowyer showed his displeasure by making contact with Jones's car on the slowing-down lap and then confronting him in the pitlane.
"What are you going to do, turn him right in front of the field and hurt him?" Bowyer told Fox Sports.
"He puts you in a bad situation and I lifted for him and it cost me three spots right there.
"We should have finished second. Everybody knows that. That was dumb on his part.
"I guess that's what he wants, to wreck in front of the field. When you've got a run like that, you just don't move up. I should have just wrecked him, I guess.
"God, that pissed me off."
Jones, whose third place matched his season best from the Daytona 500, defended his move but said he understood Bowyer's anger.
"I'd be mad if I was him, but it's just racing," Jones argued.
"I've been blocked a lot, especially with this package and I haven't done a lot of blocking, so you have to get aggressive and fight for every position.
"That's all I was doing at the end of the race. We were taking the white flag and you're going for it.
"It's unfortunate. You don't want people upset, but feelings are going to get hurt and you'll move on and we'll be fine next week."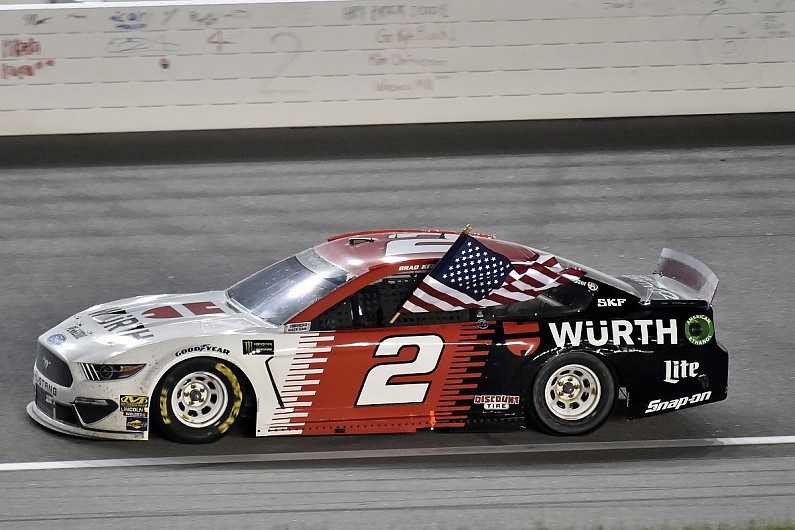 Race winner Brad Keselowski said the 2019 aero rules were leading to more moves that could be interpreted as blocking but might not be.
"I think that the word 'block' gets maybe used sometimes fairly, sometimes unfairly," he said.
"I always feel like a block is when you move down in front of somebody that has a run that's fast enough to pass you.
"I don't think of blocking as when you're switching lanes in front of a car that's slightly faster in order to get the draft off him because you can get a draft being in front of someone just like you can get a draft being behind someone.
"But it's hard because, much like in your passenger car, you're making those judgments in split seconds, and you're using a mirror to do it, which naturally doesn't give you great vision, distorts your vision.
"So when you make those moves, you don't always know if you're making it as a draft or if you're making it as a block. But you have to make it. If you don't, you're just going to easily get passed."