Thirty-six of the 42 Daytona 500 entrants knew their starting spots were guaranteed via NASCAR's charter system. The other six had to fight their way in.
And when the 2019 Cup Series season opener starts on Sunday, sometime Penske protege turned television presenter Parker Kligerman will be best-placed of those who claimed the 'Open' spots in 25th on the grid.
Kligerman should have been ecstatic about making the field, but his first concern was for his friend Ryan Truex - who didn't.
With help from Toyota stablemate Kyle Busch, Gaunt Brothers driver Kligerman drove past Tyler Reddick with three laps to go in Thursday night's first qualifying race and earned the 12th place that got him into his second 500.

Follow the Daytona 500 as it happens with Motorsport.com's Live commentary from 7.30pm UK
"First off, I've got to thank Kyle Busch," Kligerman said. "When he fell back out of the draft that was what it took. If we didn't have him or all that TRD power working together, there was no way I would have been able to pass Tyler Reddick.
"Ryan Truex, man, I hate it for him. He put up a hell of a fight."
Xfinity champion Reddick and long-time Cup racer Casey Mears had already secured two of the open spots via their performances in qualifying last weekend.
That left Kligerman, Joey Gase, Brendan Gaughan and Truex - younger brother of 2017 Cup champion Martin Jr - fighting for two places via the Duels.
With Gase three laps down in 20th in Duel two, Kligerman's 12th place in Duel one and veteran Xfinity and Truck Series race-winner Gaughan's 15th-place finish in Duel two left Truex on the sidelines.
"This is awesome. This is an amazing feeling. It's bittersweet, though - it's at his expense," Kligerman continued.
"He's a good friend, a really talented racecar driver. I hate we were put in that position."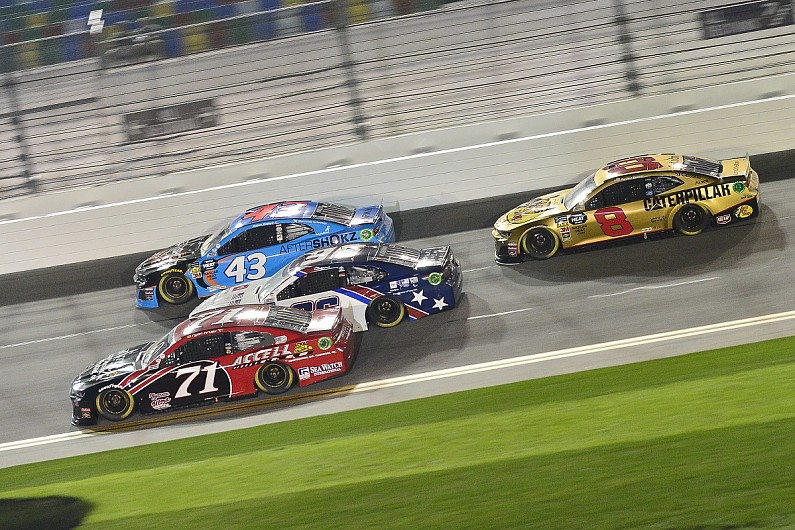 Truex had finished 14th in Duel one, hampered by a broken brace on his #71 Tommy Baldwin Chevrolet's windscreen.
"Once that happened, I felt like my car was pretty draggy, so it's just hard to suck up like it needed to," Truex said. "Kind of a freak deal."
This year's race will be 43-year-old Gaughan's fourth 500 start and his third in as many seasons.
"I swear to God, I don't think I've ever had butterflies this big in almost 10 years," said the Beard Motorsports driver, pictured below.
"I've never smelt more tyre smoke, more tyre oil - I've never smelt more things about to be a catastrophe that weren't really there in my life.
"I haven't felt like this since I was a teenager in this sport."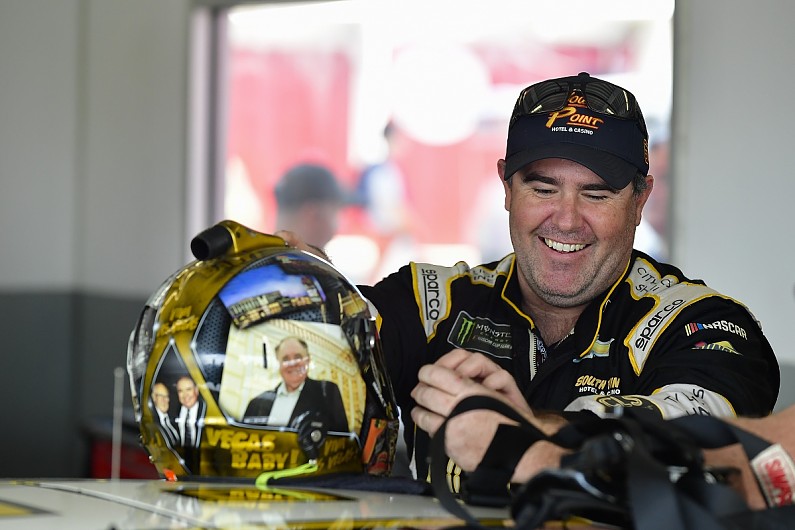 Until becoming part of the Gaunt Brothers programme last season, 26-year-old Kligerman had not been in the Cup field since his former team Swan Racing shut down in 2014.
He had become better known as part of NASCAR's television broadcasting team, a role he combined with partial campaigns at lower levels.
Kligerman hopes he can now build a proper Cup future with Marty Gaunt's squad.
"We are looking this year at doing the first three races. Then the hope is probably 12 races all season," Kligerman explained.
"A big thing that Marty Gaunt is doing, I applaud him for this, is quality over quantity.
"He's trying to build this Cup team in the right way.
"It's one of these deals where it's one race a month. When we show up, it's a race we feel we can be competitive in, roll out a Toyota Camry that can compete at a level we feel proud of.
"Doesn't mean we're going to show up racing for wins, we're a small Cup team. It means we go out there and beat cars that race week in, week out.
"I know he has grand ambitions for the future for this race team. I hope to be in those discussions."
Daytona 500 starting grid
| Pos | Driver | Team | Car |
| --- | --- | --- | --- |
| 1 | William Byron | Hendrick Motorsports | Chevrolet |
| 2 | Alex Bowman | Hendrick Motorsports | Chevrolet |
| 3 | Kevin Harvick | Stewart-Haas Racing | Ford |
| 4 | Joey Logano | Team Penske | Ford |
| 5 | Ricky Stenhouse Jr. | Roush Fenway Racing | Ford |
| 6 | Clint Bowyer | Stewart-Haas Racing | Ford |
| 7 | Paul Menard | Wood Brothers Racing | Ford |
| 8 | Aric Almirola | Stewart-Haas Racing | Ford |
| 9 | Matt DiBenedetto | Leavine Family Racing | Toyota |
| 10 | Denny Hamlin | Joe Gibbs Racing | Toyota |
| 11 | Martin Truex Jr. | Joe Gibbs Racing | Toyota |
| 12 | Kurt Busch | Chip Ganassi Racing | Chevrolet |
| 13 | Darrell Wallace Jr. | Richard Petty Motorsports | Chevrolet |
| 14 | Ryan Blaney | Team Penske | Ford |
| 15 | Chris Buescher | JTG Daugherty Racing | Chevrolet |
| 16 | Jamie McMurray | Spire Motorsports | Chevrolet |
| 17 | Jimmie Johnson | Hendrick Motorsports | Chevrolet |
| 18 | Chase Elliott | Hendrick Motorsports | Chevrolet |
| 19 | Ryan Newman | Roush Fenway Racing | Ford |
| 20 | Austin Dillon | Richard Childress Racing | Chevrolet |
| 21 | Ryan Preece | JTG Daugherty Racing | Chevrolet |
| 22 | Ty Dillon | Germain Racing | Chevrolet |
| 23 | Daniel Suarez | Stewart-Haas Racing | Ford |
| 24 | David Ragan | Front Row Motorsports | Ford |
| 25 | Parker Kligerman | Gaunt Brothers Racing | Toyota |
| 26 | Kyle Larson | Chip Ganassi Racing | Chevrolet |
| 27 | Landon Cassill | StarCom Racing | Chevrolet |
| 28 | Erik Jones | Joe Gibbs Racing | Toyota |
| 29 | Daniel Hemric | Richard Childress Racing | Chevrolet |
| 30 | Brendan Gaughan | Beard Motorsports | Chevrolet |
| 31 | Kyle Busch | Joe Gibbs Racing | Toyota |
| 32 | Corey LaJoie | Go FAS Racing | Ford |
| 33 | Matt Tifft | Front Row Motorsports | Ford |
| 34 | Michael McDowell | Front Row Motorsports | Ford |
| 35 | Brad Keselowski | Team Penske | Ford |
| 36 | Ross Chastain | Premium Motorsports | Chevrolet |
| 37 | Cody Ware | Rick Ware Racing | Chevrolet |
| 38 | B.J. McLeod | Petty Ware Racing | Chevrolet |
| 39 | Tyler Reddick | Richard Childress Racing | Chevrolet |
| 40 | Casey Mears | Germain Racing | Chevrolet |