The NASCAR Cup series will head to Las Vegas on Thursday for a crucial test described as the "best true indicator" of how the 2019 aerodynamic package will impact racing.
NASCAR announced last year that two different aerodynamic packages - both aimed at increasing downforce and engine power - will be tailored to the track in 22 of 36 races in 2019.
Intended to increase side-by-side racing and reduce the reliance on engineering and windtunnel efforts, the package is a radical departure from recent ones - as evidenced in the Charlotte All-Star race that featured more drafting and cars running closer together.
While some drivers have taken part in Goodyear's tyre testing programme, Las Vegas is the first opportunity for 21 drivers to get accustomed to the package.
Seven-time Cup champion Jimmie Johnson claims he wanted to use General Motors' simulator before testing, but that its simulation of the 2019 package was not yet detailed enough.
Brad Keselowski added: "This is the best true indicator we have before the season starts of how this year's rules will affect the racing.
"It should be a good turnout of cars and I'm glad we're [chosen to be] at that test."
Johnson said the Las Vegas test will be of some benefit, but that the package's tailoring to certain tracks means teams will only learn so much.
"Vegas has so much grip, I think it will be pretty forgiving for the package and I think will put on a pretty strong show," he said.
"I did the Atlanta tyre test last year and there was a lot of tyre falloff.
"I don't know how the package is going to do in that environment.
"So, I think tracks where the tyre falloff is low, we will all have grip regardless of where you're running on the track.
"Dirty air won't make that big of a difference, and it'll be really entertaining and put on a good show."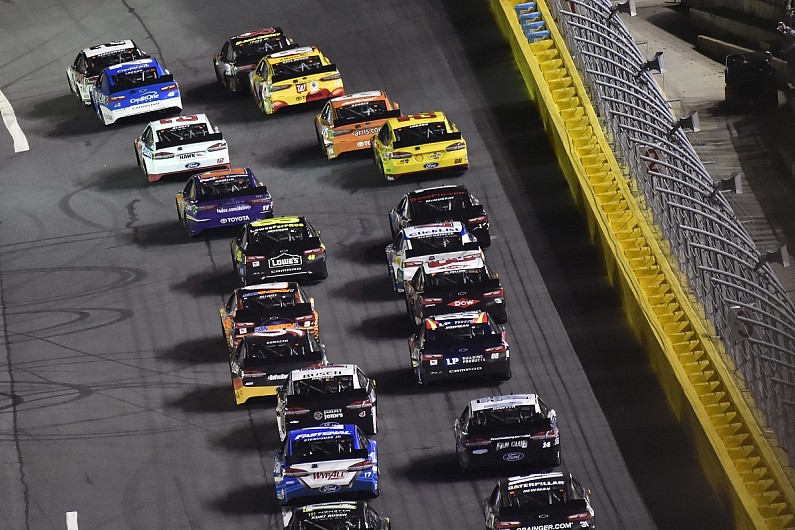 Asked how he expects the 2019 package to perform compared to the trial version used in last year's All-Star race, Johnson said: "The speeds are going to be a little bit higher than what we had at Charlotte.
"At some tracks, I think it'll put on a great show and at other tracks the potential is there but it might not do what we want.
"We know this isn't going to be the perfect package everywhere, but I do feel like at the majority of the tracks it will be highly entertaining."
The impact of a large change to NASCAR's regulations has the potential to shake up the competitive order.
Kurt Busch has moved from the four-car Stewart-Haas Racing squad to the two-car Chip Ganassi Racing team, and believes a smaller team can have an edge.
"When you build stuff for two cars versus four, you can move the ship in the ocean a little bit quicker," he said.
"That's something I noticed with the Furniture Row guys a few years back with the one-car team."
Las Vegas test line-up
Clint Bowyer, Stewart Haas Racing
Kurt Busch, Chip Ganassi Racing
Kyle Busch, Joe Gibbs Racing
Landon Cassill, StarCom Racing
Ross Chastain, Chevrolet
Matt DiBenedetto, Leavine Family Racing
Austin Dillon, Richard Childress Racing
Ty Dillon, Germain Racing
Drew Herring, Toyota
Jimmie Johnson, Hendrick Motorsports
Brad Keselowski, Penske
Paul Menard, Wood Brothers
Ryan Newman, Roush Fenway Racing
Ryan Preece, JTG Daugherty Racing
David Ragan, Ford
Bubba Wallace, Richard Petty Motorsports
Cody Ware, Rick Ware Racing