Joey Logano won a tense Phoenix NASCAR Sprint Cup race, as reigning champion Kyle Busch managed the points to secure the final spot in the Chase decider.
Six drivers entered the race vying for the two remaining places alongside Jimmie Johnson and Carl Edwards in the championship showdown, and any of them could have won.
Dale Earnhardt Jr's Hendrick stand-in Alex Bowman and Penske driver Logano were the early leaders, but it was on lap 256 of the planned 312 when Martin Truex Jr and Ryan Newman came together to trigger a caution and the fourth round of pitstops that the order was upset.
The frontrunners all opted for different strategies, and on the restart the six contenders vying for the final Chase spots (Logano, Matt Kenseth, the Busch brothers, Kevin Harvick and Denny Hamlin) were all in the lead pack.
In an extremely close-fought final stint, positions changed hands constantly and of the Chase cut-off protagonists only Kurt Busch never found himself in the pound seat at any point.
On what should have been the penultimate lap, Michael McDowell spun and triggered a caution and overtime.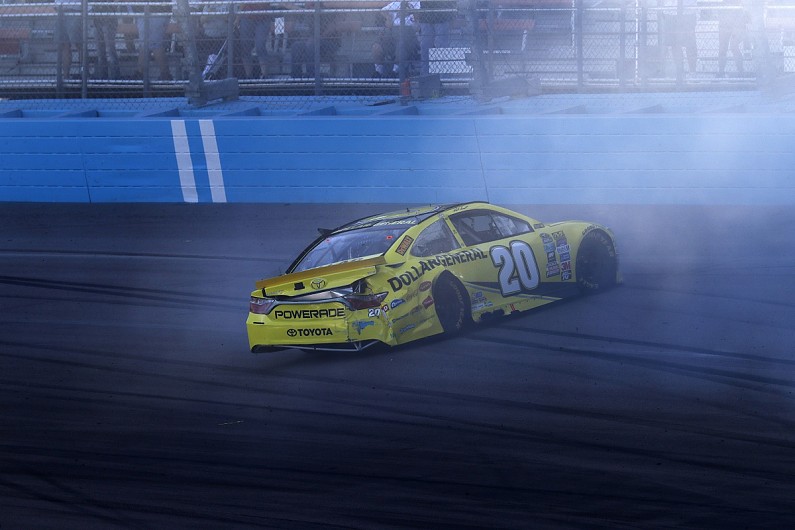 Third-placed Kyle Busch tapped Bowman and Kenseth ahead at the restart, sending them into the Turn 1 wall and denying 2003 champion Kenseth a spot in the Homestead shootout.
That caused a final caution after which Logano held on to win from Kyle Busch.
Harvick kept the pair on edge as best he could, but couldn't quite work his way past third-placed Kyle Larson and had to concede defeat in the title race.
The result means Logano, Kyle Busch, Edwards and Johnson will be the four title contenders in next week's finale at Homestead.
RESULTS - 324 LAPS:
| Pos | Driver | Team | Car | Gap |
| --- | --- | --- | --- | --- |
| 1 | Joey Logano | Team Penske | Ford | 3h08m59.s |
| 2 | Kyle Busch | Joe Gibbs Racing | Toyota | 0.587s |
| 3 | Kyle Larson | Chip Ganassi Racing | Chevrolet | 0.756s |
| 4 | Kevin Harvick | Stewart-Haas Racing | Chevrolet | 1.052s |
| 5 | Kurt Busch | Stewart-Haas Racing | Chevrolet | 1.261s |
| 6 | Alex Bowman | Hendrick Motorsports | Chevrolet | 1.420s |
| 7 | Denny Hamlin | Joe Gibbs Racing | Toyota | 1.488s |
| 8 | Ryan Blaney | Wood Brothers Racing | Ford | 2.275s |
| 9 | Chase Elliott | Hendrick Motorsports | Chevrolet | 2.637s |
| 10 | Paul Menard | Richard Childress Racing | Chevrolet | 2.714s |
| 11 | Jamie McMurray | Chip Ganassi Racing | Chevrolet | 2.827s |
| 12 | Ryan Newman | Richard Childress Racing | Chevrolet | 2.914s |
| 13 | Kasey Kahne | Hendrick Motorsports | Chevrolet | 3.045s |
| 14 | Brad Keselowski | Team Penske | Ford | 3.289s |
| 15 | Tony Stewart | Stewart-Haas Racing | Chevrolet | 3.364s |
| 16 | Greg Biffle | Roush Fenway Racing | Ford | 3.600s |
| 17 | A.J. Allmendinger | JTG Daugherty Racing | Chevrolet | 3.659s |
| 18 | Casey Mears | Germain Racing | Chevrolet | 3.855s |
| 19 | Carl Edwards | Joe Gibbs Racing | Toyota | 4.102s |
| 20 | Landon Cassill | Front Row Motorsports | Ford | 6.181s |
| 21 | Matt Kenseth | Joe Gibbs Racing | Toyota | 11.937s |
| 22 | Aric Almirola | Richard Petty Motorsports | Ford | 2 Laps |
| 23 | Ricky Stenhouse Jr. | Roush Fenway Racing | Ford | 2 Laps |
| 24 | Clint Bowyer | HScott Motorsports | Chevrolet | 2 Laps |
| 25 | Matt DiBenedetto | BK Racing | Toyota | 2 Laps |
| 26 | Michael Annett | HScott Motorsports | Chevrolet | 3 Laps |
| 27 | Regan Smith | Tommy Baldwin Racing | Chevrolet | 3 Laps |
| 28 | Trevor Bayne | Roush Fenway Racing | Ford | 3 Laps |
| 29 | Danica Patrick | Stewart-Haas Racing | Chevrolet | 4 Laps |
| 30 | Brian Scott | Richard Petty Motorsports | Ford | 5 Laps |
| 31 | David Ragan | BK Racing | Toyota | 5 Laps |
| 32 | Chris Buescher | Front Row Motorsports | Ford | 6 Laps |
| 33 | Jeffrey Earnhardt | Go FAS Racing | Ford | 6 Laps |
| 34 | Michael McDowell | Circle Sport-Leavine Family Racing | Chevrolet | 6 Laps |
| 35 | D.J. Kennington | Premium Motorsports | Chevrolet | 8 Laps |
| 36 | Reed Sorenson | Premium Motorsports | Chevrolet | 9 Laps |
| 37 | Gray Gaulding | The Motorsports Group | Chevrolet | Fuel pump |
| 38 | Jimmie Johnson | Hendrick Motorsports | Chevrolet | 28 Laps |
| 39 | Austin Dillon | Richard Childress Racing | Chevrolet | 35 Laps |
| 40 | Martin Truex Jr. | Furniture Row Racing | Toyota | Accident |
REMAINING TITLE CONTENDERS:
| Pos | Driver | Points |
| --- | --- | --- |
| 1 | Kyle Busch | 5000 |
| 2 | Joey Logano | 5000 |
| 3 | Jimmie Johnson | 5000 |
| 4 | Carl Edwards | 5000 |